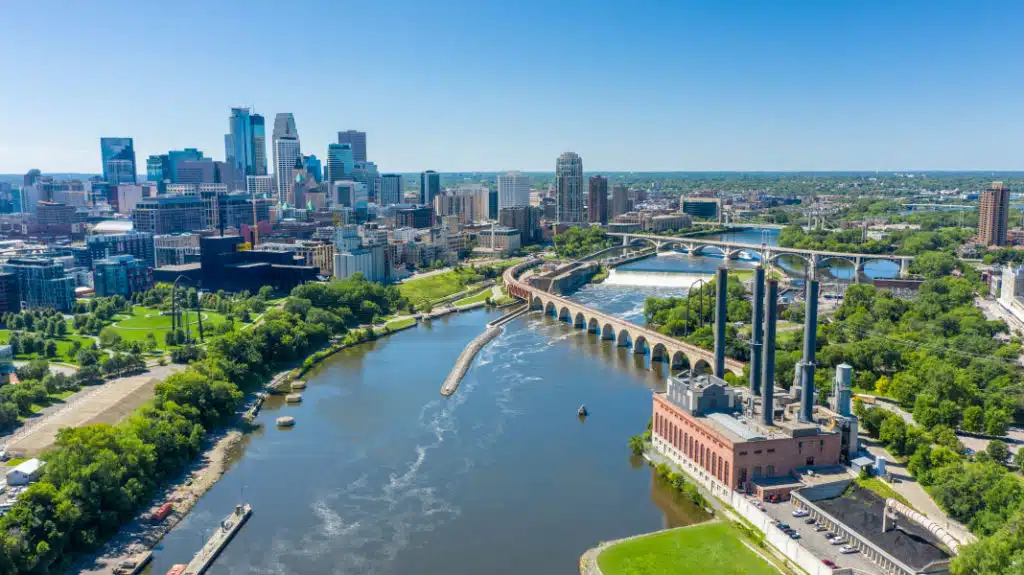 Moving to the Twin Cities? Check out our favorite Minneapolis neighborhoods
Thinking about living in Minneapolis? Then you probably know that, despite what you may have heard, the City of Lakes isn't just one big year-round block of ice. It's a gorgeous green city full of warm people, avid sports fans, outdoor lovers, and scrumptious food. In fact, speaking of outdoor lovers, this midwestern city that straddles the famous Mississippi River boasts more than 6,800 acres of parkland space, including 102 miles of trails, 22 lakes, and 180 parks!
And even though Minneapolis shares its fame with its neighboring twin city, St. Paul, it doesn't take long to see that Minneapolis has a spark and spirit all her own. Once the city thaws out from winter — which, yes, is pretty dang cold (but you get used to it, we promise!) — the city sports some lovely weather, and residents truly make the most of it.
Don't get us wrong. Just like any big city, it's not blue skies and sunshine all the time, literally and figuratively speaking. Minnesota has one of the highest sales tax rates in the country, and it struggles with a high rate of crime. Still, nearly half a million residents love to call Minneapolis home, and we're pretty sure you'll love it, too.
Whether you're looking for classy or comfort foods, park time or playtime, trendy or traditional, sun or snow — you'll find it here.
The best Minneapolis neighborhoods
(plus a few in St. Paul, just 'cause)
There are more than 80 neighborhoods to choose from in Minneapolis, so you've got your work cut out for you. Luckily, we've volunteered to help narrow down the contenders and point you in the right direction. Each Minneapolis neighborhood has its own personality, style, and vibe, so we'll take a look at some of the most important elements to each spot, including type of housing, average housing costs, what the schools are like, what the people are like, and what there is to do nearby. We'll also give you a peak at some top spots in its sister city of St. Paul, just in case anything tickles your fancy there.
To get us started, here are some helpful stats on home and rental prices to reference as we cover each neighborhood.
Minneapolis housing costs: As of June 2021, RENTCafé reports the average rent in Minneapolis is around $1,590 a month, while Zillow lists the typical home value at almost $329,000. These prices reflect a 1% decrease in rent and an 8.6% increase in home values over the previous year.
St. Paul housing costs: In twin city St. Paul, average rent runs just over $1,330 a month, and the typical home value is around $271,500, as of June 2021. There was a +1% change in average rent over the previous year, and typical home values went up 10.9%.
National housing costs: According to Apartment Guide's National Rent Report, average monthly rent in the U.S. ranged from about $1,640 to $2,010, depending on number of bedrooms, as of June 2021. In the same month, the typical home value in the U.S. was just over $293,000, up 15% over the previous year.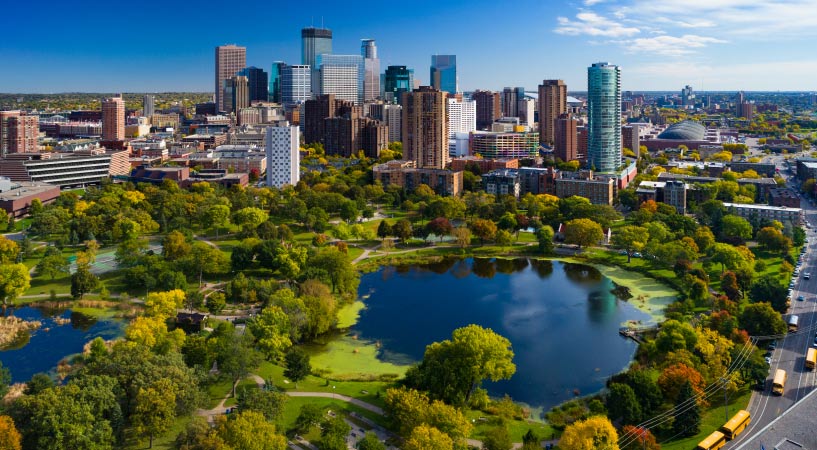 Loring Park
Located on the southwestern edge of Downtown Minneapolis, Loring Park is known for hosting some of the city's biggest festivals. It's also home to a collection of good eats, kid- and dog-friendly areas, and cultural and historic institutions such as the Walker Art Center and Basilica of St. Mary. It's also where you'll find the Minneapolis Sculpture Garden, the world's largest urban sculpture park.
Expect a good selection of contemporary condos, townhomes, and apartment buildings with amenities from outdoor pools to on-site laundry. As of June 2021, the typical home value in Loring Park is around $246,000 — which, according to Zillow, is actually down 1.2% from the previous year. RENTCafé reports the average rent to be just over $1,300 monthly, as of June 2021.
This neighborhood is popular, convenient, relaxed, and affordable — a big hit with students attending the local technical college, families, young professionals, commuters, and anyone looking for a busy but relaxed spot with an enviable selection of things to do. Niche gives public schools here a solid B grade overall, with Armatage Elementary School receiving an A grade.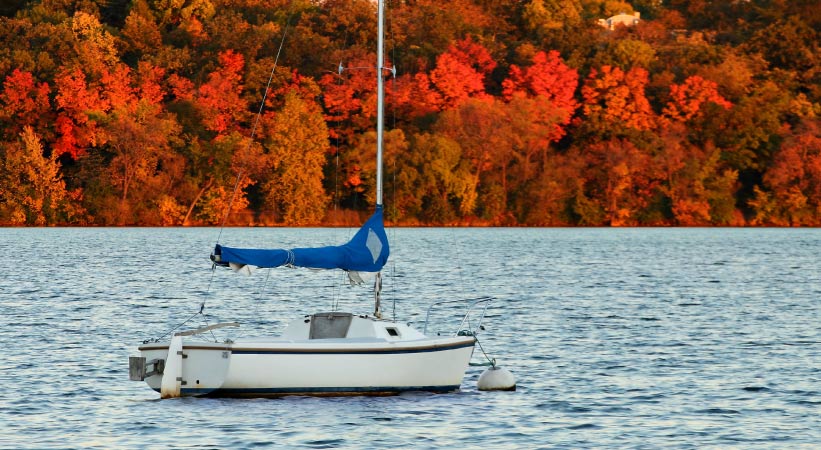 Fulton
Families love Fulton! Not only does this friendly southwest neighborhood have excellent schools, but it also boasts a small-town vibe and plenty of access to greenspaces, including parks, Lake Harriet, and Minnehaha Creek. Niche ranks Fulton as the city's top neighborhood to raise a family. Did we mention it's also just a 20-minute drive from Downtown Minneapolis?
Home ownership is big here — and the homes are adorable. Think 1920s bungalows with tons of charm, renovated single-family homes with yards, and custom builds, as well as lots over 5,000 square feet. As of June 2021, Zillow lists the typical home value at just under $566,400 (up 6.9% from the previous year), though it's common to find price tags around $1 million. Renting is a lot less common, though not unheard of. RENTCafé lists the average rent in Fulton at $1,155 a month, as of June 2021.
Fulton is small and walkable and sports three main streets that are lined with cute cafés, shops, and bars. Got kids? With a rec center full of events, festivals, a wading pool, and playground, Pershing Park is the perfect kid-friendly place to spend a day.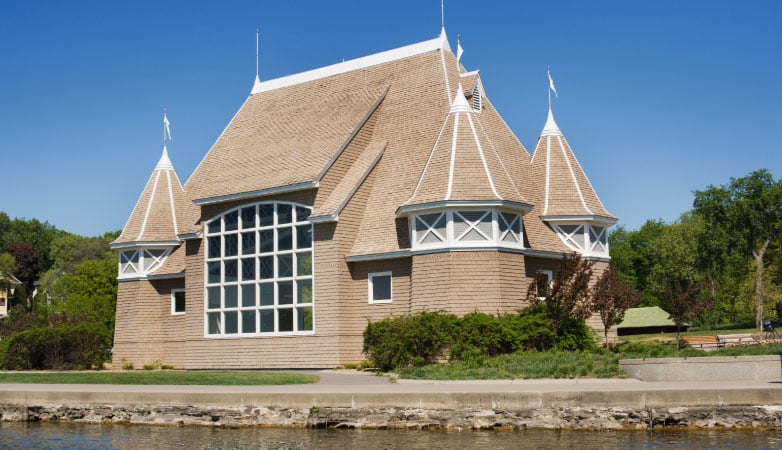 Linden Hills
Love the outdoors? Linden Hills is bordered on three sides by two green parks and two tranquil lakes (Bde Maka Ska and Lake Harriet). This picturesque southwest Minneapolis neighborhood also has beautiful tree-lined streets (gorgeous in the fall), a vintage streetcar, independent shops and eateries, and an overall eclectic vibe boasting a small-town feel. During good weather, you'll likely find residents renting canoes, biking and walking the three miles of dedicated paths, and soaking up the free shows at the castle-inspired Band Shell.
However, this higher quality of life comes at a price. Most residents in Linden Hills own their homes, and Zillow lists the typical home value in June 2021 at nearly $616,000 (around $287,000 more than the city's typical home value). Rent is also slightly higher, with only 7% of apartments costing $1,000 or less a month and 70% going for as much as $2,000 a month, as of June 2021. Whether you rent or buy, though, expect a good selection of housing, ranging from cute cottages and bungalows to contemporary condos and older apartments.
Niche rates Linden Hills as the best neighborhood to live in Minneapolis and gives its public schools an overall B+. Many families move here for the schools, dense suburban feel, and variety of outdoor activities, while the neighborhood is also popular with young professionals who like the mix of shops, restaurants, bars, and access to nature.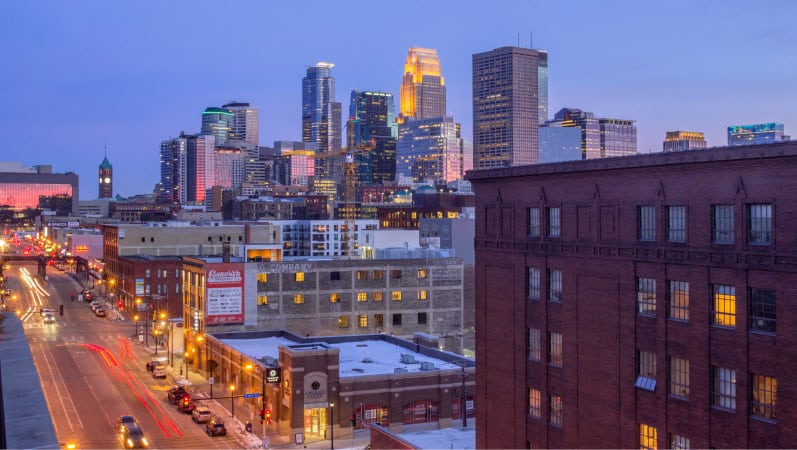 North Loop
The North Loop Minneapolis neighborhood (a.k.a. The Warehouse District) is a hip hotspot along the edge of the Mississippi River. Aptly named, this area is full of old warehouses that have been converted and renovated into office space and apartments. The vibe is young, creative, and industrial. North Loop is extremely popular with the young professional crowd who love the collection of trendy bars, cool eateries and boutiques, and easy, adjacent commutes into Downtown Minneapolis.
Most folks here rent, and, according to RENTCafé, rent ranges from as low as $836 for a studio to as high as $5,195 for a 3-bedroom, as of June 2021. And because most of the buildings here are converted warehouses, you can expect a lot of loft options. The typical home value in the area as of June 2021 is around $400,000.
Niche gives North Loop an overall A+, though it's important to note that it only has average scores when it comes to public schools, crime, and safety — perhaps why there are not many families here. However, that doesn't stop residents from taking advantage of the walkability, great access to public transit, or greenspaces along the river.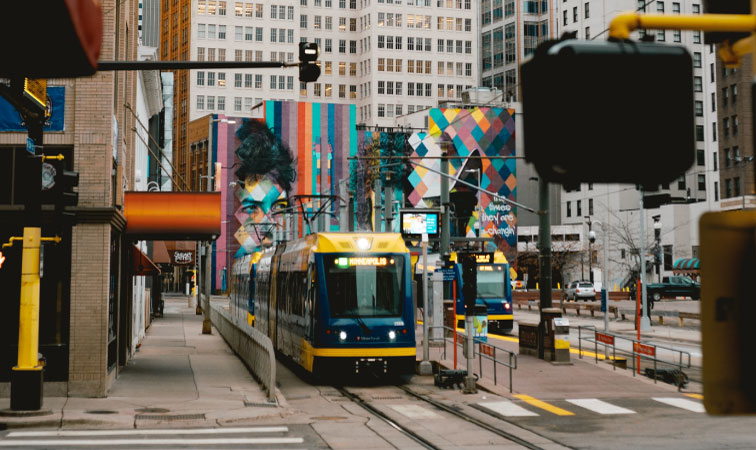 Downtown West
As part of the Central Minneapolis downtown area, Downtown West is where you'll want to live if you want to be right in the thick of it all — live music, snazzy restaurants, great bars, and entertainment options galore. Plus, thanks to the dense layout and plentiful public transportation, including the elevated Minneapolis Skyway System (key during winter), it's perfect for pedestrians.
You'll find mostly young professionals occupying the high-rise apartments and condos in this vibrant, work hard/play hard (and late!) area. The typical home value is around $246,000 (up 0.6% over the previous year) as of June 2021, but most people here tend to rent. And while the average rent in Downtown Minneapolis is around $1,500 a month as of June 2021, the range is huge. Studios start at about $475 a month, and 3-bedrooms can go for upwards of $11,000 a month.
Having the city on your doorstep also means dealing with city noise, late-night shenanigans, and traffic, particularly during rush hour and sports games (which are all hosted downtown). And, sadly, one thing Downtown West doesn't have is great public schools. Niche gives them an overall C+ average rating.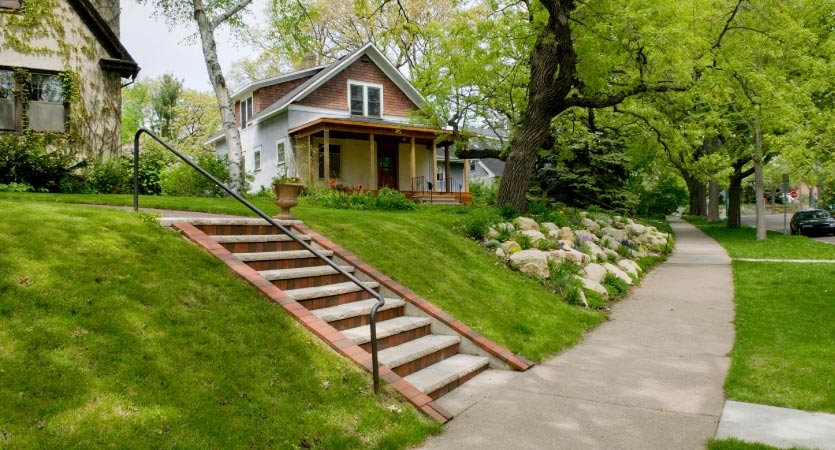 Macalester-Groveland (St. Paul)
Located 15 minutes in either direction from both central Minneapolis and Downtown St. Paul, Macalester-Groveland gives young professionals, students attending the nearby colleges, and families access to the best of both cities — without any of the chaos. The vibe here is quiet and suburban but not dead. There are several coffee shops, restaurants, parks, and bars to check out right in the neighborhood, and you can typically find the most action off the neighborhood's central vein of Grand Avenue.
The typical home value in Mac-Groveland is about $417,000 as of June 2021, higher than in Minneapolis or most of St. Paul, though you'll catch a break with rentals. Average rent here runs about $1,200 a month, as of June 2021. There are a lot of apartments for sale and to rent in addition to cute 1950s single-family homes, large renovated houses with multiple bedrooms and a yard, and charming Craftsman bungalows, typically all (except the apartments) on lots over 5,000 square feet.
Niche rates Mac-Groveland as the #1 best neighborhood to live in St. Paul. Public schools here are rated above-average, and there are also a few colleges around. Keep this neighborhood in mind if you're looking for a pedestrian-friendly spot with easy access to greenspace (including the Mississippi River), big city amenities, and a little slice of sweet suburban life.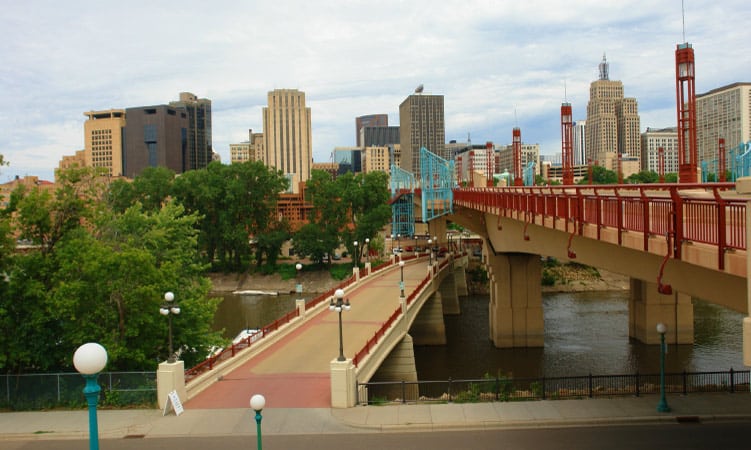 Downtown (St. Paul)
This second heart of the Twin Cities proves life beats just as strong on the east side of the river. Some of the biggest bonuses to Downtown St. Paul? It's dense, walkable, safe, full of character, and, quite often, the life of the party. Most people who live here are young professionals or students who want to soak up the energy and get around on foot or by bike.
The majority of people who live here rent and live in large apartment complexes or in renovated loft spaces. Average rent runs about $1,500, with 73% of rentals going for between $1,000 and $2,000 a month, and 15% costing more than that, as of June 2021. And most rentals have good amenities such as laundry, fitness centers, and on-site management. The typical home value is around $210,600 as of June 2021, and you'll find mostly lofts and condos on the market.
Trying to decide between Central/Downtown Minneapolis and Downtown St. Paul? The above-average public schools and good safety of Downtown St. Paul just might tip the scales. Well, that plus the gorgeous river views, museums, live music and performance venues like the Palace Theatre, bars, restaurants, and a good amount of greenspace. There's certainly a lot to love about the Downtown St. Paul area.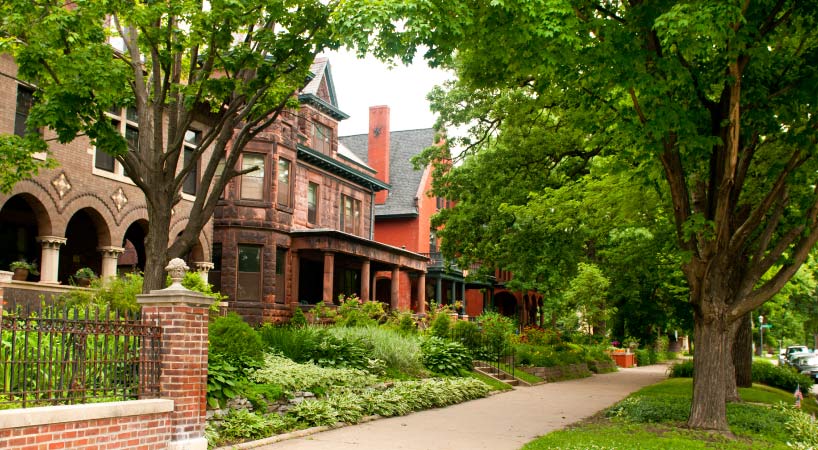 Summit Hill (St. Paul)
Love history? Head over to Summit Hill — one of the oldest neighborhoods in St. Paul — where you'll find as much history as beauty in the area's well-kept Gilded-Age and Victorian mansions (including F. Scott Fitzgerald's house!). This affluent neighborhood gives a taste of the high life with European-style bakeries, luxury boutiques, and upscale restaurants.
While big homes with big price tags are the norm here, you'll also find sprinklings of smaller single-family homes and contemporary condos with somewhat more affordable prices. And public schools here have an overall B+ rating from Niche, which plays a part in its ranking as the second-best neighborhood to raise a family in St. Paul. As of June 2021, Zillow reports the typical home value to be just under $502,000 (a 7.2% increase over the previous year), while average rent runs about $1,400 a month, as of June 2021.
Shop 'til you drop on Grand Ave, eat your way down Selby Avenue, or just go for a stroll to admire the historic architecture (like the beautiful Blair Arcade built in 1887) lining the streets of this pedestrian-friendly neighborhood.
Looking for a few more options on that vast map of Minneapolis neighborhoods? Take a look at these.
-- Uptown Minneapolis
-- Northeast Minneapolis
-- Dinkytown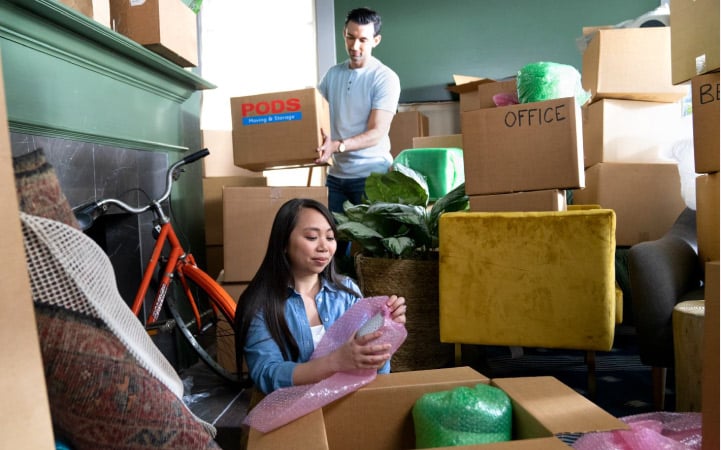 Planning Your Move
From local moves to relocations across the country, when it's time to make the move to Minneapolis, choose a flexible moving and storage service like PODS that will allow you to pack, load, and move at your own pace. We even provide built-in storage options with no monthly minimums in case you want (or need) a little wiggle room in your schedule.
Until then, check out the PODS blog for tips and tricks to help you start planning your move. We've got all the goods — from this handy apartment moving checklist to how to get accurate moving cost estimates to stuff you should know about renting portable storage containers. Basically, we're here for you — every step of the way.
---
Katherine Alex Beaven is a frequent contributor to the PODS blog who has moved 20+ times because she loves to experience new places.
Get a Quote
Choose the service you need
Comments
Leave a Comment
Your email address will not be published. Required fields are marked *