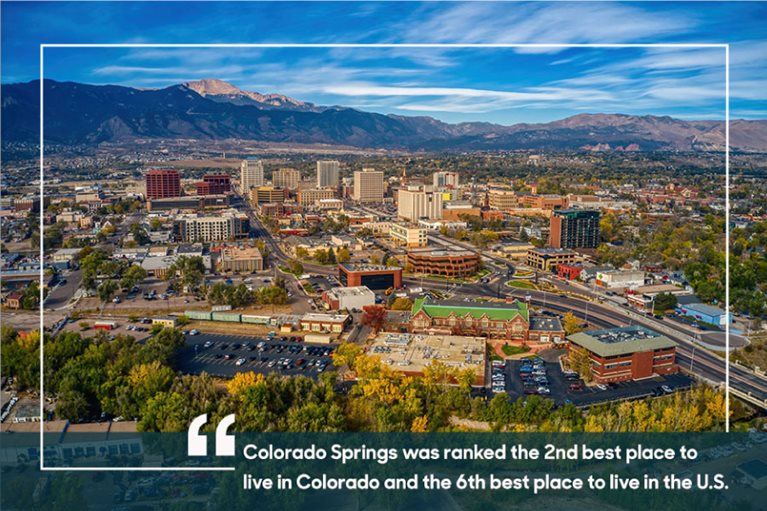 Mountain Views and Marvelous Weather: Why Moving to Colorado Springs May Be the Right Move for You
Are you an avid skier? Tenacious trail trekker? Maybe just an overall outdoor enthusiast? Then there may be no better place for you to live than Colorado Springs, Colorado. It's the kind of city where people who love a big-city feel mixed with amazing natural settings and beautiful vistas all come together. In fact, if you've been thinking about moving to Colorado Springs lately, you're not alone. People are coming from all over to enjoy one of the nation's most popular metropolitan areas. And here's why.
Living in Colorado Springs
Did you know Colorado Springs was ranked the 2nd best place to live in Colorado and the 6th best place to live in the U.S.? Wow! That's impressive! But it's also not surprising, considering all The Springs has to offer.
A popular destination for families and married couples, this city by the mountains offers a suburban feel while still providing easy access to the excitement of Denver, which is only a little over an hour away. But that's not to say Colorado Springs doesn't offer excitement of its own. You can always find something to do, from hiking and mountain biking to enjoying farmers markets, festivals, and live music events.
Colorado Springs was also ranked the 44th healthiest city in America and one of the top 5 American cities with the best air quality. And with relatively mild weather year-round, residents can (and do) take full advantage of the various outdoor activities the city and surrounding areas have to offer.
As for the cost of living, it's pretty decent with relatively affordable housing. In fact, the city of nearly 500,000 residents is a popular destination for retirees, too. The housing options, scenic views, and ample sunshine have all helped to attract the 65+ crowd.
Not a retiree or part of a growing family? No problem! Colorado Springs is also the kind of place where everyone is welcome. And the city is expanding right alongside the new opportunities that are popping up there. It's become a popular place to live for people of all ages, backgrounds, and lifestyles.

Why are people moving to Colorado Springs?
Speaking of relatively affordable housing and cost of living, that's one reason why so many people are moving to Colorado Springs. Of course, home prices have been rising pretty much everywhere in the nation, and nearby Denver has priced out many young, first-time homebuyers and retirees. Colorado Springs, however? It's still an area where you can live that Colorado life without breaking the bank. Also, locals say the cost of living in Colorado Springs — for overall goods and services, such as utilities, transportation, and property taxes — is lower than in neighboring Denver. Of course, that's not the only reason people are making the move. Here are a few more:
Outstanding Outdoors
In addition to the stunning views from renowned spots like Pikes Peak and the Garden of the Gods, there are tons of trails for hiking and mountain biking around the city. And don't forget whitewater rafting, ziplining, horseback riding, and numerous winter sports.
Family-Friendly Community
Walkable neighborhoods, friendly stores, and above-average schools make The Springs a great place for families. And while the median age is just shy of 35, thanks to nearby universities and the U.S. Air Force Academy just north of the city, there are many college-age students here, as well.
Easy Commute
Another plus of moving to Colorado Springs is the average commute to work, which is pretty good at only 24 minutes, despite the city's relatively large size of 194.5 square miles.
Mild Weather
Believe it or not, Colorado Springs has a relatively mild climate with an annual average of 243 sunny days. There are warm summers (50°F- 84°F*), cold winters (17°F- 45°F*), and all four seasons — though some might complain that fall isn't long enough and winter sometimes lasts too long. And while the city definitely gets snow (nearly 5 feet annually), it usually doesn't slow people down too much, since it tends to melt and dry up relatively quickly.
*Average temperatures (low and high) for the season
What are the best areas to live in Colorado Springs?
Some of the best Colorado Springs neighborhoods and suburbs are Shooks Run, Briargate, Black Forest, Rockrimmon, and Old Colorado City, just to name a few. But as in any city, the best neighborhood depends on your preferences and lifestyle.
If you like to walk and want to get around that way, you may want to look downtown at Shooks Run.
Briargate is one of the most desirable places for young people, with great trails, sidewalks for strollers, and beautiful greenery, in addition to close proximity to great shopping and other amenities.
Looking for somewhere to raise a family? Black Forest is a suburb northwest of Colorado Springs with a rural feel. With above-average schools, this suburb is ranked the 5th best place to live in the Colorado Springs area.
And Rockrimmon is considered an ideal choice for those who want more land or to keep horses — a prime recreational activity for the area.
Looking for historic charm? Check out Old Colorado City, with its original brick buildings, galleries, and storefronts from when the area was the first capital for the Territory of Colorado.
Insider Tip: Rocky terrain. New place. And on top of that, you and your whole family are uprooted. Save yourself the trouble of driving a big truck through mountainous Colorado and let PODS do the driving. PODS will deliver a portable moving container right to your driveway so you can take all the time you need to pack and load. Once you're set, PODS will pick it up and deliver it to your new home in Colorado Springs, or keep it at one of our secure storage facilities until you're ready for it.
Is it expensive to live in Colorado Springs?
Colorado Springs' cost of living is 6% lower than the national average, and nearly 16% lower than Denver's. And when you look at housing alone, Denver is almost 36% more expensive than Colorado Springs. As a result, many people are moving from Denver to this growing area.
Similar to other U.S. housing markets, the typical home value in Colorado Springs has gone up over the last year (27%). That means the housing market has become more competitive during the hot real estate boom of the past two years — and most homes receive multiple offers, driving the price higher. Still, homes and general living expenses in Colorado Springs are less expensive than in Denver.
How much money do you need to move to Colorado Springs?
The costs of moving to Colorado Springs vary, depending on your situation — especially when you're picking up and moving your family across the country. The first step to determining the actual cost is to do some cost comparisons to find the best value for your individual needs. To start, check out the table below for popular move routes and cost estimates for different types of moves.
Moving Route
Miles
PODS
(includes transport & 1-month storage)
Full-Service Movers
(includes transport & loading/unloading)
Rental Truck
(plus fuel costs)
L.A. to Colorado Springs
1,083
$3,466-$4,112
$1,920-$4,100
$923-$1,424
Denver to Colorado Springs
71
$710-$857
$1,620-$3,432
$142-$217
Northern California to Colorado Springs
1,319
$3,579-$4,498
$2,200-$4,632
$1,107-$1,706
*Based on estimates from PODS and MoveBuddha for a 2-3 bedroom household (800-1,200 sf), costs don't include insurance or taxes. Prices will vary based on specific locations, dates, size of household to be moved, and available discounts. For a detailed quote, call PODS at 877-350-7637.
Tips for moving to Colorado Springs
Moving to Colorado Springs will take a lot of planning, preparation, and, if you need it, muscle from friends and family. That is why having a frank and honest conversation with your spouse, partner, or moving helpers — looking at you, mom and dad — before getting ready to move is essential. Start investigating your options for moving early in the process, and think about how you want the experience to go.
Full-Service Movers
This option is the least hands-on and can be a great choice if you really don't want to have to deal with the packing, loading, and actual moving part of a move. However, with so much home buying and selling these days, full-service movers are likely to have longer-than-average wait times, so that may play into your decision. In addition to likely being the most expensive option, this is the one that offers you the least control. Schedules can be strict, and sometimes your possessions will get loaded in a truck with other households, increasing the odds of something going missing.
Rental Trucks
Typically the cheapest option, it is also the most time-consuming and challenging. Figuring out what size truck to rent is often the first challenge. There's also the driving aspect of rental trucks, which requires a level of concentration and preparation, especially in an area like Colorado Springs. Lastly, it requires you to pack and load everything on your own (or with the help of friends — pizza anyone?). It's a lot of work, but it can totally be worth it if your priority is saving money.
Portable Moving Container
A great hybrid moving option is portable moving containers, which come in multiple sizes, so you can rent the perfect size for your move. The container is delivered to your home, where you can load it at your own pace and on your own schedule. When you're ready, we'll pick it up and deliver it to your new place, so that when you arrive, everything is right where you packed it. Best part? Your stuff is loaded in a container only you have access to. No need to worry about things getting mixed up with another family's.
Ready to put your ski boots on and start prepping your family for some fun sightseeing? Moving to Colorado Springs can certainly be an exciting adventure. Just be sure to check out the PODS blog for advice along the way. After all, this just might prove to be your move of a lifetime!
---
Karen Dybis is a freelance journalist and a frequent contributor to the PODS blog. Her work has appeared in Time magazine, U.S. News & World Report, The Detroit News, and more.
Sources:
Get a Quote
Choose the service you need
Comments
Leave a Comment
Your email address will not be published. Required fields are marked *