New to the Sunshine State? Here's Your Guide for Moving to Fort Lauderdale
Moving to Fort Lauderdale is a great option if you're considering making a move soon. Regarded as the Venice of America and located on Florida's southeastern coast, this bustling city offers great views of the Atlantic Ocean, along with plenty of pristine beaches to swim and relax on. Residents of this city enjoy the sunny weather, job opportunities, and all the fun ways to get out and enjoy nature, whether on land or water.

While demand in the housing market is high, there are plenty of affordable options for those looking to rent or buy in a variety of safe, tight-knit neighborhoods. Whether you're relocating to the Sunshine State for a job, looking for a great place to raise a family, or just want a beautiful place to retire, Fort Lauderdale has what you're looking for.
Ready to move to Fort Lauderdale? See how PODS can help.
A Little Background About Fort Lauderdale
While known for its beautiful beaches, great dining scene, and artsy vibe, Fort Lauderdale is a place where everyone can find their dream home. The city itself encompasses about 35 square miles, and the population sits at just over 183,000. Residents get to explore 24 miles of coastline and enjoy easy access to the third-largest cruise port in the world.
The median age in Fort Lauderdale is nearly 43, and it is considered one of the best places in the U.S. to retire. Additionally, you'll find people from all over the world living in Fort Lauderdale — evident in the vast amount of dining options sure to satisfy any palette.
Q: Is Fort Lauderdale a good place to live?
A: Yes, Fort Lauderdale is a great place to live with a high quality of life. From the weather and proximity to the job opportunities and great dining scene, you can't go wrong living in Fort Lauderdale.
Pros and Cons of Moving to Fort Lauderdale
Before you hire moving services in Fort Lauderdale and make a list of all the beaches you plan to visit, you'll want to know more about the pros and cons of this Florida gem.
The Weather
When you think of Florida, you think of sunshine. And with over 240 days of sunshine each year, it's safe to say you won't have trouble getting outside. (Unless you hate getting sweaty!) The warm, sunny weather invites you to lie on the beach, explore nearby forests and parks, or sit by the pool for the afternoon.
Crime in Fort Lauderdale
Residents of Fort Lauderdale feel safe living in their communities, but it's still important that you do some thorough research before determining exactly what neighborhood is best for you. The crime rates in Fort Lauderdale are higher than the Florida average, but this is the reality for many large cities, as there are more people in a smaller area.

The Location
Perhaps the biggest pro is the city's location. Fort Lauderdale is located on South Florida's east coast, right on the water. The vibrant, exciting city of Miami is less than 45 minutes away, and the gulf coast city of Fort Myers is just a little over two hours away. You also have easy access to nature with Big Cypress National Preserve and the Everglades on the outskirts of the city.

Fort Lauderdale Transportation
This is a pro or a con, depending on how you look at it. While you might want a car to explore state destinations like the Everglades or even beaches on the other coast, you can get around the city without one if you must. Though it isn't generally advised, as Florida as a whole is car-centric. Broward County's bus lines are going to be the easiest option, but there are also commuter trains that can take you south to Miami or north to West Palm Beach for a weekend away. There's also a bike sharing network and even water taxis to take you anywhere you need to go in the city. The transit systems aren't anything like other major cities, though, and many residents prefer to drive.
Cost of Living in Fort Lauderdale
Fort Lauderdale is a popular spot to live, and the cost of living is higher than both the national and state average. The average home value is $521,000, while the average rent for a one-bedroom apartment is $2,700. These numbers might be startling to some, but if you're coming from a larger city like New York or even Miami, these prices are much more affordable — plus you're likely to get more space for the price!

You can also look forward to no state income tax and lower property tax rates. You will, however, find that there is a 7% total local sales tax in Fort Lauderdale and a higher tax on alcohol purchases.
Fort Lauderdale Climate and Weather
Fort Lauderdale experiences the same hot, humid, rainy weather as the rest of Florida, but the breezes from the Atlantic make it more tolerable than cities further inland. The city's climate is humid subtropical, meaning you can expect long, hot, humid summers and wet, mild winters. It's also important to remain aware of hurricane season from June 1 to November 30 and make sure you're prepared ahead of time.
Getting Around Fort Lauderdale
Let's cut to it: Having a car is your best option. This isn't a surprise if you're a native Floridian, but if you're moving from the North, you might be in for a shock as to how much you need a car to get around. As one would assume, more cars means more traffic. In addition to normal rush hour, traffic gets especially bad in the summer when tourists flock to the beaches.

Having a car isn't your only option, however. You can get around the entire city using Broward County Transit (BCT). If you're sticking to the tourist areas on any given day, there's also the LauderGO! Water Trolley and the Sun Trolley. It will take you longer to get around, though.
Best Places to Live in Fort Lauderdale
Knowing your new home is essential for comfort, and finding the best Fort Lauderdale neighborhood for your lifestyle is the best way to do that. Here are three highly rated neighborhoods and suburbs we'd recommend to any new resident.
Parkland
This suburb holds the #1 spot on Niche's list for "Best Places to Raise a Family in Broward County." It's close to the coast and has plenty of housing options — both new and old — perfect for any family. Parkland boasts an excellent school district, and residents love the tight-knit and welcoming community. You'll always find someone walking, jogging, or taking the kids to the park. And when they're not enjoying the scenery, residents love dining at Deja Blue Restaurant and Malbec Grill.
Flagler Village

If you're a young professional moving to Fort Lauderdale for a new job, you'll want to check out
Flagler Village
. This hotspot is close to Las Olas Boulevard and all of its dining, theater, nightlife, and fun. With
monthly farmers markets
,
food trucks
, and art walks throughout the gallery district, you'll never have trouble deciding what to do.
Alongside local favorites like
Invasive Species Brewing
and
Here and Now
(known for their tapas and craft cocktails), you can test your aim at
Chop + Hops Axe Throwing
Lodge or meet your friends in
Holiday Park
for a game of pickleball. There are also plenty of beautiful places to rent in this lively neighborhood, from studios to two-bedroom apartments.
Wilton Manors

Are you looking for a stellar place to retire in Fort Lauderdale? Then consider checking out the suburb of
Wilton Manors
. This safe, friendly area is just minutes from the beach — perfect for days spent on the water in your retirement. You can also explore the greenery of
Richardson Historic Park & Nature Preserve
and
Mickel Park.

In addition to places to sit and enjoy the beautiful natural scenery, retirees love that they can easily get to great restaurants in Wilton Manors. The
Bona Italian Restaurant
is popular for lunch or dinner, but if it's early morning coffee you want, check out
Java Boys
.
Q: Is it cheaper to live in Tampa or Fort Lauderdale?
A: It's 13.1 percent cheaper to live in Tampa than in Fort Lauderdale. However, all the perks of living in the Venice of America make up for the cost difference.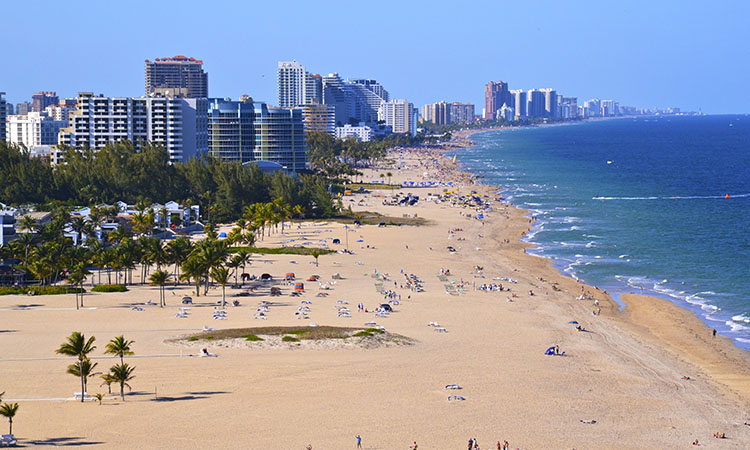 Things to Do in Fort Lauderdale
Once you're settled in after moving to Fort Lauderdale, it's time to make a list of things you can check out in the area! Sure, the beaches will be high on your list of places to check out, but that's not all this city has to offer. Whether you're looking for something artsy for an evening out or outdoorsy for a day in the sun, there's something for every mood. A few favorites include:
Shopping on Las Olas Boulevard
Visiting the Bonnet House Museum and Gardens
Catching a show at the Broward Center for the Performing Arts
Strolling along Riverwalk Fort Lauderdale
Fishing trips in the Atlantic Ocean
Exploring Hugh Taylor Birch State Park
Kayaking through the Intracoastal Waterway
Moving to Fort Lauderdale
Whether you're hiring a long-distance moving company, moving a few minutes away, or moving from another Florida city, there are plenty of options for getting your belongings to your new home. There's no right or wrong way to move to Fort Lauderdale, but it's helpful to know your options!
DIY With a Moving Truck Rental in Fort Lauderdale
This option is great if you're moving to Fort Lauderdale on a budget. You'll be able to pack, load, and drive to your new home all at your own pace. It's helpful to enlist friends and family for this option — especially if you have heavy furniture. Remember, though, while you're saving money and won't have to worry about finding moving services in Fort Lauderdale, it's likely to take longer. You'll also need to figure out how your car is going to make its way to your new home.
Full-Service Fort Lauderdale Moving Companies
Full-service movers are likely to be the most expensive, but you'll have more help and less worry. They'll pack up your belongings, load everything up, drive it all to your new home, and then offload. Ideally, all you'll have to worry about is unpacking, but moving services can come with a caveat. Movers can require a bit of micromanaging, especially if you need things loaded in a specific order. Also, your belongings might not be the only ones on the truck. With any hint of disorganization, items could end up lost or damaged.
PODS Portable Moving Containers
Another great option is taking a hybrid approach with a moving and storage container from PODS. It's less expensive than full-service movers without all the work that comes with a DIY moving truck rental in Fort Lauderdale. With PODS, you can pack up the container on your own schedule, and one month of storage is even included with every move. Your items will all stay together, and PODS will pick up the container and drive it to your new Fort Lauderdale home. You can even call upon local movers to help load and unload.
The Cost of Moving to Fort Lauderdale*
The actual cost of your move to Fort Lauderdale depends on a lot of variables, such as:
How much stuff you're moving
How far you're moving (local or long-distance)
The type of moving services you require
Whether or not you need storage
Moving Route: NYC to Fort Lauderdale
Distance: 1,260 miles
PODS (includes transport and one month of storage): $3,206 - $4,408
Full-Service Movers (includes transport and loading/unloading): $3,013 – $6,843
Rental Trucks (excluding fuel costs): $1,107 – $1,706
Moving Route: LA to Fort Lauderdale
Distance: 2,710 miles
PODS (includes transport and one month of storage): $3,321 - $4,566
Full-Service Movers (includes transport and loading/unloading): $3,975 – $7,982
Rental Trucks (excluding fuel costs): $2,182 – $3,155
Moving Route: Tampa to Fort Lauderdale
Distance: 250 miles
PODS (includes transport and one month of storage): $1,152 - $1,584
Full-Service Movers (includes transport and loading/unloading): $1,556 – $4,505
Rental Trucks (excluding fuel costs): $328 – $505
Moving Route: Miami to Fort Lauderdale
Distance: 30 miles
PODS (includes transport and one month of storage): $406 - $558
Full-Service Movers (includes transport and loading/unloading): $799 – $2,321
Rental Trucks (plus fuel costs): $49 – $122
*Based on estimates from PODS and MoveBuddha for a 2-3 bedroom household (800-1,200 sf). Costs don't include insurance or taxes. Prices will vary based on specific locations, dates, size of household to be moved, and available discounts. You can get a free local moving quote from PODS.com, but for a detailed quote, call PODS at 877-350-7637.

PODS Can Help with Your Fort Lauderdale Moving and Storage Needs
Make your move to Fort Lauderdale a flexible one with PODS. Have a container delivered right to your driveway for easy loading on your own schedule. Once you're ready, PODS will pick it up and deliver it to your new Fort Lauderdale home. Need a little more time to get settled in? No problem! One month's storage is built into every PODS move.

Editor's note: For ease of reading, monthly rental prices were rounded to the nearest $25 and home values were rounded to the nearest $100.
Get a Quote
Choose the service you need
Comments
Leave a Comment
Your email address will not be published. Required fields are marked *