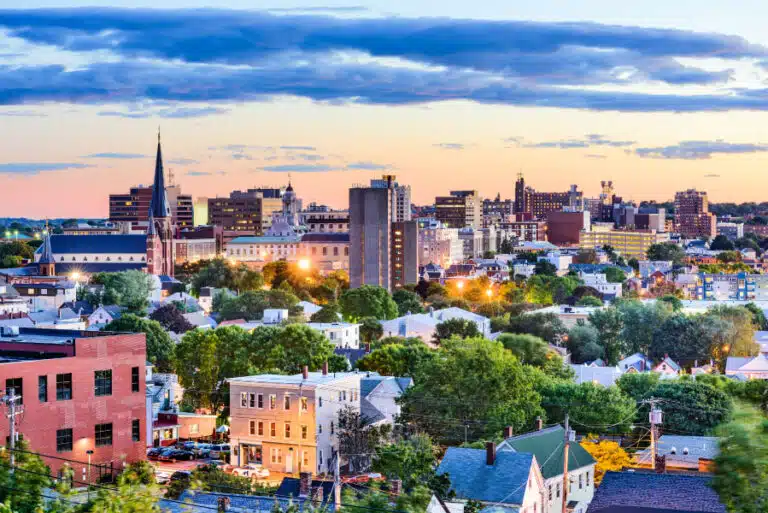 Why Moving To Portland May Become Your New "Maine" Goal
Wondering if you should pack up and move to Maine? Well, if you want to live somewhere trendy with popular art venues, scenic nature trails, and lots of delicious food, then Portland may be the perfect place.
Here's a snapshot of why we think moving to Portland, Maine, may be the right move for you.
About Portland, ME
Despite being the largest city in the state of Maine, Portland only has about 68,000 residents (while Maine has a total population of little more than 1.3 million). Being that Portland has a smaller population, you can certainly expect to see typical attributes of small-town charm — a "slower pace of life," strong community vibe, and less traffic to contend with.
Due to Maine's overall low cost of living and great healthcare (to name a few reasons), retirees make up a good portion of the population. It's also considered to be one of the healthiest places to retire in America because older people have access to so many outdoor activities.
Don't think that Portland only attracts retirees, though. Lots of young millennials and students live in Portland because of its thriving startup scene. Not to mention it's an excellent place to raise a family. Fun fact: The pandemic has encouraged people between the ages of 24 and 35 to move to Maine and work remotely, and that demographic now makes up 12% of the population.
Although summers are splendid, like anywhere in New England and the East coast, the weather in Portland, Maine, gets cold and snowy during the winter, with January typically being the coldest month of the year. When it comes to overall average yearly precipitation, Best Places explains that Portland gets 49 inches of rain (versus the U.S. average of 38 inches) and 61 inches of snow (versus the U.S. average of 28 inches). Floods are most common in the spring, but, unfortunately, they can happen any season. Still, there are always fun things to do in Portland, Maine, year-round, no matter the weather.
Is Portland, Maine, a good place to move to?
People who live in Portland, Maine, rave about their quality of life — and for good reason. Breathtaking scenery? Check. Affordable cost of living? Check check. Culturally diverse atmosphere? Check check check. From incredible food and scenic views to safe streets and New England charm, Portland basically has it all. Here are just a few of the many reasons people love this city.
The Beautiful Outdoors
It may come as no surprise that landmarks, walking tours, hikes, sailing excursions, and more are popular activities in a city known for its scenic land and sea. According to Visit Portland, there's a rich history behind Portland's waterfront, in particular. Residents can fish, sail, kayak, and more in an area that was once a trading and fishing settlement in the 17th century, thanks to a movement in the 1860s to preserve Portland's art scene and waterfront activities.
Cost of Living
Is it expensive to live in Portland, Maine? That depends on where you're moving from. For instance, when compared to Maine as a whole, Portland is a little more expensive, since it's a more popular and trendy city. Coming from New York, though? You'll find it's way more affordable. Basically, compared to other New England cities, Portland encompasses the scenery and charm while also having reasonable living expenses. Plus, there's no county or city sales tax!
Job Opportunities
The Portland MSA (Metropolitan Statistical Area) is actually known as the strongest economic region in Maine. The top employment sectors? They include trade, transportation and utilities, health services, government, and education. And as of November 2021, Portland's unemployment rate was 3.8%, a full point lower than the state's rate.
Schools
As of 2022, Portland Public Schools rank #1 out of 120 as the most diverse school district in Maine. With nearly 7,000 students, they have a 12:1 student-teacher ratio compared to the national average ratio of 17:1, which allows students to get more individual attention from their teachers. And for the quality of schools, Cape Elizabeth Public Schools has the best teachers, while Isleboro Public Schools was voted the safest school district in Maine. If you look at Movoto's map of Portland, Maine, neighborhoods, you can easily see that homes are abundant in areas near Portland Public Schools.
Healthcare
Maine's hospital care is higher quality, on average, than any other state in the country. And Maine's Medicaid plan also offers free and low-cost health insurance to residents who meet certain criteria. But Portland, specifically? It has the hospital that consistently ranks as the best in the state. In fact, Maine Medical Center ranked #1 in the state for the 9th consecutive year in 2021.
What is the best area to live in Portland, ME?
If you're considering moving to Portland, Maine, be sure to explore these popular neighborhoods:
Neighborhoods for Families
Families in the market for a place to live in Portland are particularly looking for safety, education, single-family homes, and outdoor life — and West End is one neighborhood that delivers all of that. It has lots of open space, parks, public schools, and beautiful homes.
Yarmouth and Westbrook, Maine, are also family-friendly cities because they're similar to Portland but the cost of living is more affordable. Yarmouth is also close to Falmouth, Maine, a city with a higher median income of $99,861 and a short 14-minute commute to the city. And when families want to vacation, they can simply hop on a short ferry ride to explore the islands in Casco Bay.
Neighborhoods for Single People
South Portland, Maine, can be a great option for individuals looking for nightlife, public transportation, and affordable living. It's not as expensive as living in the heart of Portland, but it's still charming and accessible to the Old Port and other main attractions.
How much does it cost to move to Portland, ME?
Check out the chart below for a breakdown of the cost of moving to Portland from some popular areas of the country.
Moving Route
Miles
PODS
(includes transport & 1-month storage)
Full-Service Movers
(includes transport & loading/unloading)
Rental Truck
(plus fuel costs)
Boston, MA
to Portland, ME
107
$695-$788
$1,620-$3,432
$142-$217
Northern California
to Portland, ME
3,196
$5,493-$7,717
$3,893-$7,230
$2,308-$3,337
Hartford, CT
to Portland, ME
206
$1,097-$1,419
$1,620-$3,432
$328-$505
*Based on estimates from PODS and MoveBuddha for a 2-3 bedroom household (800-1,200 sf), costs don't include insurance or taxes. Prices will vary based on specific locations, dates, size of household to be moved, and available discounts. For a detailed quote, call PODS at 877-350-7637.
While the cost to get there is important, there are additional things you'll want to keep in mind, including:
How much time you have to move
If you have your next place lined up
How much driving, packing, and loading you're up for
If you'll need storage at any point during the move
Read on for a more detailed breakdown of your options.
Moving to Portland
So now that you know why people are moving to Portland, do you know how you would do it? There can be so many stressors when it comes to picking up your life and belongings in one fell swoop. But as long as your stuff is safely being transferred to your new home, you'll be able to get your life back in order — and get to exploring this exciting new city — in no time.
Full-Service Movers
With a full-service mover, the sky's the limit — that is, if money is no object. Want everything packed, loaded, delivered, unloaded, and unpacked for you? A full-service mover can do that. And they can also charge you an arm and a leg to do it. Our advice? If you have the means, by all means, hire the movers. Just make sure you do plenty of research first, and get everything in writing beforehand, so you won't have any surprises along the way.
Rental Trucks
On the flip-side, do you want to try to move as cost-effectively as possible? Perhaps the DIY route may work for you. But when you add fuel costs, insurance, food, and lodging along the way, renting a truck may be more expensive than you'd think for longer hauls. You can check out how a rental truck compares to PODS services on our website and the PODS Blog.
Portable Moving Containers
If combining flexibility and ease is key when you're ready to make your move to Portland, consider moving with PODS portable moving and storage containers. It's easy: You can have containers of three different sizes delivered right to your driveway, where you can then take your time packing and loading at your own pace. Once you're ready, PODS will pick them up and take them directly to your new Portland home. Change of plans? Need to keep your containers in storage while you wait to close on a house? No problem! There's a secure and convenient PODS Storage Center nearby.
---
Bonnie Azoulay Elmann is an NYC-based freelance writer and frequent contributor to the PODS Blog. Her work has appeared in Glamour, Health, and Parents, among others. She is an extremely driven digital storyteller who may or may not have a slight obsession with fanny packs. 
Sources:
Get a Quote
Choose the service you need
Comments
Leave a Comment
Your email address will not be published. Required fields are marked *