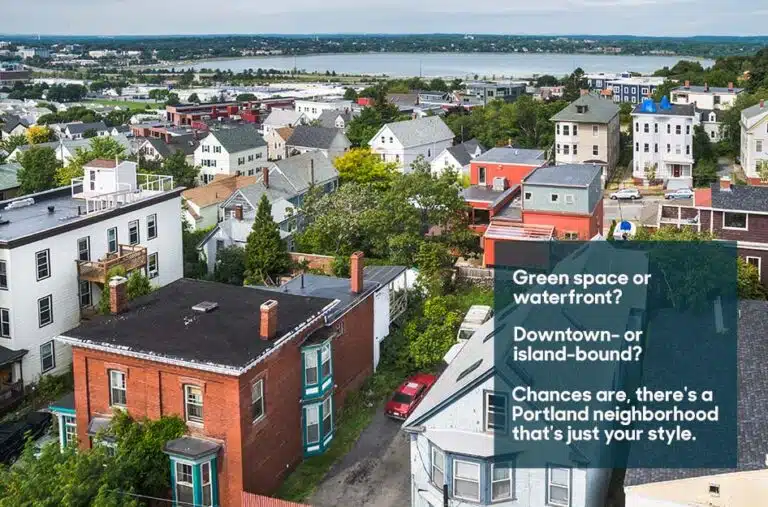 Considering Moving to Portland, Maine? Add These 7 Neighborhoods to Your Must-See List
It's hard to pin Portland down or put it in a neat box. Home to about 68,000 people, it's Maine's most populous city, and yet seeing locals greet each other when passing by on the cobblestone streets, it can feel like a small town. It's filled with artists, students, families, and foodies. And it's peaceful and snow-covered in the winter but a hopping destination in the summer months, brimming with tourists taking the ferry to Peaks Island or chowing down on a lobster roll by the Old Port waterfront.
From the on-peninsula activity to the off-peninsula suburbs, there's no arguing Portland is an all-around excellent choice to call home. But the question really isn't whether you should live in Portland, Maine — it's where exactly you should live. So to help break down the decision, we've highlighted a handful of move-worthy communities. Come join the tour!
Did you know? This is actually the third article in a series about Portland. In case you missed them, visit the PODS Blog for a look at our guide to moving to Portland and our walkthrough of living in Portland. From answers to big questions like, "Is Portland, Maine, a good place to move to?" to a snapshot of job opportunities, cost of living, and healthcare in Portland, they're sure to assuage any lingering uncertainty about making the move.
What are the different neighborhoods in Portland, Maine?
Portland itself is made up of 21 different neighborhoods, as well as several Greater Portland suburbs. In this guide, we'll walk through seven of our favorites: Falmouth, Cape Elizabeth, Old Port, South Portland, Westbrook, Parkside, and Peaks Island.
For the family looking for a top-notch school system . . .
Falmouth, Maine
Typical home value: $702,917
Average monthly rent: $1,900
Overall Niche grade: A
Good for: Families, schools
When it comes to its public schools, Falmouth certainly makes the grade. Falmouth High School, for example, is ranked the fourth best public high school in the state, touting a 95% graduation rate. The area's relatively modest population of about 12,500 makes for a tight-knit community and residential vibe. The majority of residents own their homes, and you'll find a combination of young families taking advantage of the ace public schools and older retirees embracing the peaceful bedroom community.
And thanks to its coastal location, Falmouth offers some pretty stellar sights. Head down Town Landing Road (being sure to make a pit stop at the aptly named and incredibly quaint Town Landing Market for a grilled cheese or breakfast sandwich) to arrive at the largest recreational mooring/anchorage north of Marblehead, Massachusetts. A boat launch, public beach, and sweeping views of Casco Bay await.
For those looking for a safe port to call home . . .
Cape Elizabeth
Typical home value: $750,403
Average monthly rent: $1,559
Overall Niche grade: A+
Good for: Schools, housing, families, safety, nightlife
Judging by most postcards of Maine, Cape Elizabeth possesses the pinnacle of life in the Pine Tree State: a lighthouse. If you live in town, you'll easily see the 18th century beacon against the coastal sunset and can even enter the former keeper's quarters, which has since been repurposed as a museum, replete with old photographs and lenses, among other artifacts. The Portland Head Light sits along the coast of Fort Williams Park — a 90-acre green space filled with hiking paths, picnic spots, recreation areas, and endless azure vistas.
Day-to-day life in Cape Elizabeth is about more than just classic white-washed lighthouses, though. Rated the best place to live, buy a home, and raise a family in Maine, this Portland suburb is an excellent place for both retirees and families with school-aged children.
Cape Elizabeth High School ranks among the best public high schools in the state and rates particularly high for reading proficiency. As far as private schools go, Waynflete is rated number one in the state and boasts a graduation rate of 100% (wow!). Of course, that reputation comes with a steeper price tag — the typical home value is nearly $300,000 more than Portland, and the real estate stock ranges from grand, shingle-style mansions by the sea to beautiful, historical, single-family homes.
For the foodie who wants easy waterfront access . . .
Old Port
Median home sale price*: $328,500
Average monthly rent (downtown): $1,592
Overall Niche grade (downtown): A
Good for: Families, schools, singles, nightlife
Old Port is arguably one of the features that makes Portland such a special city. Its working waterfront, riddled with lobster pots and fishing boats, is bordered by Commercial Street, a bustling thoroughfare where you'll find everything from seafood markets and clothing stores to hotels and pubs.
Wander further away from the water and up the many brick sidewalks and cobblestone streets to partake in some of the historic district's modern-day highlights: delicious donuts made with mashed potatoes at the Holy Donut; decadent poutine made with hand-cut potatoes fried at Duckfat; and craft beer at "Gritty's," where you can join a "mug club" to imbibe $2 brews on Sundays and Tuesdays, plus other perks.
For those looking to be in the thick of it all (Old Port is part of downtown), take full advantage of the foodie city that Portland is, and never want for something fun to do on date night, this is the perfect neighborhood. That said, be aware that it's a popular area for a reason, meaning homes for sale may be hard to come by, rentals are in high demand, and the quaint sidewalks will quickly fill up in the touristy summertime.
*Typical home value wasn't available for this neighborhood, so median home sale price was provided instead.
Q: What is the nicest part of Portland, Maine?
A: For young people and singles looking for an exciting and charming neighborhood filled with restaurants, shops, and bars, check out West End and the historic Old Port. Families seeking an A-plus school district and beautiful single-family homes should take a look at Cape Elizabeth, rated the best place to live in Maine and home to the famous Portland Head Light.
For the beach bum who craves a suburb with city access . . .
South Portland, Maine
Typical home value: $432,899
Average monthly rent: $2,032
Overall Niche grade: A-
Good for: Families, nightlife
Can you guess where this town is situated in relation to Portland? No, it's not a trick question: Directly across the Fore River from the Portland peninsula, South Portland is a scant three miles south of bustling Old Port.
The less densely populated cousin of Portland, South Portland claims more of a suburban feel and enjoys slightly deflated home prices when compared to Portland, but it still has plenty to do to fill up your weekends.
During the summer months, locals can don their sandals and flock to Willard Beach, a pretty stretch of sand-and-pebble shore that includes free parking, outdoor showers, and a snack stand. (Side note: The campus of Southern Maine Community College is conveniently situated right next to the beach, for students looking for an after-class swim.)
Walk down to the southern end of the beach to Fisherman's Point, a scenic lookout where you can take in views of the sailboat-spotted bay and even see the idyllic Portland Head Light, which stands in Cape Elizabeth.
And while it doesn't flaunt quite the downtown scene of Portland, South Portland is home to many frequent-worthy spots of its own, from a brewpub housed in a converted garage (Foulmouthed Brewing) to a delicious taco spot with vegan options (Taco Trio) to a cafe that specializes in loaded slices of toast (Toast Bar).
For the person seeking a suburb with a charming, locally focused downtown . . .
Westbrook, Maine
Typical home value: $367,913
Average monthly rent: $1,645
Overall Niche grade: B
Good for: Outdoor activities, families, nightlife, fitness, commuting
A river running through it is the hallmark of any great city — and lucky for Westbrook, it's scenically intersected by the Presumpscot River. Strollers and bikers can travel along the Westbrook River Walk straight into the historic downtown or, for a more wooded walk, you can take to the Mill Brook Preserve, which offers six miles of hilly trails to explore. The historic mill town and rapidly growing western suburb of Portland has a population of about 20,000.
Denizens can congregate around the Main Street downtown district, which boasts spots such as The Frog & Turtle, a gastropub with live music, and Roots Café, a coffee shop that goes beyond the expected by providing drinks, food, books, and childcare. (Yep, you read that right!)
For the young professional who loves green space . . .
Parkside
Median home sale price*: $342,500
Average monthly rent: $1,592
Overall Niche grade: A
Good for: Schools, families, outdoor activities, fitness, nightlife, commuting
About a mile west of the Old Port district, Parkside is slightly set back but still just a swift stroll away from the waterfront. Renters tend to make up the majority of the neighborhood's residents, and you'll likely find cheaper rates here compared to units closer to downtown.
While home to some covetable cafés, Parkside's most appealing draw might be Deering Oaks Park. This 55-acre green space has a pond, walking paths, basketball and volleyball courts, a baseball diamond, playground, splash pad, and more. Not to mention the variety of local events the park hosts, from a seasonal farmer's market to a summer concert series to wintry ice skating on the pond. For those looking for reasonable rents, a scenic loop for an afternoon run, and an easy commute downtown, Parkside is the place to be.
*Typical home value wasn't available for this neighborhood, so median home sale price was provided instead.​​
For the creative soul who dreams of island living . . .
Peaks Island
Median home sale price*: $640,000
Average monthly rent: Unlisted
Overall Niche grade: N/A
Good for: Families, community, quiet
If you dream of island living in New England, this small community is the move for you. But be aware: Dwelling on Peaks Island year-round means embracing two distinct paces of life. During the warm on-season months, the modest population multiplies with tourists and part-timers bopping around the island in golf carts and on bicycles, noshing on melty ice cream by the water and visiting the delightfully eccentric Umbrella Cover Museum. But after the final Casco Bay Ferry departs and takes its day-trippers with it, about 1,000 residents still remain on the isle, which is just over a square mile in size.
Q: Where should I live in Portland, Maine?
A: Those in search of cheaper on-peninsula rents and easy access to green space may like living in Parkside, while people looking for a unique and secluded residence would be remiss not to take the ferry over to Peaks Island. As always, the best place to live in any city depends on what you're looking for in a neighborhood and home.
Owing to, well, being surrounded by water, this Portland island is perfect for those looking for a bit of seclusion from the world at large, but a close-knit community to call their own — a siren's call to many artists, young families, and locals with established roots. The set-apart locale is not without its caveats, though. For one, youngsters can attend the local school from kindergarten through fifth grade, but after that must partake in homeschooling or commit to a commute to the mainland each day that revolves around the ferry schedule (Note: the ride is only about 20 minutes).
And those who live there know how special it is, meaning real estate inventory is in low supply. At the time of publishing this, there're just two properties listed currently on the market. So, if you want to move there, you'll have to first embody the island pace of life: Be patient and keep a keen eye out.
*Typical home value wasn't available for this neighborhood, so median home sale price was provided instead. The median home sale value for Peaks Island tends to fluctuate dramatically month-to-month, likely due to the limited number of available properties and the huge difference in property values ($270K to $1M and more).
Moving to Portland, Maine
Ready to make your move to beautiful Portland, Maine? No matter which neighborhood has your name on it, you'll need a way to get there. And while you can always bribe some friends and family with pizza to throw everything in the back of a truck, a solution like a portable storage container gives you the time you need to find your perfect Portland place — and maybe show your belongings a little more love in the process, huh? PODS has flexible moving and storage solutions for any move, whether it's just the short hop up from Boston or the long haul from L.A. With built-in storage options, you can design your move to meet your needs.
Another insider tip? Be sure to make the move as easy as possible by going through your belongings and decluttering before expertly packing everything up. And for those relocating from across the nation, you'll want to be mentally prepared for the climate shift of east coast living before deboarding the plane.
See you there!
---
Sofia Rivera is a Boston-based lifestyle editor and frequent contributor to the PODS Blog. Her work has appeared in Boston magazine, Apartment Therapy, and more. You can most often find her redecorating her apartment, trying out a new recipe, or trekking all over the city.
Sources:
Get a Quote
Choose the service you need
Comments
Leave a Comment
Your email address will not be published. Required fields are marked *