Your Essential Garden State Guide to New Jersey Moving
So you've decided to call New Jersey home. Congratulations! You and more than nine million other people can't be wrong. New Jersey is popular — and well populated — for good reason. The Garden State is much less expensive than New York City but still close enough to offer all the excitement of big-city life. There are several great areas to choose from, too, from the NYC suburbs to the famous Jersey Shore.
But whether you're moving DIY-style or hiring professionals, packing up and relocating an entire household is hard work. And, with its numerous commuters on the roads and propensity for extreme weather conditions, moving in New Jersey presents some unique challenges.
No need to get overwhelmed, though. Keep that excitement going and simply follow our advice in this essential New Jersey moving guide. From across the country to just across the George Washington Bridge — no matter where you're moving from, these tips are made for you.
1. Downsize and organize to prepare for your New Jersey move
Want to reduce the cost of your move and make settling into your new space a less stressful task? Get organized before moving.
Many people make the mistake of underestimating how long it will take to pack up their household — especially if they're living in a smaller home or apartment. You may surprise yourself, though, with how many things are actually stored in your home.
Give yourself plenty of time and embrace the opportunity to downsize so you don't end up throwing unnecessary items in a box haphazardly on moving day. Remember: The more items you move, the more time it takes to load and unload (and the more it costs, too).
Not sure what to do with unwanted items? There are plenty of resources at your fingertips. Try Facebook Marketplace or OfferUp, or ask a local church or nonprofit if they would be willing and able to pick up your donated items. This is a great way to offload a lot of unwanted belongings at one time.
And if you have enough time on your hands and want to make a little extra dough, consider having a garage or estate sale. If necessary, check and see if you have friends or family members who'd be willing to help out for a percentage of the profits.
If you're already living in New Jersey, the state also has several helpful options for downsizing and decluttering:
Keep in mind that what you bring to your new space will ultimately affect your moving costs, so when in doubt, toss it out!
2. Consider your New Jersey location logistics
Are you moving from a city apartment on a narrow street to a suburban home on a roomy street? Or from a duplex to a high-rise apartment building? Have a strategy in place to prepare for any changes in your environment. You don't want to end up getting slapped with unnecessary fines or with a lack of options for parking.
Things to consider:
Elevators: If you're moving out of or into an apartment, see if there is a freight elevator you can access, and find out if you need to reserve it in advance.

Parking options: Attention NYC apartment dwellers! If you are renting on either end of your moving journey, ask your landlord if there are time limits or restrictions that may affect your schedule.

Permits: In many cities, you'll need a special permit for commercial moving trucks. Secure these in advance. And don't forget to ask about any "No Parking" signs you may need and the legal placement of the signs. If you need assistance with this task, movingpermits.com will make arrangements. They streamline the process and do all of the paperwork for you to help make moving day less stressful. The best part? They have services in New Jersey cities such as Jersey City and Hoboken.

Street size: If you are planning on driving your moving truck, will you be comfortable navigating through any possible narrow streets and alleyways? Do you know how close you can park to your new home? Consider using a metropolitan moving service with professionals who are familiar with what it takes to move in and out of a big city.

Furniture size: Don't just focus on whether your furniture will fit inside your new home. Do some measuring before moving day to make sure your furniture will fit through all doorways, halls, elevators, and stairways that it will encounter on its way to your new home. Take special care to measure all of your larger pieces to avoid scuffing walls, and disassemble them, if possible.

Distance: If you're moving across the country, keep in mind that a long-distance move requires much more planning and organization than a weekend move. Consider using a storage facility or portable storage container to make packing, loading, and transporting your items easier.

Tolls: If you'll be using the New Jersey Turnpike or the Garden State Parkway on your drive into the state, it's going to cost you. The New Jersey Turnpike Authority has a handy online calculator, though, to help you figure out just how much.
3. Find free boxes
Having the right moving and packing supplies in place before your move will significantly cut down on day-of scrambling. Many moving companies offer affordable moving supplies, but if your budget is super tight or if you'd rather save your hard-earned cash for something else, there are lots of options for finding free boxes.
Possible sources to consider include:
Other movers: If you know anyone who is moving in nearby, offer to pick up their boxes as they unpack.

Recycling bins: Check receptacles in your neighborhood, and ask your friends and family to do the same.

Copy paper boxes: These are especially sturdy. You may be able to score some from schools, businesses, or government offices.

Online shoppers: Call your friends who have online shopping habits and offer to help hide the evidence!

Websites: Craigslist, Facebook, and Freecycle are great places to find free boxes.

Liquor stores: One man's wine crate is another man's moving box. Discarded wine and liquor boxes are a great size and very sturdy. Most liquor stores pile these up outside their doors.

Retail stores: Many retail stores are more than happy to let go of their extra boxes (especially on delivery days). Book stores, in particular, can be great sources for smaller, sturdier boxes. Some stores will even set aside boxes for you if you call.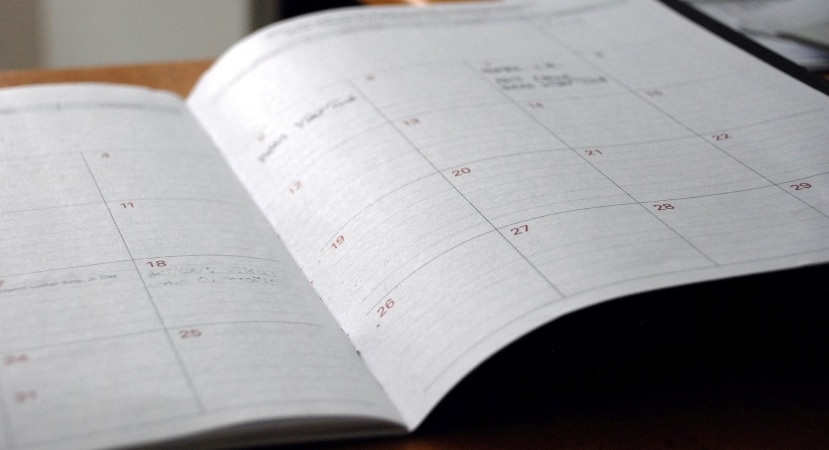 4. Remember that timing is everything
Taking time to carefully plan your moving dates can help save your sanity. Help cut down on moving-day stress by considering:
Taking a vacation: Ok, this one is a little misleading. We're not suggesting you head to the beach and ditch the packing (although that sounds pretty nice, right?). If you have any paid time off or can afford to take some time off without pay, this is a great time to exercise that option and focus solely on your move.

Avoiding a one-day move: If possible, even if you are moving a short distance in miles, don't try to do it in one day — especially if you are moving out of a larger city like New York. Many moving companies may push you to get your move done in one day, but we recommend giving yourself the gift of flexibility.

Planning for traffic: Traffic to and from New York City and Philadelphia is easier to manage on the weekends, but if you're moving to Central Jersey in the summer, you will need to consider the traffic to and from the Jersey Shore. And speaking of traffic, New York City hosts countless events during the year and is especially crowded during Thanksgiving and Christmas. Check for events that might be going on when you want to move and plan accordingly.

Wrapping up repairs and/or remodeling projects: If there are repairs or remodeling that need to be done in the place you're leaving or moving into, plan to have them completed ahead of time so they don't get in the way on moving day.
5. Watch the New Jersey weather reports
Even though it's a small state, New Jersey is known for its weather extremes. In North Jersey, the summers are hot, where temperatures can reach up to 105°F, and some winter temps include wind chills below 0°F. South Jersey, on the other hand, has a subtropical climate, characterized by hot, humid summers and mild winters. Talk about a real Jekyll and Hyde situation!
Because thunderstorms and nor'easters are also common in the New Jersey area, residents are accustomed to experiencing power outages. Nor'easters can hit anytime from late fall to early spring. Make sure you will have easy access to flashlights, radios, and extra batteries if you will be moving during the summer or winter.
With all of this in mind, when taking weather into consideration, most people find that the best time of year for moving in New Jersey is during the spring and early fall.
6. Find the moving style that's right for you
There's a lot to think about when planning a move, and it's important to find a New Jersey moving option that best fits your budget and needs.
Professional moving companies: Many people find that using a full service, professional moving company with experience in the New Jersey area is the most convenient approach. If you decide on this option, make sure you check the company's license information, insurance, ratings, and experience. Read reviews, as well, and get estimates before making a commitment.
DIY: Some people like to go it alone. If you're going to handle your entire move by yourself, careful planning and organization is important. If you'll be driving a moving truck, check your route carefully and plan for parking. Keep in mind that New Jersey has lots of commuters, and with its proximity to New York City and Philadelphia, it has some of the worst bottlenecks and traffic in the country. Traffic laws are strictly enforced and even dogs have to wear "seatbelts." New Jersey has some quirky transportation laws, as well. Often, to turn left, you need to go right, and it can be frustrating for a newcomer to get used to the "New Jersey jughandles." Also, fun fact, all gas stations in New Jersey have been full-service since 1949, so make sure you wait for your attendant. They don't DIY when it comes to pumping gas.
Pro Tip: You have enough on your plate (and mind) already. When it comes to navigating a bulky truck through those New Jersey jughandles and dealing with parking regulations, it's perfectly fine to shift your mindset from "do it yourself" to "get it done safely." Using a moving solution specifically designed for people living in busy, urban cities — PODS City Service, for example — is a great way to save yourself some stress.
Hybrid approach: You may find that doing some of the moving yourself while leaving other tasks to the professionals provides both convenience and affordability and helps cut down on the stress endured during your move. Utilizing moving and storage containers instead of or in addition to the traditional moving truck approach is an option many movers go with.
7. Manage moving day like a pro
So you're finally all packed and ready for your New Jersey move. Here are some tips to help alleviate the stress of your big day:
Hydrate and refuel: Stay hydrated and have plenty of healthy snacks available. We all love gas station food, but many can leave you feeling sluggish (not good when you have unloading and unpacking to do). Designate a person in your crew to be the snack captain.
Take a break: Moving is a marathon, not a sprint. Make sure you take regular breaks. You don't want to overdo it and leave yourself depleted.
Focus: When things get frustrating during your move, focus on the end game and how close you are to meeting your goal. This, too, shall pass.
Relax: If possible, build in extra time at the end of your move to rest, relax, and do something fun in your new place. A meal at a new restaurant, a stroll along a boardwalk, or a visit to a farmer's market or art gallery can help boost your energy and serve as a great reminder of why you moved to New Jersey in the first place.
You made it! Welcome to your new New Jersey home!
Now that you've survived the move, take some time to explore your new surroundings. Maybe you'd like to treat yourself to one of the Garden State's best-known secrets at a local diner? Or simply take a long stroll around your new neighborhood? Whatever you do, take your time when it comes to settling in. After all, it's official: You're home!
---
LB Gabriel is a freelance writer and frequent PODS blog contributor. When she's not on a deadline, you can find her on a tennis court or golf course.
Get a Quote
Choose the service you need
Comments
Leave a Comment
Your email address will not be published. Required fields are marked *