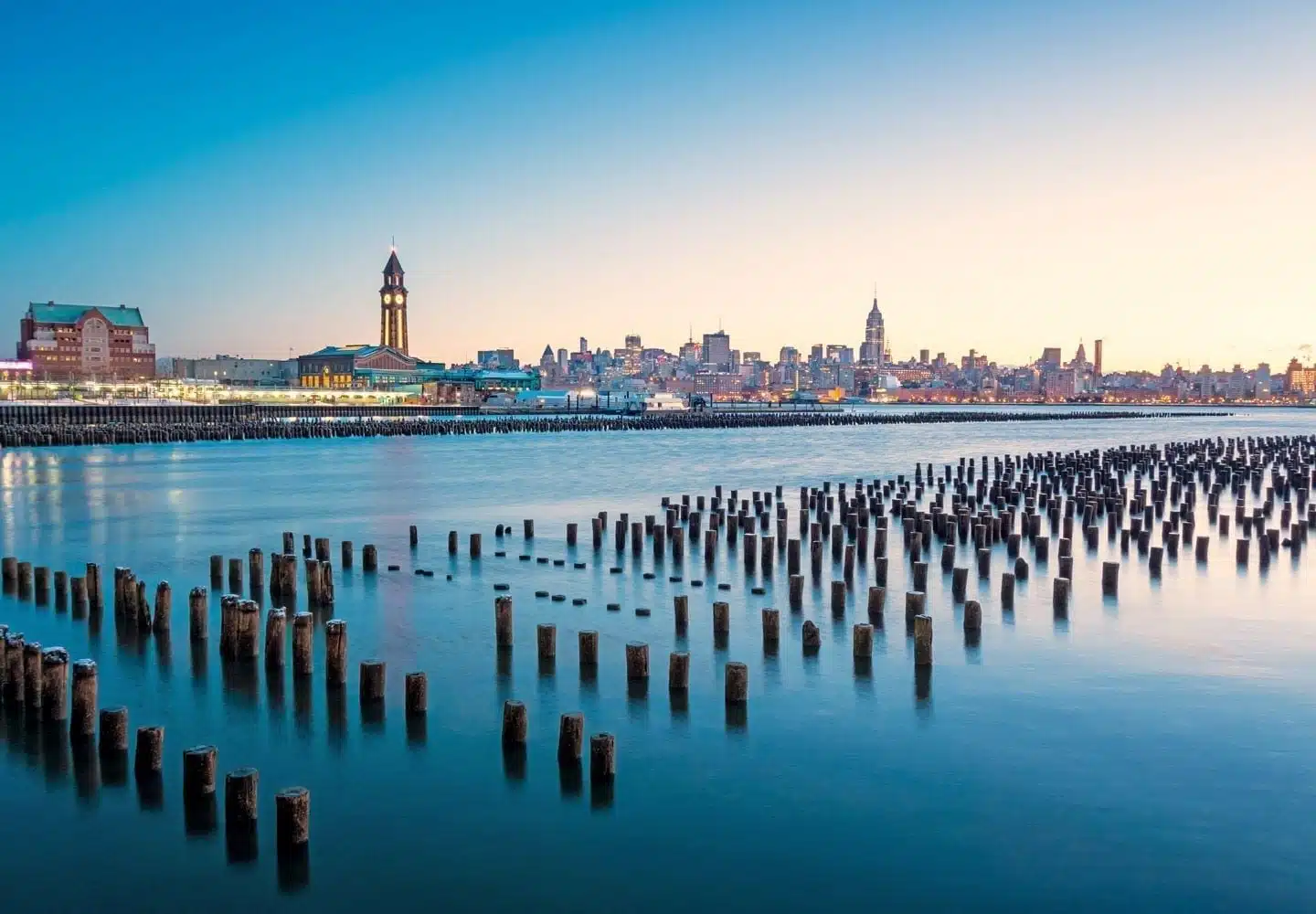 NYC Moving Guide: All about Moving to Hoboken, New Jersey
by
PODS
Posted on February 27, 2020
At some point, many New Yorkers who've lived in the city for a while find themselves getting curious or daydreaming about life off the island. NYC can feel claustrophobic and far too busy for some, not to mention prohibitively expensive. One option Manhattanites have is to live in New Jersey, work in New York. But where in Jersey? Hoboken.
Living Outside New York City
There are many reasons those working or living in NYC choose to move out of the city into New York suburbs. Manhattan and Brooklyn in particular can feel overcrowded, and the non-stop nature of hectic boroughs can be overwhelming for many, making it difficult to relax and unplug on the weekend or end of a workday.
But more than personal preference, the cost of living in New York City is what sends many people searching for alternatives. While living expenses in New York suburbs are still on a higher scale than many parts of the country, you're very likely to save on rent by moving out of the city's center. Additionally, you're generally able to get more space for your rent money. Not just square footage, but access to amenities you don't get in Manhattan, such as a yard or a pool. If you're a homebody, that breathing room may be way more important to you than how close you are to the nearest bar or pizza place. Though in Hoboken, you might just get both.
Some of the Best NYC Suburbs are in…New Jersey?
This might be unexpected, but remember that the major parts of New York City are islands, separated from New Jersey by just a river. Commutes from some parts of New Jersey into New York can be shorter than some commutes within the city itself! One of the best suburbs to commute to NYC? Hoboken, New Jersey.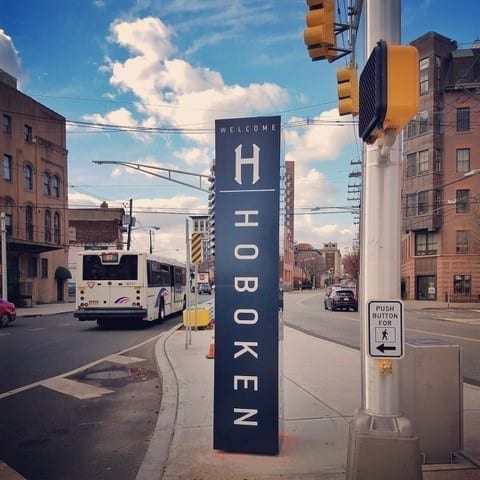 About Hoboken, New Jersey
Directly west over the Hudson River from Chelsea and the West Village, Hoboken is a compact little place. At only 1.28 square miles, it refers to itself as "the mile square city." With just over 50,000 residents and an average age that trends lower than average, Hoboken attracts plenty of Millennials and hipsters for a variety of reasons. The small city is walkable and clean, and it offers a short commute for those looking to live in NJ and work in NYC. With the PATH train into Manhattan, you can make your commute to Penn Station in under 20 minutes. That's hard to beat, considering that many people living and working in Manhattan or Brooklyn have longer commutes than that.
For some, living in Hoboken and working in Manhattan offers the best of both worlds. You have the benefit of living outside the main part of the city — a boon if you're someone who would prefer to retreat at the end of a long workday. That said, if you're hoping to enjoy the benefits and amenities that come with living in Manhattan, you have quick and easy access to the island. Year after year, Hoboken makes the list of one of the best suburbs of NYC.
Living in Hoboken
Settling in Hoboken has become increasingly popular in recent years, especially for young professionals and families. But while there are plenty of things to recommend about Hoboken, the city does have some drawbacks.
Cost of Living in Hoboken, NJ
With its young crowd and relatively high average income, Hoboken real estate is still expensive by national standards. However, living in Hoboken can still represent a major cost savings in rent…depending on where you're moving from. According to RentCafé (which averages across various listing sizes and types), average rent in Hoboken is around $3,500 a month, compared to over $4,200 a month in Manhattan. That said, there are still cheaper apartments for rent in Hoboken! It's possible to find one-bedrooms for rent for $2,500 a month or less. That's why many still consider Hoboken to be an affordable NYC neighborhood as opposed to just a New Jersey outpost.
Proximity to Other Boroughs
In addition to its easy commute to Manhattan, Hoboken offers convenient access to other parts of New Jersey, and different boroughs like Brooklyn or Queens.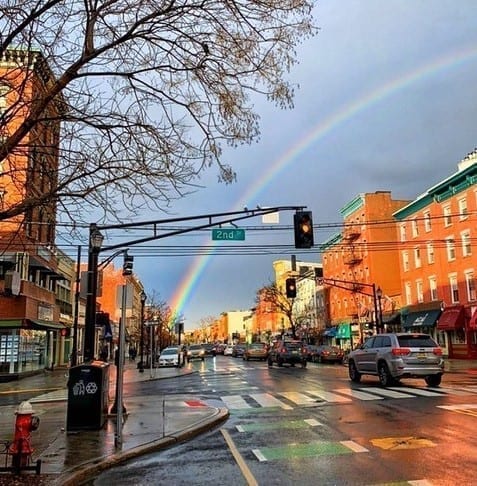 Quality of Life in Hoboken, New Jersey
At first blush, it may seem that Hoboken's main draw is that you can be close to Manhattan without having to pay to live there. But that's hardly the case. In fact, Washington Street, Hoboken's main thoroughfare, was named one of "America's greatest Main Streets" by Travel & Leisure. Set off by the New York skyline on one side, the historic small town packs plenty of character and charm – after all, it is the birthplace of Frank Sinatra, baseball, and the waffle cone. Today, it's known as the home of the "Cake Boss" of Carlo's Bake Shop, featured on TLC's hit reality show.
With a thriving dining scene and nightlife -- including the dubious honor of having more bars per capita than New York City – you'll find live music most any night in Hoboken. You may end up wanting to stay right at home on the weekend for the entertainment, or just to stroll along the Hudson River Waterfront Walkway, a linear park along the river.
It's actually a good thing the city is so walkable, because the traffic and parking situation notoriously bad.  Skip the taxi or rideshare, and just go on foot or jump on "The Hop," the free community shuttle bus service that features stops within two blocks of almost every resident. You definitely don't need a car in Hoboken, and with the parking hassles, it's probably better to save the bucks.
While you may think Brooklyn or Portland would always take the title, Hoboken was actually named the hipster capital of the world a few years ago, thanks to the high number of young people, percentage of residents with bachelor degrees, and the number of coffee shops and yoga studios. If those sound like qualities you would enjoy, it's time to give Hoboken a look!
The hipster culture isn't a big draw for you? If you have a family, Hoboken also presents two distinct advantages – solid schools and safe neighborhoods. You have a choice between traditional public and charter schools, giving you options for the kind of experience you want for your child.  According to the New Jersey Department of Education, Hoboken's high school graduation rate is nearly 90%, significantly higher than New York City's 2018 graduation rate of around 76%.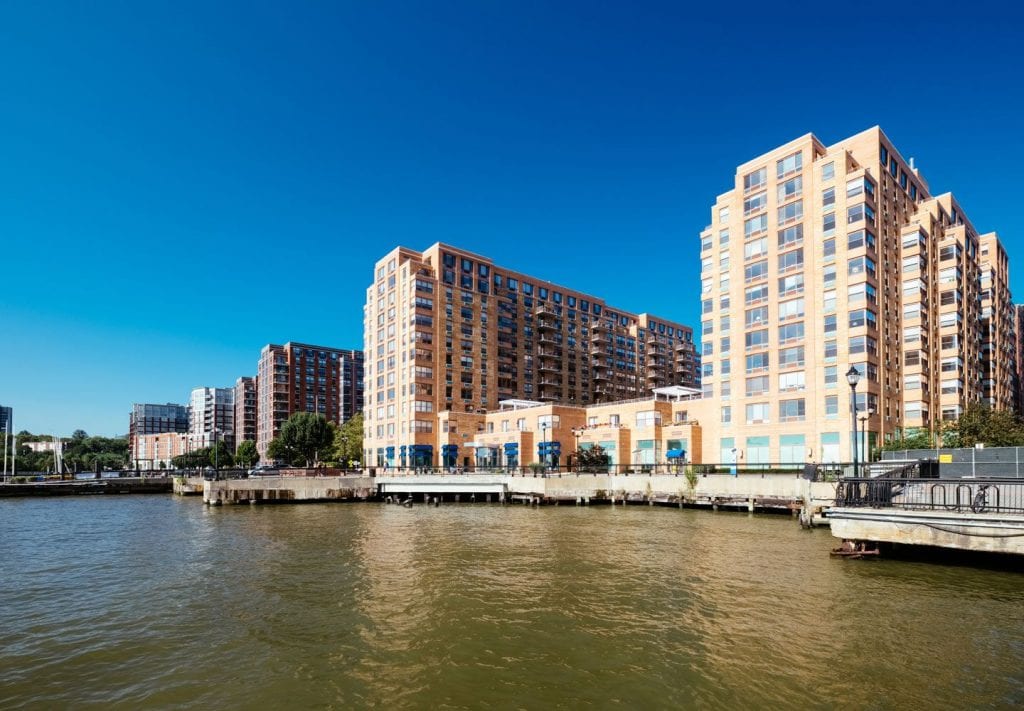 Moving to Hoboken
If Hoboken is starting to sound like the dream, it's time to dig in, do a little soul searching, and research! One of the best ways to get a sense for whether this small city is a good fit for you is to hop on the train and explore on foot. As the city is so small, you can easily get a feel for the neighborhoods, parks, and establishments by spending a day or two there.
Here are a few tips to help get your planning process started.
If you're looking for affordable apartments in Hoboken, start early. Since this is such a small city and one so popular with commuters, it's important to give yourself plenty of time to find a new space within your price range. If you've worked with a New York realtor in the past and had a positive experience, consider asking them for recommendations for New Jersey agents.
Reality check your new commute. If you're seriously considering moving to Hoboken and commuting is a major factor for you, take out the guesswork by doing a trial run. Yes, it may seem tedious to go out of your way to test out a commute, but it would be much worse to be surprised by an unexpected difficulty once you've already moved!
Keep your priorities top of mind! If you're moving from Manhattan, consider what you're most looking forward to about being outside "the city," and look for cheap apartments that feature those qualities. If you're ready to be out of the city, it can be easy to rashly take the first apartment you find. But, take your time ensuring that you get exactly what you want out of your new location. Sit down and make a list of what you're missing where you currently live. In addition to more affordability, perhaps it's more square footage? Access to nature? A smaller town feel? Figure out what your priorities are and keep these top of mind as you search for apartments in Hoboken. No matter where you're moving from, this will help you and your agent find the best place for you, without compromising something really important.
Managing your move to Hoboken
If you're ready to make the move to Hoboken, you may be thinking about the logistical aspects of moving. Getting all your belongings from one place to another can be challenging, especially in urban settings. No worries -- you can stay organized and on track with our super-thorough Moving Checklist.
Start by visiting the city's helpful Moving to Hoboken site, which provides convenient contacts and links for utilities, as well as the lowdown on recycling and garbage pick-up, parks, and parking. The city even offers an easy way to reserve on-street parking for a moving truck by purchasing Temporary "No Parking" signs and/or meter bags. The fees are surprisingly reasonable, running from $15 for 4 hours to $60 for 24 hours. If you're not into driving a truck yourself, but don't want to spend big bucks for full-service movers, check out portable moving containers as a flexible alternative.
For more tips on making a successful move to Hoboken, check out our guides on How to Survive Your NYC Move Without Going Crazy and Zen and the Art of Packing.
Get a Quote
Choose the service you need
Comments
Leave a Comment
Your email address will not be published. Required fields are marked *