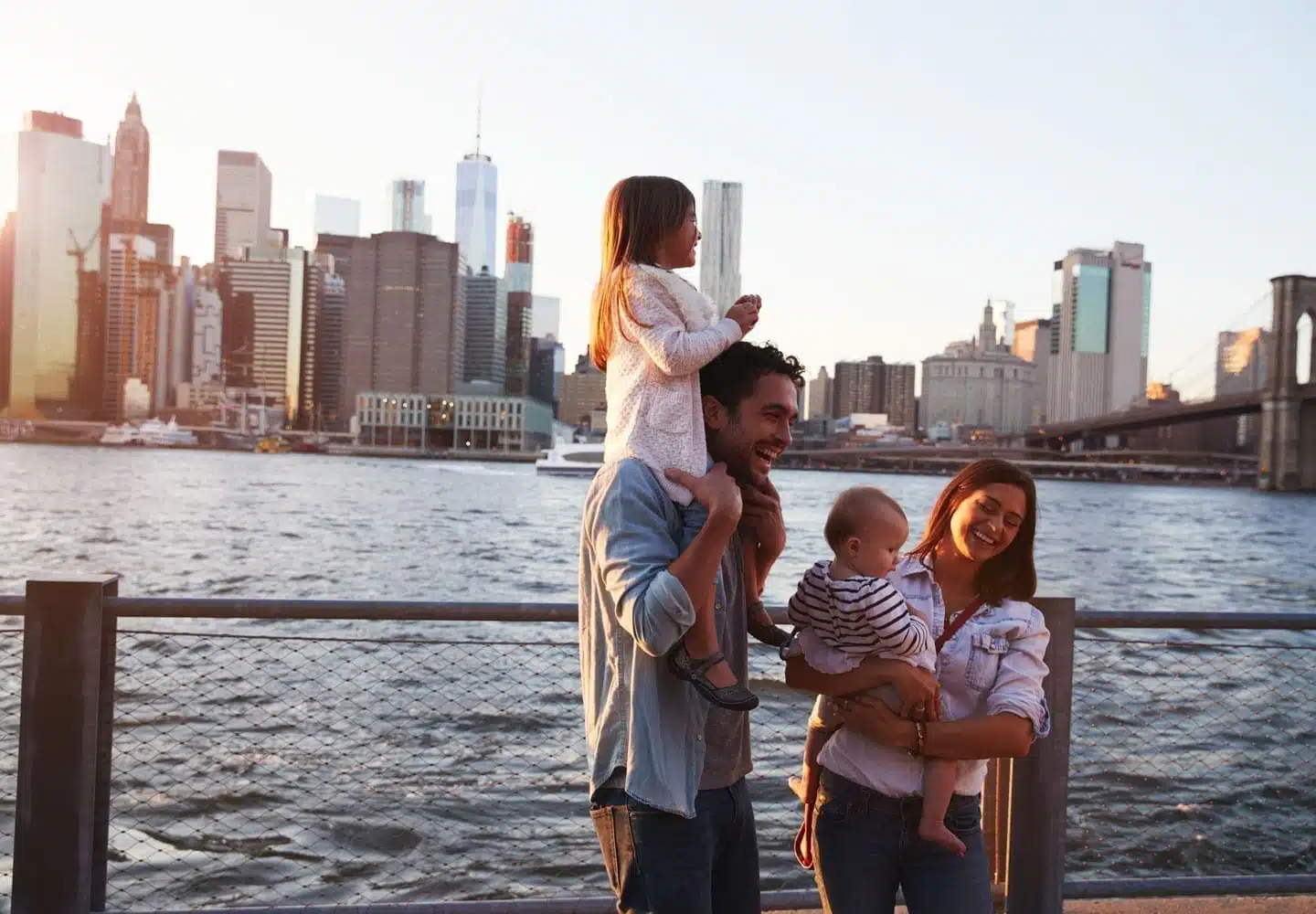 NYC Moving Guide: Best Family-Friendly Neighborhoods in New York City
by
PODS
Posted on September 12, 2019
Moving to New York can be challenging for anyone — and if you're moving with a brood, it can be even harder to navigate. With its reputation for being fast-paced and a mecca for young professionals building careers, you might be wondering…is there any place in this great big city for a family?
While you may not see it on TV, NYC can be a fantastic place for raising kids of all ages where they'll be surrounded by parks, culture, diversity, and all kinds of learning experiences. Is every neighborhood a great fit for families? Probably not. But there are pockets throughout the city that many families will find just right.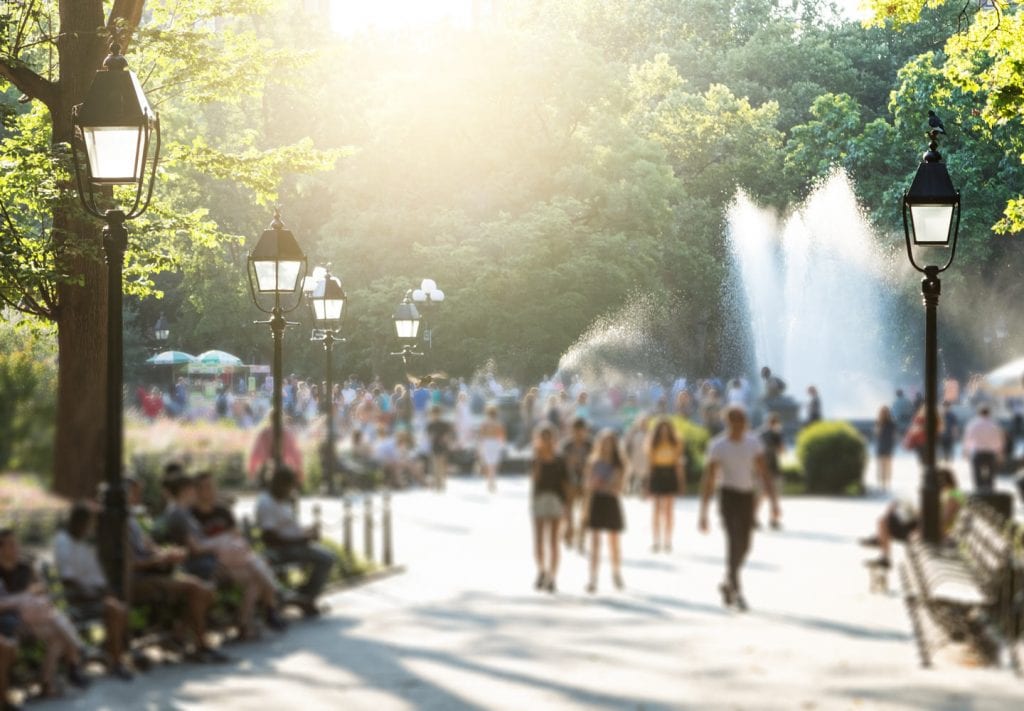 Looking for Somewhere Family-Friendly in NYC?
New York City is an incredibly diverse collection of boroughs and neighborhoods, each with something unique and valuable to offer a family. To help you narrow down your choices, this article explores which areas are the best neighborhoods in NYC for families.
Many families choose to live in NYC because of all the unique experiences the city has to offer. In a day, you can hit the beach, rocket to the top of a skyscraper, and see dinosaurs at the Museum of Natural History. Your child can be surrounded by people and families different from their own, and learn from their friends and neighbors about other cultures and lifestyles. Growing up in a global city can give a child perspectives that are difficult to attain in many other parts of the country.
Best Neighborhoods in NYC for Families
As you get started looking for a neighborhood and apartment in New York City, the search can feel overwhelming; there's so much to consider! Where will we be able to find an affordable 2-bedroom apartment? Where are the best public schools in NYC? What about the best school districts in NYC? Will my child have friends in our neighborhood or will I be surrounded by young singles with no kids?
When you're looking for the best neighborhoods for families in NYC, it all depends on what's important to you and your family. As you consider which neighborhood in NYC for your family to live in, your answers to these questions will help guide your search:
Will my kids be in school while we live in New York? Schools are a major consideration for most parents, and many choose a neighborhood based on proximity to the school of their choice.

Will we be mostly walking or driving? Shuffling kiddos around in cars, taxis, and subways can be a hassle. You might want to look for a very walkable neighborhood to make outings less stressful.

How important is outdoor time to our family? You may want to be on the lookout for parks and outdoor spaces to enjoy. Consider searching for a family-friendly NYC neighborhood with a great park where your kids can run, play, and climb.

Is it important that other families live in the neighborhood? Are you dreaming of a place to live where you're always running into other parents and kids at the park and out and about? Or are you ok with mainly meeting other families at school or extracurricular activities like dance class and soccer games?

What kinds of experiences do I want to have easily available to my family? Think through what kinds of activities your family regularly enjoys. Perhaps children's museums, music classes, or just a great playground? This will help you look for neighborhoods where your favorite pastimes are close by.

What kind of atmosphere do I want my neighborhood to have? For example, are there three pubs on every street alongside adult entertainment stores? This is probably not the area where you'd be excited to take your tot on walks.

What kind of home do I want for my family? Consider the type of home and how much space – including outdoor space – you'd like to have. Tiny Manhattan apartments with lots of stairs may not be the best bet for families with toddlers and strollers. Although the commute may be longer, the farther out you get from the center of the city, you tend to find more family-friendly neighborhoods with roomier apartments and homes that feature outdoor spaces like small yards, patios, and common areas.

Can I afford private school or will we be researching public schools? If you're sending your child to a private school, attachment to a specific neighborhood may be less paramount, as placement isn't based on location.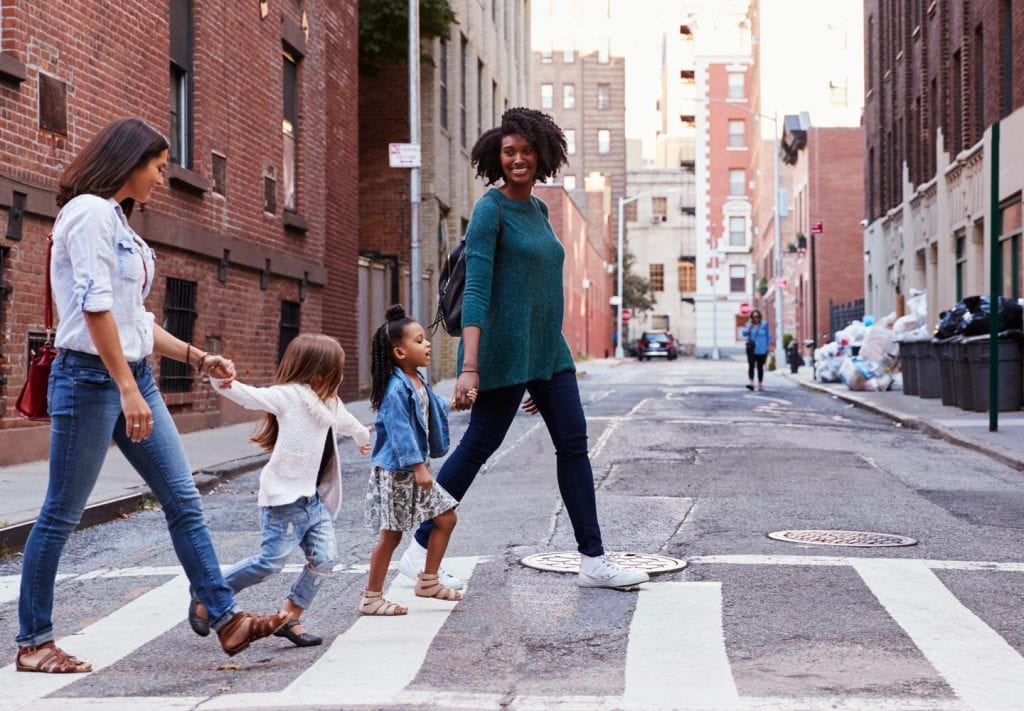 Family-Friendly Neighborhoods in NYC
While there are dozens of neighborhoods that are well suited for families, a few stand out for being the most popular for offering excellent activities and boasting standout schools. This short list of the best neighborhoods for families in NYC gives you a place to begin your search.
Battery Park City, Manhattan
Located at the southernmost edge of Manhattan, Battery Park City boasts two of the best public schools in NYC: Stuyvesant High School and PS 276. Located near the Financial District of Manhattan, this neighborhood has easy access to the rest of the city, as well as beautiful parks and abundant water views, with one-third of the area devoted to park land. While rents are on the high end of the scale, Battery Park City's quiet setting offers a break for families, away from NYC's commercial hustle and bustle.
Upper West Side, Manhattan
The Upper West Side takes the cake for family-friendly NYC activities, from the Museum of Natural History, to Central Park, to Books of Wonder, a bookstore dedicated to kids. These and other destinations are a magnet for kids, making the "UWS" one of the best neighborhoods in NYC for families. If proximity to other children is a priority and you can handle the high cost of rent on the Upper West Side, this could be ideal for your family.
Harlem, Manhattan
On the northern end of Manhattan lies Harlem, where a thriving cultural scene and strong community spirit make this another good choice to raise a family in NYC. With slightly lower rents and more space than other Manhattan options on this list, it may be easier finding an apartment here that suits your family's budget. Harlem also has an abundance of parks, sports, and other activities for kiddos, and is closer to Central Park than most other neighborhoods.
Astoria, Queens
Located in the Queens borough, Astoria is a popular pick for families in NYC. Not too far from either Manhattan or Brooklyn, Astoria features great public schools, a robust library system, and plenty of parks — all while boasting a lower cost of living and renting than other areas of the city.
Carroll Gardens, Brooklyn
Brooklyn's Carroll Gardens neighborhood is home to some of the best public schools in NYC. In addition to Carroll Park at the center of the neighborhood, families will find dozens of playgrounds where kids can run out their wiggles.
Park Slope, Brooklyn
This neighborhood attracts so many young families that walkers joke about all the stroller-dodging on Park Slope sidewalks. One of the most family-friendly neighborhoods in NYC, Park Slope offers access to the beautiful Prospect Park and Brooklyn Public Library, alongside excellent schools.
Riverdale, The Bronx
Head north until the subway line runs out and you'll reach Riverdale, New York City's northernmost point. With a shady, suburban feel, Riverdale offers the advantage of more home and outdoor space for your money. The neighborhood is home to several excellent parks, including Van Cortlandt Park, second only to Central Park in size. With the famous Bronx Zoo also located in Riverdale, there will be no shortage of family-friendly NYC activities here.
Wondering where to find the best public schools in NYC?
Going to a private school is a huge expense that doesn't work for many families. If you're planning on sending your kiddos to public school, there's good news: There are hidden gems in the New York Public School system in every single borough of the city. No need to cash out your retirement account to pay for private elementary school and beyond. You'll find rankings, learn about the best public schools in NYC, and get a sense of the best school districts in NYC at sites like GreatSchools.org and Schools.NYC.Gov.
It's all about what's right for your family
Every family is different — and that's why there's no one-size-fits-all solution for finding the best family-friendly NYC neighborhood for you and your crew. If possible, sit down with your partner or a friend and your littles to talk about what makes a place feel like "home." Together, you'll find a place in NYC where your family will thrive.
Moving to New York? Check out our other NYC moving guides, including the New York City Boroughs Explained, Guide to NYC Suburbs, NYC Moving Costs and Options, How to Find an Apartment in NYC, and Surviving Your NYC Move Without Going Crazy .
Get a Quote
Choose the service you need
Comments
Leave a Comment
Your email address will not be published. Required fields are marked *