For many Canadians, moving to the nation's capital has become more appealing than ever. The housing market is buzzing, thanks in part to young couples and retirees driving demand. And it's not surprising when you consider the blend of urban and small-town charm that Ottawa offers. Not to mention ample green space, a lower crime rate, and less traffic congestion compared with some other cities. 
If you're planning to join the ranks of thousands of others looking for their next job, a great education, or to catch a Sens game more regularly, check out these Ottawa neighbourhoods to find your perfect fit.
What are Ottawa's home prices like?
Let's start with housing prices. At the close of October 2021, the average house price in Ottawa was $645,800. CTV reports average monthly rents of about $1,600 for a one-bedroom unit and $2,000 for a two-bedroom. This is significantly less than other Canadian cities such as Vancouver and Toronto, where one-bedroom apartments rent for an average of $2,170 and $1,990 a month, respectively. 
Sounds great! But what is living in Ottawa like?
As for lifestyle, expect a multicultural community, plenty of tourism, and entertainment festivals year-round. Explore the famous Byward Market and take your choice of great dining experiences from Little Italy to Chinatown. Take in Ottawa's seven national museums, including the Canadian Museum of History and the National Gallery of Canada. And let's not overlook one of the major reasons people enjoy living in Ottawa: proximity to fresh air. With it, comes country cottages, camping destinations, and loads of recreation to choose from. The only thing left to do now? Find your ideal neighbourhood.
Ottawa Map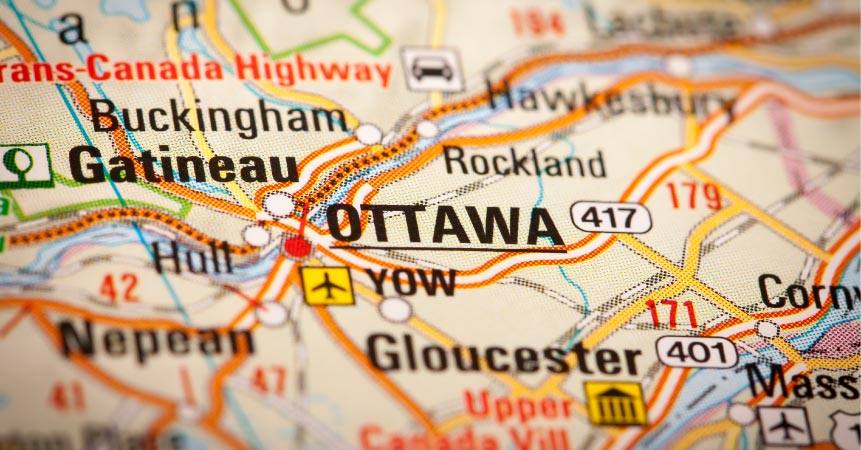 What is the best area to live in Ottawa?
Ottawa neighbourhoods are as diverse as its residents, with an area for everyone. There are over 80 neighbourhoods — too many to cover in one article — but we've selected a few of our faves. Let's jump into our picks for the best neighbourhoods in Ottawa.
The Glebe
Described as 'suburbs meets hipster,' The Glebe is mature, varied, and naturally beautiful. Considered Ottawa's "it" area, this neighbourhood attracts affluent buyers, though its residents include everyone from student renters to families and retirees. The Glebe is close to Downtown and the iconic Rideau Canal, and it has many residential streets, old houses, and abundant spaces for nature lovers. Of course, it also offers plenty of urban appeal in the form of trendy shops, salons, restaurants, and bars. It's also home to Lansdowne Park — a massive swath of green, complete with a garden, children's play area, skate park, and a stadium, flanked by a commercial centre filled with eateries and a movie theatre.
Stittsville
Looking for a close-knit suburban community? Many families are drawn to Stittsville for its scenic streets and parks. Just a 25-minute drive from Downtown, housing options here include everything from condos to contemporary townhomes and single-family homes. There are also several private, public, and Catholic schools in the area along with nurseries and preschools. You'll also have your pick of great shops and dining, ranging from major chains to small family-run kitchens. Village Square Park hosts year-round events like Arts in the Park and Canada Day in Stittsville, while Stittsville's Carp Road Flea Market runs every weekend and features handmade goods such as furniture and fine jewelery.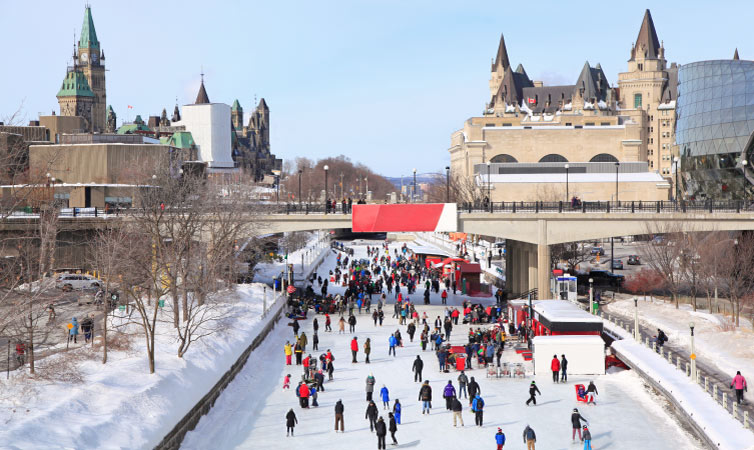 The "Golden Triangle"
Students and young professionals will love living in this trendy, bustling area. A short walk from the core, it's a triangle-shaped neighbourhood bordered by Elgin Street, the Rideau Canal, and Ottawa City Hall. Dominated by large homes (many have been subdivided), it also has a few condo buildings and small apartments. Elgin Street — its main thoroughfare — is lined with boutiques, galleries, restaurants, and bars. You'll also be close to the famous Byward Market, which spans roughly four square blocks and offers everything from market stalls and patisseries to live music and special events. Last, but not least, is the Rideau Canal. On warm weather days, walk or cycle the canal's pathways or enjoy paddling or boating on it. And during the winter, tick off a common bucket list item and skate directly on the Rideau Canal Skateway, the world's largest skating rink as designated by the Guinness Book of World Records. 
Kanata
Only 22 km west of Downtown, Kanata is very family-friendly with outdoorsy appeal. Parents will be thrilled to hear it's home to some of the best elementary and secondary schools in Ottawa. And there's plenty of family fun to be had at the Kanata Recreation Complex, Kanata Wave Pool, Blackbird Falls Putting Course, and Landmark Cinemas. You'll also love exploring the forest and wetlands of the South March Highlands, which is home to over 650 species. From the luxury homes in Kanata Lakes to more affordable areas, there's something for every buyer.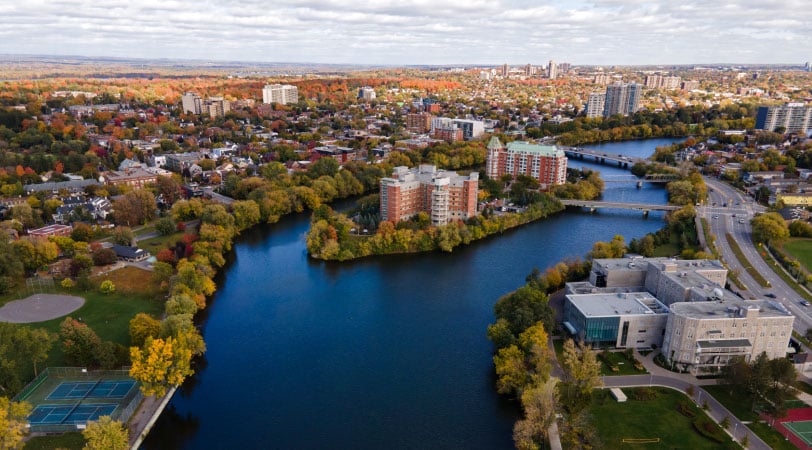 New Edinburgh
Full of history, New Edinburgh is home to several embassies and even the Prime Minister himself. There's no denying homes are pricey here and would not be considered starter homes — most residents are middle-aged or older. Some young families, however, have managed to buy in the area and the condos are popular with young professionals. The vibe of New Edinburgh is relaxation and pleasure. You'll be part of the city, yet somewhat cocooned in a quiet residential spot with several restaurants and charming shops to choose from. And the beautiful riverside New Edinburgh Park offers many amenities and activities, such as tennis courts and sports fields, bike paths, a playground, splash pad, and Fieldhouse.
Nepean
This family-oriented community has a student presence, thanks to Algonquin College — one of the most respected colleges in Ottawa. Many of the houses sit on large lots, making them ideal for growing families. There are also many schools (public, private, and Catholic) and daycares here. You'll find extensive OC Transpo bus routes in the area, and the downtown core is a mere 20-minute drive away. Whether you want to have fun or soak up history during leisure time, you'll have plenty of options, like the Nepean Sailing Club, The Log Farm, and the Nepean Museum. It's also home to Bayshore Shopping Centre — one of the largest and most popular shopping hubs in the city.
Aylmer (Gatineau, QC)
Although it's (just barely) outside of Ottawa, Aylmer deserves a spot on the list. In fact, many residents living in this town on the north side of the river commute daily to Downtown Ottawa. Once its own city, Aylmer became a part of Gatineau in 2002. House hunters will find everything from countryside homes to small apartments in this quaint and historic area, and families will appreciate its great schools. And, if you consider the highly subsidized daycare the province of Quebec offers, Gatineau is a great option if you have young children. All the amenities you need are close by, too. Galeries Aylmer is a large mall with several shops, groceries, a bank, and a pharmacy. Stretching northward is a lovely region of lakes and hills, where people escape to cottages and inns to enjoy the outdoors. Think spas, country pubs and restaurants, beaches, cycling paths, and skiing.
Now that you've had a closer look at seven fantastic neighbourhoods, you can start narrowing down the choices that best suit your lifestyle and preferences. No matter which location you choose in the capital city, you can rest assured that fun will never be too far away, whether it's a scenic nature spot, adventurous sports activity, or the latest festival. You're already packing, aren't you?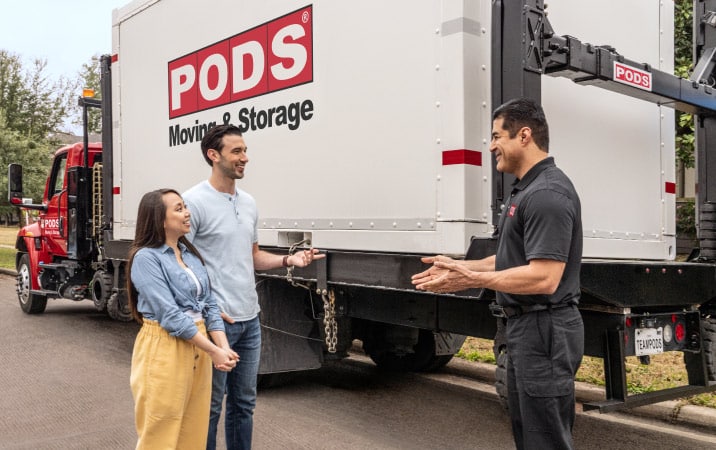 Moving to Ottawa
If the thought of moving your entire family's belongings is already starting to overwhelm you, we have a suggestion: You can take your time packing and loading when you use PODS Moving and Storage because one month's container rental is included and you have the option to extend your rental for as long as you need. The process is simple – PODS delivers a container (or as many as you require) to your driveway, you load it up at your own pace, and then PODS will pick it up and deliver straight to your next Ottawa home, or to a secure Storage Centre. Keep it on your property or in the centre for as long as you need, PODS is flexible. 
Sources:
---
Talar Sakarya is a freelance writer based in Toronto. Eternally curious and restless, she loves to travel and ranks Italy, Ireland and Indonesia as her top three favourite destinations.
Get a Quote
Choose the service you need
Comments
Leave a Comment
Your email address will not be published. Required fields are marked *