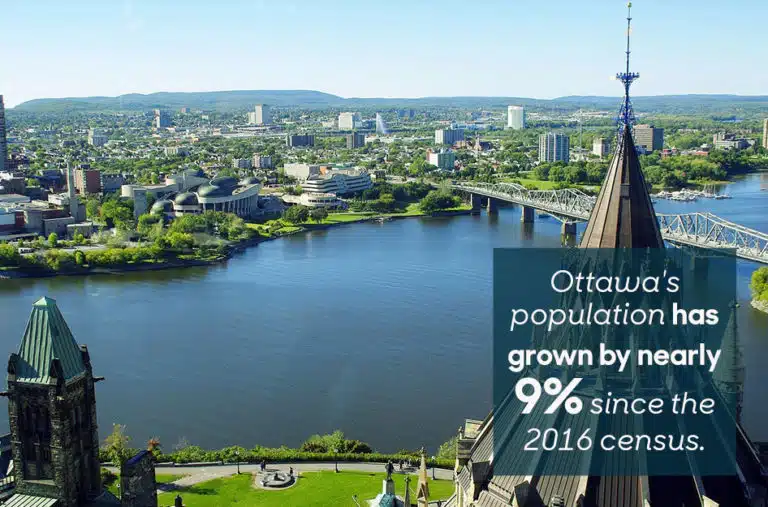 Putting Down Roots in the Capital? Why Moving to Ottawa Is the Smart Choice
If you've been thinking of moving to Ottawa, you're certainly not the only one. In fact, the Ottawa population has grown by 8.9% (compared to the provincial growth rate of 5.8%) since the 2016 national census. So what's the attraction to the nation's capital? It's probably some combination of incredible employment opportunities, a great standard of living, a low crime rate, clean air, and affordable housing. Oh, and there's also skating for miles on the Rideau Canal. And maybe stopping for some poutine or a beavertail along the way.
About the City of Ottawa
Canada's capital is the fourth largest city in the country by population with just over one million residents. The city of Ottawa doesn't have the high-octane, big-city vibe of Toronto, Montreal, or Vancouver. Green, clean, safe, and quiet is more characteristic of the country's governing hub. The city is bounded to the north by the historically relevant Ottawa river, which provides recreation and a natural border with the province of Quebec. The Rideau River and Rideau Canal are the other watery landmarks that meander through the middle of town.
Millennials make up about 21% of the population, which contributes to a median age that is a little less than two years younger than the national average age of 41.6. During the school year, the city is also teeming with students from Ottawa's post-secondary institutions, three of which include The University of Ottawa, Carleton University, and Algonquin College.
Ottawa also has a continental climate, which simply means it's cold and snowy in the winter and warm and sometimes humid in the summer. Like a lot of Canadian cities, there are extremes during both seasons that can make Ottawa weather a bit uncomfortable.
Living in Ottawa
Ottawa has an excellent standard of living and is generally more affordable than either Toronto or Vancouver. The cost of living in Ottawa is about 8 percent less than in Toronto, based on a family of three. And while average home prices skyrocketed in all Canadian cities over the past ten years, Ottawa's current average is about $624,000 (and declining), which is only a little more than half the average home price in the city of Vancouver.
One of the benefits of living in a capital city? The availability of government jobs. And, as a result, Ottawa regularly posts some of the lowest unemployment rates in the country. For example, the October 2022 national unemployment rate was 5.2 percent compared to 4.2 percent in Ottawa. The only caveat is that being bilingual (English and French) is often a prerequisite for a government position.
Q. Is it worth living in Ottawa?
A. Yes! It's affordable, clean, and safe. And great employment opportunities make moving to Ottawa a smart choice when considering big-city options in Canada.
Sure, Ottawa has a reputation for being a bit quiet, but for many people, that can be a good thing. And if you're in the mood for a little action, Montreal is only a two-hour drive away for the odd wild weekend.
If you're into living in a healthy environment, Ottawa has what you're looking for. Owing to its vast greenery and less reliance on gas-powered vehicles with over 220 km of bike paths, Ottawa has some of the cleanest air, not just in Canada but in the world. It's also one of the safest cities in the world with a crime index of 27.3, which places it as the 385th safest city in a list of 453 worldwide cities.
Q. What salary do you need to live in Ottawa?
A. To just barely afford average rent, food, transportation, and childcare expenses, a family of three (made up of two adults and one child) would need a pre-tax household income of more than $55,000, according to WOWA Leads. Needless to say, to live comfortably, you would need considerably more than that.
What to know when moving to Ottawa
Here are a few can't-miss tidbits about the city:
It's cold in the winter, and quite often, it can be very, very cold. So you will need to bundle up with a warm parka, gloves, and a toque (that's Canadian for a woollen cap for the Yankees out there).
There is no subway, but there is an extensive LRT (light rail transit) and bus system that can move you around the city efficiently.
Ottawa is a very active and healthy city, with residents using the many paths and trails, including the more than 200 km Capital Pathway to walk, jog, and cycle daily.
It's a bilingual city with all city services offered in both English and French. But if you are an anglophone, not to worry, almost all residents understand and speak English.
There are plenty of job opportunities in the government and many professional categories, and it's also a very educated workforce. You might find that there are fewer service positions compared to larger cities like Toronto and Vancouver, though.
Ottawa Neighbourhood Map
Ottawa Neighbourhoods
There are so many incredible Ottawa neighbourhoods to choose from in and around the city, and they all seem to share similar attractive qualities: They're clean, safe, and active. Some of the areas around downtown offer a hip vibe and the ability to walk to most amenities, but higher home prices and rents come along with those advantages. Here are some recommendations for families, students, professionals, and retirees.
For Families
There are plenty of great family-friendly neighbourhoods in Ottawa, including Alta Vista and Barrhaven, but Kanata stands out as perhaps the most ideal place to raise a family. It's about a 30-minute drive from the downtown area but is very much a separate community that prides itself on its great elementary and secondary schools. Kanata is dotted with parks and playgrounds, and the South March Highlands conservation area is the perfect place for hiking and mountain biking. Homes are much more affordable than in the neighbourhoods just outside downtown, and many of the city's tech companies are located here. It's also home to the Canadian Tire Centre, where you can cheer on the NHL's Ottawa Senators — Go Sens Go!
For Students
The University of Ottawa (U of O) is located in the western section of the Sandy Hill neighbourhood. This area caters to students, with many of the Victorian homes and mansions sub-divided for student rentals. It's leafy and hip, with an active bar scene, live rock music, and coffee shops. ByWard Market is another option, but it tends to be a busier and noisier neighbourhood. Carleton University students should look no further than the Carleton Heights-Rideauview neighbourhood for their lodgings. Just south of the University, it's an easy walk or bike to campus or downtown on the paths that run along the Rideau River. Other options include Old Ottawa South and The Glebe neighbourhoods, but rents there tend to be much higher.
For Professionals
There's no shortage of neighbourhoods close to downtown that are attractive to young, single professionals. Byward Market, Centretown, Sandy Hill, Westboro, and New Edinburgh should be on your shortlist, but our personal favourite is The Glebe neighbourhood. It's a highly desirable area just south of downtown that's completely bounded by the Rideau Canal. There is an eclectic blend of older detached homes along with newer construction, and it features shops and restaurants on bustling Bank St. Lansdowne Park, which is home to the OHL's Ottawa 67's and the CFL's Ottawa Redblacks, is located in the southeast corner of the neighbourhood.
For Retirees
Identifying the ideal neighbourhood for retirees is a bit more complicated. Some prefer a more efficient footprint, like a small condo (pied à terre) in an urban area, while others are interested in condo living but want more space. And some wish to downsize but want to retain elements of a family home, like a porch and a backyard. For those in the first group, the Little Italy and Chinatown areas of downtown offer smaller condos or apartments with all the necessary amenities within walking distance. Parking can be pricey, but if you want a truly simpler lifestyle, ditch the car and use transit or rideshare when you need a lift. The Beaverbrook neighbourhood in Kanata offers larger condos with outdoor space and access to recreation areas and golf courses. There are also two large shopping centres, and the Canadian Tire Centre is nearby for Sens fans. Finally, if you are not into or ready for the condo scene, you might want to check out the village of Russell. In 2018, Moneysense.ca — based largely on affordability and livability — ranked the greater Russell Township as the third best place to live in Canada.
Moving to Ottawa
Q. Is moving to Ottawa a good idea?
A. Yes, Ottawa provides several advantages in the areas of home affordability, cost of living, safety, and employment. It's quieter than some other big cities, but it's also a very clean and healthy environment with low population density and less traffic congestion.
Convinced? Ok, let's consider the various ways to get you to the great city of Ottawa. It's agreed that moving can be a complicated process and will always include an element of stress. But there are ways to avoid the hassles. If you just give yourself enough time, get properly organized, and plan well, chances are, you can transfer your life and belongings to your new home safely and efficiently.
Full-Service Movers
When money is no object and you want to limit your time and effort, a full-service mover is your best bet. They can provide as little or as much service as you want to pay for. A mover can even pack and unpack your house for you. It's your priciest option, but if you have the financial means, it will also be your path of least resistance. The key is to do plenty of research first and make sure all important details are documented between you and the mover, so there are no loose ends or surprises along the way.
Rental Trucks
If you decide to do the move as inexpensively as possible, you can always rent a truck and do the heavy lifting on your own. It can work if you have a strong back and a few helping hands. But when you consider all the additional expenses you will incur, like fuel costs, insurance, food, and lodging along the way, this approach could end up being more than you bargained for. Here is a side-by-side comparison of how a rental truck stacks up against PODS services.
Portable Moving Containers
If you're looking for a more flexible and less stressful way to make your move to Ottawa, consider moving with PODS portable moving and storage containers. There are three different container sizes to choose from, and they are delivered straight to your driveway. The beauty of this is that you can take your time packing and loading at your own pace. When you're all loaded up, simply give them a call, and PODS will pick up the container and take it directly to your new home in Ottawa. And if plans change? No worries! You can easily store the container for any length of time at a secure and convenient PODS Storage Centre nearby.
---
Tony Caradonna is a freelance writer who lives with his wife in Toronto, ON. A more recent PODS Blog contributor, Tony loves exploring the world and immersing himself in exciting locales with his travel guitar and Michelin guide in hand. When not travelling, he is either golfing or writing about this most addictive pastime on his blog, TheGolfingLife.ca.
(Source for feature image: DEZALB via Pixabay)
Get a Quote
Choose the service you need
Comments
Leave a Comment
Your email address will not be published. Required fields are marked *