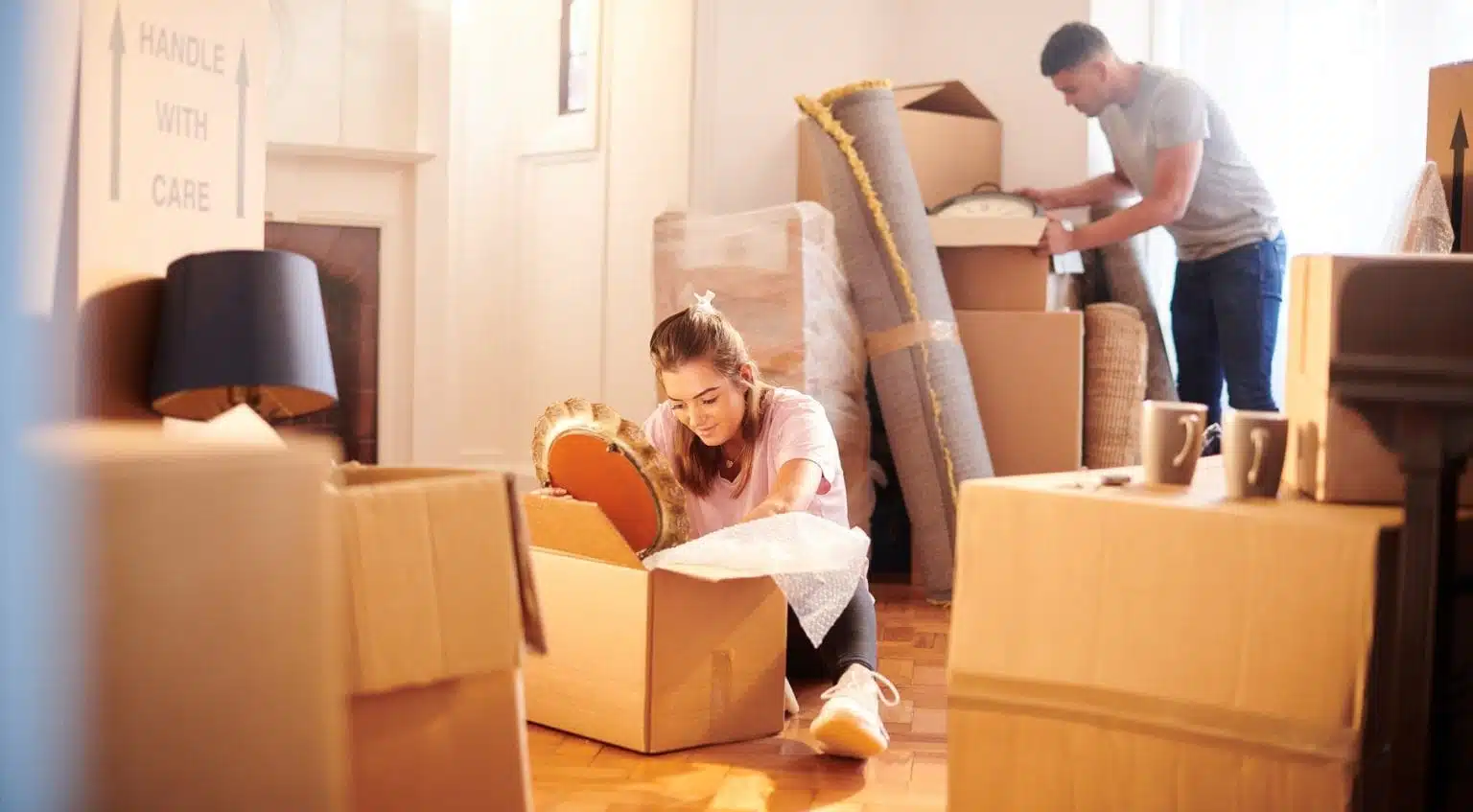 Moving Long Distance? Must-Read Packing and Loading Tips To Prevent Damage
Moving across the country? Chances are, you're worried about whether all your stuff will survive the trip in one piece. That's a reasonable concern. After over 20 moves, I've learned the hard way that the greater distance, the higher the risk of damage. Fortunately, there are ways to reduce the risk, and we've gathered our best packing and loading tips to help you protect your belongings along the way. 
PACKING TIPS DOS AND DON'TS FOR LONG-DISTANCE MOVES
1. Stock up on packing and moving supplies
Before you start packing, make sure you've got plenty of packing and moving supplies at the ready. You don't want to be all up in the zone and then suddenly run out of boxes (ugh!), tape (drat!), packing paper (gasp!), or find that your marker has run dry (say it ain't so!). Running out of supplies can cause you to take shortcuts, making things harder on future-you. Will you really remember what's in that unmarked box? I never do.
Pro Tip: Get fast, free delivery on moving supplies. Choose full moving kits or just what you need. But order now, before you forget.  
2. Break down big items when possible
I'll tell you what, it's easier to pack a bookcase to make sure it won't get scuffed when it's deconstructed. Same with a bed frame, dining table, and other furniture. Plus, when they're broken down, they take up so much less room in the moving truck or portable container. Just make sure you remember how to put it back together — and keep all the nuts and bolts in a sandwich baggie taped to the item, or clearly labeled and in secure, easy-to-find-place.
3. Don't rush
I've made this mistake before, and it has never paid off. In a few cases, trying to save time has actually cost me money — to replace things that have broken or been damaged. Don't be like me. Take your time. When you feel like just throwing in the towel — don't! Use it for packing fragile items instead.
4. Wrap it up
Use newspaper, packing paper, bubble cushioning roll, socks, clothes, blankets, and towels to protect your things. Wrap obvious fragile things like picture frames, mirrors, furniture, TVs and the like — and bundle up items that you pack inside of boxes, too. Remember, your stuff is going to be jiggling for miles on end once on its way. That's a lot of movement. When in doubt, wrap it.
5. Pack light
Heavy items are more likely to cause damage. Avoid packing your boxes in a way that makes them heavy. Break up heavy items across several boxes. A big box of books can be a big threat if it comes crashing down — not to mention, hard to carry.
6. Pack your things inside plastic tubs or bins
What's better than a sturdy moving box? A heavy-duty plastic bin. Packing your things (or at least some of your things) inside plastic bins or tubs provides much sturdier space than even the strongest of cardboard boxes. As a bonus, they're easy to stack, you can see the contents inside (if the bin is clear), and it's easy to open and reopen as much as you need. They're also reusable and a tidy way to store things at your new place.
Pro Tip: If you use boxes, get the strongest boxes you can find. Secondhand, upcycled, or cheap boxes are too flimsy for the physical stress of a long-distance move and may not survive the trip — and most likely neither will your things inside.
7. Make everything nice and snug
This is where you get to flex your Tetris and puzzle skills. You've heard the saying give an inch, take a mile, right? This also applies to your stuff when you're moving. The more room your stuff has to move around — it will. Avoid space between items at all costs. Some helpful hints at reducing shifting space is to literally fill in every empty space with packing paper, clothes, or linens. You can also use the nesting technique (a helpful packing hack that I like to call the Russian Doll), where you pack things inside other things — even boxes inside boxes. 
8. Enlist moving help
Four hands are better than two when it comes to moving — or even more, if you can get 'em. Hiring moving help doesn't have to be expensive and it can help bring down the damage rate when you've got someone else to help balance the weight of heavy boxes or awkwardly shaped furniture, or even just clear a path for you. 
9. Opt for the insurance
Okay, so this isn't a preventative packing measure, but you'll be singing my praises if you ever have the misfortune of losing, breaking, or damaging something during a move. You may not be able to mend a broken heart or a broken Tiffany lamp, but when the lamp is covered under insurance, you can at least get it replaced or repaired without also breaking your wallet.
Did you know?

These packing tips will help your stuff survive the shifting, shaking, and bumps along the road whether you're using a rental truck, moving container, or traditional full-service movers. But you may not realize that the risks of damage are higher for the full-service industry.

This is because it's common for movers to transfer your stuff onto huge freight haulers along with other customers' belongings during transit. As a result, your belongings may be loaded and unloaded multiple times while the movers make other deliveries, increasing the chance your things may be broken or even mixed up with another customer's belongings and never arrive at your new home. Yep. That hand-carved cabinet you inherited could just vanish, never to be found. But, rest easy. Moving with a PODS container means your stuff can be delivered from home to home with no middleman in between.
5 Easy Steps for Loading Your Truck or Moving Container
If you decide to go with a self-move by using a rental truck or moving container, then you'll need these loading tips, too. It's not complicated, as long as you keep a few things in mind. Read on -- or watch how it's done here. (Start at the beginning for packing tips, or skip to 3:30 minutes for just the loading tips.)
STEP 1: Protect your moving area
You thought we were going to start loading right away, didn't you? Before you start, make sure your doorways, floors, and other vulnerable spaces in your moving area are protected. For example, you can tape blankets on the walls, throw a cardboard runway on the floor, and clear any fragile items out of the moving path.
STEP 2: Load the heaviest items on the bottom, lighter on the top
A lot of people say to load all the heaviest items first, in the back, but you actually want to distribute the weight evenly across the container or truck. The main goal is to build a good base with the heavy items on the bottom, and then layer lighter items on top.
STEP 3: Fill to the brim
Use all available space, wall-to-wall and floor-to-ceiling. Use pillows, cushions, and even stuffed animals to fill empty spaces. (Just make sure you put them in plastic bags first.) You want a snugly packed truck or container to minimize shifting while on the road. If the truck or container has a roll-up door, make sure it has a clear path to slide open and closed.
Pro Tip: Did you invest in a high-quality bed you want to protect? Find out how to move a mattress without ruining it.
STEP 4: Tie down items as you go — and before you close the door
Use ratchet straps or rope to secure your belongings at regular intervals as you load, so it won't budge. In the last section, use a large sheet of cardboard or tape four extra-large, flattened boxes together to create a barrier to keep objects from falling against the door during transit. This will help keep the door from jamming.
STEP 5: Secure with a sturdy lock
Avoid theft by using a strong disc lock to secure the door of the truck or container. Don't share the key with anyone except your trusted companion, but do make sure you know where it is!
Are you psyched to arrive at your new home and get settled? I know I always am, even though I don't always love the moving part. But with these tips, you can make sure your stuff gets there in good condition.
Don't want to risk driving a big truck yourself? With PODS, you leave the driving to the pros. Compare long-distance moving costs between rental trucks, moving containers, and full-service movers -- or call PODS now at 877-350-7637 for a detailed quote on your specific move.
---
Katherine Alex Beaven is a frequent contributor to the PODS blog who has moved 20+ times because she loves to experience new places.
Get a Quote
Choose the service you need
Comments
Leave a Comment
Your email address will not be published. Required fields are marked *