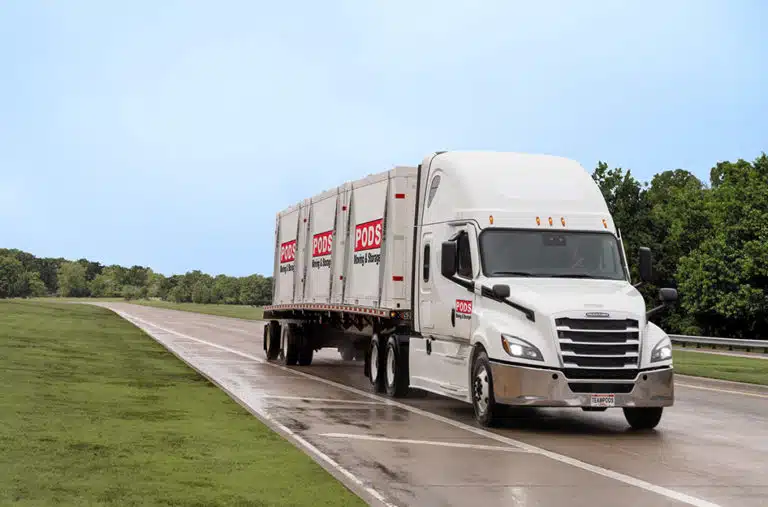 Want to Know the Key to a Successful Long-Distance Move? Read On!
In this new era of rising inflation numbers, remote work opportunities, and home prices, more people are considering long-distance moves — to find locations with lower costs of living, get more space to enjoy everyday leisure activities, or even because of climate change. It's not surprising that you may be considering it, too. But the key to a successful long-distance move? Having a reliable way to pack, load, and protect your items along the way.
This is where a moving solution like a PODS container with built-in storage comes into play. After all, a long-distance move has a lot of, well, moving pieces, so it often takes longer to plan and conduct — and flexibility is a must. Some smart advance preparation and a company with a stellar reputation for efficiency and flexibility can be the difference between total disaster and getting your things on time, in good shape, and where you want them at the price you want to pay.
What does "long-distance move" mean?
So is your move considered a long-distance one? Whether a move is determined to be "long distance" or not is traditionally based on (you guessed it!) the distance between your current/former home and your new home. Many companies say that anything in excess of 400 miles is considered long distance. Still, others consider crossing state lines — regardless of mileage — a long-distance move. As for PODS, they consider a move longer than 500 miles to be long distance.
With long-distance moves, companies have to think about longer times on the road, higher gasoline needs (and prices!), the shifting of goods within their trucks, and a whole host of other concerns. That's why knowing the distance of a move is often one of the first questions a moving company will have when you meet with them.
When researching your options, it's important to know the companies' parameters, as they could directly affect your bottom line (i.e., how much moolah you hand over when it's all said and done).
Insider Tip: Need to move piece-meal? That's no problem with PODS moving and storage containers. Simply load them up and decide which ones you want to send to the new digs and which ones need to go to storage for a bit. Who says you have to work it all out in one fell swoop, anyway?
What is the cheapest way to do a long-distance move?
The cheapest way to move long distance depends on your individual situation, of course, but planning, packing, and loading everything yourself in a truck tends to be one of the most cost-effective ways to move long-distance. If you are the DIY type, but you want to avoid the hassle of navigating a giant rental truck across the nation, then using a PODS container is a great option. You do the packing and loading, PODS does the driving, and you get to avoid that tedious drive, as well as the larger fees associated with full-service moving companies.
Still want to save but need assistance with the back-breaking work? PODS is perfect for that, too! In fact, PODS has a network of referrals available for local packing and loading help for as much or as little as you need. The best part? They already have the know-how that's necessary when it comes to loading PODS containers properly, and a properly loaded container means no space (aka money) is wasted.
Want more economical ways to prepare for your long-distance move? Here are a few of our favorite suggestions:
Reuse some packing supplies, like boxes and bubble cushioning roll that are still in great shape, from friends who have recently moved.
Hit up your local "Buy Nothing" social group to see if anyone is giving away anything you can use for the move (like moving blankets).
If you need boxes, big- retailers are often happy to give away some cardboard boxes they unpacked that morning to load up the shelves. Just know that the integrity of those may not be as good as brand-new ones.
Purge your belongings through either donating them or holding a garage sale — which will lighten the traveling load and help you raise some funds to offset the costs of the move.
Did you know? PODS has two different-sized containers available for your long-distance moves. That's helpful because you can mix and match to only pay for what you need — and not what you don't.
How do you arrange a long-distance move?
First things first: Before you sign on any dotted lines, prepare for your move with a long-distance move checklist. That way, you'll hopefully avoid some surprises while you're making your specific arrangements.
Now, if you're not on a tight budget, feel free to go all out. Hire organizers to prepare your items. Then, contract with a moving company that will pack and move your goods with their trucks. All you'll have to do is simply meet them at your new home when it's all said and done. And if you're real feisty, you can pay them to unpack all your goodies, too.
That's all sunshine and roses, except every variation of that (whether you use the organizers or not, for instance) tends to have to happen on a tight schedule. That's totally understandable, given the number of people buying new homes and moving to new states these days. But the tough part about that? If any of your plans change — big or small — it could send all the dominoes falling.
Want another option with some breathing room? Work with PODS on your long-distance move. Flexibility is built in — PODS containers automatically come with one month of storage, but you can have them stored longer and ship them whenever you need them, regardless of any date changes or updates to your moving schedule.
PODS moving and storage containers are also steel-framed and weather-resistant, so they don't have to be stored in a facility to keep your things protected from the elements. They're just fine right there in your driveway — although storing your containers at a secure PODS Storage Center is always an option, of course.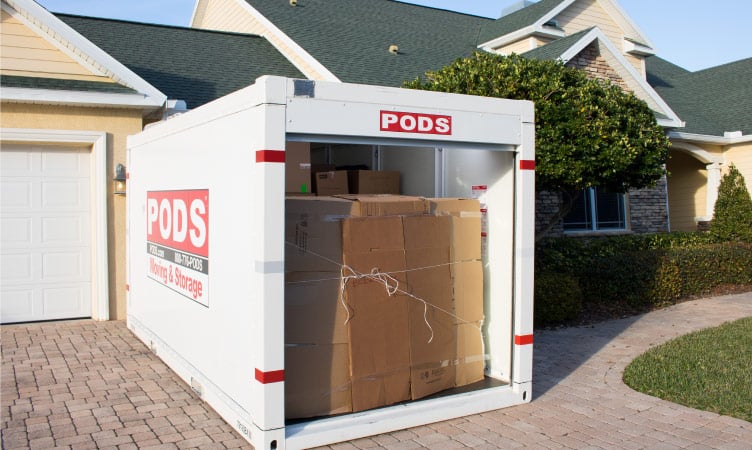 How do long-distance moves work?
Long-distance moves generally take time, assistance, and pertinent information from start to finish. If you work with PODS, you can have all three of those necessities throughout the process. For example, a PODS container allows you to pack and load on your own time and in advance of your move. You can pack up the extra towels and blankets one night and the home office on the next. And you can put your kitchen gear and silverware in at the last minute, so you don't have to use plastic forks and take-out meals every night until the move. If something unexpected comes up — and, to be honest, aren't we all used to the unexpected happening in life? — then you can store your PODS container in a secure storage center until you're ready. Basically, you're the one calling the shots — not the other way around.
Best of all, PODS has locations all over the United States to help you with your long-distance move. Makes sense, since PODS has been helping people move from state to state for over two decades. Want to work with a company that knows all the ins and outs of moving and makes things flexible along the way, ensuring your long-distance move is smooth, predictable, and as relatively stress-free as possible — so you can get to your new home and start enjoying it right away? Put your trust in PODS.
Check out the PODS Blog for more suggestions, tips, and help all along the route.
---
Karen Dybis is a freelance journalist and a frequent contributor to the PODS Blog. Her work has appeared in Time magazine, U.S. News & World Report, The Detroit News, and more.
Get a Quote
Choose the service you need
Comments
Leave a Comment
Your email address will not be published. Required fields are marked *