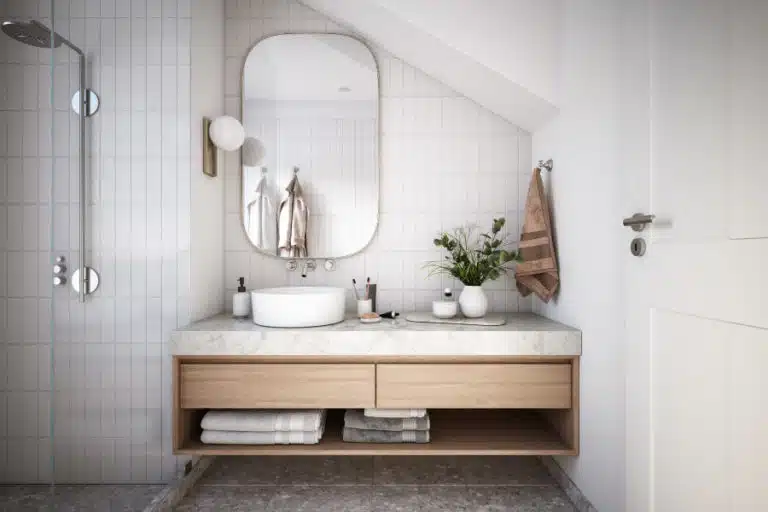 Maximize Space Without Maxing Out Your Budget: How to Handle Your Small Bathroom Remodel
When it comes to a small bathroom remodel, don't let a lack of square footage put a damper on your dreams. No, you may not be able to install a giant whirlpool tub and personal sauna, but you can maximize the space and modernize the look. Here's what you need to know about small bathroom renovations, as well as a few of our favorite small bathroom remodel ideas.
Small bathroom, half bath, powder room — what's the difference?
For the sake of clarity, in this article, we're using the term "small bathroom" to refer to a bathroom that has all major components — a tub and/or shower, toilet, and sink — but is smaller in size (think around 50 square feet or less). Half bathrooms and powder rooms may have comparable square footage, but they only have a sink and toilet.
What is the average cost of a small bathroom remodel?
According to a 2021 Home Advisor study, the average small bathroom remodel cost is $6,500. This number can be misleading though, because if you're not careful, the sky's the limit on what you can spend.
High-end fixtures and custom materials can cost two or three times more than lower-end products. And if you want everything to be installed by a contractor and team of remodeling professionals, count on even higher costs. On the other end of the spectrum, if you're a seasoned DIY-er and want to tackle the job yourself, you can put those significant labor costs back into the overall budget.
So what is a realistic budget for a bathroom remodel? For a complete remodel, plan to pay about $70 per square foot if you're doing it yourself and buying lower-end fixtures or about $250 per square foot if you're hiring a licensed contractor and purchasing higher-end fixtures.
Q: What is the biggest expense in a bathroom remodel?
A: That depends on how in-depth you want to go with your remodel — and if you do it yourself or hire a professional. For instance, if you're just wanting to change the color scheme and do it yourself, paint may be your biggest expense. On the other hand, if you're wanting to completely gut the bathroom and start with a clean slate, you'll likely hire a professional, and labor costs may top the list of expenses. In fact, the labor costs alone may end up being 40% to 65% of your total costs.
What is the cheapest way to renovate a bathroom?
If you're trying to do a small bathroom remodel on a budget, the first thing you need to do is create a plan and set a schedule. Time is money, so getting off track can mean increased spending. Our home remodeling checklist has some suggestions for formulating your strategy and sticking to it.
As previously mentioned, another great way to save money is by doing the work yourself — or with the help of some very generous and talented friends. Be forewarned, though: The bathroom may be called small, but renovating it is a big job. While no two bathrooms are alike, here's a quick overview of a typical remodel process:
Demolition: Whatever needs to change first needs to be removed, whether that's a few fixtures or all elements of the room, including the bathroom tiles and flooring.
Framing: Some structural work may need to be done to accommodate the new components, like creating a new shower stall.
Plumbing: Make any necessary plumbing changes for tubs, toilets, sinks, and showers.
Electrical: Run new circuits and install light fixtures and fans. An electrical home inspection may be required after this phase.
Drywall: If walls are knocked out during demolition, this is the time new ones will be formed with drywall.
Flooring: Install new flooring and/or lay bathroom tiles.
Cabinetry: Install vanities, countertops, and bathroom cabinets.
Fixtures: Last but not least, install all new fixtures (shower, tub, sink, toilet, etc.).
If you're not familiar with electrical and plumbing work, we suggest calling in trained reinforcements. Remember, there's a reason why people specialize in these trades. The PODS Blog has some great hiring recommendations for finding the right person or team to handle your small bathroom renovations.
However, even if you're not an HGTV-level remodeler, there are some aspects of a small bathroom renovation you may feel comfortable handling yourself, such as:
Removing existing fixtures and flooring
Painting walls
Installing a new vanity, cabinets, and countertops
Installing toilets and sinks
Making minor cosmetic changes
Q: Do you need a permit to remodel a bathroom?
A: When it comes to remodeling a small bathroom (or any area of your home, actually), strict building codes must be followed, for safety reasons. No matter how small you think your project is, you should check with your local code enforcement agency to see if you need to file a permit — which would mean getting your work inspected to make sure it is up to code standards. This is especially true if your remodel involves any electrical or plumbing work. Likewise, some of the work may need to be performed by licensed professionals.
What do I need to do before my small bathroom remodel begins?
Before the remodel begins, you'll need to clear your small bathroom and possibly even tear out elements and fixtures. That'll probably require packing up some boxes and finding space for everything else that's removed from the bathroom.
To keep your space clutter-free, consider having a PODS portable storage container delivered to your driveway. Keep it there as long as you need to, and use the extra space to store your things and organize your tools and equipment, keeping everything out of your way (but easily accessible).
How do I redesign a small bathroom?
For a small bathroom, you're probably wanting to make the space look and feel bigger while still accommodating all its essential components, like the shower or even a small soaking tub. To make the design meet your needs, ask yourself what you'd like to change — but think about the elements that are working, too. Sometimes we get so caught up in making tweaks that we forget about things that are already working well in the space.
It's also important to recognize that whomever is the primary small bathroom user will affect the design and layout. For example, if the bathroom is for small children, you'll probably want to install a tub instead of a shower. If it's for guests, you may want to forgo higher-end materials and extra storage space since the bathroom won't be used frequently.
If you want suggestions for making your wish list a reality, consider using a certified designer who specializes in bathroom configuration. They'll let you know what's feasible and will work with your contractor to bring your vision to life.
What colors make a small bathroom look bigger?
Making your small bathroom look and feel bigger means playing some tricks on the eye. That means choosing the right paint color and making some other strategic design choices. Here are some tips:
When it comes to color, think light and bright.
Darker colors close in the space, so what color makes a small bathroom look bigger? Anything in a light hue. It reflects the light, thus opening up the room. Incorporate as much natural light as possible, as well.
Get creative with the layout.
The space is tight, so try a sink that fits in a corner of the room or opt for curved corners on your vanity and tub instead of sharp ones. It'll prevent bumps and bruises, too!
Use a big mirror.
The more light you can reflect, the bigger your bathroom will look. A floor-to-ceiling or wall-to-wall mirror will give your small bathroom that wow factor.
Rethink your shower door.
Don't let the shower take over the space: choose one with a glass door — or no door at all.
Hide your storage.
Ditch the wall cabinetry and put storage behind your big, new mirror.
Small bathroom makeovers may seem intimidating, but putting the time, effort, and — yes — money into these projects is a worthwhile investment. Not only are you adding literal value to your home, but touching up one small room can also improve the look of your entire home.
---
LB Gabriel is a freelance writer who lives with her husband, daughter, and Golden Retriever in Memphis, TN. A frequent PODS Blog contributor, she's a sucker for any tip she can find on downsizing, cutting clutter, or minimalist living. When she's not on a deadline, you can find her on a tennis court or golf course.
Get a Quote
Choose the service you need
Comments
Leave a Comment
Your email address will not be published. Required fields are marked *