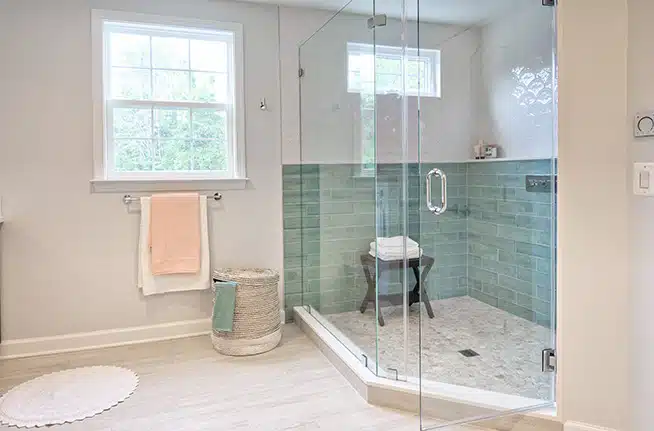 Walk-in Shower Ideas to Transform Your Bathroom
Remodeling your home's bathrooms not only makes day-to-day life more enjoyable but also adds value to your home for whenever you decide to sell. One of the best ways to transform your bathroom from lifeless to luxurious? Ditch the tub and put in a walk-in shower. If you're looking for walk-in shower ideas to take your bathroom renovation to the next level, you've come to the right place.
If you've been wondering why walk-in showers are all the rage, it's because, despite the higher price tag, they also expand access to everyone in the house, open the space up, and make clean-up way more straightforward.
It can be easy to think a walk-in shower is just a box, so you're boxed into a boring shape and a predictable design, but nothing could be further from the truth. Be it for functionality or style, walk-in showers offer many possibilities to make your space beautiful and add value to your home (no matter if you don't even plan to sell anytime soon).
Need to get the creative juices flowing? Here are some of our favorite walk-in shower ideas.
1. Forest Green with High Contrast
This walk-in shower idea feels like a trip to an exotic forest. With deep green tiles enhanced and paired with real plants, we can't help but breathe in, breathe out, and immerse ourselves in a fresh space that feels like nature.
2. Classically Spacious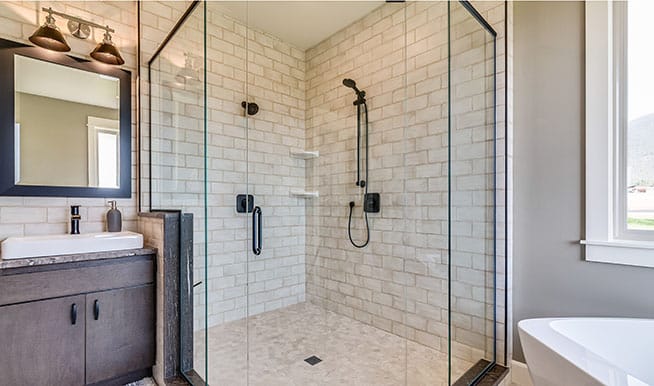 You may think nothing is exciting about this bathroom, but beyond the neutral colors and classic tile is a clever effort to maximize the available space, opting for a pentagon shape instead of a rectangle or square. Steal this trick if you have an awkward corner you didn't think you could use for this.
3. Clean and Modern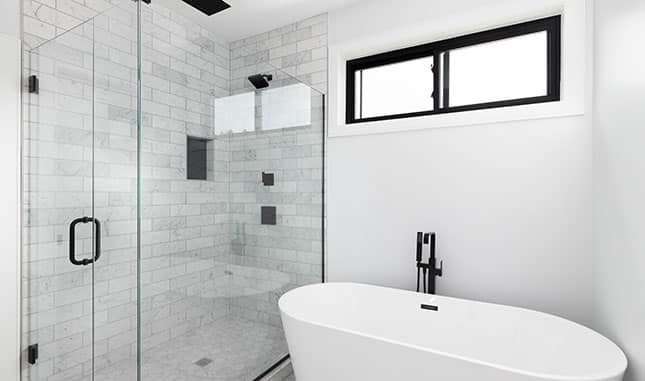 Bold and colorful designs are great, but there's no safer bet than a great modern space that will stay timeless (which is also great for your investment!). The minimal look and feel of this bathroom, for example, is enhanced by the clean lines of the frameless glass shower, the interesting detail added by the marble tiles and the chic finishes in matte black.
4. Spa-Inspired Freshness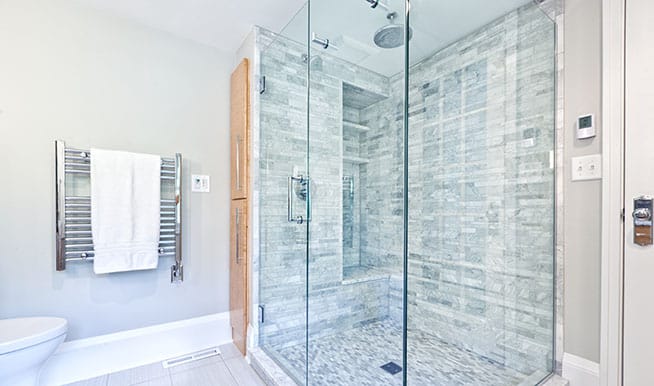 If you want something practical that still feels as fresh and elegant as a spa bathroom, work with light colors and low contrast, but be sure to maintain those clean lines like shown in this example.
5. Show-Stopping Architectural Details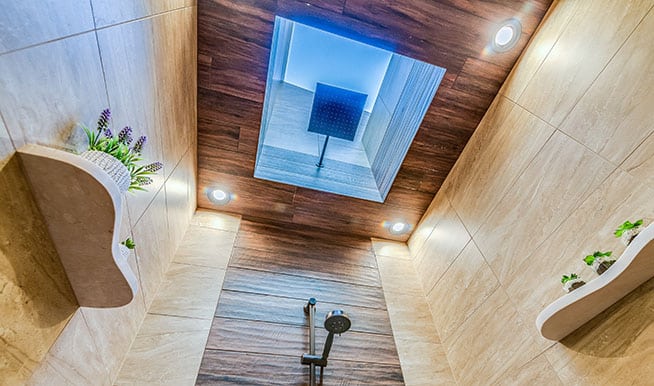 All these walk-in shower ideas don't have to only go in your walls and cabinets. Remember to look up and get creative with your lighting and the placement of your shower head. Spaces with details like this one truly make for an immersive shower experience!
6. Old-School Charm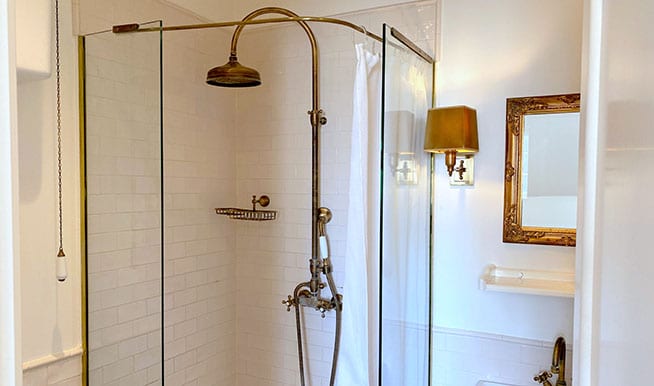 Old school doesn't need to mean outdated. A good white room accented with beautiful brass details can almost make you feel like you're in your own country house (at least while you shower).
7. Simple and Compact Modernity
For very small spaces, keeping things simple is best. Neutral colors paired with simple shapes will keep things from feeling crowded. An almost-invisible glass or acrylic shower that doesn't add visual clutter is also your best bet to fit more than you thought possible into a tiny bathroom.
8. A Blooming Walk-in Shower
A large-scale tile mosaic is an unexpected, yet easy, way to make a space go from great to WOW! Like interesting wallpaper in other rooms, adding a unique tiled design in a bathroom is a great way to incorporate art practically and tastefully.
9. Subtle Textures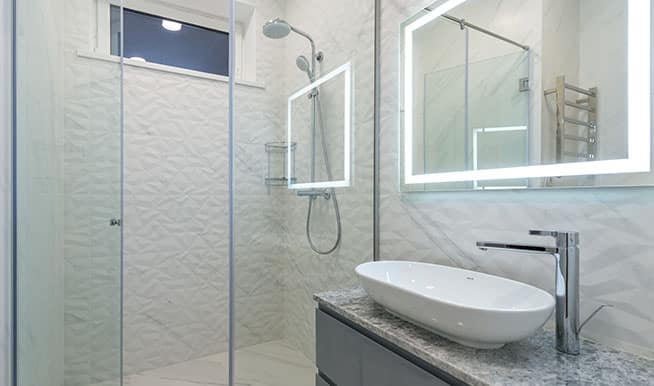 Neutral walk-in shower ideas aren't synonymous with bland. Or at least it doesn't have to be. If you want to add some interesting details to a simple design, but aren't quite ready to go big and bold, textured tiles are a great option.
10. Relaxing Retreat at Home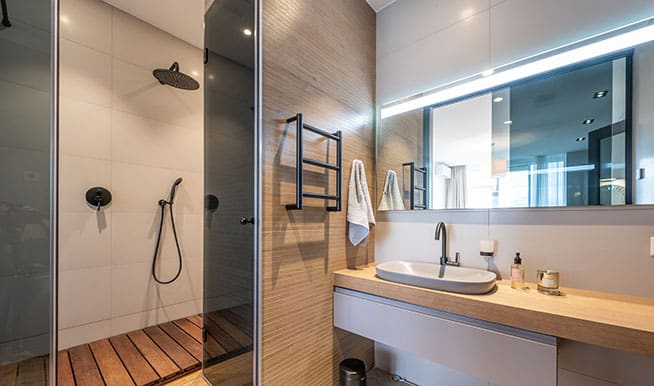 If you want to have weekly retreats without travel or extra expense, consider a bathroom full of natural materials, colors, and textures. Natural wood mixed with tile in woody colors will bring warmth into space and transport you to the spa of your dreams every time you take a shower.
11. From Bland to Interesting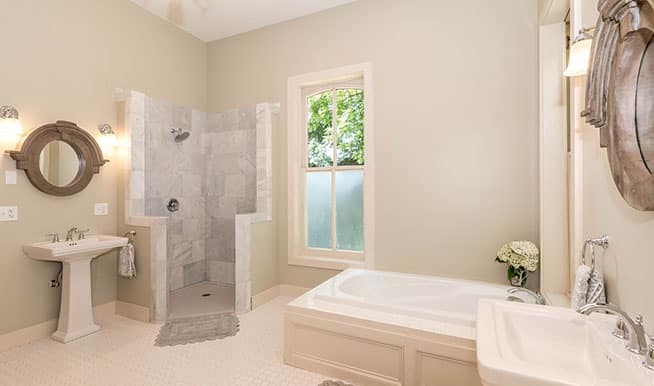 A well-designed and strategically placed shower can even transform an otherwise bland and very beige bathroom. If you don't want to change much but would like to add an interesting walk-in shower, take a page from this doorless one with stone tiles and unexpected edges.
12. Bold and Colorful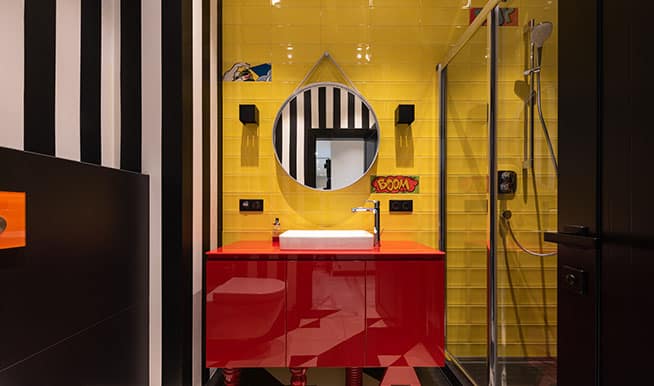 For a truly unique space that will keep anyone who walks into it talking for days, consider mixing bold colors with textures and patterns. These aren't walk-in shower ideas for the faint of heart, but go big or go home, right? A design like this one will turn a simple bathroom into one of the most interesting rooms in your home.
13. Monochromatic Fun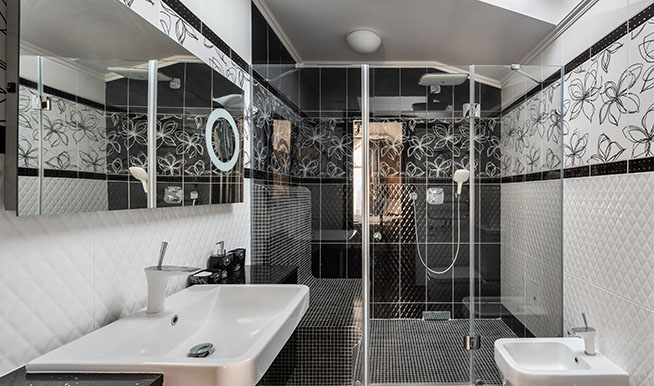 Monochromatic rooms don't need to be overly modern or simple. Take this one for example, playing with half a dozen textures and patterns makes an otherwise minimal space into a bathroom full of whimsy. You know the designer had fun here!
14. sober Isn't Boring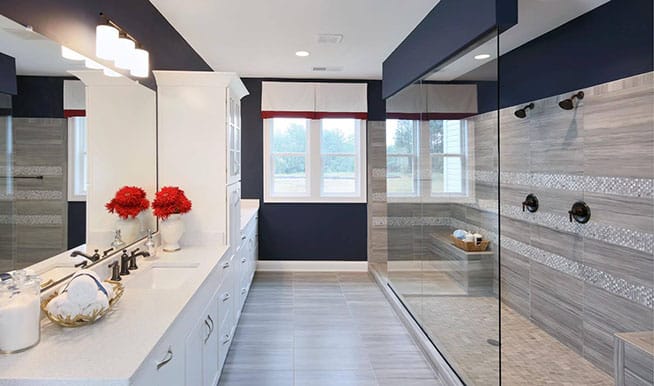 Walk-in shower ideas with a sober choice of colors and shapes can make bathrooms elegant. Take the above phot for example, the tiled panels in the shower wall paired with interesting metal touches keep it from being too basic.
15. It's All in the Details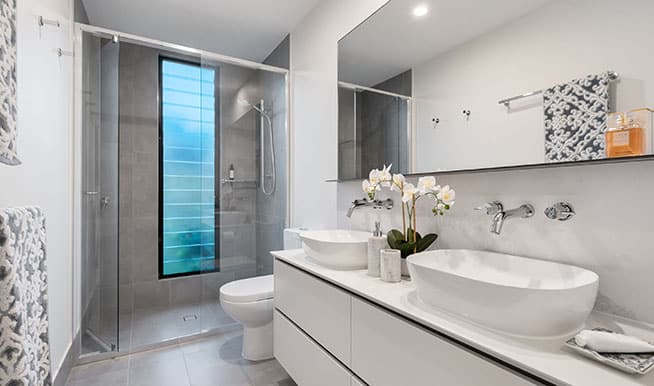 Even a clean and simple space can be elevated with the right accessories. Here we can see how a simple design in a neutral color is brought to the next level by a paneled window, intricate towels, and the cozy addition of some natural orchids.
16. The Shower as Centerpiece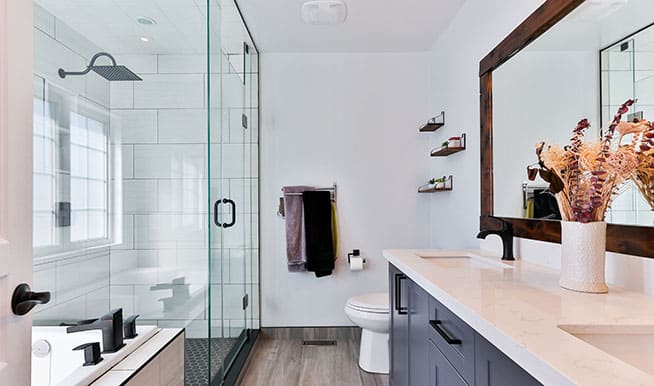 A simple redesign with a frameless glass shower, rain shower, and carefully chosen wall and floor tiles bring this bathroom into the 21st century without the need to make any radical changes to a space that works.
17. Simple but Cozy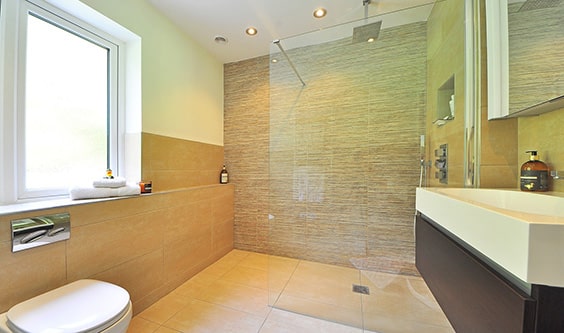 Sometimes all you need to make a space cozy is to add some warm colors. That's the case in this bathroom that, while minimal, stays away from modern coolness by virtue of its warm colors. The dark wood is also a nice touch.
18. Wood is the Answer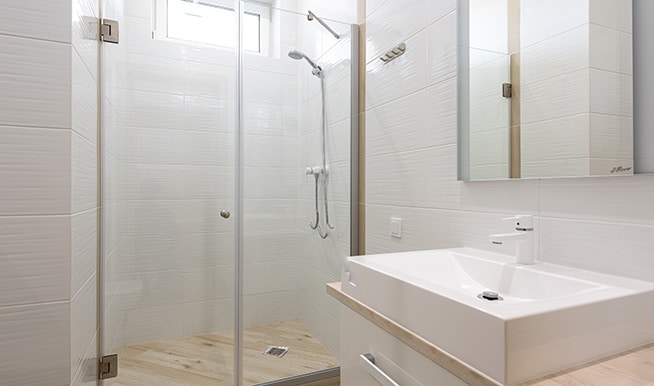 If you definitely like your neutral walk-in shower ideas but want to add a little pizazz, add some wood or wood-imitating details. The floor and sink here are great examples of the kind of beautiful result you can accomplish with that alone.
19. Don't be Afraid of the Dark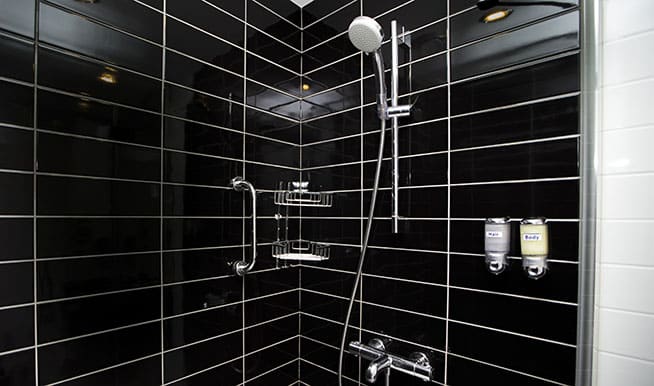 If you love subway tiles, but are a little over the white ones everyone and their moms have installed, consider black ones. Same style, more impact.
20. Beige Isn't the Only Neutral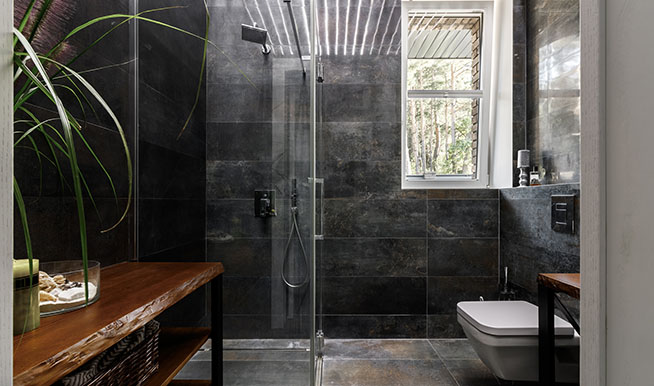 When we think of neutral bathrooms we mostly picture beiges and whites, but the truth is you can still have a neutral, but more interesting space by using a deeper color. Take these dark gray marble tiles, for example. Simple design, but so much richer, right?
21. Style and Function can Co-exist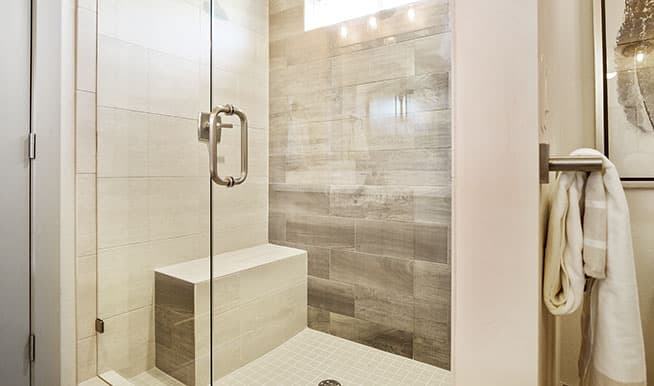 Sometimes you and your family need functionality in addition to design. However, that doesn't mean they need to fight each other. A shower bench, for example, can be an interesting element that adds to the look and feel of your shower in addition to its functional and accessibility benefits.
22. Consider Pastels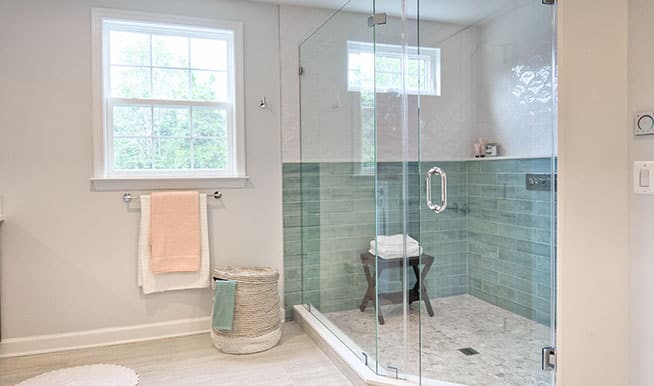 Sometimes the only walk-in shower ideas you need to take a boring shower and turn it into something exciting are changing the colors of half a wall. Seriously. Look at the difference the turquoise wall makes here and how nicely it plays with the pastel towels perfectly placed next to it.
23. Playful Patterns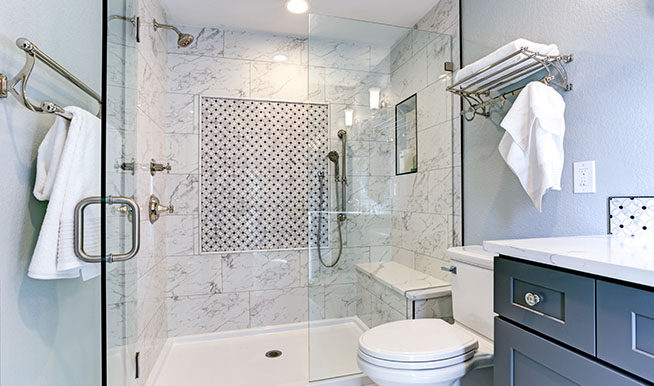 Even a fully gray bathroom can have stunning details if you want to play with the pattern of your tiles. Just look at the intricate details on the wall here. And even better, it doesn't even have to go into the whole wall to make an impact!
24. Let the Light In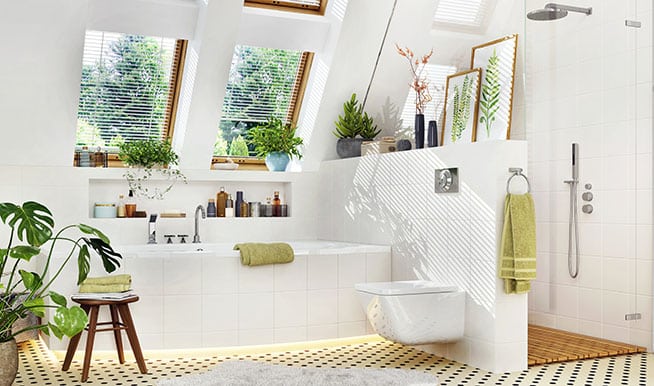 Don't forget that natural light is always a great ally. If your bathroom has windows that get some glorious sunshine during the day, make the best of them. Even better if they're architectural, like the ones pictured, because they can become your centerpiece in the space.
25. Interesting Neutrals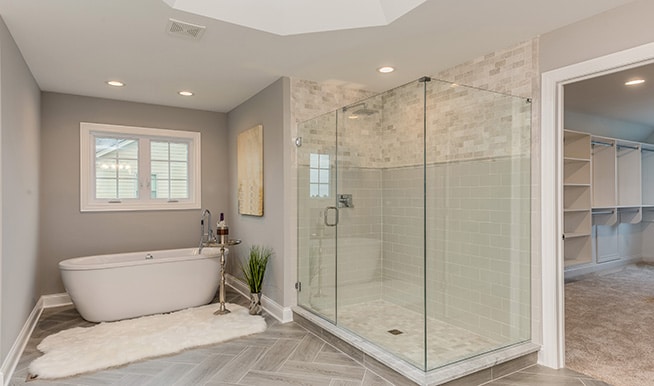 A large neutral bathroom doesn't need to feel like a boring gray (or beige) box. Pick elegant and interesting elements on a large scale and let them shine on their own!
Common Questions About Walk-in Shower Projects
What is the average cost of putting in a walk-in shower?
The total cost of putting a walk-on shower in your place can range from as low as $1,000 to as high as $15,000, with around $6,700 as the average the majority of people most commonly invest.
However, prices will go higher or lower depending on things such as how complex the design you want is, the quality and exclusivity of the materials, and the amount of work you decide to do by yourself or how much help (and for how long) you need to hire to complete it.
What is a good walk-in shower made with?
Tile. Specifically porcelain tile is usually the top choice of material for walk-in showers. This is because it is a highly durable material that can withstand heavy foot traffic. There's also the fact that it is resistant to moisture and mold, which makes it ideal for wet environments. And lastly, porcelain tile is extremely easy to maintain and clean, which is essential in a bathroom area.
While switching materials is usually the easiest way to make numbers nudge when you're calculating expenses and trying to stay on budget, we recommend you stay away from any plastic replacements if at all possible, as they cheapen the look of your space and significantly shorten your remodel's lifespan.
What is the difference between a walk-in shower and a shower bath?
Walk-in showers are those free of curtains, free of bathtubs, and basically, free of any obstacles, so you can just walk into them (as the name implies). They're either partially enclosed in a beautiful, but non-obstructive way or fully open in some cases. They're accessible, easy to clean, versatile, and spacious. They can have tiled half walls or sometimes all walls will be replaced with elegant glass panes, for a cleaner look.
Shower baths are the traditional style you're probably more familiar with. They're less trendy and glamorous, but they're more convenient when dealing with children while also offering more privacy. However, they also have a less modern look and are less accessible to people with special mobility needs (like wheelchair users).
If you have more than one bathroom at home, it would probably be more convenient and help resale value to have both types of showers, just to have all bases covered.
How do you install a walk-in shower on a budget?
The absolute cheapest option is a prefabricated walk-in shower stall. There are cheap plastic ones that cost around $300 and fiberglass and acrylic ones that range from $700 to $3,000. If you must go with one of these, try to pick the latter options.
While it's okay to want to stretch your dollars, cheapening out on materials will be more expensive in the long run, as you'll likely have to replace things sooner and basically redo your bathroom prematurely. That is, unless you sell and move before that need arises. The result also won't be as nice to look at or as enjoyable to use.
Some other ways to save money without sacrificing the style and durability in this type of project include things such as choosing a standard-sized base, going doorless (to save some material!), using alternative materials that imitate more expensive stone finishes (ceramic or even PVC could work) without looking cheap and opting for less expensive versions of whatever finishing touches you had planned to add (like bars, trays, and the like).
Is it expensive to replace a tub with a walk-in shower?
Replacing a tub and turning the space into a walk-in shower in your bathroom could cost you anywhere between $800 and $15,000, depending on several factors. Some of the things you'll have to consider to calculate the price include whether or not you'll need to do any plumbing work to adapt water connections to your new design, how big your space is, how complex the design you want to install it, and logically, what kind of materials you're planning to use.
Plumbing work may be impossible to avoid depending on what needs to be done and there's also not much you can do about the size of the space, but if you find yourself trying to cut costs, you could consider a more minimal design combined with less expensive materials overall.
Prefabricated shower stall kits that could work for your new walk-in shower are also available in the market. These can run between $1,000 and $8,000, so they could be worth considering.
Now that you know the most important basics about walk-in shower projects, and got all the inspiration you needed (and more!), get ready to accomplish great things in your space!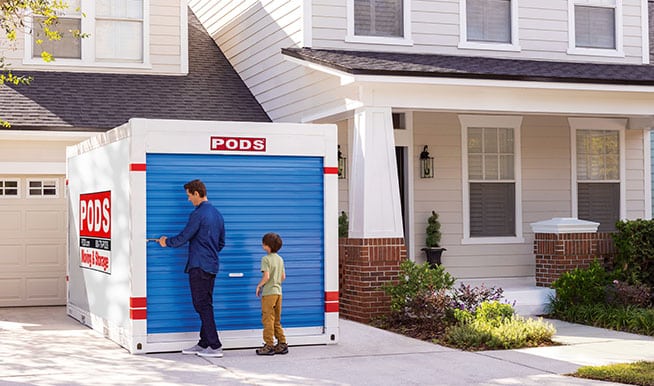 Make Room for Remodeling with PODS
Now that you're feeling inspired, you may be wondering How to Handle Your Small Bathroom Remodel. Fear not, PODS is here to help!
When embarking on a remodel in a place where you live, keeping the mess under control is paramount. To take the things that usually live inside your bathroom out, you must first make room somewhere else. But what if you don't want to clutter another space on top of dealing with all the noise and dust?
You can make room for remodeling by having a PODS portable storage container delivered to your driveway! Use it to store equipment, tools, etc. during your remodel and keep it as long as you need. When you're done, PODS will pick it up right away.
And if you want to go beyond your shower, check out our Primary Bathroom Remodel Guide and on the PODS Blog and consider our Renovations and Remodeling Storage options for your bigger projects.
---
Ivonne Spinoza is a freelance writer and a frequent contributor to the PODS Blog. Her work has appeared in Matador Network, PBS' Independent Lens, Remezcla, and The Chicago Tribune, among others. When she's not snuggling her cats, she's either Kondo-ing someone's life or fighting jet lag at some airport.
Get a Quote
Choose the service you need
Comments
Leave a Comment
Your email address will not be published. Required fields are marked *