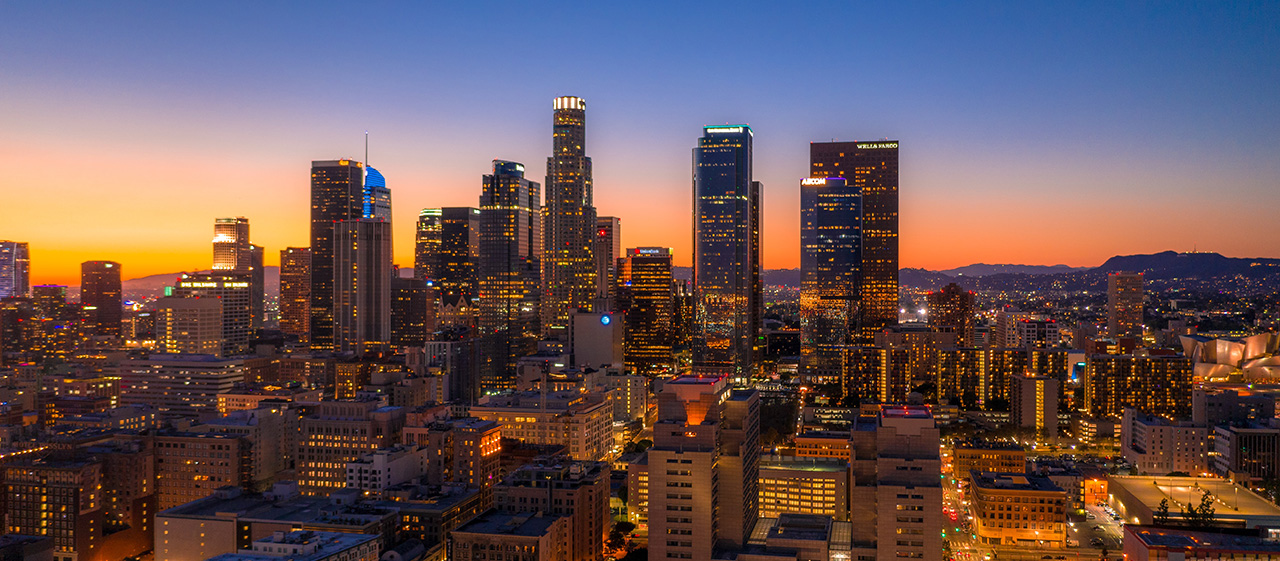 PODS portable moving containers in Los Angeles
PODS offers safe, flexible options for local and long-distance moves, relocations, storage, and more.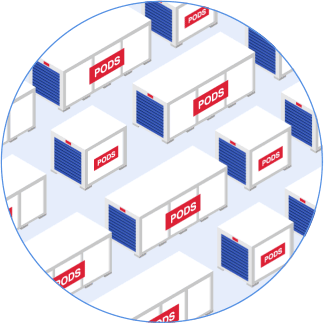 This may take up to 30 seconds.
We're searching over 200,000 containers to find you the best price.
Three PODS Portable Containers for the Perfect Fit
Large Container 16-Foot
Ideal for a 2-bedroom home, or up to 1,200 sq. ft.
About the length of a standard parking spot
Comparable to a 10'x15' storage unit or a 20' truck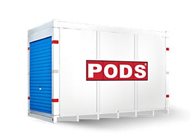 Medium Container 12-Foot
Perfect for a 1-bedroom home, or a 500-800 sq. ft. space
Great for packing away things from 2 or 3 rooms
Compare to a 10'x10' storage unit or 15' truck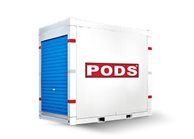 Small Container 8-Foot
Great for a studio or room of 500 sq. ft. or less
A popular choice for college students
Comparable to a 5'x10' storage unit or 10' truck
Safe, Easy, and Flexible Moving Services@Model.Title.HeadingType>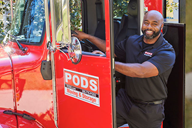 Local moving in Los Angeles
Need a
convenient solution for local moves
in Los Angeles? Forget the rental truck. We let you take all the time you need to load your container and when you're ready, we'll pick it up and deliver it to your new place.
Learn More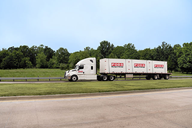 Long-distance moving to and from Los Angeles
Moving long-distance
in Los Angeles with PODS means you're in control of the schedule. Our unique shipping containers allow you to personalize your move, no matter the distance.
Learn More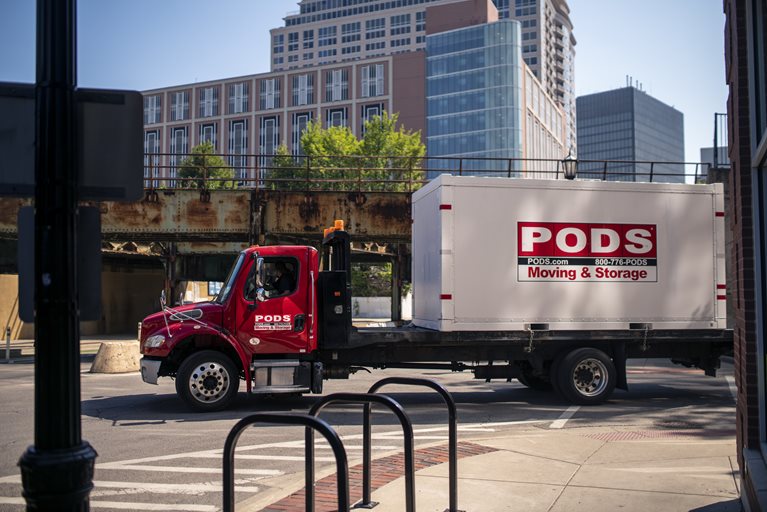 PODS City Service
Moving in the crowded streets of LA? PODS City Service is up to the task. City Service is designed to meet the unique challenges of big-city moving and storage – from parking regulations to navigating congested roads, all while giving you the flexibility and convenience you need.
PODS City Service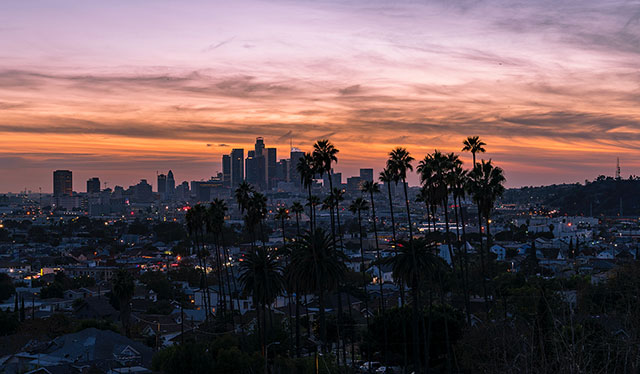 Storage included in every Los Angeles move
PODS offers unrivaled moving flexibility. Take as much time as you need to load and unload your storage container. Safely store your things in your driveway or at a secure, climate-controlled
PODS Storage Center
.
Learn More
Why choose PODS Moving and Storage?@Model.Title.HeadingType>
You control the timeline: Choose your dates, and your container rental is billed monthly so you can move on your schedule.
Flexible, built-in storage: Easily store your container in your driveway or a PODS Storage Center.
We take care of the driving: We deliver the container to your new home or apartment—whether it's down the street or across the country.
Customize your move: We have a solution for you, no matter how complicated your move is.

With over 20 years experience and over 6 million deliveries, we know that local and long-distance moves aren't a cookie-cutter situation. That's why we encourage customers to call us for a quote.
PODS is your best Los Angeles moving option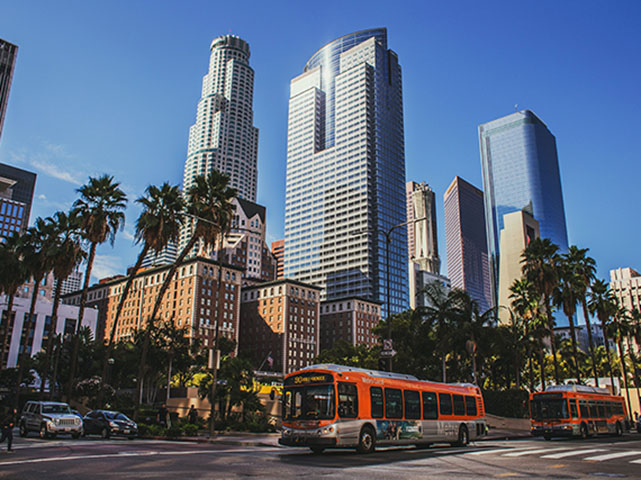 Nestled between the San Gabriel Mountains and the Pacific Coast in Southern California, Los Angeles has been THE destination for dreamers for over a century. With a sprawling urban area packed with theme parks, movie studios, and sports arenas and plenty of natural beauty, life in Los Angeles has something for everyone.
When you make your move to Los Angeles with PODS, you get a personalized experience with expert support. We help you choose your container size, deliver the container right to your driveway, give you all the time you need to load, and then we deliver it to your new place. Learn more about
how PODS works
.
Los Angeles storage solutions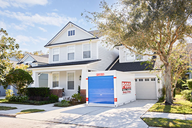 Wondering "Where can I find storage units near me?" The best thing about moving with PODS is the fact that storage is built-in. Whether you need more time to unpack after a long-distance move? Or need temporary storage containers during a home renovation, PODS has you covered.
Keep your secure storage container in your driveway or at a local PODS storage facility. For added flexibility, we offer month-to-month payment terms, so you only pay for the time you need.
Learn more about
PODS storage containers and units in Los Angeles.
.
Store in Los Angeles
Moving with PODS: Frequently asked questions
Serving the greater Los Angeles area
| Acton | Agoura | Agoura Hills | Agua Dulce | Alhambra | Aliso Veijo | Aliso Viejo | Altadena | Anaheim | Anaheim Hills | Arcadia | Arleta | Artesia | Atwood | August F Haw | Avalon | Azusa | Baldwin Hills | Baldwin Park | Barrington | Bassett | Beach Center | Bell | Bell Canyon | Bell Gardens | Bellflower | Belmont Shore | Beverly Hills | Bicentennial | Bixby Knolls | Bouquet Canyon | Box Canyon | Boyle Heights | Bradbury | Brea | Brentwood | Briggs | Bristol | Broadway Manchester | Brookhurst Center | Brylane | Buena Park | Burbank | Cabrillo | Calabasas | Calabasas Hills | Canoga Park | Canyon Country | Capistrano Beach | Capo Beach | Carson | Castaic | Century City | Cerritos | Charter Oak | Chatsworth | Cimarron | City of Industry | City Ranch | Commerce | Commerce City | Compton | Cornell | Corona del Mar | Costa Mesa | Coto De Caza | Covina | Cowan Heights | Crenshaw | Crystalaire | Cudahy | Culver City | Cypress | Dana Point | Del Sur | Diamond | Diamond Bar | Dockweiler | Dominguez | Dove Canyon | Downey | Duarte | Eagle Rock | East Irvine | East Long Beach | East Los Angeles | East Rancho Dominguez | Echo Park | Edendale | El Monte | El Segundo | El Sereno Car | El Toro | Elizabeth Lake | Encino | Fairmont | Firestone Park | Flint | Flintridge | Foothill Ranch | Fountain Valley | Foy | Friendly Valley | Fullerton | Garden Grove | Gardena | Glassell | Glassell Park | Glendale | Glendora | Granada Hills | Green | Green Valley | Greenmead | Griffith | Hacienda Heights | Hancock | Hansen Hills | Harbor City | Hawaiian Gardens | Hawthorne | Hazard | Hermosa Beach | Hi Vista | Hidden Hills | Highland Park | Holiday | Holly Park | Hollyglen | Hollywood | Huntington Beach | Huntington Park | Inglewood | Irvine | Irwindale | Juniper Hills | Kagel Canyon | King | La Canada Flintridge | La Crescenta | La Habra | La Habra Heights | La Mirada | La Palma | La Puente | La Tijera | La Tuna Canyon | La Verne | LaCanada | Ladera Ranch | Laguna Beach | Laguna Hills | Laguna Niguel | Laguna Woods | Lake Balboa | Lake Forest | Lake Hughes | Lake La | Lake Los Angeles | Lake View Terrace | Lakeview Terrace | Lakewood | Lancaster | Lane | Lawndale | Leimert Park | Lennox | Leona Valley | Lincoln Heights | Littlerock | Llano | Lomita | Long Beach | Los Alamitos | Los Angeles | Los Angeles AFB | Los Feliz | Los Nietos | Lugo | Lynwood | Malibu | Manhattan Beach | Mar Vista | Marina Del Rey | Maywood | Metler Valley | Midway City | Mint Canyon | Mirada | Mission Hills | Mission Veijo | Mission Viejo | Modjeska Canyon | Monarch Bay | Monarch Beach | Monrovia | Monte Nido | Montebello | Monterey Park | Montrose | Mount Wilson | Mt Baldy | Naples | Neenach | Newhall | Newport Beach | Newport Coast | North Hills | North Hollywood | North Long Beach | North Tustin | Northridge | Norwalk | Oak Park | Oakwood | Orange | Pacific Palisades | Pacoima | Palmdale | Palms | Palos Verdes Estates | Palos Verdes Peninsula | Palos Verdes Penisula | Panorama City | Paramount | Pasadena | Pearblossom | Pearl Blossom | Phillips Ranch | Pico Heights | Pico Rivera | Placentia | Playa | Playa Del Ray | Playa Del Rey | Playa Vista | Pomona | Porter Ranch | Portola Hills | Portuguese Bend | Preuss | Quartz Hill | Rancho Dominguez | Rancho Palos Verdes | Rancho Park | Rancho Santa Margarita | Redondo Beach | Reseda | Rimpau | Robinson Ranch | Rolling Hills | Rolling Hills Estates | Roosevelt Corner | Rosemead | Rosewood | Rossmoor | Rowland Heights | San Clemente | San Dimas | San Fernando | San Gabriel | San Juan Capistrano | San Juan Capo | San Juan Capostrano | San Marino | San Pedro | Sandberg | Santa Ana | Santa Clarita | Santa Fe Springs | Santa Monica | Saratoga Hills | Saugus | Seal Beach | Sepulveda | Shadow Hills | Sherman Oaks | Sherman Village | Sierra Madre | Signal Hill | Silver Lake | Silverado | Sleepy Valley | South El Monte | South Gate | South Laguna | South Main | South Pasadena | Stanton | Starlight Hills | Stevenson Ranch | Studio City | Sun Valley | Sun Village | Sunkist | Sunland | Sunset Beach | Surfside | Sylmar | Tarzana | Temple City | Thousand Oaks | Toluca | Toluca Lake | Toluca Terrace | Topanga | Torrance | Trabuco | Trabuco Canyon | Tujunga | Tustin | Tustin Marine Corps Air | Uci | Ucla | Universal City | Val Verde | Valencia | Valley Village | Valyermo | Van Nuys | Venice | Verdugo City | Vermont | Vernon | Veterans Administration | View Park | Villa Park | Village | Wagner | Walnut | Walnut Park | Walt Disney Company | Watts | West Adams | West Covina | West Hills | West Hollywood | West Los Angeles | West Toluca | Westchester | Westlake Village | Westminster | Whittier | Wilcox | Wilmington | Wilsona Gardens | Windsor Hills | Winnetka | Woodland Hills | Yorba Linda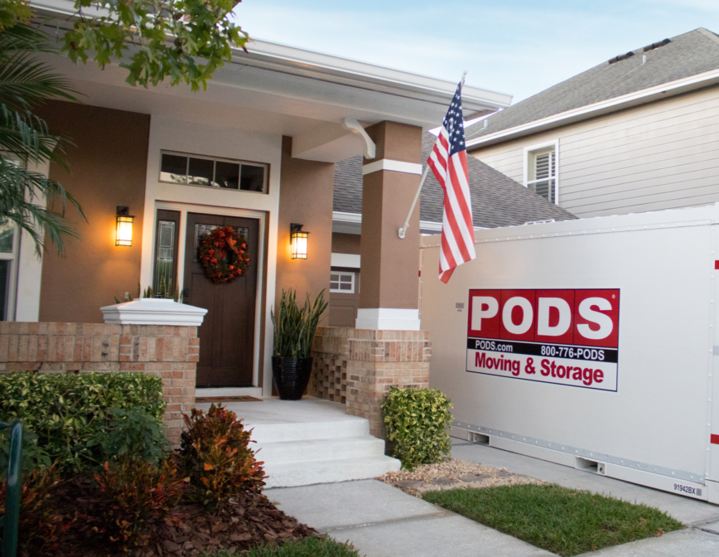 Los Angeles Moving & Storage
Storage Facilities Near Me
Chino Hills
4450 Edison Ave.
Chino, CA 91710
Ericsson - Corona (DO NOT USE)
720 S Temescal St
Corona, CA 92879
Los Angeles, CA
220 East Stanley St
Compton, CA 90220
Perris, CA
1330 Nandina Ave
Perris, CA 92571
Santa Ana, CA
705 E. Alton Ave
Santa Ana, CA 92705
Sylmar, CA
14093 Balboa Blvd
Sylmar, CA 91342
Van Nuys, CA
7900 Nelson Road
Van Nuys, CA 91402
Vernon 1, CA
5370 South Boyle Ave
Vernon, CA 90058
Let's Get Started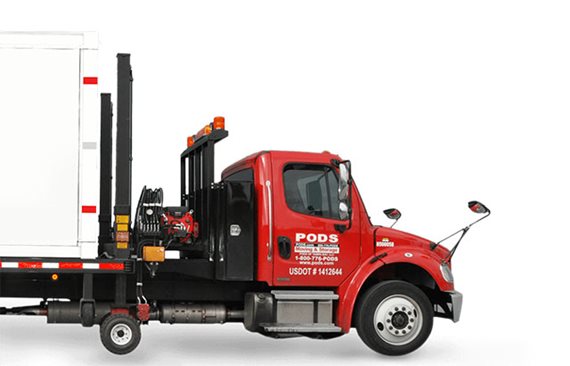 Choose the service you need