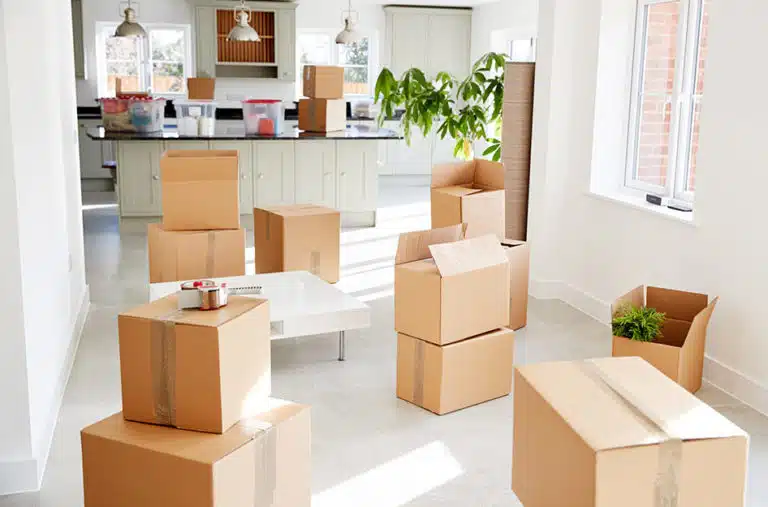 The Best Moving Boxes in 2024 (and Where To Get Them!)
The marker in one hand. The tape gun in the other. You're officially ready to rock 'n' roll with this move! But have you really thought about what you're
packing your stuff
into? Are you utilizing the best moving boxes? After all, the whole point is to ensure your belongings arrive at the new destination unscathed, right?
Here's the low-down on those corrugated containers.
Is It Worth It To Buy Moving Boxes?
Is it worth buying boxes for moving? Absolutely! That's like asking if you'd rather have cookies fresh from the oven or from the shelf-stable package that was opened a week ago. Sure, those cold, hard cookies can be zapped in the microwave for a few seconds and taste just fine. But given the choice, you'd probably pick the fresh ones, right?

Similarly, those used boxes that you scoured the neighborhood for on trash day can certainly be reinforced. And renamed to match your labels. And then reinforced some more. But why go through all the extra trouble (and extra tape!) when you can have new, sturdy boxes to rely on?

Pro Tip: Those boxes that you snagged? They may be free, but they're not necessarily stress-free. Used boxes lose their structural reliability over time — especially if they're used multiple times. Even worse, some boxes can harbor pests such as ants, roaches, and silverfish. These critters can easily move into your new home right along with you.

New boxes, on the other hand, are the best moving boxes. Investing just a little more into your move on the front end can save you from some stressful and costly damage control later on. Want more proof? Check out these perks:
New Boxes Are Easier To Get Your Hands On
With PODSBoxes.com, for example, you can simply have the best moving boxes shipped straight to your door for free. And the best part? You get to choose exactly how many and what sizes you want — no dumpster diving and crossing your fingers required! Don't know what you need? PODS has preselected moving kits available that are sure to give you the proper head start (if not everything you need).
New Boxes Are Easier To Identify During Your Move
Used boxes may have all sorts of packaging and print labels all over them. Your new boxes will be clean and ready to label — and go ahead, label BIG. You and your movers will find and sort boxes so much faster when loading and unloading.

New Boxes Are Easier To Stack
Used boxes lose their stability over time, and their corners and lids can begin to warp and give way. They may also easily get crushed when stacked too high. Your new boxes won't have these problems.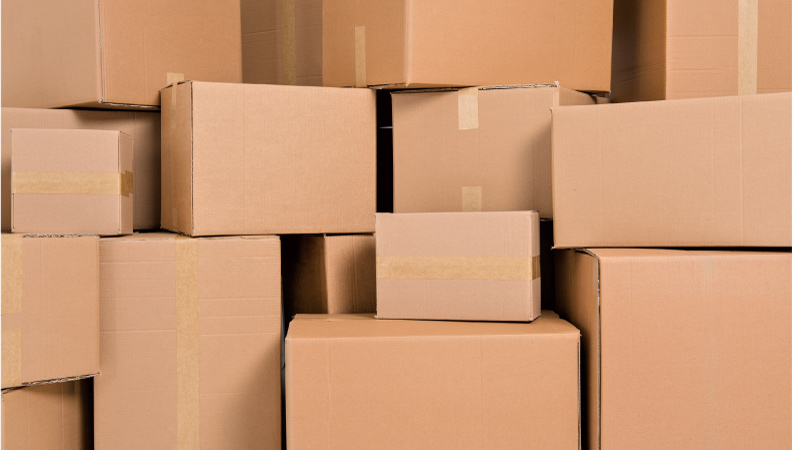 What Is the Best Size Moving Box?
The proper box size depends on what you're packing. The best moving boxes are those that are large enough to fit a good amount of items without being too heavy. Likewise, boxes that are the appropriate sizes won't have extra room for items to move around. The most popular box size? Medium moving boxes. Measuring 18x14x12 inches, these versatile workhorses can be a catch-all for most household items. Pots and pans? Sure! Toys and books? No problem!

Q: What size boxes do movers prefer?
A: Movers prefer well-packed boxes that are the right size for the contents inside. A giant box packed to the brim with pots and pans that you can barely lift may not be ideal, but neither is the same box packed at half-capacity, making it likely to buckle under the weight of other boxes. Try to pack each box full without making it too heavy to reasonably carry.
Other Popular Boxes
Check out these PODS moving boxes for your next move.
Specialty Moving Boxes
If the item you're packing — say, your prized electric guitar or signed concert poster — just won't fit in a typical container, specialty boxes can be the best boxes for moving. Unsure the best place to buy moving boxes like these? Try these links:
Pro Tip:
For wider or longer art pieces, telescope — or tape — your picture boxes together to create one larger box.
Are Heavy-Duty Moving Boxes Worth It?
That's a toss-up. It's like choosing to double bag your gallon of milk or not — is it really worth the short-term risk? But imagine this scenario: You've managed to fit all your books from the shelf into one box and, surprisingly, it wasn't too heavy when you carried it to the truck or moving container. Now, you're at your final destination with the box in hand (or arms, rather), you turn the corner to head up the stairs, and — bam! — the bottom of the box falls apart. Books are everywhere! You're now left with the task of going up and down the steps multiple times with armloads of books. Not to mention you're in everyone else's way, slowing down progress. Should you have used a heavy-duty box? We think so.
What Company Makes the Best Moving Boxes?
When looking for where to buy moving boxes, finding the best ones really depends on what you're packing and how you're moving. Popular Mechanics rates the Uline Deluxe Moving Corrugated Boxes as the best overall moving boxes, while they dub these large BlissTotes boxes with zippers and handles as the best reusable option. As for the best deal on moving boxes? They suggest this 10-pack of boxes from Amazon Basics.

When considering the best moving boxes to buy, though, you want to take into account not just the cardboard itself but the effort it takes to get it to your home. Moving is stressful enough without having to add driving to the store and hauling boxes into your trunk to the list. If you order through PODSBoxes.com, you can have all the boxes and moving supplies you need delivered right to your door with fast and free shipping — making them some of the best moving boxes when it comes to convenience.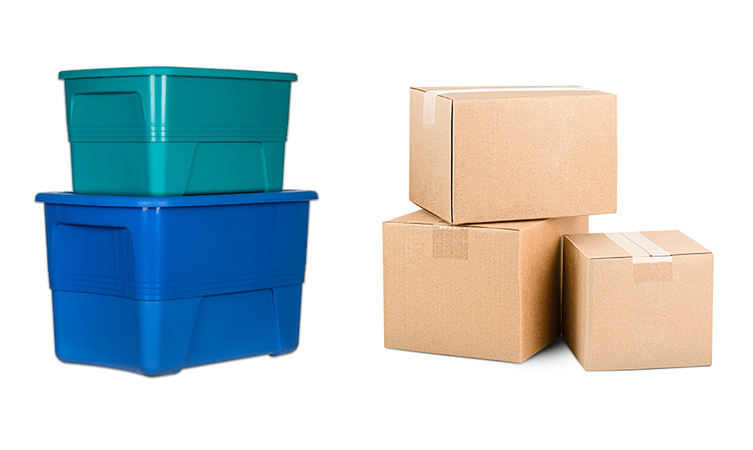 Is It Better to Use Totes or Boxes for Moving?
This depends on several factors, such as your budget, what you're packing, and how much space you have in the moving truck or container.

Plastic moving boxes are great for seasonal storage items, like holiday décor and lights or pool inflatables for the summer. They're water-resistant and durable, making them perfect for items that you want to keep in storage but access periodically.

Cardboard boxes, on the other hand, are more appropriate for short-term storage, like getting from point A to point B. If those dishes are going straight from one kitchen cabinet to another, for example, there's no reason not to use a cardboard box and simply recycle it when you're done.

Your best bet? Move with a mixture of both!
What's the Best Packing Tape for Moving Boxes?
Just as not all moving boxes are made equal, neither are all packing tapes. When sealing the deal with your boxes, you want to opt for a packing tape that will get the job done — and keep your packages secure, whether they're being shipped through the USPS or sent on their merry way on a moving truck.
Scotch Heavy Duty packing tape
is the bestselling packing tape on Amazon, with more than 94,000 reviews and a 4.8-star average. The Gorilla brand is also well known for its strong adhesion, and the
Gorilla Heavy Duty packing tape
is a great choice, too — this one comes in a pack of six, so you're unlikely to run out in the middle of the move. And if you're looking for a good deal on packing tape that still gets great reviews, try this
Tape King Clear Packing Tape
, which is sold in a pack of 36 but breaks down to under $2 per roll.
What's the Best Way To Ship Moving Boxes?
Once you've settled on the best moving boxes for your move, you'll want to figure out how you're going to get them where they're going. Here are some options to consider when shipping boxes, and the best kind of boxes for each.
Shipping in a PODS Container: PODS containers easily house sturdy cardboard boxes in any variety of sizes. To save yourself the headache of shopping for them, you can go straight to PODSBoxes.com, where you can choose a kit with the exact combination of boxes you may need for your PODS container, whether it's an 8-foot, 12-foot, or 16-foot container. Bonus: The kits come with a black marker for labeling and roll of tape for sealing them up, too.
Shipping in the Mail: If you're doing a DIY move and find the last few boxes just don't fit in your car (or the moving truck is already on its way when you find one more stack of books), you can ship boxes through USPS or services like FedEx or UPS. The cost to mail boxes depends on the size (for flat-rate boxes) or weight of the parcel, so if you're doing a thrifty move, you'll want to avoid sending anything huge or heavy to save money.
Shipping on a Train: Amtrak offers shipping services for bicycles (as long as it's in a box) and certain packages. You just have to check that each box is no bigger than 3x3x3 feet or heavier than 50 pounds each — and the total weight limit per shipment is 500 pounds. For more details on rates and permissible items, you can call the Amtrak shipping line at 1-800-377-6914.
Shipping via uShip: uShip is a service that lets you list the item you want to ship, from a car to a grand piano, and where you need it to go, and truck drivers with extra space can take it there for you. The cost depends on the bid you receive, so it may not necessarily be cheaper than other options, but it could be.
Insider Tip:
Don't just think about containers. Get totally prepared for your move with other
essential moving supplies
, like mattress protectors and bubble cushioning rolls — all available at
PODSBoxes.com
.
Now that you know what you need to use, it's time to learn how to pack them up! Visit the
PODS Blog
for advice on all things packing-related and more! (
Pro Tip: The Packing Tips and Hacks
page is chock-full of time-saving moving advice.)
Kiran Bahl is a freelance writer who loves discovering how to make something better yet simpler at the same time. She lives happily and peacefully amongst her family and enjoys dessert every day — especially after meeting a writing deadline early.
Get a Quote
Choose the service you need
Comments
Leave a Comment
Your email address will not be published. Required fields are marked *