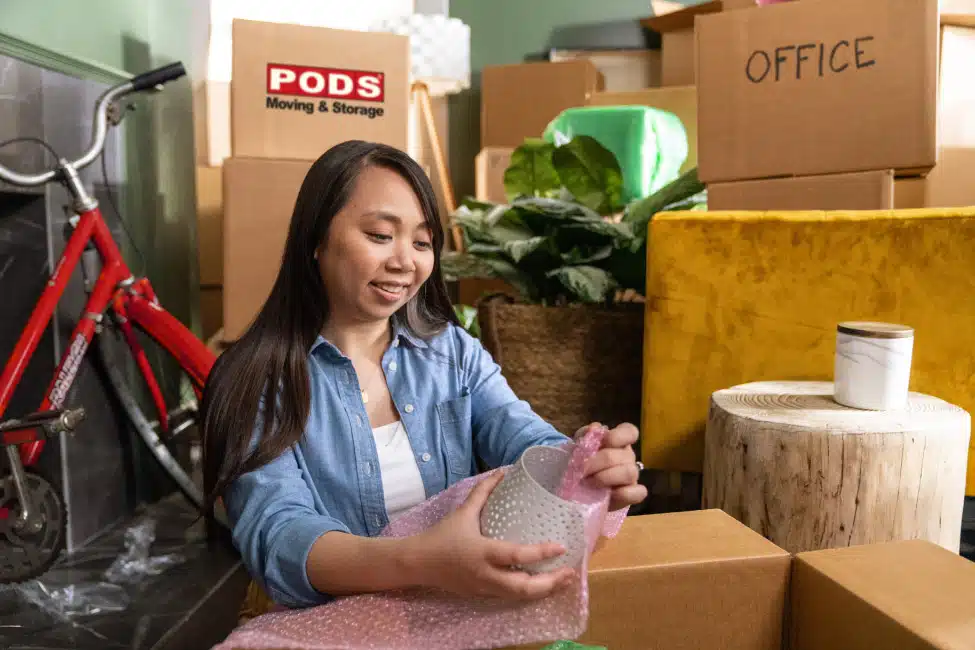 Moving Soon? These 10 Packing Hacks Will Save You Time
Moving to a new home? That's so exciting! Packing for the move? Not so much.
We get it. For many of us, packing is the least fun part of moving. Lucky for you, we've been putting together a collection of pack hacks to make that part easy-peasy. Read on for our top 10 packing hacks for moving.
Pack Hack for Dressers
Want to know how to move a dresser by yourself? Don't try to do it all at once. If you've ever tried to move a full dresser from one side of your room to another, you know it can get heavy! Use this pack hack to avoid straining your back and reduce time spent packing and unpacking.
Keep all your clothes in the dresser
Remove the drawers
Secure each drawer with stretch wrap to keep your clothes from falling out during the move and to avoid collecting dust
Move the drawers and dresser, one-by-one, to your PODS moving container
Pack Hack for Moving Large Items
Sometimes it's necessary to take apart larger pieces of furniture before a move. Use this pack hack to avoid losing pieces or forgetting how to put everything back together.
While disassembling the furniture, take pics to keep track of what goes where
Bag and label all the small parts (screws, washers, nuts, etc.)
Pack up all the pieces (and don't forget about the bag of small parts!)
Load it all in your PODS moving container
How to Ship a Plant
Wondering how to pack plants for moving? Use this pack hack to keep your plant friends happy during your move, so they can arrive at your new home intact and ready to soak up the sun.
Remove the plant from the pot
Prune the roots and remove the dead leaves
Wrap the roots first in wet paper towels and then in plastic wrap to keep them moist on the journey
Return the plant to the pot
Place it in a box and secure it with packing materials (paper, blankets, etc.)
Label the box, so you know which way is up and to move it with care
How to Move with Pets
Moving with pets can be stressful, especially for our furry friends. Use this pack hack to keep them as comfy as possible during the trip to your new home.
Map out pet-friendly stops along the way
Pre-portion food in separate containers for easy meal times on the road
Use a pet seat cover to help keep your pet secure, and make it cozy with some of their favorite toys
How to Pack Hanging Clothes
You hang your clothes up to keep them from getting wrinkled… and then packing day comes (ugh!). No worries, though! Keep your clothes organized and crease-free during your move with this pack hack for hanging clothes.
Cut a hole in the bottom of a plastic garbage bag
Pull the bag over the clothes, fitting the hanger hooks through the hole
Use colored tape to track which bag of clothes goes to which closet
How to Pack a Kitchen for Moving
Packing up and moving all of your kitchen things can be a daunting task. Use this pack hack to keep everything together and organized during your move. The best part? You'll actually save on space!
Put spices in large pots
Store sharp knives in oven mitts
Secure utensil trays with plastic wrap
Pack everything up into boxes and label clearly
How to Pack Jewelry for Moving
While keeping jewelry nice and organized can be a challenge on a good day, it may seem impossible to accomplish this during a move. Worry not! Here's how to move jewelry without it getting tangled.
Hang bracelets on a carabiner to keep them together
String necklaces through paper straws to keep them untangled
Organize small items in pill boxes
Put everything in a dedicated bag for the move
How to Pack Shoes for Moving
Don't default to just throwing your shoes in the trunk or a random box. Use this pack hack to move your "kicks" with confidence (and keep them together and in pristine condition).
Set aside your comfy, moving day shoes
Tie each pair of sneakers together
Stuff socks in boots to help them keep their shape
Pack your shoes neatly into a box, and add a dryer sheet to keep things fresh
How to Move a Flat-Screen TV
Don't let the idea of packing up your big (and expensive) flat-screen TV intimidate you. Use this pack hack to get the job done right, so you can be ready for movie night in your new home.
Unplug and organize all cords (use colored tape to remind yourself what plugs in where)
Wrap the screen with a blanket
Place the TV in a box (use foam or other firm packing material to fill any gaps and keep the TV from shifting)
If it's not already labeled, clearly mark the box so you know to move it with care and not to place anything on top of it while loading your PODS moving container
How to Pack a Toiletry Bag
Don't just throw everything in a plastic bag and hope for the best. Use this pack hack to keep all your bathroom essentials organized and protected during your move.
Protect razors with binder clips
To avoid leaks, cover soap bottles with plastic wrap before securing the lids
Use cotton pads to protect makeup
Place everything in your toiletry bag
All right! Now you're ready to get packing like a pro. Looking for more tips? Check out the PODS YouTube channel and follow us on social for everything from #PackHacks to #HomeHacks. And while you're at it, be sure to visit the PODS blog for more packing hacks and moving tips from the pros.
---
Based in Arlington, Texas, Heather Magness is a member of the PODS blog creative team. When she's not formatting images and blog layouts, you can find her writing a song, watching a movie, or enjoying the great outdoors.
Get a Quote
Choose the service you need
Comments
Leave a Comment
Your email address will not be published. Required fields are marked *