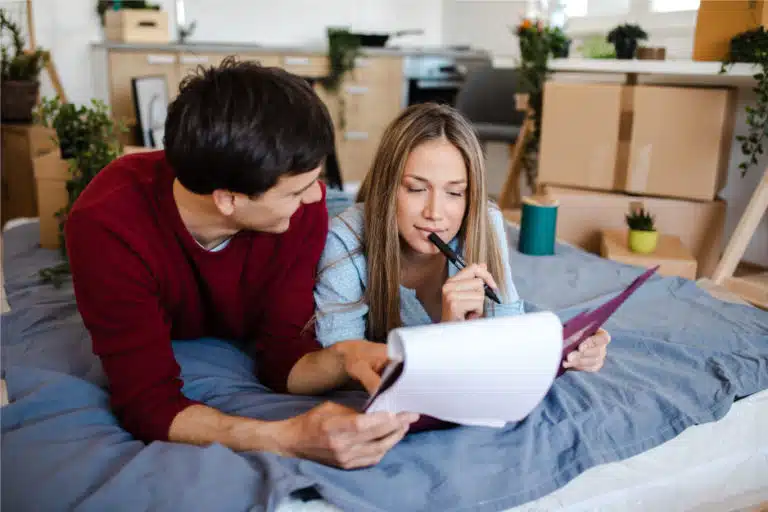 Getting Ready to Pack? Check Out This Essential Moving Shopping List First
There's nothing quite so satisfying as a list. Grocery list, to-do list, seasonal bucket list — we love them all. And when it comes to a moving shopping list, satisfaction and utility go hand in hand.
To take one thing off your packed (get it?) agenda, we've compiled a list of everything you need for your move, from packing supplies to new home essentials. Have all these moving supplies on hand, and your transition will definitely go smoother.
Packing supplies and moving-day essentials
When moving day rolls around, you'll want to be as prepared as possible. From keeping your breakables safe to making sure your mattress will fit through the door, here's exactly what to put on your moving-out shopping list to make your move easier. 
Bottled water/electrolyte drinks
Box cutter/utility knife
Cardboard boxes (galore!)
Door stopper
First aid kit
Food and snacks (for you and all your helpers to stay fueled up)
Labels, colored stickers, or masking tape 
Mattress bags
Moving blankets
Moving straps
Packing paper/bubble wrap
Packing tape
Permanent markers
Ratchet straps/ropes
Tape measure
Toolkit (for disassembling furnishings and loading everything up)
For an in-depth breakdown of what these supplies are and why exactly you may need them for your move, give this explanation of essential moving and packing supplies a read. 
Insider Tip: Save yourself some shopping time by ordering your packing and moving supplies at PODSboxes.com. From mattress bags and moving blankets to precisely planned kits designed to fit each PODS moving container size, simply order online and PODS will deliver everything right to your door.
Cleaning supplies for after you move out (and before moving into your new place)
Once you've whisked all those boxes off the premises, you're sure to have left a packing peanut or two (hundred) behind. For any last-minute cleanup before you lock the door for good — and for the first sweep in your new home before moving all the way in — be sure to have these cleaning essentials on hand: 
Vacuum
Broom and dustpan
Mop
Bucket
Disinfectant wipes (particularly useful for the fridge)
Multi-surface spray
Glass cleaner
Paper towels
Cleaning rags
Carpet cleaner
Toilet bowl cleaner
Bathtub cleaner
Sponges
One of the PODS Blog team's personal cleaning-day favorites is the Magic Eraser. It seriously lives up to its name — a "magic", do-it-all cleaning solution. They work great to make bathtubs, fridges, sinks, stoves, and almost any surface shine like new. Just be sure to test it out first before you go erasing everything, sometimes they can work too well.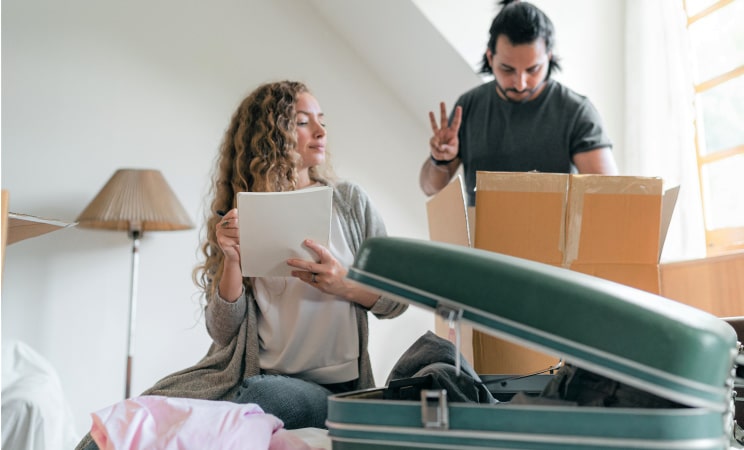 Daily essentials for the week of your move
Before you start taking apart every room and cramming stuff into boxes, do this one simple thing for yourself: Set aside clearly labeled boxes for the essentials you'll still need to use during the week of your move.
Think of it like living out of your suitcase for a week when you're on vacation. You need the clothes you'll want to wear, cosmetics and shower products, your computer and chargers. You get the idea.
Here are some other items to be sure to purchase or set aside from your other moving boxes:
Bath towels
Bedding and pillows
Body wash
Bottled water
Cleaning supplies
Computer, phone, and chargers
Disposable utensils
First aid kit
Flashlight with batteries
Garbage bags
Hand soap
Painkillers/medication 
Paper plates
Paper towels
Pet food, supplies, and carrier crate(s)
Shampoo and conditioner (great time to use up those travel-size samples!)
Skincare, cosmetics, and other toiletries 
Toilet paper
Toothbrush and toothpaste
Toys (not all of them — but if you're moving with children, letting them keep one or two favorites out will ease anxiety for everyone)
Travel mug (if coffee/tea is essential for you, keep a mug — and make it one you can carry with you on moving day)
Quick, easy meals and snacks that can last you a few days
These must-haves will also be a gift to your future self: As much as we all want to be the person who unpacks everything on day one, it's just not realistic. Rather than unpacking yourself into a tizzy, just go to these boxes already set with all the essentials you'll need for the first week or so in your brand new digs.
Pro Tip: Consider how you can make things easier for yourself in the coming days by packing more away now. For example, it's best to use up all your perishable foods in the weeks before and then stop buying groceries altogether — instead, purchase some easy frozen meals or make some plans with friends to go out for lunch or dinner the week before moving day. That way, you can pack up all those clunky pots, pans, and kitchen appliances and clean out the fridge sooner rather than later.
Frequently asked questions about moving supplies
Q: Is there a checklist for moving?
A: Yes, there is a checklist for moving! From eight weeks before the big haul to the day of the relocation, reference this checklist to make sure you're on track for your move at every stage. And if you're moving out of or into an apartment, this apartment moving checklist is a must-see. 
Q: What should I stock up on before I move?
A: Before moving, it's smart to make a moving-out shopping list. You'll want to stock up on paper towels, disposable utensils, disinfectant spray, cardboard boxes, packing tape, and all of the other packing and cleaning supplies you'll need to move out of one home and into another. 
Q: How do you stock a new home?
A: Stocking a new home is exciting! If you're moving from a larger home to a smaller apartment, you may be all set on furnishings (in fact, you'll likely have to downsize a bit) — but if you're moving into a larger space, you may need to purchase some more furniture to fill out the place. Whatever size pad you're moving into, you'll want to stock your place with the basics to begin making your new home both function and feel like yours. Here are some ideas to get you started: 
Cleaning supplies
Pantry goods, frozen food, and other groceries for cooking
Clothing hangers
Bath towels
Area rugs
Pet supplies
Art and other decor 
For more tips and checklists on how to move out of your home, and into your new one, or how to turn your next house into a home, peruse the PODS Blog.
---
Sofia Rivera is a Boston-based lifestyle editor and frequent contributor to the PODS Blog. Her work has appeared in Boston magazine, Apartment Therapy, and more. You can most often find her redecorating her apartment, trying out a new recipe, or trekking all over the city.
Get a Quote
Choose the service you need
Comments
Leave a Comment
Your email address will not be published. Required fields are marked *