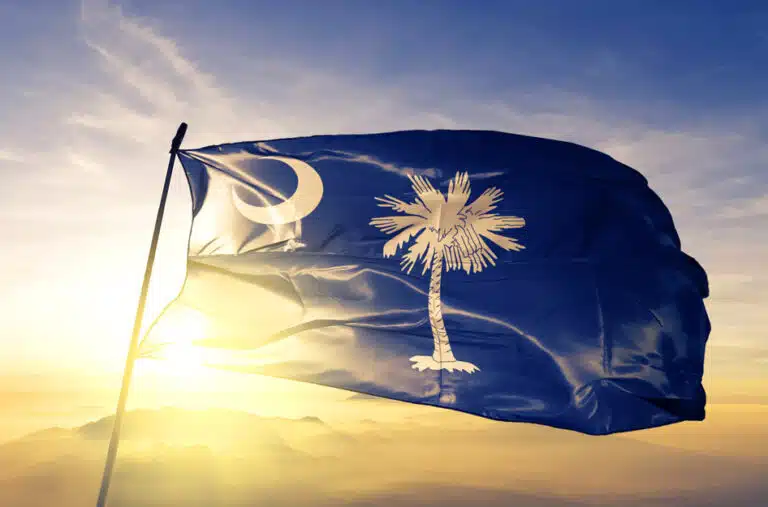 The Best Small Towns in South Carolina
If you're looking to relocate to a place that offers a slower pace of life, a safe environment, and many activities to keep you engaged, you just can't go wrong with one of the best small towns in South Carolina. The Palmetto State has a lot going for it. From its stunning Atlantic coast and barrier islands to the lush interior full of natural beauty, it's no wonder this state is one of the most popular for people who are moving. In fact, South Carolina was one of the top states to move to in 2022! That great year-round weather and lower cost of living could be just what you need if you're considering relocating and starting fresh.
Big South Carolina cities vs. small South Carolina towns
While the larger towns of Charleston, Columbia, Greenville, and Myrtle Beach may get a lot of attention, there is definitely something to be said about choosing a small South Carolina town instead. Although larger cities have many housing options and easy access to various occupational, cultural, and public amenities, you'll need to be prepared for higher costs of living, denser urban housing options, and unfortunately a higher crime rate. Opting for a safer small town in South Carolina could be the right choice for you for a variety of reasons:
In smaller towns, you have more space to yourself and don't have to deal with the congestion of urban cities.
There are small towns all over South Carolina, so whether you want a small beach town to retire to or would like something with access to parks and nature for your kids, there's something for everyone.
Small towns offer a lower cost of living, so you can likely better afford the house or apartment of your dreams.
The communities of small South Carolina towns are unmatched. The community pride runs deep here!
Small towns in South Carolina - FAQ
Q: What is the best small town to live in South Carolina?
A: While there are a lot of fabulous small South Carolina towns, Beaufort takes the #2 spot on Southern Living's 2023 list of the 50 Best Small Towns in the South.
Q: What is the most quaint town in South Carolina?
A: Regarding small-town charm in South Carolina, picking just one favorite is hard. Of our top choices, Sullivan's Island, Travelers Rest, Georgetown, Edisto Beach, Newberry, and Beaufort also top Travel+Leisure's list.
Q: Where is the nicest place to live in South Carolina?
A: If you want to live in a small coastal town in South Carolina, you may want to consider living in Edisto Beach, but if you prefer something inland, we suggest Newberry, SC.
Q: Is it cheaper to live in SC or FL?
A: Naturally, it depends on which cities we're comparing, as both states have both expensive and affordable cities. Generally speaking, though, South Carolina tends to be more affordable than Florida.
Best small towns in South Carolina
Before we get into our list of the best small towns in South Carolina, we wanted to clarify what we consider a small town. The U.S. Census designates small towns as those with populations under 5,000 people. However, we've decided to expand this to include towns and cities with a population of up to 50,000 to give this list a good mix of true-blue small towns while including other places worth your while if you're looking to get out of the big city.
If you don't see your small town, let us know in the comments what makes it a great place to live in the Palmetto State! And without further adieu, here are our top 12 small South Carolina towns (in no particular order).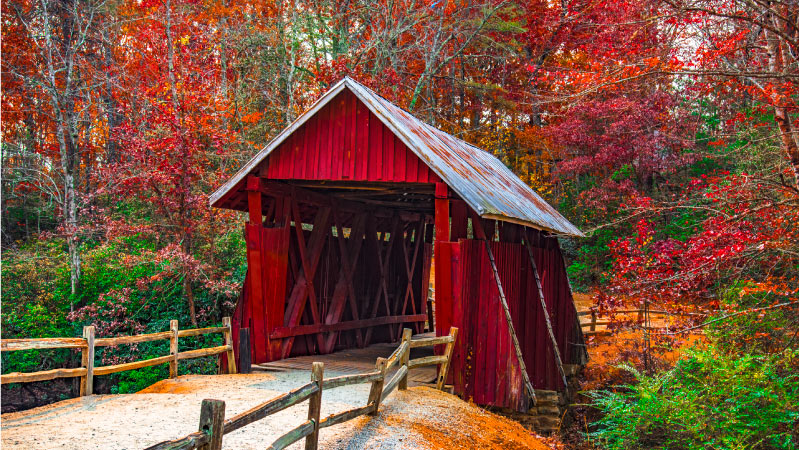 1. Landrum, SC
In the northern part of South Carolina, you'll find the beautiful small town of Landrum which sits very close to the North Carolina border. This quaint town is right in the stunning Blue Ridge Mountains, making it one of the most picturesque areas in the state. This historic town was incorporated in 1883 and boasts a vibrant downtown district full of local eateries and plenty of stores to browse.
You'll love how close the Chestnut Ridge Heritage Preserve is when you want to explore all the beauty of this region of South Carolina along its many hiking trails. When you're ready to enjoy delicious local cuisine, stop in the Hare and the Hound or the Southside Smokehouse.
2. Beaufort, SC
Beaufort is a small coastal gem on Port Royal Island that offers residents a variety of ways to enjoy the slower pace of life in a small town. You'll always be close to the water, so this would be a great place to live if you want to retire and take up fishing or boating. Alternatively, families also thrive here because there are great schools and many things to do!
The Fort Frederick Heritage Preserve and Fort Fremont Historical Preserve are great excuses to get outdoors and explore the interesting history of this area of South Carolina. Going to the beach is easy to do here, of course, but make sure you head over to the Port Royal Boardwalk and Observation Tower, as well, to get a bird's-eye view of a gorgeous sunset!
3. Georgetown, SC
Georgetown is a wonderful small town with a lot of history. It currently sits as the third oldest town in the state, and here you'll find historic buildings and charming old houses that are lovingly cared for by their owners. Just take a walk along the oak-lined streets and visit the bustling little downtown area that's full of local boutiques and restaurants, and you'll begin to realize why residents believe this is one of the most beautiful places in Lowcountry.
You'll love visiting the marina once you're a resident, where you can enjoy fresh seafood from the Georgetown Corner Tavern, or check out the catch of the day from the Independent Seafood Market.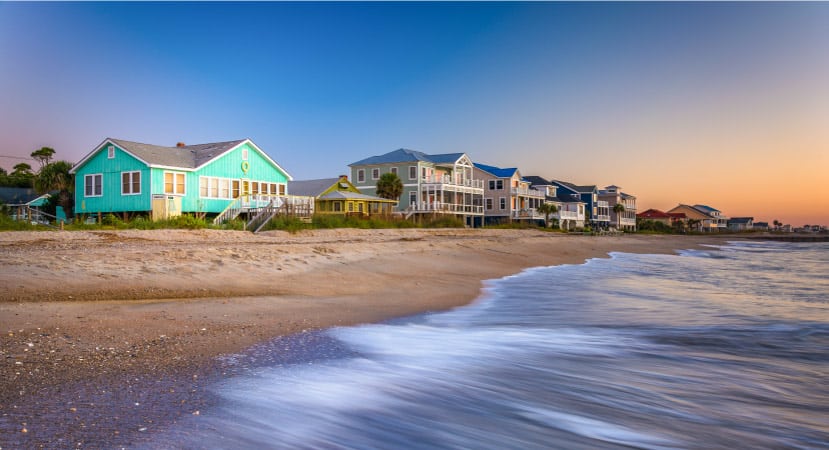 4. Edisto Beach, SC
Although close to Charleston, Edisto Beach is far enough away to be a great small-town community. This quiet seaside community relishes its slower pace of life, making it a lovely place for retirees and those looking to start a family. Walking the beaches is something everyone in this community enjoys, but you can also try surfing, fishing, boating, and turtle watching!
Spending time at Edisto Beach State Park is a must, but you're also sure to like visiting the Botany Bay Plantation Wildlife Management Area and enjoying cultural activities like art walks and concert series. And if you like seafood, you can't go wrong hanging out at Ella & Ollie's seafood restaurant or Pressley's at the Marina.
5. Newberry, SC
The quaint South Carolina town of Newberry offers residents beautiful natural scenery, a high quality of life, and a delightful climate, among other desirable characteristics. Families are flocking to this area because of the quality of the schools and the host of family-friendly activities available in this town, like Christmas in Newberry, Taste of Newberry, Juneteenth celebrations, and even Newberry Oktoberfest!
Newberry is also just a short drive away from the Francis Marion and Sumter National Forests, which are beautiful areas to explore and learn more about the local flora and fauna of South Carolina — not to mention some top-notch hiking on all kinds of trails and waterfalls, like Yellow Branch Falls!
6. Aiken, SC
In the far western part of South Carolina, you'll find the charming small town of Aiken. Although this is a slightly larger small town, (with a 2021 population estimate of around 32,000) we still think this place deserves a mention. If you're looking to settle down in an area with a lower cost of living but a high quality of life, Aiken could be your place. Retirees love the slower pace of life, the safe community feeling, and the many golf courses in the vicinity.

If you're an outdoor person, you'll love the closeness of the Hitchcock Woods for hiking, walks, and biking opportunities. Aiken also enjoys a rich arts scene, is a haven for equestrian enthusiasts (whether it's racing, polo, or trail riding!), and has some amazing restaurants you'll quickly love, such as The Alley Taproom, Malia's Restaurant, or The Polo Grounds Cafe.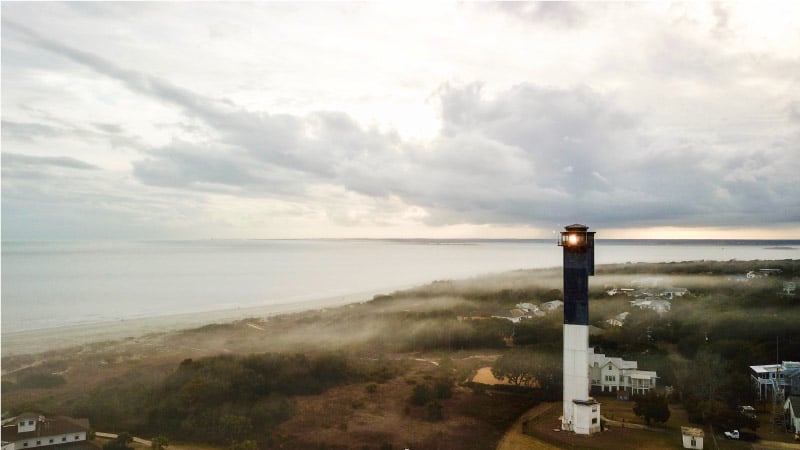 7. Sullivan's Island, SC
If you're looking for a small town close enough to the big city of Charleston, you've got to check out life on Sullivan's Island. This area perfectly mixes laid-back beach vibes and coastal old-world charm. And because it's an island, no matter where you choose to live, you'll have access to some of the best beaches in South Carolina — not to mention some stunning views of sunsets.
You'll enjoy small-town life on this close-knit island and opportunities to enjoy the water, whether sailing, fishing, or swimming. This island has all kinds of historical attractions for buffs, as well, including Fort Moultrie and Sullivan's Island Lighthouse. Stop by Poe's Tavern (named after Edgar Allen Poe) or Dunleavy's Pub for a fantastic meal!
8. Walhalla, SC
Average rent: N/A
Average home value: $186,500
Another amazing small town in South Carolina that sits at the foothills of the Blue Ridge Mountains is Walhalla. The town's German heritage is evident in its name, which was taken from Valhalla, the Norse kingdom of the gods. The German settlers thought they found a little slice of heaven here in South Carolina, and their influence is still apparent in the historic buildings as well as the town's annual Oktoberfest.
The chance to get out in the great outdoors abound in Walhalla. You can expect to enjoy all kinds of water activities on Lake Keowee, like kayaking, fishing, and bird watching. And not too far away, you can explore Buzzard's Roost Heritage Preserve and Blue Hole Falls.
9. Hartsville, SC
Located north of Florence, you'll find a wonderful small town by the name of Hartsville. This town is full of historic sites that reflect its past as a former plantation and center of industry in the late 19th century. The downtown area is walkable and full of little shops that encourage people to stop in. Residents of Hartsville are welcoming and friendly and enjoy the strong sense of community in their small town.
The Kalmia Gardens are a must-see, as is the cypress swamp that the Black Creek flows through. And as a resident, you'll also have easy access to Lake Prestwood, which offers ample opportunities to get out on the water.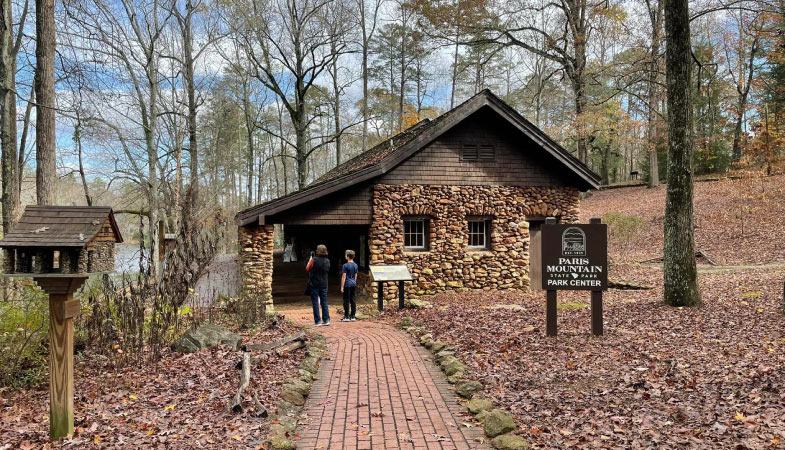 10. Travelers Rest, SC
If you want to move to a small South Carolina town offering laid-back southern living, you can't go wrong with Travelers Rest. True to its name, Travelers Rest has long been a place where weary travelers could get some much-needed rest while they traversed from the mountains to the coast and back again. And it's no surprise that even today, the town offers visitors and residents unmatched hospitality and strives to make everyone feel welcome.
As a resident, you'll love being surrounded by pristine natural beauty, including easy access to multiple state parks (Caesars Head, Jones Gap, and Table Rock, to name a few), as well as the Swamp Rabbit Trail for hiking and biking. You'll also love the cute shops, breweries (like The Community Tap), and restaurants (like the famous Whistle Stop at the American Cafe) this town offers.
11. Clemson, SC
Average rent (one-bedroom): $800
Average home value: $346,400
While you may think of Clemson as just a university town, it is so much more than that! Although it is home to Clemson University, this small South Carolina town enjoys all kinds of cultural and business amenities that are usually only seen in much larger cities. With coffee shops, boutiques, larger national shopping chains, museums, historic buildings, outdoor facilities, restaurants, parks, gardens, and more, you'll never need to worry about finding something to do!
Clemson is a thriving city with a robust economy and an affordable housing market, so you have a good chance of finding a great job and place to call your own!
12. York, SC
Average rent (one-bedroom): $900
Average home value: $307,300
Our final small South Carolina town is York, located in the northeast part of the state and not far from Charlotte, NC. This area is full of natural beauty, and the town has made it a point to preserve much of its past. After all, Revolutionary War battles were fought in this area!
Today, you'll see many historic buildings and landmarks downtown, including an old clock and museums, that keep the connection to the past alive. You can also find many opportunities to explore orchards, take in the area's natural beauty at the James Ross Wildlife Reservation, or dine on local favorites at restaurants like the Hoof & Barrel.
PODS can help you move to a small town in South Carolina
PODS makes it easy to move to a small town in South Carolina. You can fill up a PODS portable storage container and have it picked up on your schedule. A PODS professional driver will transport it to your new home, or you can take advantage of our storage options. The main thing? You're always in control of your move with PODS by your side.
---
Editor's note: Monthly rental prices were rounded to the nearest $25 and home values were rounded to the nearest $100 for ease of reading.
Get a Quote
Choose the service you need
Comments
Leave a Comment
Your email address will not be published. Required fields are marked *