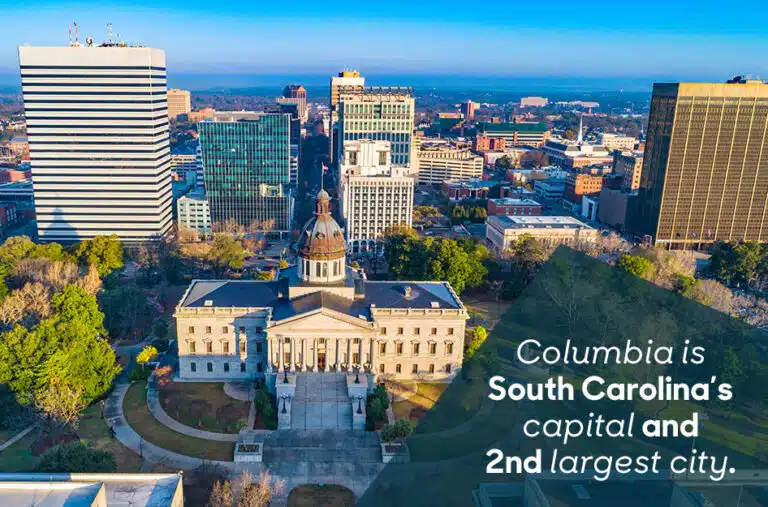 Moving to Columbia, SC: Life in Soda City
Situated two hours from the coast, Columbia is home to South Carolina's largest university, a burgeoning downtown cultural scene, and a growing business community. Soda City, the city's affectionate nickname, took over from Charleston as the state's capital in 1786 and has been attracting new residents ever since.
Whether you're drawn to it by the bubbly promise of its nickname or you want to drink in all the history and arts the city has to offer, read on for all you need to know about moving to Columbia, SC, what it's like to live there, and the best neighborhoods in town.
What's with Columbia's nickname? The nickname "Soda City" came about not because Columbia has any claim to soft drink ingredients or manufacturing but because folks had started abbreviating "Columbia" to "Cola," which is synonymous with "soda." Hence, Columbia became Soda City.
Living in Columbia, SC
With a metro population of 136,632, Columbia is South Carolina's capital and second-largest city, behind only Charleston, the charming tourist destination two hours to the southeast. While Columbia may not have its seaside sister city's beaches and ocean breezes, the capital has plenty to offer families, single professionals, and retirees looking for a relaxed lifestyle with a big dose of the outdoors. And it's only an hour and a half from Charlotte, North Carolina — which is a plus for any generation.
Here's a look at what it's like to live in Columbia:
How's the weather?
Some like it hot, but if you live in Columbia, you better like it really hot! In addition to "Soda City," Columbia was once given the slogan "famously hot," reflecting its subtropical climate and long, steamy summers as much as its growing reputation as a great place to live. And it is steamy. July is the hottest month, with an average high temperature of nearly 94 degrees Fahrenheit.
Geographically, Columbia is in the center of the state, which means there's no chance a cool breeze from the Atlantic or the somewhat nearby Smoky Mountains will make it to town. But the confluence of three rivers makes a huge difference on summer days. In fact, much of Columbia's outdoor recreation options are centered around the Three Rivers Greenway, 19.4 miles of pathways along the Broad, Saluda, and Congaree (more on that later). Afternoon thunderstorms are a given in the summer months, which is the norm in most of the Southeast U.S. The good news is they give way to a brief evening cool down, ideal for a stroll along the Greenway — but make sure the lightning is long gone before you head outside.
January is the coldest month, with an average low temp of 35 degrees Fahrenheit. It actually snows once or twice a year, but don't count on much of the white stuff. Instead, take a winter day trip to Walhalla, just 150 miles northwest in the foothills of the Blue Ridge Mountains. You're bound to see some flurries or even a drift or two — and if not, there are a dozen waterfalls to explore.
What's the cost of living in Columbia, SC?
And now for the good news! The Columbia cost of living is more than 6% lower than the U.S. average. Healthcare offers the most dramatic disparity compared to the rest of the country, at 28% below the national norm. With about 11 hospitals in or near the city, Columbia is a draw for healthcare workers, who (along with people in the education industry) make up about 29% of the workforce.
Like just about every city in the U.S., Columbia has experienced a massive jump in home prices over the past year — 23.5%, to be exact. According to Zillow, the typical home value in the city is $206,954 as of April 2022 — still lower than the typical home value nationwide but a big, big price tag compared to what Columbia is accustomed to. If you're looking for houses for rent in Columbia, SC, the median cost has also jumped — by about $255 since last year to $1,450 per month as of May 2022.
What's the job market like?
The median household income in Soda City was $47,416 in 2020, the latest available figure from the Census Bureau. The capital also just earned a No. 10 spot on WalletHub's "Best Cities to Start a New Career in 2022" — great news for new grads! — based on the availability of entry-level jobs, workforce diversity, average starting salary, and annual job growth rate. What's more, three of the city's top five biggest companies are in healthcare; No. 2 is the University of South Carolina.
The pandemic notwithstanding, Columbia is in solid shape with an expanding business profile, but that expansion isn't quite as brisk as city boosters would hope. While South Carolina overall was the 10th fastest-growing state in the U.S., the city grew by only 5% between 2010 and 2021. With a dedicated push for development, the "retail follows rooftops" adage will likely begin to take shape in the downtown area, which is enjoying a surge in new businesses.
How are the schools?
Historically, public schools in South Carolina have not ranked well nationally. Last year, for instance, the Palmetto State came in at a dismal 43rd on WalletHub's annual ranking. But sometimes there are pockets of quality in states that don't make the grade overall — and that appears to be the case in Columbia. Almost 18,000 students attend the 22 schools in the A-rated Lexington-Richland District No. 5, which is ranked No. 1 in the metro area by Niche.
In the neighboring Richland School District No. 2, nearly 29,000 students attend 33 schools, the 3rd ranked district, with an overall B+ rating from Niche.
Private schools serve about 7,700 students in the Columbia area. About 70 percent of the 44 schools are religion-focused, but the No. 1 Hammond School focuses instead on a college-prep curriculum. Average annual cost to attend a private school in the area is close to $9,000, significantly higher than South Carolina's average tuition of about $7,000.
And we would be amiss if we didn't mention the University of South Carolina here. South Carolinians call it "the real USC" (the university was founded before California was a state, and long before the University of Southern California was established), and it is the largest university in the state. It is a massive research university, being awarded $277 million in funding in 2019. Its top programs include public health, finance, psychology, biology, and nursing.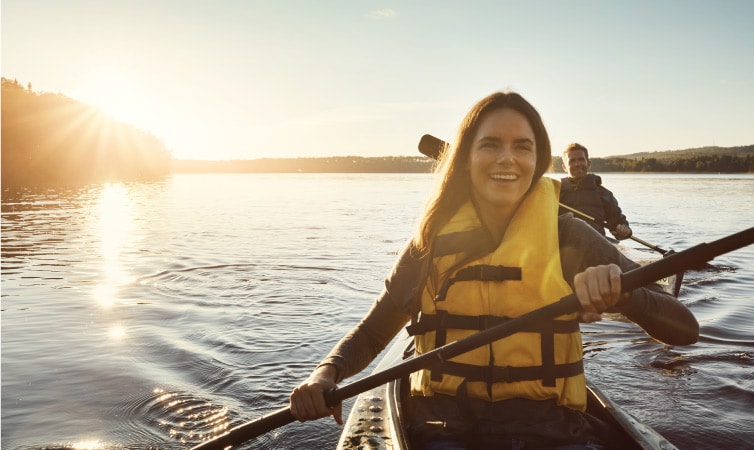 Things to do in Columbia, SC
One of the best qualities of Columbia is its variety of activities. From outdoor fun to delicious dining to a trek through history and more, here are a few of our favorite Soda City pastimes:
What's outdoor recreation like in Columbia, SC?
The confluence of a 55,000-acre lake and three rivers — technically, the Broad and Saluda rivers come together to create the Congaree — offers a world of outdoor possibility for Columbians. As mentioned, the Three Rivers Greenway wraps more than 19 miles of ADA-accessible and leashed-pup-friendly trails around the waterways, with overlooks and boardwalks, plus kayak, canoe, and tube rental opportunities on the rivers and pontoon boats on Lake Murray — just west of downtown Columbia.
Parks are also everywhere in the area. At Congaree National Park, visitors can view synchronous fireflies, a rare breed that lights up in tandem, between mid-May and mid-June. The newest local gem is the 12,000 Year History Park, where archaeologists found artifacts from thousands of years ago in ancient Indian settlements and the site of a Civil War battle. Other attractions include the Riverbanks Zoo & Garden — with Waterfall Junction, a treehouse play zone and splash pad for overheated kids in the summer — and the University of South Carolina's "Horseshoe," the 200-year-old site of the original campus.
How is the arts scene?
Columbia has a surprisingly active arts community, given the city's relative size. Two professional ballet companies, the Columbia City Ballet and the Columbia Classical Ballet, call Soda City home, as does the South Carolina Philharmonic. Several theaters provide live performances, including the Columbia Marionette Theater, a professional puppetry troupe. The marquee Columbia Museum of Art is an award-winning institution that offers more than two dozen galleries exhibiting art from over 5,000 years of global history. 
And like most college towns, Columbia has a thriving community of musicians and artists adding a creative spark to the established institutions. In the music scene, venues include the USC Colonial Life Arena, where bigger acts play, and smaller, locally based concert halls and clubs like Bill's Music Shop & Pickin' Parlor, Tin Roof, and The Senate.
What's the best food in Columbia, SC?
Soda City dining has its roots in Southern comfort food, but is quickly expanding — although the classics will never go out of style and are still well represented here. Innovative chefs have begun to call Columbia home, with eclectic districts emerging throughout the area. The Congaree Vista neighborhood is a standout dining hub, for example, particularly along Devine Street, where several cozy restaurants welcome guests for outdoor dining under the oaks. 
Is Columbia a good city for kids' activities?
In addition to all of its outdoor fun, like the Riverbanks Zoo and the array of parks and rec options, Columbia offers plenty of fun stuff for children. The centerpiece is EdVenture, where interactive exhibits include World of Work, FLIGHT, Maker Works, and the animal health-themed Wags & Whiskers. 
What is the best area in Columbia, SC, to live?
If a move to Soda City is in your future, check out these hotspots. Among the best neighborhoods in Columbia, SC, one could easily make the grade and become your new home.
Shandon: Family Friendly
Shaded streets, bungalows, and Craftsman-style homes characterize Shandon, named for an equally lovely neighborhood in Ireland. With nicely tended lawns and sidewalks, this established area of Columbia is a bit pricey for local standards, with a median home value of $392,418 as of April 2022 — a 14% rise over last year.
Today's Shandon is an easy walk to the University of South Carolina campus and close to the retail and business districts of Five Points and Devine Street. On weekends and after school, retirees and local families enjoy Sims Park and Emily Douglas Park, which feature playgrounds, an amphitheater, a basketball court, and a dog park. 
Cayce: Up-and-Coming
Students and young families love this burgeoning nearby city along the Congaree River, just ten minutes from downtown Columbia. Typical home values here are still somewhat affordable at $179,625, as of April 2022 — and homeowners have plenty to celebrate in the neighborhood. The Cayce Riverwalk, part of the Three Rivers Greenway, offers 12 miles of pathways and boardwalks and dozens of acres of parkland.
Dining and shopping are within easy reach, too. Area staple The Kingsman Restaurant dishes steaks, burgers, and more to hungry locals, and relative newcomer Steel Hands Brewing, circa 2018, has become a popular neighborhood hangout.
Historic Elmwood Park: Revitalized
Once the site of the state fairgrounds and later a haven for boarding houses and multifamily housing, the Elmwood Park of today is an example of successful urban renaissance. A concerted effort since the early 1980s eventually transformed the area into a coveted historic district, with eclectic architectural styles and a welcoming family vibe that includes seasonal porch parties and street fairs. The typical home value was $301,951 as of April 2022.
Elmwood Park was Columbia's first official "suburb," but today is considered part of the downtown region, within minutes of the business and dining districts. Even closer to home is local fave Uncle Willie's, which bills itself as "Your Mom and Pops Grocery Store" and offers healthy produce and other goodies. 
Seven Oaks: The Burbs
About nine miles northwest of downtown Columbia, Seven Oaks offers the standard amenities of a suburban neighborhood — but with signature Southern flavor. The area is a family favorite for professionals who work downtown and don't mind the 15- to 30-minute commute, depending on traffic conditions. Homes are mainly from the mid-century era, spacious and well tended, with a typical value of $220,722, as of April 2022.
What is the safest area of Columbia, SC, to live in? Like most cities in the U.S., Columbia has areas that are sometimes prone to more crime than others. According to Neighborhood Scout, the city overall rates a 3 on the Crime Index, which means it's safer than 3 percent of American cities (eek!). The safest neighborhoods, based on their data, are around Jackson Boulevard/Hill Street, Washington Road/Knight Road, and Heathwood West/Historic Heathwood.
Moving to Columbia, SC
Choosing Columbia for your next home is the easy part. It's getting there that can be a challenge. Here are three options for your trek.
Full-Service Movers
Call in the pros if you have the dough. The full-service option means just that: You don't need to lift a finger. These companies will pack, load, deliver, unload, and unpack your belongings, door to door. If money's not a factor, go this stress-free route — but do make sure to do your due diligence. Get references, read reviews, and get everything in writing. You do not want to get hit with undiscussed fees just as you're trying to settle into your new Columbia home.
DIY Rental Truck
If you really don't like other people touching your stuff, this may be your best bet. But it can get almost as pricey as the full-service option, when you consider buying gas, insurance, and food and hotel costs en route to Columbia. If you do pick the DIY path, again, make sure to read all the fine print. 
PODS Portable Moving Containers
The most flexible of all options, moving with PODS allows you to pack and load on your own time right there in your driveway. The storage containers come in three sizes, so if you discover you've got an extra room of stuff in the downstairs closet, no problem! Storage is built into each move, and you can even keep your container in a secure PODS Storage Center if you have some time between households. Best of all? PODS will take care of the driving (which is great when you're moving to an unfamiliar city). 
Interested in other Southeastern cities for your next move? Check out the PODS Blog for the lowdown on the Low Country and Charleston, SC, Savannah, GA, and Jacksonville, FL. 
---
Shannon Jacobs is a Tampa-based freelance writer and frequent contributor to the PODS Blog. She has lived in Atlanta, the Berkshires, and Nashville, but always returns to the warmth of Florida's Gulf Coast.
Get a Quote
Choose the service you need
Comments
Leave a Comment
Your email address will not be published. Required fields are marked *