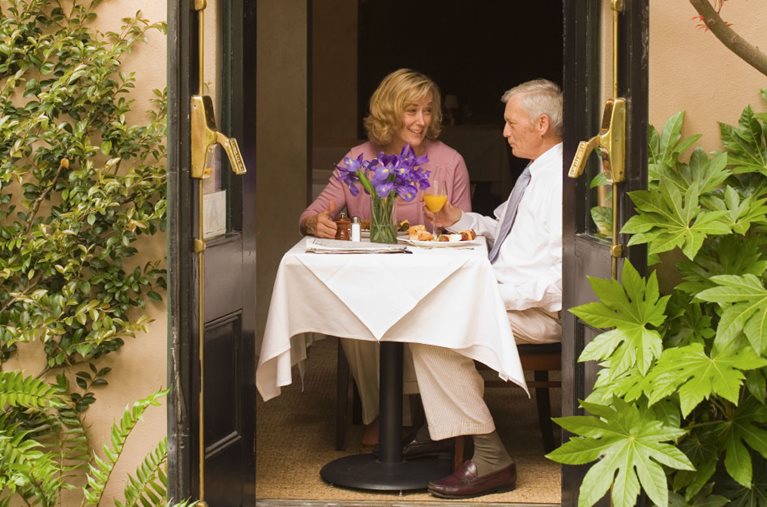 Your Golden Years in the Palmettos: Retiring in South Carolina
Although
South Carolina
garners its nickname of "The Palmetto State" from its famous Sabal Palmetto tree that lines nearly 200 miles of coastline, the state has so much more to love than just its trees and beaches. One perk in particular? It's a wonderful place to retire!
Benefits of Retiring in South Carolina
Yep, it's no surprise: South Carolina has some pretty incredible beaches. But in addition to its gorgeous coastline, the state offers plenty of other outdoor excitement, as well as mild weather throughout the entire year. And history buffs can always find somewhere to explore in South Carolina, as it was one of the original 13 states to make up the union. There are battlefields, famous forts, and towns featuring some unique colonial history to explore right at your fingertips while living in the Palmetto State.
Retiring in South Carolina – FAQs
Q: Is South Carolina a good state for retirees?
A: With an affordable cost of living, tax benefits for retirees, beautiful summers, and mild winters, it's no surprise that South Carolina is often thought of as one of the best places for retirees to live in the U.S.

Q: What are the benefits of living in South Carolina for retirees?
A: South Carolina is proud to represent southern hospitality at its finest — its cities and towns are dripping with southern charm. And whether you prefer to be immersed in some of the state's rich history or surrounded by beautiful beach views, there's a place every retiree can proudly call home in South Carolina!

Q: What are the pros and cons of retiring in South Carolina?
A: If you decide to retire in South Carolina, you'll certainly be able to enjoy the beautiful coastline and ideal weather, among many other benefits. But, just as it is anywhere else, you'll also have to deal with a few unpleasant things, like the potential for extreme weather and expensive real estate in certain areas.

Q: Where is better to retire, Florida or South Carolina?
A: That depends on your personal preferences, of course. But when comparing the cost of living in South Carolina and Florida, South Carolina's cost of living is much cheaper overall. South Carolina has a cost of living index of 89.3, while Florida has a cost of living index of 103.1 — much higher than the national average of 100. A big reason why Florida is more expensive is because of its higher-than-average housing value.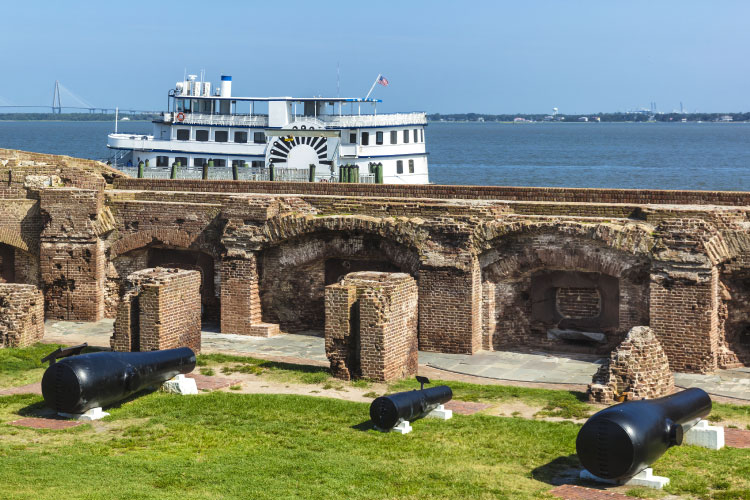 Retiring in South Carolina – Pros and Cons
To help balance your options and figure out if the Palmetto State is right for you, check out some of the major pros and cons you can expect to experience if you decide to retire in South Carolina.
Pro: Ideal Warm Weather
One of the biggest benefits of retiring in South Carolina is getting to enjoy warm weather all year, which is why so many retirees end up here rather than the slightly colder state of North Carolina. Winters are very mild, and the spring and fall provide the most ideal weather for lots of outdoor activities.
Con: Annoying Bugs
Due to the warm climate in South Carolina and other areas in the south, various kinds of bugs, such as fire ants, cockroaches, and mosquitoes, can be found throughout the state. Termites are also rampant in some parts of South Carolina, which can cause damage to your home.
Pro: Outdoor Living at Its Best
South Carolina's coast is known for its beautiful beaches and numerous attractions. One of these is Myrtle Beach, which is a vacation resort that offers a variety of entertainment options and beach-centric activities. Some of the attractions that residents enjoy there include the Skywheel and beautiful sunset walks in the evening.
Residents throughout the state also enjoy a wide range of activities that involve forest trails, lakes, and picturesque walking among the hills. The best forests in South Carolina include the Francis Marion and Sumter National Forest and Congaree National Park, and both neighboring states of North and South Carolina are also known for their lovely greenscapes.
Con: Extreme Weather
Because South Carolina is situated directly in the southeastern region of the United States, it is prone to storms, floods, hurricanes, and tornadoes. However, extreme weather is a common problem in many popular retirement spots, including Florida.
Pro: Lots of History
South Carolina played a crucial role in the Civil War and was one of the original 13 colonies in the United States. The city of Charleston has a lot of historical architecture and important landmarks, such as Fort Sumter and the Aiken-Rhett House.
Con: Expensive Home Prices in Certain Areas
While you can take advantage of low property taxes in South Carolina, those looking to buy coastal property in a desirable area like Charleston or Myrtle Beach will have to spend a decent amount of money. Just like with many big cities (especially coastal ones) across the U.S., the housing prices will always get more expensive the closer you get to the water.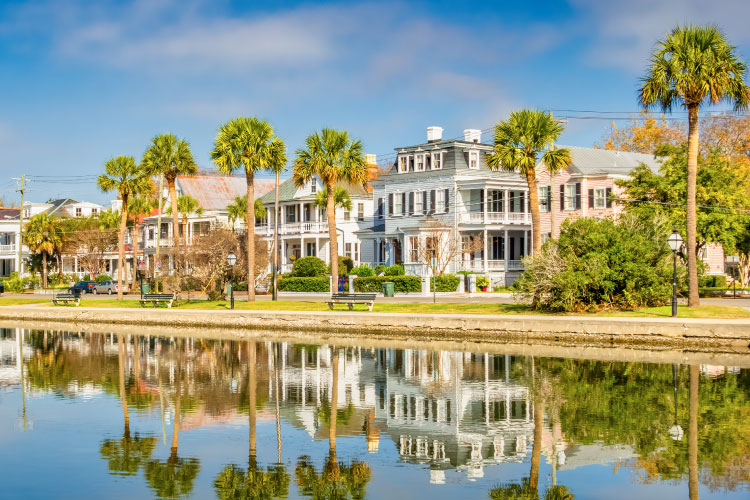 The Best Places to Retire in South Carolina
1. Charleston, SC
Those looking to relocate to South Carolina will find Charleston's southern charm and history appealing. The locals are very welcoming and friendly, and the culture in the area is best characterized by proper manners and hospitality.
As one of the oldest cities in the state, Charleston has plenty of well-preserved colonial-style structures along its beautiful cobbled streets. One of the most famous sites in the area is Fort Sumter, which was the site of the first shots of the American Civil War. It's also home to various other historical landmarks, such as the Drayton Hall mansion and the Magnolia Cemetery.
2. Columbia, SC
Columbia, South Carolina's capital, is home to a variety of interesting attractions, including the Riverbanks Zoo & Garden, which is a great place to visit with your grandkids. The city also boasts the largest indoor entertainment venue in the state, the 18,000-seat Colonial Life Arena.
Columbia is a college town, so it has more of a vibrant atmosphere that's different from other cities and towns in the state. Its downtown area is full of trendy restaurants and bars, as well as live music performances throughout the year.
3. Greenville, SC
Greenville is regarded as one of the best cities in the state and has even been named one of Forbes magazine's Best Downtowns in America.
Greenville has a wide variety of art and culture to offer visitors and residents, especially retirees. The Museum of Art in the city features a huge collection of works by prominent southern artists, and the Upcountry History Museum is a must-visit for anyone who lives in the area, to explore Greenville's history and get a picture as to what life was like in Upstate South Carolina.
4. Myrtle Beach, SC
Located in the Grand Strand, which is a region of white sandy beaches and numerous attractions, is the city of Myrtle Beach. Main entertainment options include tourist attractions, shopping establishments, and golf courses. Many retirees choose to live in the beautiful coastal town of Myrtle Beach as it is a bit more affordable than some other locations, like Florida.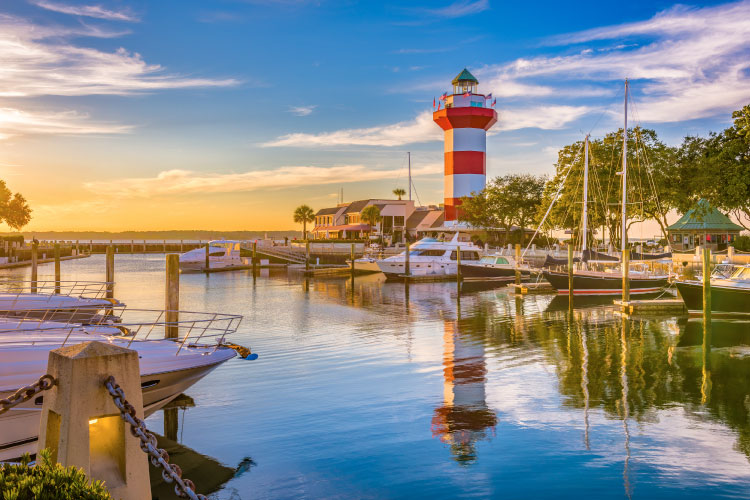 5. Hilton Head Island, SC
Hilton Head Island is known for its world-class beach and golf facilities, such as Harbour Town Golf Links, the Robert Trent Jones Course, and the Hilton Head National Golf Club. It also offers various recreational activities, such as hiking, art classes, and tours. There are many art galleries, music venues, and museums within the area.
The median age in Hilton Head Island is 57.3 years old, which is about 19 years older than the nation's average. This statistic makes Hilton Head Island an ideal community for retirees to settle down. However, home prices can get quite expensive because Hilton Head is a resort town.
6. Murrells Inlet, SC
Located on South Carolina's coast — and ranked as the best place to retire in South Carolina by Niche — the fishing village of Murrells Inlet was actually once a pirate hideout! Now it's known as the "seafood capital of South Carolina" and is only 12 miles south of Myrtle Beach.
The town has a variety of attractions, such as the Brookgreen Gardens, a zoo and garden museum, and the Huntington State Park. Festivals also contribute to the area's appeal, such as the Atalaya Arts and Crafts Festival, which takes place each year and features over one hundred artists.
7. Rock Hill, SC
In Rock Hill, you can find over 30 parks, the fantastic Rock Hill outdoor center, and several recreational facilities, which makes this town such a great choice for retirees who love to stay active.
The town is home to Winthrop University, which provides a great college atmosphere, and the historic Old Town is a popular area that features cultural events, bars, and restaurants. Another main draw of Rock Hill is its proximity to Charlotte, NC, which is only about 30 miles away.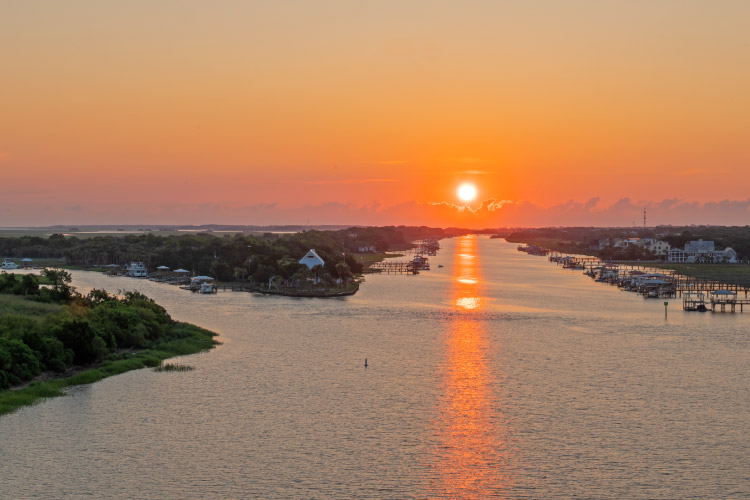 8. Isle of Palms, SC
The Isle of Palms is a beautiful barrier island town situated near Charleston, South Carolina. It is known for its beautiful homes, clean beaches, and vibrant restaurants.
The Wild Dunes Beach and Racquet Club is located on the northern end of the island, which features various facilities such as swimming pools, tennis courts, and golf courses. The local Windjammer Resort and Beach Club also hosts beach volleyball tournaments, while the Isle of Palms County Park is a great place to swim and always has many lifeguards on duty.
9. Tega Cay, SC
Ranked the #1 best place to live in South Carolina by Niche, Tega Cay is located on a peninsula on the eastern side of Lake Wylie, and it's a peaceful community surrounded by thick forests. It was previously a gated community that was constructed in the 1970s and only about 20 miles from Charlotte, NC.
Over the past couple of years, there has been a steady increase in new housing in Tega Cay, which includes single-family homes, town homes, and apartments. The Tega Cay Golf Club features 27 holes of golf, and residents can enjoy a variety of other local activities, such as boat launches along the shoreline, as well as tennis courts and trails.
10. Northlake, SC
Located in South Carolina's Upstate region, Northlake is a census-designated area adjacent to the city of Anderson and just about 30 miles away from Greenville.
Ranked the #1 best suburb to buy a house in South Carolina by Niche, Northlake is located on the northern section of Lake Hartwell, which is a man-made reservoir popular with residents. Aside from water skiing, residents enjoy recreational activities such as fishing, swimming, and watching wildlife.
The neighborhoods in Northlake are well designed and feature well-kept homes in all kinds of styles and colors. The homes on the water, in particular, are larger and have boat docks.
How Much Money You Need To Retire in South Carolina
So is South Carolina a good place to live for retirement? Absolutely! Although the Palmetto State is home to so many great living perks like beautiful weather, lots of outdoor activities, and rich history, the affordable cost of living is why so many retirees ultimately decide to make South Carolina their new home.

Retirees in the state enjoy favorable tax rates, as there's no tax on social security benefits. In addition, various types of retirement income, such as private pension plans and retirement accounts, can be eligible for deductions of up to $15,000.

And with a cost of living index of 89.3, South Carolina's cost of living is approximately 11 percent lower than the national average. Housing is around 23 percent lower than the national average, while monthly utilities may be one of your pricier expenses, as they are about 4 percent higher than the national average.

When comparing other nearby southern states like North Carolina and Florida, South Carolina's cost of living is much cheaper overall. North Carolina has a slightly higher cost of living index of 91, while Florida has a cost of living even higher than the national average of 103.1. A big reason why Florida is more expensive is due to its higher-than-average housing value.

Looking for a specific number? Start with your pre-retirement salary. According to NerdWallet, you want to aim to save about 10-15 percent of your pre-tax income annually before you retire. How much you end up with depends on when you started and how much you saved, of course. And how much you need to live comfortably in South Carolina, specifically, depends on your personal lifestyle preferences.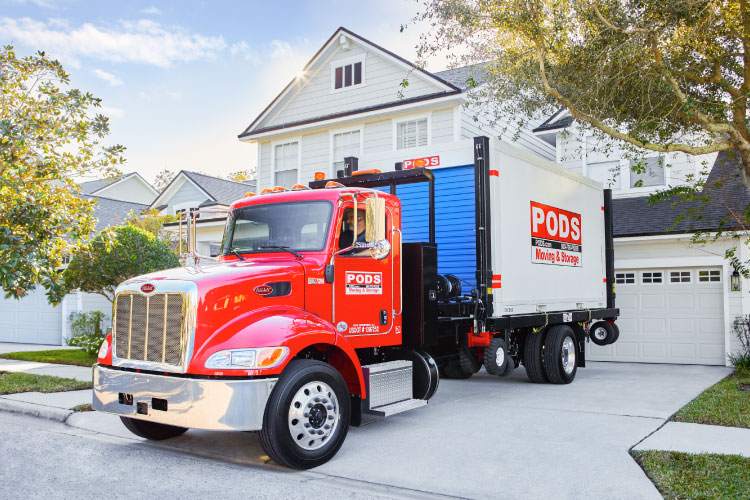 Retiring in South Carolina: Making the Move With PODS
Moving to South Carolina with a portable container from PODS can't be any easier. PODS will deliver your container to your doorstep, where you can pack and load it on your own schedule. They will then transport it to your new home when you're ready to move. And if you need a little extra time at any point, that's no problem! Flexibility is automatically built in, as one month of storage is included in the price of every move.
Editor's note: For ease of reading, monthly rental prices were rounded to the nearest $25 and home values were rounded to the nearest $100.
Get a Quote
Choose the service you need
Comments
Leave a Comment
Your email address will not be published. Required fields are marked *