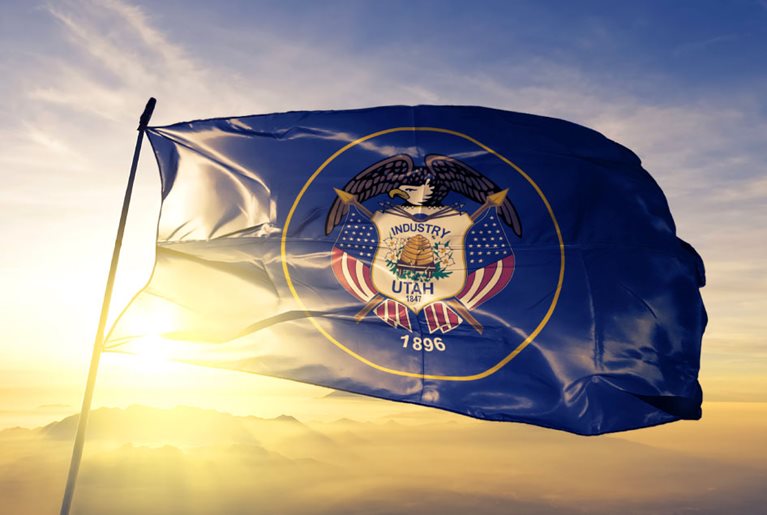 Here's Everything You Should Know About the Best Small Towns in Utah
Utah is home to some of the nation's most wondrous playgrounds, since it's located right on the meeting point of the Colorado Plateau, the Rocky Mountains, and the Great Basin. The state is certainly the ideal place to live for anyone who enjoys nature and various outdoor activities. In fact, it's because of this gorgeous natural beauty within the state (among other reasons, of course) that you can find some of the best small towns in Utah — which its residents happily pride themselves on. Which of these small towns make the top of our list? Read on to find out!
Big Cities vs. Small Towns in Utah
Living in a big city such as Salt Lake City provides its fair share of living perks, such as being near more dining and nightlife options, having easier access to public transportation, and being in closer proximity to a plethora of job opportunities. However, you will need to earn a higher salary to live comfortably, as housing prices are steeper and crime rates can be higher than in Utah's small towns.
Pros of Living in a Small Town:
Living in a small town versus a big city provides you with a bit more flexibility when it comes to finances.
Generally, you can expect to find more options for safe communities when looking at smaller towns.
There are typically more communities that cater to families.
You can enjoy breathtaking scenery every season of the year!
Small Towns in Utah - FAQ
Q: What is the safest city in Utah?
A: In a study of 29 towns with a population of under 10,000, Monticello was ranked 2nd and Kanab was ranked 3rd safest small town in Utah.

Q: What is the cutest town in Utah?
A: Because of its classic, old-fashioned style, Mt. Pleasant is regarded as one of Utah's cutest towns.

Q: Where is the most affordable place to live in Utah?
A: With an average home price of around $259,900, the small town of Vernal is one of Utah's most affordable places to settle down.

Q: What is the best city in which to live in southern Utah?
A: Along with St. George and Escalante, the town of Kanab is considered one of the best small towns in the United States to visit in 2023.
Best Small Towns in Utah
Making a fresh start in a small town is never a bad idea — especially when you move to a place like Utah that has so many! From underrated gorgeous scenery and nice weather to an abundance of recreational opportunities and safe communities, these are some of Utah's best small towns (with populations under 15,000) that encompass everything the state has to offer.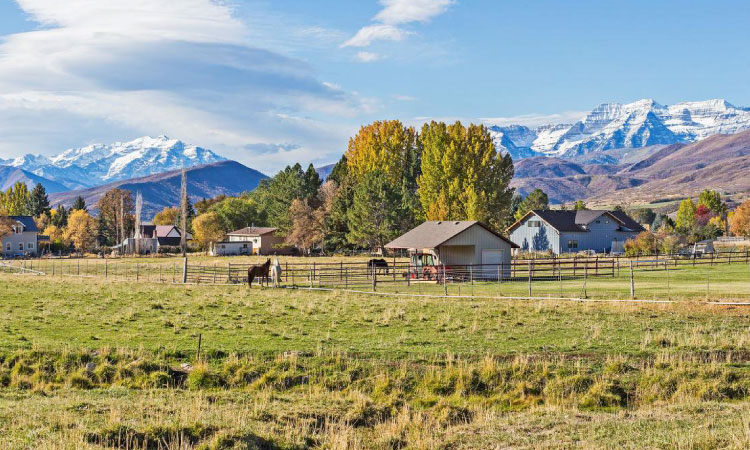 Midway, Utah
(Source: Katie Noble Real Estate via Facebook)
1. Midway, UT
Average rent (one-bedroom): N/A
Average home value:
$890,200
It's easy to see why Midway is regarded as not only one of the best mountain towns in Utah but also in the country. This area is known for its many small-town activities, such as cross-country skiing and mountain biking. It also has a variety of other great attractions, including the annual Swiss Days festival and the Caldera Hot Pot at the Homestead Resort.
Despite its reputation as a tourist town, Midway is still a great place to live, and it's only around 20 minutes away from Park City!
2. Mt. Pleasant, UT
Average rent (one-bedroom): N/A
Average home value:
$359,200
The town of Mount Pleasant is known for its beautiful, old-fashioned style. It's situated in a vast agricultural valley surrounded by mountains, and with a population of around 3,500, it's one of the largest towns in the county. Also, it's the home of the established
Wasatch Academy
, a private school where many families send their kids.
Stroll through the town's residential district and you'll discover several elegant homes that are built in a Midwestern style. You'll also find many historic brick structures in the downtown area.
3. Panguitch, UT
Average rent (one-bedroom): N/A
Average home value:
$319,500
The town of Panguitch can be found in a valley between the Paunsaugunt and Markagunt plateaus. Its name refers to a big fish, so it may not come as a surprise that the area's rivers and lakes are popular with fishermen. Trout are especially abundant in these waters during spring and early summer.
The historic district of the town is filled with red brick structures, which were erected by early pioneers of The Church of Jesus Christ of Latter-day Saints. The town is also known for its art galleries, antique shops, and craft shops. During the summer season, it hosts various festivals, such as the
annual Quilt Walk
and the
Balloon Rally
.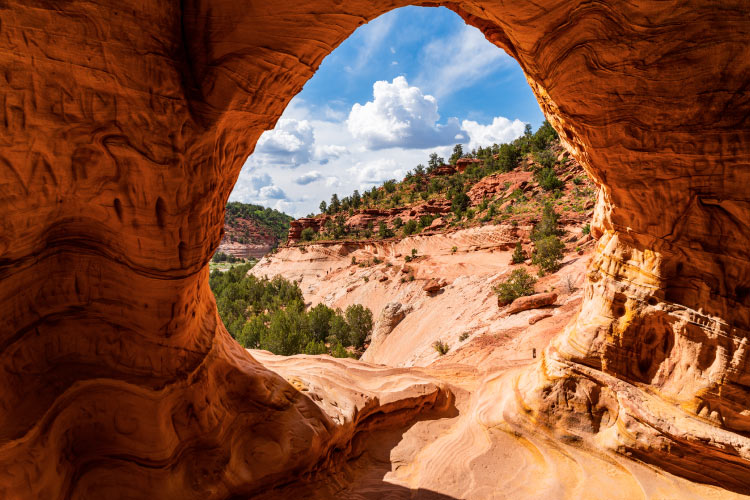 Moqui Cave near Kanab, Utah
4. Kanab, UT
Average rent (one-bedroom): N/A
Average home value:
$420,600
Great for:
History, pretty scenery, retirees
Kanab, one of the coolest towns in Utah, has a unique landscape that's been a setting for everything from sci-fi to western films, earning it the nickname "Little Hollywood." It's located right against the stunning red rock of Utah, where residents can enjoy the pretty town scenery and the added excitement of witnessing hot air balloons rise into the air.
Kanab offers a variety of interesting structures and ruins to explore, and it's an ideal location to live if you want to experience quintessential Utah.
5. Huntsville, UT
Average rent (one-bedroom): N/A
Average home value:
$655,000
Great for:
Outdoor summer activities, winter activities, beautiful scenery, history, families, retirees
The town of Huntsville was established in 1860 by brigadier Jefferson Hunt, who served in the U.S. Army's Mormon Battalion.
The eastern part of the city features rolling green valleys and vibrant red and gold colors in autumn. In fact, if you're looking for the best leaf-peeping spots, look no further than the beautiful Ogden Valley.
The western portion of the city is bordered by the Pineview Reservoir. This area offers a variety of summer activities, such as boating and fishing, making it one of the best towns in Utah to live in if you're a retiree.
And for the active types, there's the Snowbasin Resort. This is a renowned ski area that has been operating since 1940. Fun fact: In 2002, it hosted the Olympic downhill events.
6. Moab, UT
Average rent (one-bedroom): N/A
Average home value:
$565,600
Moab is one of the best towns in Utah because of its stunning scenery. It's actually been used as a set for filmmakers since the 1940s. The oddness of the area, which has an alien and desolate feel, has been used in sci-fi movies like John Carter and Star Trek.
Among its attractions is The Delicate Arch, one of the many arches in the National Park of Arches. The Fisher Towers are also dramatic during sunsets, and the Canyonlands are a colorful collection of red rock that combine buttes, mesas, and canyons.
Park City, Utah
7. Park City, UT
Average rent (one-bedroom):
$1,700
Average home value:
$1,522,600
Park City is a popular resort town that's protected by the Wasatch Range, which is located east of Salt Lake City. It became more popular as a tourist destination after the silver mining industry went away and is also considered one of the best places in Utah for active retirees.
One of the best ski towns in Utah, it's home to two ski resorts, and it was the site of some of the events that were held during the 2002 Winter Olympics in Salt Lake City. Park City's population is only around 8,000, but it gets significantly inflated during the tourism seasons.
Besides skiing, Park City is also known for its beautiful surroundings and the annual Sundance Film Festival, which draws tens of thousands of people to the town. The town has numerous bars, restaurants, and shops that serve up local produce and goods to locals and tourists alike.
8. Monticello, UT
Average rent (one-bedroom): N/A
Average home value:
$301,200
The town of Monticello, named after Thomas Jefferson's estate, is known for its great outdoors. It's a convenient base for those who love to go off-roading, rock climbing, and skiing. This area also offers a variety of other outdoor activities, such as swimming, camping, and mountain biking, making it one of the best towns to live in Utah. The town's public swimming pool features a waterslide, a basketball hoop, and a climbing wall. And one of the most popular places for people who love to play golf is the Hideout Golf Club.
Some of the notable attractions in this area include Church Rock, which was used as a salt lick storage facility during the 1940s, and the Frontier Museum.
Great events are always happening in the area, as well, such as the San Juan County Fair and the Solar Eclipse Glamping Weekend Retreat.
9. Fillmore, UT
Average rent (one-bedroom): N/A
Average home value:
$330,200
Great for:
History, trails, hiking, golfing, families
Located in Millard County, the town of Fillmore was named after Millard Fillmore, the 13th U.S. president. Before the state legislature moved to Salt Lake City, Fillmore was the capital of the state. And as the Statehouse was already under construction before the legislature moved to Salt Lake City, it has become a museum to showcase the early history of Utah.
Today, Fillmore is known for its annual ATV/UTV Jamboree and for its mushroom production, which generates over six million pounds of seed and produce per year.
Some of the must-dos in this area include visiting the historic walking trail, riding on the ATV trails, going on a hiking trip in the Pahvant Valley, and playing golf at the Paradise Golf Course. You should also be sure to visit Cove Fort, which was established in 1867 as a stopover for workers, clergy, and miners who were passing through the Mormon Corridor.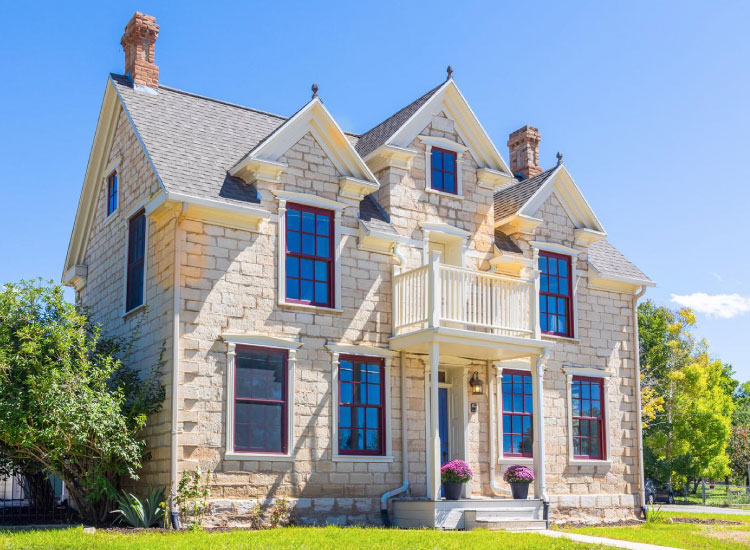 Spring City, Utah
(Source: Spring Farm via Facebook)
10. Spring City, UT
Average rent (one-bedroom): N/A
Median home sale price:
$356,000
The town of Spring City was established in the 1800s as a farming community, but it's known as one of the prettiest towns in Utah because of its beautiful historic homes and buildings.
It's full of examples of pioneer architecture, with its 19th-century chapel and impressive school. The town's northern section also became known as "Little Denmark" during the 19th century due to the influx of Scandinavian immigrants. Some of the prominent houses that can be found here include the Olsen-Justesen Home House, which dates back to 1888, and the Rasmus & Sarah A. Justesen house, which dates back to 1875.
11. Blanding, UT
Average rent (one-bedroom): N/A
Average home value:
$313,200
The small southeastern Utah town of Blanding is known for its cool vibe and hospitality. It's located between Lake Powell and the
Natural Bridges National Monument
, and it has plenty of things to do, such as hiking in
Mule Canyon
and horseback riding in the
Abajo Mountains
.
Situated an hour away from Blanding is the
Goosenecks State Park
. This area features some of the most stunning views of the San Juan River, which is made up of deep-cut bends. The park also has picnic areas and a viewing platform.
12. Vernal, UT
Average rent (one-bedroom): N/A
Median home sale price:
$321,000
The town of Vernal is known for its extensive options when it comes to experiencing the wonders of the world. It's situated in the Uinta Basin, which features beautiful mountain meadows, high desert canyons, and bizarre cycle trails.
Since this area is known as Dinosaurland, people flock here to explore its many attractions. Some of these include the Utah Field House of Natural History State Park Museum and the Dinosaur National Monument, which features the Quarry Exhibit Hall where you can comfortably view and touch over 1,500 fossils that have been preserved in a cliffside!
The Uintah County Heritage Museum also has a fascinating First Lady exhibit featuring over 30 porcelain dolls that honor various women who have worked in The White House.
PODS Can Help Get All of Your Belongings to Utah
After you've found your new home in a small Utah town, let PODS help you get there by having a portable storage container delivered to your doorstep. This will allow you to pack and load your belongings at your own pace. PODS will pick up and deliver the container to your new residence when you're ready to move — even if it's a long-distance move. And the best part? One month's storage is included in every move!

Editor's note: For ease of reading, monthly rental prices were rounded to the nearest $25 and home values were rounded to the nearest $100.
Get a Quote
Choose the service you need
Related Articles
Relocating to the Vibrant Capital City of Utah? Check out The 12 Best Neighborhoods in Salt Lake City
Read more
Comments
Leave a Comment
Your email address will not be published. Required fields are marked *