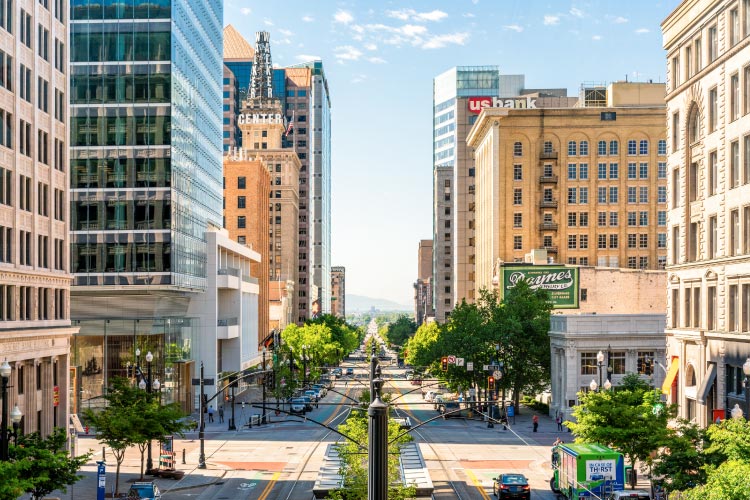 Considering a Move to Utah's Fast-Growing Capital City? Here are 15 Things to Know About Living in Salt Lake City
Whether you're moving for a new job, better education opportunities, or simply a new way of life, living in Salt Lake City comes with its fair share of perks. The city is known for being the headquarters of the Church of Jesus Christ of Latter-Day Saints (LDS), and it's the
seventh fastest-growing city
in the U.S. Needless to say, there's a place for everyone to call home in Salt Lake City. But what is it like living in Salt Lake City? Here are 14 things you need to know before making the move.'
Living in Salt Lake City- FAQ
Q: Is Salt Lake City a good place to live?
A: Salt Lake City is great for young professionals looking for new career opportunities and families looking for larger homes to grow. With a strong arts scene along with family-friendly activities, there are plenty of things that make living in SLC worthwhile.

Q: What are the pros and cons of living in Salt Lake City?
A: Some major pros of living in SLC include lots of sunshine, fun outdoor activities, great neighborhoods, and a strong job market. Some of the cons include heavy snow in the winter, higher housing prices, and limited nightlife (when compared to other major cities) due to alcohol not being as widespread.

Q: How much money do you need to live in Salt Lake City?
A: The estimated monthly cost for a family of four living in SLC is just over $3,700, versus a single person's estimated monthly cost, which is just over $1,000. Both of these numbers don't include rent, so be sure to take your individual lifestyle into account, along with the area you're living.
Living in Salt Lake City at a Glance:
SLC is situated in the northeast corner of the Salt Lake Valley, surrounded by Great Salt Lake to the northwest, the Oquirrh Mountains off the coast, and the Wasatch Range to the east.
According to Census results, Salt Lake City's population is just over 204,650.
The city has an area of around 111 square miles
1. Cost of Living in Salt Lake City
Based on the U.S. standard cost of living index of 100, SLC comes in higher at 122. However, the income tax rate in Utah is 4.65%, which is lower than other nearby states, like Idaho, where it's 5.8%.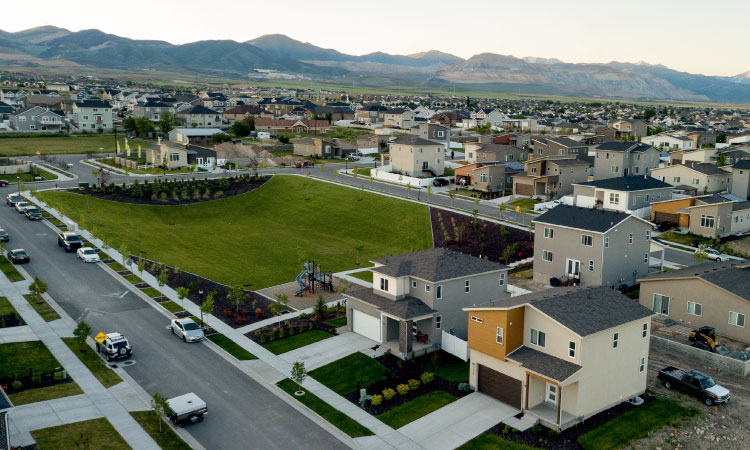 2. Cheaper Housing
When compared to other similar U.S. cities, like Denver, CO, you're going to pay less for housing. In Denver, you can expect to see an average home price of $563,300. Whereas in Salt Lake City, the average home price drops to around $540,000. From Victorian homes to bungalows to condos, townhomes, and apartments, there are always plenty of options when trying to find a place to live in SLC.
3. Rental Pricing
Finding a rental is going to come with the same expectations in SLC — at least where pricing is concerned. With an average monthly rent for a one-bedroom of $1,650 in Salt Lake City and average rent of $2,000 in Denver, you're going to get a better bang for your buck.
4. Best Places to Live in Salt Lake City
Greater Avenues
The Greater Avenues neighborhood is ranked #1 on Niche's list of "Best Neighborhoods to Live in Salt Lake City." It offers great views of the state Capitol and the Salt Lake Valley, and you can find an abundance of beautiful Victorian-style homes and spacious condominiums.
This neighborhood also features many green spaces. If you're looking to relax, you can check out Memory Grove Park. And if you're in the mood to hike, you can head over to Bonneville Shoreline Trail and City Creek Canyon.
Sugar House
The Sugar House neighborhood in Salt Lake City is known for its vibrant atmosphere, and it's ranked #4 on Niche's "Best Neighborhoods to Live in Salt Lake City" list. This neighborhood's name is derived from the settlers who cultivated sugar beets in the area over 150 years ago.
It's since become one of the more progressive communities in the valley, with a variety of bars, stores, and restaurants within its borders. Victorian homes and bungalows are the most common housing options, and residents enjoy Sugar House Park when they want to get outdoors.
Foothill
If you're looking to raise a family or retire, Foothill is a great neighborhood. It's situated near the mountains and is close to various attractions, including the Natural History Museum of Utah and the Utah Museum of Fine Arts. With single-family homes and condominium complexes complete with great amenities like private pools and clubhouses, paradise is waiting whenever you head home.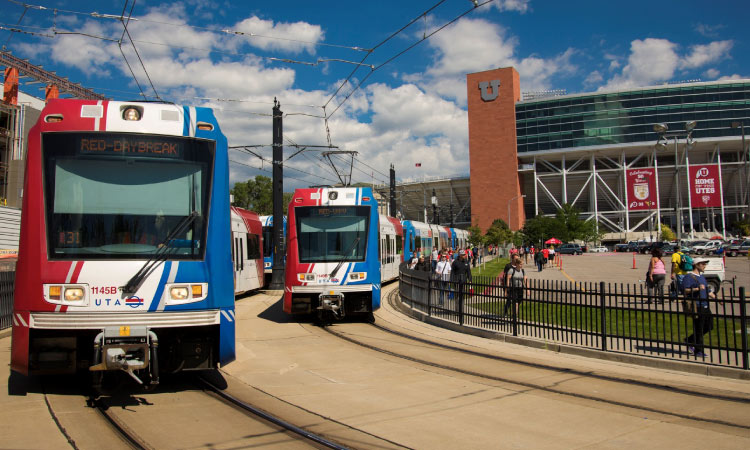 TRAX light rail trains arriving at Rice-Eccles Stadium in Salt Lake City, Utah.
(Source: Utah Transit Authority - UTA via Facebook)
5. City-Wide Transportation
Some U.S. cities afford residents the luxury of walkability, and Salt Lake City is one of them! If you can't get to your destination on foot, however, the city's transit options can get you there in no time. In fact, SLC has made significant efforts to establish a transit system that is accessible. Residents can rely on one of the city's three options: buses, the TRAX light rail, or the FrontRunner commuter rail. If you prefer to travel by bike, there are also plenty of lanes throughout the city.
6. Education Opportunities for Every Age
Whether you're looking for great public school districts or university opportunities, SLC can accommodate your needs.
The most prominent universities in the region are Brigham Young University and the University of Utah. Other institutions that can be found in the metro area include Weber State University and Utah Valley University.
7. Sports Teams
Utah Jazz
If you're a basketball fan, Salt Lake City is a great place to be. The Jazz is the state's National Basketball Association (NBA) team. The Jazz have won two conference championships (back to back in 1997 and 1998), and they're a beloved team in the city. You can head downtown to catch their home games at the Delta Center, along with the shows and other events often hosted there.

Salt Lake Bees
The Bees (previously known as the Stingers) are SLC's minor league baseball team, and residents can catch a game at Smith's Ballpark. In 2008, the team started the season with a record of 21-1, which is considered to be the best start in the history of minor league baseball.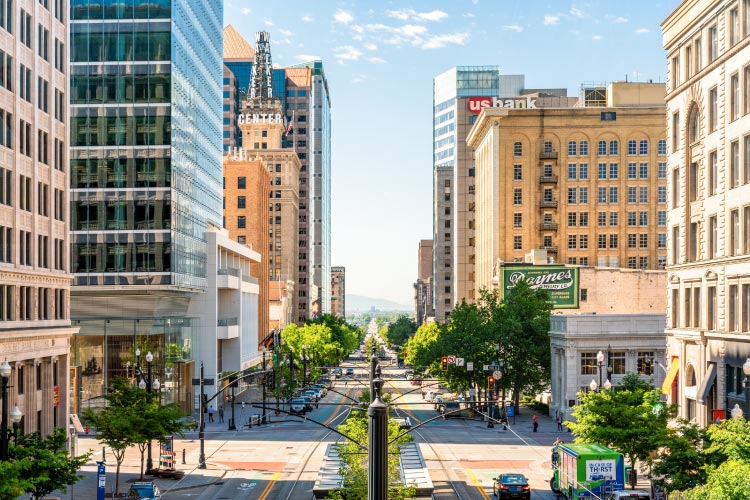 Downtown Salt Lake City
8. SLC Weather
In Salt Lake City, there are about 222 sunny days per year. Summers are hot and dry — although the average summer temperature in SLC is around 73 degrees Fahrenheit — and winters are cold and wet. Rainfall averages around 20 inches per year, while snowfall averages around 54 inches.
9. Safety in Salt Lake City
The crime rate in Salt Lake City is among the highest in the country, with an average of 80 crimes per thousand residents. Your chances of being a victim to either violent or property crime are approximately 1 in 12.

According to NeighborhoodScout, a significant portion of the crime in Salt Lake City involves property crimes. These include arson, theft, and burglary. The odds of being a victim of any of these crimes are around one in 14.

Remember, though, that crime is going to pose a risk in any major city. Taking precautions and staying aware of your surroundings can prevent a lot of crimes. On top of that, there are security systems and various tools you can install — whether you're renting or buying — to help you feel safer, no matter what part of the city you're moving to.
10. Job Opportunities
Utah has been ranked #1 by U.S. News & World Report for employment and economy (among other traits). SLC itself only has an unemployment rate of 2.8 percent, and the city has been able to maintain steady job growth in various industries, such as construction, education and health services, and leisure & hospitality.
11. The SLC Food Scene
SLC is known for its delicious food scene, so you'll never face issues with finding a great place to eat. If you're craving Mexican food, try the Mole Negro dish at the Red Iguana in downtown Salt Lake City. For an intimate dinner, try the Italian fare at Antica Sicilia. And if you're in the mood for sushi or Drunken Noodles, check out Sapa.
Utah Arts Festival in Salt Lake City
(Source: Utah Arts Festival via Facebook)
12. Arts and Culture
If you want to indulge in the arts, you don't have to travel far. Whether it's a museum day trip or a night spent at the theater, you'll be able to find it in SLC.
Capitol Theatre and Abravanel Hall are favorites for opera and symphony performances. You can also catch the famous The Tabernacle Choir performing at Temple Square. And you can watch Broadway shows, see dance groups, and catch Christmas concerts at the Rose Wagner Performing Arts Center or Eccles Theater.
The Sundance Film Festival is also a world-famous, ten-day event held at various venues throughout the city that showcases films from around the world. In addition, SLC hosts the Utah Arts Festival, where you can enjoy different food trucks, live music, and dancing. Residents also enjoy the Utah Blues Festival.
13. Shopping Opportunities
In addition to the luxury brands — like Louis Vuitton and Coach — you can find at City Creek Center, SLC also has a variety of local shops residents can explore. For a taste of vintage thrifting, head over to Decades Vintage Clothing or Blue Velvet Bunny.
14. Fun Things to Do in Salt Lake City
Once you've settled down in SLC, be sure to check out Hogle Zoo's variety of animals and exhibits with your family. The Discovery Gateway Children's Museum is another great place to bring the kids, as it helps to develop their imagination with its variety of permanent and temporary exhibits.
You can shadow an animal keeper or get up close and personal with raptors at the Tracy Aviary. You can also learn about everything earth and beyond at the Clark Planetarium, or try your hand at making various ceramic creations at Color Me Mine.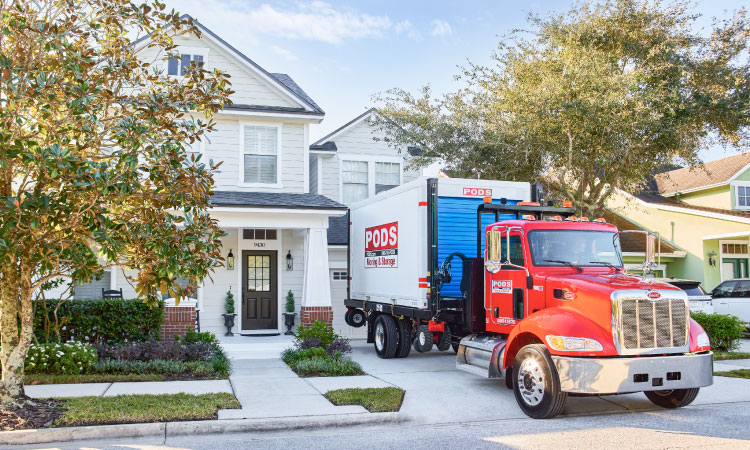 Interested in Relocating to SLC? Let PODS Help
With the help of portable moving containers from PODS, you can easily settle into your new Salt Lake City residence. They will deliver a container right to your doorstep and can also connect you with local loading and packing services. And once you're ready to move, PODS can pick up and deliver your container to your new home or keep it in a storage center until you're ready to unload.
Editor's note: For ease of reading, monthly rental prices were rounded to the nearest $25 and home values were rounded to the nearest $100.
Get a Quote
Choose the service you need
Related Articles
Relocating to the Vibrant Capital City of Utah? Check out The 12 Best Neighborhoods in Salt Lake City
Read more
Comments
Leave a Comment
Your email address will not be published. Required fields are marked *