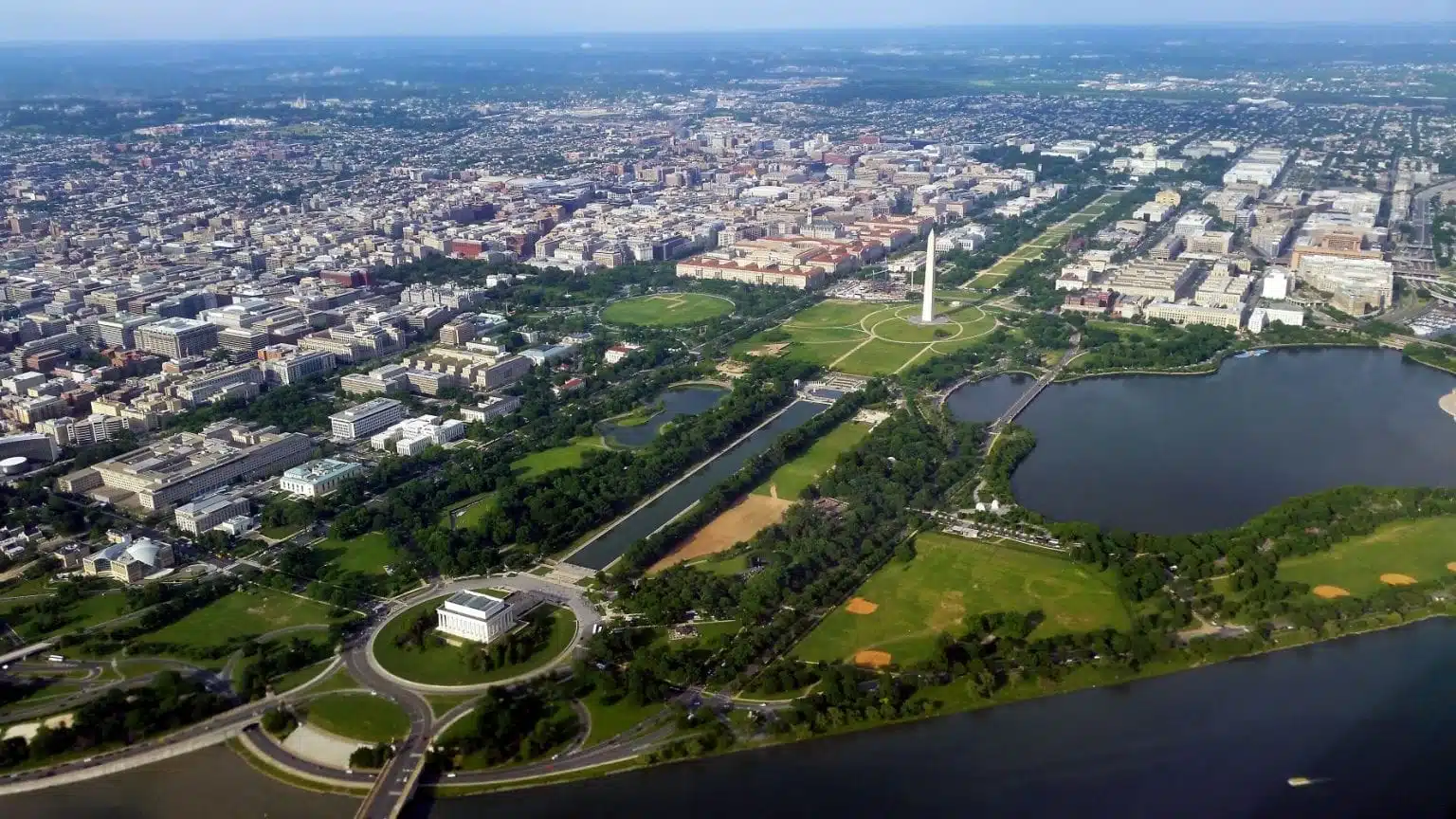 Moving in DC? Find the Best Neighborhoods in DC, Maryland, and Northern Virginia
Thinking about moving to the nation's capital? Besides being at the seat of power, Washington, DC is home to an expansive collection of diverse neighborhoods that offer compelling choices for singles, young professionals, and families alike.
So what are the best neighborhoods in DC? That largely depends on your personal taste. If you're moving long distance, be prepared to expand your search to include Maryland and Northern Virginia suburbs, in addition to the DC neighborhoods. Don't worry -- you won't be going too far. In the DC area, you end up crossing state lines without even knowing it.
DC Neighborhoods Map
EXPLORING DC NEIGHBORHOODS: THE DISTRICT
Although DC is divided into four quadrants – Northwest (NW), Northeast (NE), Southwest (SW), and Southeast (SE) – more than half of the city's population lives in the Northwest section, which also covers 42% of the total land area. Southwest is the smallest quadrant, and is dominated by the Joint Base Anacostia-Bolling military installation.
Northwest includes the downtown business district, the 10 government buildings included in the Federal Triangle complex, the museums along the northern side of the National Mall, and the White House. Considering all that critical mass, it's no surprise that the DC neighborhoods most in demand are also located in the Northwest.
Here's a quick snapshot of DC neighborhoods to consider:
ADAMS MORGAN (NW)
At the south end of Rock Creek Park north of DuPont Circle, Adams Morgan is known as one of DC's most popular nightlife and entertainment districts with over 90 establishments. Two full blocks of 18th Street NW are lined with nothing but bars, pubs, restaurants, and cafes, with even more shops and eateries along Columbia Road NW. Many of these businesses are topped with and surrounded by co-ops, mid-rise apartments and condos, and Victorian rowhomes. The walkable neighborhood is alive with public art, festivals, farmers markets, and diverse schools.
Typical Home Value: $654,609
Average Monthly Rent: $2,225
Nearest Metro Station: Red Line stations Woodley Park and DuPont Circle are each about a mile away 
ANACOSTIA (SE)
Anacostia is a predominantly residential neighborhood in Southeast DC across the Anacostia River from the DC "mainland." The quiet neighborhood features a number of 1960s- and '70s-style single-family homes and independent rental complexes separated from the riverfront by the Anacostia Freeway. Anacostia was the later life home of Frederick Douglass until his death, and now features the Frederick Douglass National Historic Site not too far from the Chair of Anacostia, the world's largest chair at nearly 20 feet high.
Typical Home Value: $469,898
Average Monthly Rent: $1,274
Nearest Metro Station: Anacostia Station lies just to the west along the Green Line
CAPITOL HILL (NE and SE)
The Capitol Hill neighborhood of DC does indeed contain the U.S. Capitol Building, which sits on its western border, with the rest of the district fanning out east to Lincoln Park. The area also includes several parks such as Stanton, Folger, Marion, Garfield, and Seward Square, as well as the Supreme Court and Library of Congress. Aside from that, Capitol Hill is largely residential, with blocks of rowhouses, townhouses, manors, and Queen Anne homes. Crosscutting Pennsylvania Avenue is the commercial corridor with a number of trendy shops, cafes, bars, friendly restaurants, and a popular farmers market.
Typical Home Value: $974,962
Average Monthly Rent: $2,403
Nearest Metro Station: Capitol South and Eastern Market Stations serve the Orange, Silver, and Blue Lines
GLOVER PARK (NW)
An upscale leafy green neighborhood, Glover Park is tucked away just west of Observatory Circle (site of the Vice President's mansion). The neighborhood is also home to several foreign embassies, including the Russian Embassy and its infamous underground tunnels. For non-diplomatic residents, Glover Park is filled with rowhouses and apartment buildings, lined by Glover-Archibald and Whitehaven Parks, with a commercial corridor along Wisconsin Avenue offering casual eateries and service retail.
Typical Home Value: $696,097
Average Monthly Rent: $1,616
Nearest Metro Station: The Red Line stop near the National Zoo is about two miles away
LOGAN CIRCLE (NW)
Like its neighbor DuPont Circle, it's hard to say if Logan Circle is best known as a neighborhood or a traffic circle. Kidding aside, the neighborhood is particularly popular among hipsters and young LGBT professionals. Just northeast of downtown and the Mall, Logan Circle is walkable to downtown and just a 5-minute bus ride. It features a variety of boutiques, restaurants, galleries, clubs, gay bars, and theaters along with one of Whole Foods' highest-grossing locations.
Typical Home Value: $673,151
Average Monthly Rent: $2,339
Nearest Metro Station: Shaw-Howard and Mt. Vernon Square on the Green Line are just to the east
Map of DC Suburbs in Maryland
DC Suburbs: Maryland Neighborhoods
SILVER SPRING, MD
In the southeast corner of Montgomery County, Silver Spring sits atop the point of DC's geographic diamond. A favorite of both locals and visitors, downtown Silver Spring includes a large outdoor shopping plaza featuring several upscale national stores, surrounded by an inviting neighborhood designed for strolling, with a variety of family-owned ethnic restaurants and interesting shops. Major draws include the American Film Institute's Silver Theatre, the Ellsworth Place enclosed mall, and the 2,000-capacity Fillmore Silver Spring music venue.
Plenty of apartment and condominium buildings are tucked within this compact community, while more traditional suburban homes spread out from the center. As a result, Silver Spring offers a wider range of affordable to expensive options than many other DC neighborhoods.
Typical Home Value: $508,490
Average Monthly Rent: $1,708
Nearest Metro Station: Silver Spring features three stations on the Red Line
BETHESDA, MD
This Montgomery County suburb along the northwest DC border is centered around a bustling, highly walkable downtown area near the Metro station where there's an eclectic mix of restaurants and boutiques, condos, and apartment buildings. From there, Bethesda fans out into suburbs with stately homes and plenty of green space, in addition to Congressional Country Club, which has hosted four major PGA golf championships.
While plenty of Bethesda residents commute into DC, many work in one of the many leading healthcare facilities located here. Not only is Bethesda the center of healthcare in the DC area, it may be considered the nation's capital of medicine. It's home to the National Institutes of Health, Walter Reed National Military Medical Center, Uniformed Services University of Health Sciences, National Library of Medicine, and the large medical contractors and facilities that sprung up around them.
Typical Home Value: $1,072,810
Average Monthly Rent: $2,440
Nearest Metro Station: Grosvenor-Strathmore and Bethesda Stations sit along the Red Line
ROCKVILLE, MD
Farther out from DC than Bethesda and Silver Spring, the city of Rockville has a more suburban feel than its neighbors. But while its downtown may not match those communities in convenience and charm, Rockville is a major business and technology center itself. Many software and biotech companies offer quality jobs for those who want to live and work in the same community.
With a little distance, renters and homebuyers will find a dollar goes farther in Rockville, too. Families have more room to grow, with larger homes and lots, but there's also a good mix of condominiums and apartment complexes, especially in the area of Rockville Town Square, a major mall with more than 25 dining options.
Typical Home Value: $596,072
Average Monthly Rent: $2,002
Nearest Metro Station: Rockville offers four Red Line stations
Map of Arlington County, VA
DC Suburbs: Northern Virginia Neighborhoods
ARLINGTON, VA
Formerly the southwest portion of the District of Columbia, Arlington is actually an unincorporated city that makes up all of Arlington County. Home to the Pentagon and Reagan National Airport, Arlington offers a lot of convenience, starting with the Rosslyn area located just across the Potomac River off Francis Scott Key Bridge from Georgetown. From there, Arlington spans out into nearly 60 distinct neighborhoods with a population of about 220,000 residents.
Arlington neighborhoods range from idyllic but pricey Old Glebe in the northwest corner, to the more affordable but up-and-coming Shirlington in the southeast corner. There's also a broad mix of housing types, ranging from Rosslyn's high-rise condominiums and apartment buildings to colonial-style single-family and townhomes in neighborhoods like Ashton Heights and Columbia Pike.
While a majority of Arlington residents commute to work, vibrant downtown areas in the Clarendon, Rosslyn, Virginia Square, and Ballston districts offer plenty to keep folks in town after work hours. A great way to explore Arlington's green spaces is by biking or walking the county's nearly 49 miles of paved trails and visiting one of the 163 parks, nature centers, or community centers.
Typical Home Value: $797,520
Average Monthly Rent: $2,334
Nearest Metro Station: There are 11 Metro stops in Arlington along the Blue, Orange, Silver, and Yellow Lines
Map of Fairfax County, VA
FAIRFAX, VA
When you hear about Fairfax, Virginia, it's easy to get confused between the city of Fairfax and Fairfax County. While the city of Fairfax is also the Fairfax County seat, the enclave is a separate entity dating back to 1805. Close enough to DC to feel integral to the metro area but distant enough to exude a deep suburban vibe, Fairfax ranked third "Best Place To Live Well" in the nation by Forbes. The magazine cited excellent public schools, high income, and one of the top rates of sole proprietorships and start-ups in the world. But it's not all work in Fairfax, with popular events like the Chocolate Lovers Festival, Spotlight on the Arts, and Fall for the Book Festival.
Moving beyond Fairfax city proper, Fairfax County encompasses a large portion of Northern Virginia, with a population of 1.1 million residents. A study in contrasts, Fairfax is home to the storied history of George Washington's Mount Vernon, as well as Tysons Corner, a massive, modern shopping and office complex. In between are comfortable communities that invite families with a mix of suburban neighborhoods with top-rated schools and urban-style retail cores, including:
Annandale
Chantilly
Falls Church
McLean
Reston
Typical Home Value: $662,079
Average Monthly Rent: $2,054
Nearest Metro Station: Vienna-Fairfax-George Mason on the Orange Line is the only station in Fairfax City
SPRINGFIELD, VA
Toward the southern part of Fairfax County, Springfield is a parkland suburb close to historic Alexandria. The town is centered on a massive junction along the Capital Beltway known as the Springfield Interchange – aka the Mixing Bowl – between I-95, I-395, and I-495. Being located by a major transportation hub is a major draw for Springfield, as young families enjoy the quiet suburban feel combined with convenience.
In addition to being close enough to commute to DC jobs, Springfield is home to three major federal employers – the National Geo-Spatial Agency (NGA), Fort Belvoir, and the recently completed Transportation Security Administration (TSA) headquarters. Springfield Town Center, recently renovated and reopened to incorporate more outdoor foot traffic, offers plenty of shopping and dining options. Residents enjoy hiking, biking, picnicking, and horseback riding at Brookfield Park and Lake Accotink Park.
Typical Home Value: $616,187
Average Monthly Rent: $1,784
Nearest Metro Station: Franconia-Springfield station is the southwestern terminus of the Blue Line
Relocating to DC from Boston, Raleigh, or points beyond?
As you're exploring places to live, it's not too soon to start planning your move. Here are some average moving costs to give you a general idea of what to expect. Be sure to get detailed quotes for your specific move and check out our DC Moving Guide to learn more about your moving options, including pros and cons. Then manage the details with these tips on moving out of state.
How much does it cost to move long-distance to DC?
Long-distance moving costs depend on distance, the amount of stuff you're moving, market conditions in the city you're leaving, and even the direction of your move. For instance, in general, it will cost you less to move northward from the south because there's a lower demand for moving in that direction.
Here are some rough estimates for the three main types of moves:
Truck rentals: Long-distance moves average $971 plus incidentals, according to HireAHelper, while MoveBuddha estimates a range of $2,000 to $4,000+ for cross-country moves.
Traditional full-service movers: Moves over 1,000 miles range in cost from $950 to $8,400+, according to MoveBuddha.
PODS portable containers: Long-distance moves will usually cost from $1,237 to $2,999, including one month for storage.
Moving from raleigh, NC to DC...
Average moving costs from Raleigh, NC to Washington, DC -- 278 miles
Your costs will vary depending on how much stuff you have to move and the season, but here are some useful reference points. Relocating a modestly furnished 2- to 3-bedroom household from Raleigh, NC to DC will cost about $330 to $500 for a rental truck, $1,620 to $3,432 for a traditional mover, or $1,000 to $1,399 using a PODS moving container, which also includes one month of storage.*
Average Moving Costs from Raleigh, NC to Washington, DC
Full-Service Movers
PODS
Rental Truck

$1,620 - $3,432
$1,000-$1,399
(includes 1-month storage)
$330 - $500
(plus fuel costs)
*Based on estimates from PODS and MoveBuddha, costs don't include insurance or taxes. Prices will vary based on specific location, dates, size of household to be moved, and available discounts. (For a detailed quote for your specific move, call PODS at 877-350-7637.)
moving from boston to DC...
Average Moving Costs from Boston, MA to Washington, DC -- 440 miles
Relocating a modestly furnished 2- to 3-bedroom home from Boston to DC will cost about $630 to $972 for a rental truck, $1,745 to $3,800 for traditional movers, or $1,850 to $2,549 using a PODS moving container, which also includes one month of storage.*
Average Moving Costs from Boston to Washington, DC
Full-Service Movers
PODS
Rental Truck
$1,745 - $3,800
$1,850-$2,549
(includes 1-month storage)
$630 - $972
(plus fuel costs)
*Based on estimates from PODS and MoveBuddha, costs don't include insurance or taxes. Prices will vary based on specific location, dates, size of household to be moved, and available discounts. (For a detailed quote for your specific move, call PODS at 877-350-7637.)
When it comes to moving, there's no one right way to do it. The important thing is to know your options, choose the type of service that meets the needs of your specific move, and select a reliable company that delivers great service. Then, once you get settled in your new home, start exploring all the amazing experiences that our nation's capital city has to offer.
SOURCES:
Typical home value - Zillow.com (updated after publish with data from August 2021)
Average monthly rent - RentCafe.com (updated after publish with data from October 2021)
---
Michael Hochman is currently working as a lifestyle and travel writer for Apartment Guide and rent.com.
Get a Quote
Choose the service you need
Comments
Leave a Comment
Your email address will not be published. Required fields are marked *