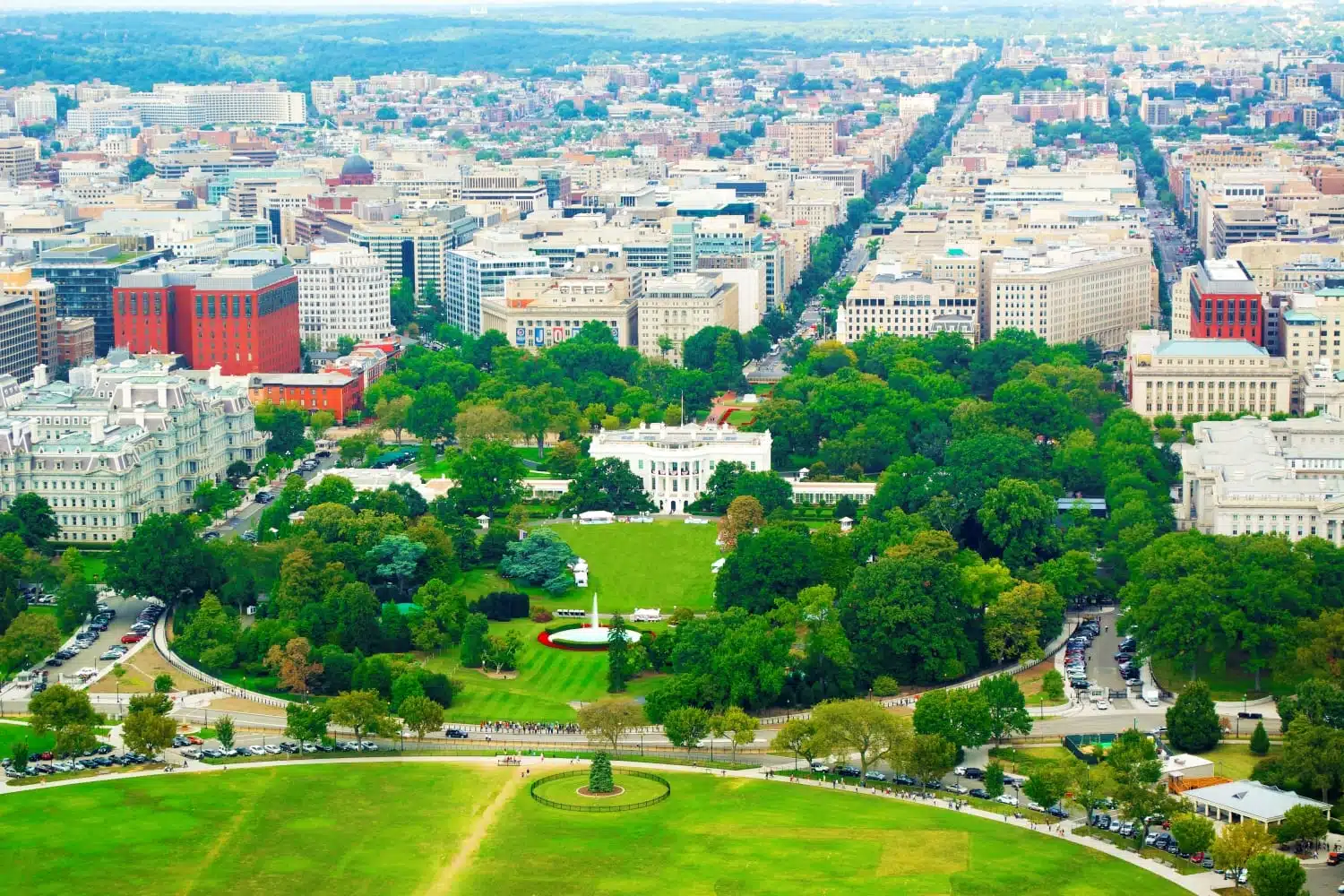 10 Things You Need To Know About Living in Washington, D.C.
The nation's capital is a city filled with power players turning the wheels of government. It's home to thousands of federal employees, military personnel, Congressional staffers, K Street lobbyists, foreign diplomats, and many other politicians. But Washington, D.C., isn't all checks and balances — it's also a great place for singles and families, foodies, sports fans, digital nomads, and young professionals. If you're considering moving to the District, you'll certainly find plenty to explore. But what's it like living in Washington, D.C., specifically?

Whether you're moving to D.C. from across the country or from somewhere else along the Northeast Corridor, these questions and answers are designed to help you get acquainted with the basics and acclimate quickly, so you can start enjoying all that comes with living in the District of Columbia.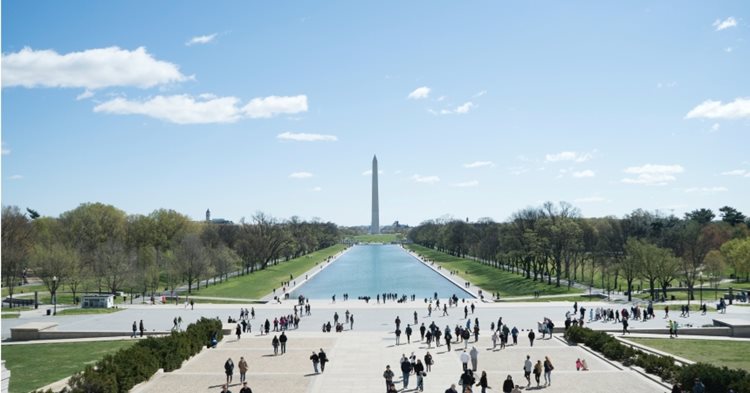 The Lincoln Memorial Reflecting Pool and The Washington Monument
(Source: Jacob Creswick via Unsplash)
1. What's It Like Living in Washington, D.C.?
In exchange for being one of the most expensive cities in the nation, D.C. is considered one of the greatest places to live in America. Who wouldn't want to be close to the seat of world power? Besides all the government-related employees, there's a population of highly educated, high-income workers in healthcare, higher education, technology, tourism and hospitality, and other industries. Still, you need to be prepared to have discussions dominated by politics — making it feel somewhat difficult to escape whatever's going on in the White House or Congress.

Politics aside, D.C. is also a highly diverse and young city, with a median age of just under 35 years old. And despite its big-city density, living in Washington, D.C., feels more, well, livable than many other cities, like NYC. For one thing, you can see a lot more of the sky.

Insider Tip: Most people believe the height rule dictates that no building can be taller than the 289-foot-high U.S. Capitol dome, a rule passed in 1899. But that's only part of the story. The 1910 Height of Buildings Act determines height limits, which, in practice, are much stricter than the 28 stories allowed in 1899. The result is that D.C. is more human-scale, without the wind tunnels and closed-in feeling that other cities have. This also means many rooftops have spectacular views of the Capitol and the Washington Monument, and it gives D.C. the unmistakable skyline that's recognized across the world.


Unfortunately, the flip side of the incredible skyline view is that it's led to crazy real estate prices. Which leads us to the most common question about living in Washington, D.C. . . .
2. How Much Does It Cost To Live in D.C.?
You may be wondering whether it's expensive to live in Washington, D.C. Short answer: Yes. Thanks to the height restrictions, a high-income population, a convenient central location on the East Coast, and all its prestige and power, the cost of living in Washington, D.C., is among the highest in the nation. In fact, Quicken Loans ranked D.C. fifth among the most expensive cities in the country in 2023, with a cost of living 52.2 percent higher than the U.S. average.

As for housing, the median home price as of October 2023 is at $614,100 — down almost 3 percent from last year — and the average apartment rents for $2,400. But the median household income is high, as well, at a hefty $93,550.

In the tax arena, D.C.'s income tax rate tops out at 10.75 percent. That's significantly higher than for residents in both Maryland and Virginia, where the max rates are 5.75 percent and 5.30 percent, respectively. Sales taxes in all three areas hover around 6 percent, but Washington, D.C., doesn't charge sales tax on most groceries. And for commuters who drive, D.C. and Maryland drivers pay around 23¢ and 27¢ per gallon in gas tax, while Virginians roll down the highway at around 26¢ tax per gallon.


Q: How much do you need to make when living in D.C.?
A: According to a SmartAsset study released in the spring of 2023, living comfortably in Washington, D.C., for a single person with no kids requires a salary of $76,200. The District comes in at No. 7, with San Francisco at the top of the list ($84,025) and St. Louis as the most affordable ($57,450) among major U.S. cities.
Row houses in the Foggy Bottom neighborhood of Washington, D.C.
(Source: 12019 via Pixabay)
3. Where Should I Live?
When you
move to the D.C. area
, there's a good chance you'll be living in Northern Virginia or the Maryland suburbs instead of the District. There's a dynamic relationship between the city and suburbs across state borders, which you don't often see in other regions. In fact, many locals refer to the expanded area as the DMV — the District, Maryland, and Virginia. While almost
5.5 million
people live in the D.C. Metro area,
more than 671,800
reside in the District of Columbia proper.
A large number of D.C. workers commute from Maryland and Northern Virginia, seeking more room and more affordable housing prices — though home values in the nearest suburbs will still take your breath away. Young professionals are drawn to D.C. city living, while families tend to head out to the suburbs. In fact, the DMV stretches from as far north as Frederick, Maryland, and south to Spotsylvania, Virginia (yes, that's a real town).
Moving to Washington, D.C.?
Get started with our guide to the
best neighborhoods and suburbs in the D.C. area.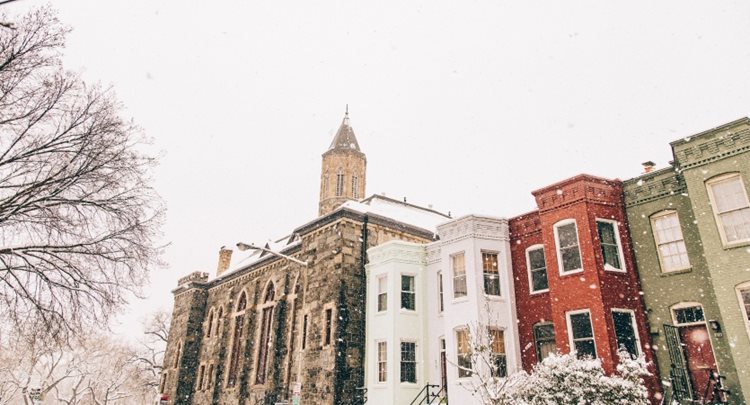 Spring snowfall in Capitol Hill
(Source: Caleb Fisher via Unsplash)
4. How's the D.C. Weather?
The Washington, D.C., climate is subtropical, characterized by often brutally hot and humid summers, with highs averaging in the 80s. Winters are chilly, but still milder than many other northeastern cities, with average daily temps seldom dipping below the 20s and highs mostly in the 40s. Average snowfall is only about 14 inches, but there are a lot of cloudy days and 43 inches of rain per year, compared to the U.S. average of 38 inches.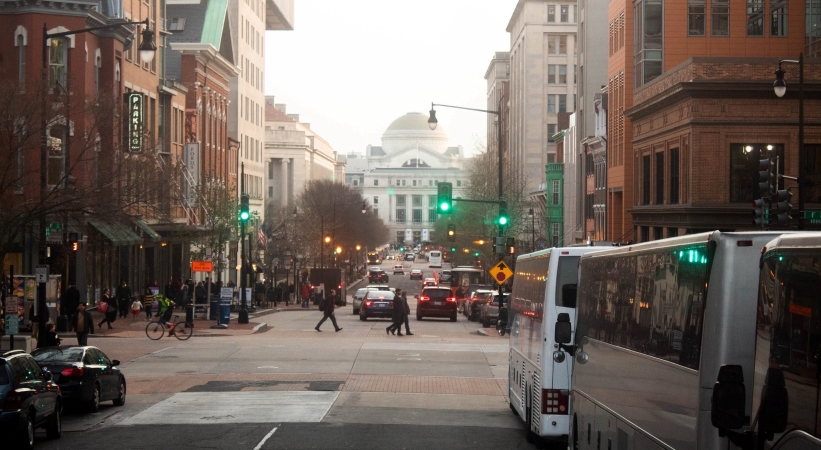 (Source: Venkata Oruganti via Unsplash)
5. What's the Best Way To Get Around?
The fact that D.C.'s transit system is the second-busiest in the nation suggests plenty of residents choose to let someone else do the driving. After all, commuting by car can be tough around the District, from crowded downtown streets seemingly always going one way in the wrong direction to daily backups on the Beltway. D.C. actually ranks as the eighth-worst city for traffic congestion in the nation.

The streets are laid out in a grid pattern, blocks of lettered and numbered streets crossed by diagonal boulevards named after states — with traffic circles thrown in to add challenge and confusion. The 64-mile Capital Beltway formed by Interstate 495 surrounds the city and runs through the Maryland and Virginia suburbs — hence the term "inside the Beltway."

No wonder so many opt for the WMATA (Washington Metropolitan Area Transit Authority), which can shuttle you to nearly any part of the city on six color-coded rail lines reaching 98 stations. Lines crisscross D.C. and stretch into Virginia and Maryland, providing easy access to both Dulles and Reagan National Airports. But while the system is convenient, it's often overcrowded at peak times.

The WMATA also operates over 1,500 buses with over 10,000 stops across the region. Maryland's MARC regional rail offers commuter service on three lines originating at Washington Union Station and fanning out to Maryland locations like Baltimore and BWI Airport. Union Station is Amtrak's second-busiest in the nation and the southern terminus of the Northeast Corridor line.

Q: What are the pros and cons of living in D.C.?
A: Like most major American cities, the District has plenty of positives for its residents — along with negatives. Topping the bad news, the cost of living in Washington, D.C., can be prohibitive. But at No. 1 on the plus side, you get what you pay for. The city offers a wealth of opportunity for its residents, from cultural institutions to an amazing dining scene, endless potential for political service and activism, and educational resources that no other U.S. city can match.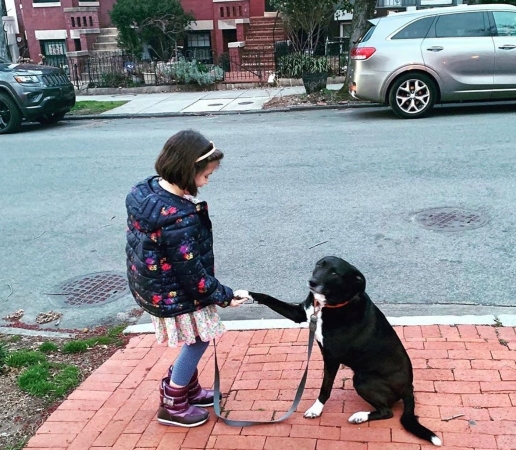 Capitol Riverfront neighborhood in Washington, D.C.
(Source: @capitolriverfront via Instagram)
6. What Are D.C.'s Safest Neighborhoods?
According to law enforcement data, the safest neighborhoods in Washington, D.C., are in the Northwest, in areas adjacent to Bethesda, Chevy Chase, and Silver Spring. Want to know about a specific neighborhood? Use this heat map from the Metropolitan Police Department, which allows you to view detailed crime data.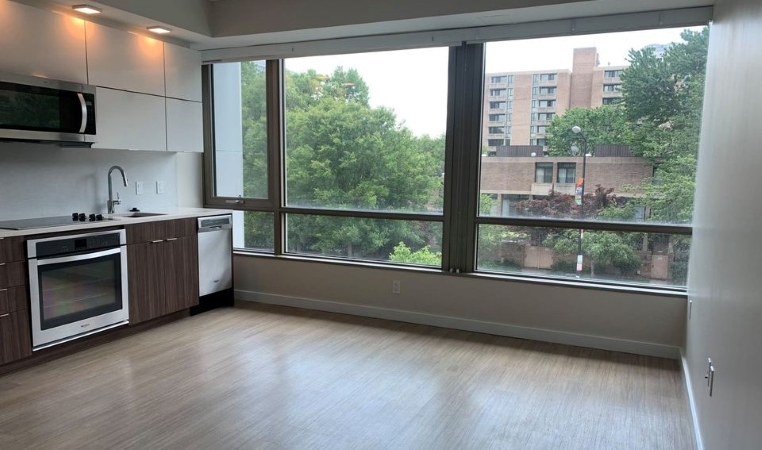 (Source: 301 M Apartments via Facebook)
7. What's the Best Way To Find an Apartment in D.C.?
Apartment hunting is a bit unusual in D.C., as new or relocated permanent residents often need to compete with often term-limited government staffers and lobbyists for rental spaces, driving up both demand and price. National sites like ApartmentGuide, Rent.com, and Zillow have ample detailed listings, and Craigslist continues to be very popular. But because of the nature of D.C.'s transiency, be prepared to move fast if there's a listing you like — especially during presidential election cycles.

Rental agents exist in D.C., but they're not as integral a part of the apartment hunting process as they are in places like New York City. Still, if you're relocating to D.C. from a long distance, a no-fee rental agency like Padfinders can be especially helpful by providing personalized apartment-finding services based on your specific needs and budget. Padfinder agents, whose fees are paid by the landlords, can also streamline the process and save you time sorting through dozens of listings and trying to connect with leasing agents.

And if you don't mind paying a fee, an agency like City Chic Real Estate will help you find a rental apartment or home for a flat fee. Their service focuses on identifying properties based on your preferences and budget and then arranging tours of your top three choices. They will also help with completing rental applications and lease negotiations. Based on their reviews, their strengths are providing personalized service and finding rentals on a tight timetable.

A third option is to contact a property management firm that manages rentals for landlords. For example, Nomadic Real Estate lists a healthy inventory of available rentals online. Through their online application process, you can apply for multiple properties for a one-time application fee.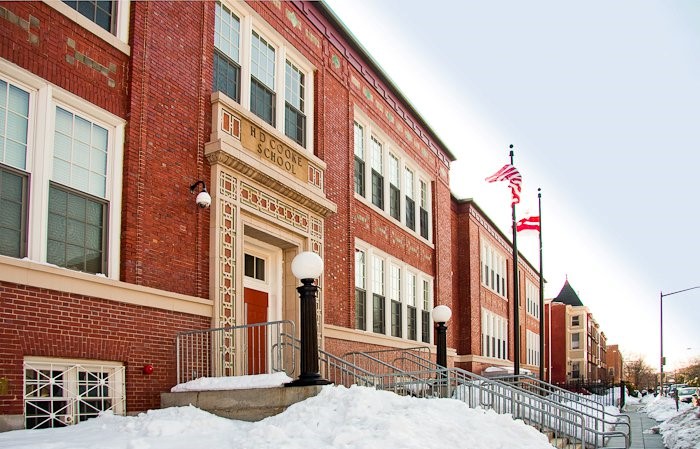 H.D. Cooke Elementary School in Washington, D.C.
(Source: DC Public Schools via Facebook)
8. Where Are the Best Schools?
As in many cities, schools in D.C. vary in excellence depending on where you are. Overall, public schools within the District rank as average in quality — and are improving. In fact, they may be better than you think. Private, parochial, and charter schools are also options. And once you get out to the suburbs, you'll find some of the highest-rated and most-respected public school districts in the nation.
Montgomery County, MD, Schools
Montgomery County is nationally known for having one of the best public school systems in the country. According to GreatSchools, 73 percent of the district's schools performed at or above the Maryland state average. Some of the larger schools within the Montgomery County Public Schools District, which offers 29 high schools, include:
Gaithersburg
Northwood
Walt Whitman
Montgomery Blair
Rockville
Paint Branch
Poolesville
Fairfax County, VA, Schools
With an enrollment of more than 180,000 students across nearly 200 schools, Fairfax County Public Schools is the largest school district in the D.C. area and ranked No. 6 in the state by Niche. With an 88 percent on-time graduation rate, the far-flung district's high schools include:
Chantilly
Fairfax
Springfield
McLean
Oakton
Langley
Marshall
Washington, D.C., Schools
The District of Columbia Public Schools District has struggled for decades, with 43 percent still rated below average by GreatSchools. Despite that gloomy stat, many schools in the district have earned a rating of 9, including Jackson-Reed High School and Benjamin Banneker High School.

While D.C. Public Schools educates more than 50,000 students in its 117 schools, it's far from the only game in town. D.C. Public Charter Schools runs 136 public charter schools with an enrollment of more than 46,000. There are also many excellent private schools in D.C., but tuition could put a dent in your college savings plan.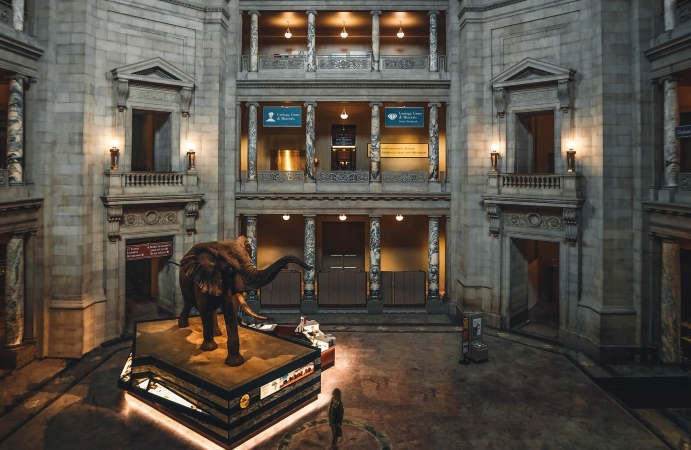 Smithsonian National Museum of Natural History
(Source: Roberto Nickson via Unsplash)
9. What's There To Do in D.C.?
Looking for culture, cuisine, arts, museums, nightlife, outdoor activities, and political activism? You've come to the right city.
Museums and Galleries
From The White House to The Washington Monument to the Smithsonian museums, there's a sense of history and discovery around nearly every corner in the District. Every American knows D.C.'s most famous attractions, but there's a lot more to see than tourist hotspots like The Jefferson Memorial and Arlington National Cemetery, including: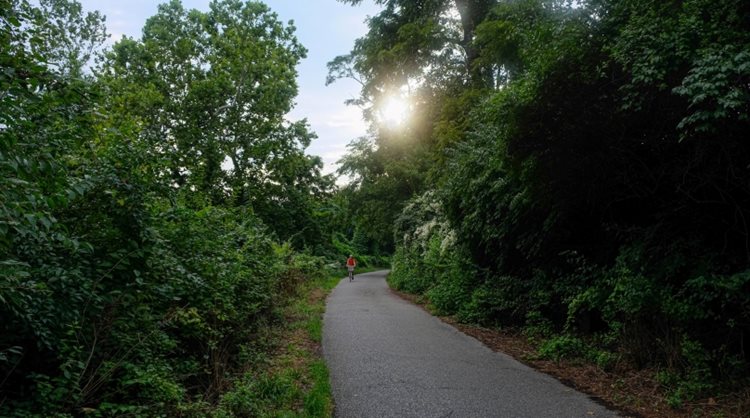 The Capital Crescent Trail
(Source: Sara Cottle via Unsplash)
Parks and Greenspace in and Around D.C.
Nearly everyone living in Washington, D.C., is within a 10-minute walk of a park. Greenspace and parkland make up about 20 percent of Washington's total area, helping it rank as the best big city park system in America in 2022. The city is graced by National Park Service spaces like the National Zoological Park, National Arboretum, National Mall, and 9-mile Rock Creek Park. But there are many other beautiful parks around the DMV, including:
Dumbarton Oaks Park, Georgetown
Meridian Hill/Malcolm X Park, Columbia Heights
Lincoln Park, Capitol Hill
Kenilworth Park and Aquatic Gardens
Anacostia Riverwalk Trail, SE Washington
Constitution Gardens, National Mall
Fountainhead Regional Park, Virginia
Mason Neck State Park, Virginia
Wheaton Regional Park, Maryland
Watkins Regional Park, Maryland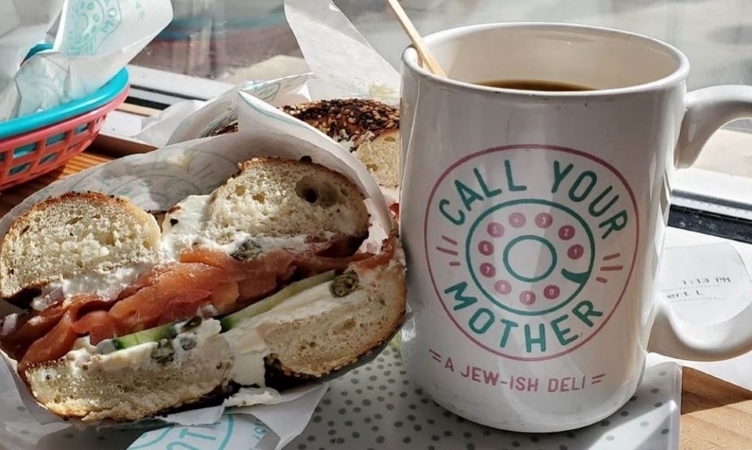 Breakfast at Call Your Mother Deli
(Source: Call Your Mother Deli via Facebook)
Restaurants and Eateries
As a world-class city, you'd expect the dining scene in D.C. to be top-notch, and you would be correct. A city of diplomats and dignitaries, senators and socialites, Washington has a slew of five-star restaurants. And like any metropolitan city, D.C. has a food personality all its own, with regional dishes from Maryland crabs and jumbo slices to pupusas and mumbo sauce. With nearly 14 percent of the population foreign-born, D.C. is also home to cuisines from around the world. Here are some of the top dining destinations:
Ben's Chili Bowl for half-smokes
Henry's Soul Café for mumbo sauce
Pizza Mart for jumbo slices
Takoma Beverage Company for coffee
Florida Avenue Grill for soul food
The Dabney for unpretentious farm-to-table
Call Your Mother Deli for bagels and deli sandwiches
Capitol City Brewing for the first brew pub to open in D.C. since prohibition
Thip Khao for spicy Laotian Dishes
Fiola Mare for sophisticated Italian seafood on the riverfront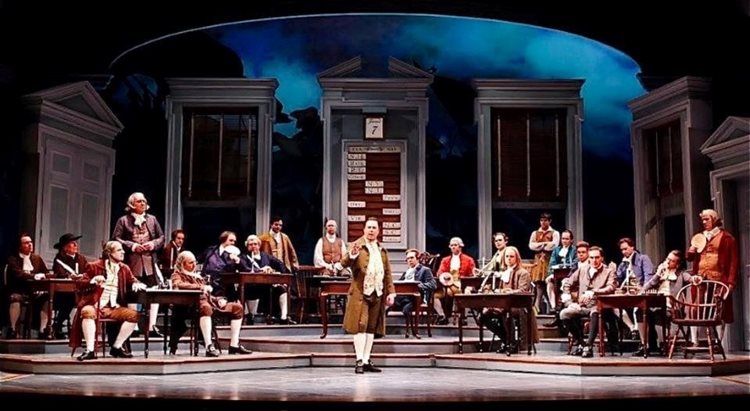 A live performance at Ford's Theatre
(Source: @wapavatheater via Instagram)
Live Music and Theater
There's a wealth of nightlife options in D.C., from high-class entertainment at the Kennedy Center or the National Symphony Orchestra to music venues along U Street to amphitheaters in the suburbs. National touring bands always hit up the District, and local stages are full of talent, too. Some include:
Fillmore Silver Spring, Maryland
Jammin' Java, Virginia
Wolf Trap, Virginia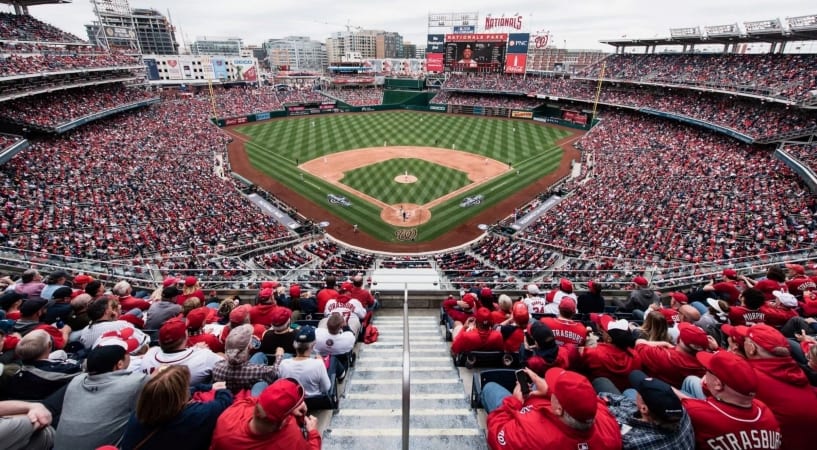 Nationals Park in Washington, D.C.
(Source: Washington Nationals via Facebook)
Professional and College Sports
Living in Washington, D.C., means you've got sports covered, too, with teams in all six major pro sports and seven Division I NCAA basketball and one college football program. The teams are responsible for three Super Bowl titles, four Major League Soccer cups, and one championship each in hockey, men's and women's basketball, baseball, and college football.
Nationals (MLB), Nationals Park
Capitals (NHL), Capital One Arena
Wizards (NBA), Capital One Arena
Commanders (NFL), FedExField (Landover, Maryland)
DC United (MLS), Audi Field
Mystics (WNBA), Entertainment and Sports Arena
Georgetown University basketball, Capital One Arena
University of Maryland athletics, SECU Stadium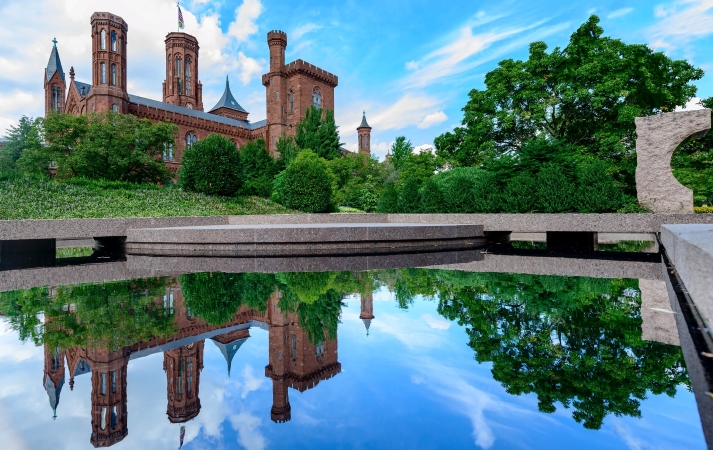 The Smithsonian Institution
(Source: Stephen Walker via Unsplash)
10. Where's the Free Stuff To Do in Washington, D.C.?
D.C. may be an expensive town, but the good news is there's also a slew of great things to do and places to see around the District for free — by yourself, with your partner, or as a family. Here are just a few to consider:
A dozen-plus museums on the National Mall
20 Smithsonian institutions
The White House and U.S. Capitol
Smithsonian's National Zoo
Ford's Theatre
Frederick Douglass House
Library of Congress
Picnicking or Sunday drum circles at Malcolm X Park (Also known as Meridian Hill Park)
Check out the cherry blossoms at the Tidal Basin
Fort Reno summer concerts
The C&O Canal Trail
The 150-year-old Eastern Market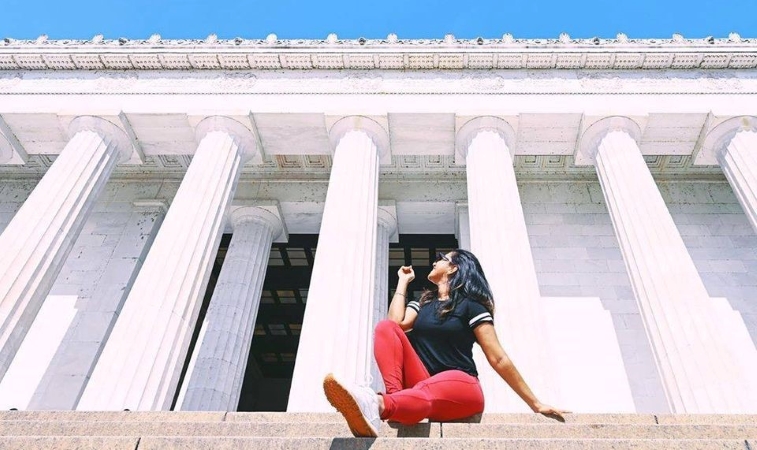 The Lincoln Memorial
(Source: Visit Washington DC via Facebook)
Welcome to Living in Washington, D.C.
There are always people moving to D.C., so you won't stand out as a newcomer. Despite your newcomer status, though, these tips should help you quickly get acquainted with this special place in America. Soon enough, you'll be the local helping tourists find the White House.

For more tips on moving to and living in a new city, visit the PODS Blog.

Michael Hochman is currently working as a lifestyle and travel writer for Apartment Guide and rent.com.

Editor's note: For ease of reading, monthly rental prices, along with average salaries, were rounded to the nearest $25. Home values were rounded to the nearest $100, while populations were rounded to the nearest 100.
Get a Quote
Choose the service you need
Comments
Leave a Comment
Your email address will not be published. Required fields are marked *