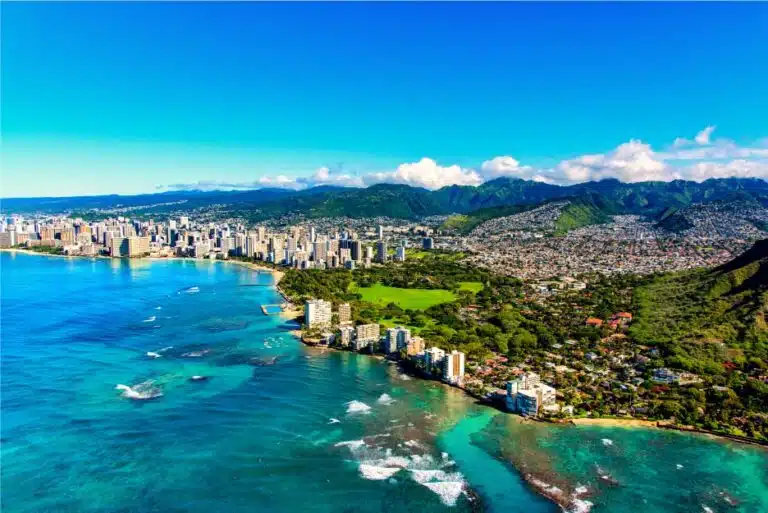 Moving to Hawaii: The Top 8 Things You Need to Know Before You Go
Considering moving to Hawaii? Trust us, we get it. It's hard not to fall head over heels for the beautiful Pacific archipelago after stepping foot on any of the islands or even just seeing pictures.
Imagine yourself bathing in the island sun, letting the sound of crashing waves on white sand beaches wash over you while you drift into a dream.
Bliss.
But before you take the leap, there are some important things you should take into account. Considering the substantial cost and effort associated with moving more than 2,000 miles off the mainland, it's wise to know more about the Hawaiian islands and exactly what you're getting into.
So is moving to Hawaii a good idea? Of course! However, in order to gain a little firsthand insight on the matter, we spoke to PODS' resident Hawaii expert, Holly M., about what people should know before trading mainland life for life in an island paradise. Holly's tips come from her perspective of both growing up in Hawaii as a child and then moving back to Honolulu as an adult.
From higher expenses to animal quarantine requirements to island fever, here are eight things you should know before packing up and making the move to Hawaii.
1. Living in Hawaii and vacationing in Hawaii are two different experiences
It's hard not to get drawn into the promise of a life in paradise when you visit Hawaii. Who wouldn't be tempted to make the islands' sunny weather, natural beauty, friendly culture, and live-your-best-life vibes something a little more permanent?
However, Holly says one of her top tips for potential new residents is to realize that "visiting Hawaii for vacation is different than living there," and she urges everyone considering a move to Hawaii to spend more time on the islands outside of vacation mode to really get a feel of what daily life would be like.
"When you're on vacation, you're really happy to be there. Everything is experienced in a really positive way, and everything is just great," she says. "Everything is expensive [and you're okay with it when you're on vacation] — but when you live there, you're still going to want to go to restaurants, you're still going to want to do things, and you're still going to want to buy things, so that expense is ongoing. Maybe you can take a two-week hit [during vacation], but two years versus two weeks is a lot longer [to be paying for that]."
In other words, don't romanticize your possible life in Hawaii without taking reality into consideration, too. Surfing, poke bowls, waterfall hikes, and barbeques on the beach can certainly be a part of your new life on the islands. But just like back on the mainland, you'll have to work, manage a budget, and take care of daily responsibilities.
2. The cost of living in Hawaii is among the highest in the U.S.
As you've probably picked up thus far, living in Hawaii isn't cheap. According to a report by QuickenLoans, Honolulu, Hawaii, came in second on the list of U.S. cities with the highest costs of living, only behind Manhattan, New York (and beating out Brooklyn, Los Angeles, and San Francisco).
Two major reasons Hawaii is so expensive is that there is only so much space on the small islands, and nearly everything in Hawaii is imported. Combine this with a dreamy lifestyle and high demand, and you get some of the most expensive costs of living in the country. Prices for everyday items such as groceries, gas, utilities, and household goods can be eye-poppingly high — well over 50% above the national average.
As for housing, it's a sellers market on the islands. There is only so much Hawaii real estate to go around — so expect to get less space for more money, whether you're buying or renting. People moving to Hawaii should also be prepared to pay up to about 4.5% sales tax in several larger cities such as Honolulu and a personal state income tax up to 11% statewide.
According to the U.S. Census Bureau's 2021 estimates, the median annual household income in Honolulu is about $93,000, while the per capita annual income is only $40,000. To live comfortably, however, DwellHawaii.com recommends an annual income of $200,000+.
Keeping in mind that the cost of living in Hawaii is steep, Holly notes that many jobs on the island are in the service sectors like hospitality, retail, and construction. As of March 2023, the minimum wage in Hawaii is $12.00 per hour (or $11.00 per hour tipped wage). Working in Hawaii full-time in a non-tipped minimum wage job will only provide you about $25,000 per year.
So can you move to Hawaii without a job? Short answer: Yes — but if you don't already have a job set up before you move (or a hefty savings or retirement account), it can be difficult to find one with a wage that will allow you to enjoy the islands to the fullest.
Insider Tip: Many businesses do offer sizable discounts for locals with valid Hawaii state IDs, which is a plus as far as finances are concerned. Get your license updated ASAP!
3. Downsizing before moving can save you money
Making the move from a four-bedroom home in Connecticut, Holly and her husband already knew they'd need to downsize, as properties in Hawaii are much smaller and more expensive.
Before moving, Holly's friends told her it's less expensive to buy household items like kitchenware and small furniture items in Hawaii than to move it from the mainland. Holly recommends taking this into consideration while downsizing. "It's best to downsize, and it might be cheaper to buy things in Hawaii than to ship," she says.
"The way that I looked at it was that if we had no familial or emotional attachment to something, it was something we could get anywhere, and there was nothing unique about it, we got rid of it."
It's also worth considering how long you plan to stay on the island once you move. The longer you're there, the more mileage you'll get out of anything you purchase new.
Holly told us that she and her husband invested in a nice new couch and Murphy bed when they moved to Hawaii, and to offset the cost, they ended up bringing them along when they moved back to the mainland.
4. Moving to Hawaii with pets needs extra consideration
One of the most unexpected things Holly says she encountered during her 2018 move to Hawaii was managing the logistics of moving her dogs with her. As an island state, Hawaii has strict laws on what can and can't be brought onto the islands, including certain agricultural products, organic materials, and animals.
"There's no rabies on the island," Holly says. This means pet owners need to go through explicit and sometimes rigorous steps to get their furry family members on the island. For Holly and her husband, this meant a four-month pre-arrival quarantine at their home in Connecticut, plus rabies testing and proof of rabies vaccinations.
The biggest juggle for all of this is timing it right with your flights, as health certificates must be given and are only valid for up to seven days before arrival. Plus, airlines do not allow animals to fly in temperatures over or below a certain range, since the animal holding area is not temperature-controlled.
On top of all this, Holly notes rentals in Hawaii usually have strict pet policies, often limiting the number of dogs or cats you can have in your apartment, specifying weight limits of animals, or hiking up the deposit or rent — if they even allow pets at all. This is something to keep an eye out for when searching for potential new homes and figuring out your budget. The options that tick all your boxes may be fewer than you originally expected.
"I knew it would be work," Holly admits about the whole process, "but I just didn't know how much coordination it would require. It was all worth it, though. My dogs loved hiking in Hawaii."
5. Be aware of island fever
Even paradise has its limits. Moving to Hawaii means moving far, far away from friends and family and other states on the mainland. Quick vacation getaways and weekend catch-ups will become few and far between.
Holly estimates that "island fever" and a feeling of "long distance" start setting in after the novelty of living in Hawaii wears off, roughly after a year of being on the islands.
The time difference between Hawaii and the mainland can be significant, depending on location specifics, making it difficult to even keep in touch with friends and family. Holly says that when you move, you think you'll have friends and family visiting all the time, but they end up visiting less frequently because of the cost and distance.
The distance and time difference also make quick trips to the mainland challenging. Los Angeles alone is over a five-hour flight from Honolulu, and heading to the east coast can take a full day of traveling. Holly says she used a lot of her vacation days to visit family and friends on the mainland instead of traveling for leisure. However, living in Hawaii you don't need a lot of leisure travel when you have beautiful sunrises, sunsets, and beach activities to enjoy.
6. Hawaiian culture differs from the mainland in many ways
Although Hawaii is part of the U.S., its remote position in the Pacific Ocean has allowed the islands to keep more of their original culture compared to other U.S. states.
Hawaiian culture is extensive, and we can't do the aloha spirit justice in a single article section, but anyone thinking of moving to Hawaii should thrive in a slower-paced, laid-back, and community-driven culture where the people respect the natural world and each other.
Many find the islands' value of a work-life balance to be just what the doctor ordered. Here, balance doesn't mean time to hit that morning spin class or taking comp days; it means time to connect with friends, family, and the surrounding nature found on the Hawaiian islands.
With all the talk around the friendly culture, it is also worth noting that locals aren't always immediately accepting of outsiders (aka malihini). However, in time, you may become ohana (or family, which includes friends).
7. The cost of moving to Hawaii is expensive and takes time — but is so worth it
We've already talked about how life on the Hawaiian islands is expensive, but truthfully the expenses start to build long before you step foot in your new home in Hawaii. At this point, you may be asking, How much money do I need to move to Hawaii?
The cost of moving to Hawaii is more expensive than moving within the contiguous 48 states, mainly because you've got to pay to move your things more than 2,000 miles across the Pacific Ocean in addition to any mileage on the mainland. Holly says her move, in total, cost around $20,000 back in 2018, which included moving expenses, airfare, rental cars, and buying new household goods. Costs have changed since then, just as the cost of living has changed over the years, and you can likely expect to pay more. Of course, it all depends on what you are moving, where you are moving to and from, and how fast you'll want to receive your things.
The distance required to move to Hawaii means that larger items most likely need to be shipped via boat in a shipping container. Other smaller items can be shipped via the mail or in small shipments via plane. Though in all cases, you should be aware that the amount of time you can expect your items to get to you will vary, so you'll need to have backup plans if necessary.
For example, Holly and her husband chose to have their car shipped from the mainland (as most people do) and it took several weeks. As they waited for their car to arrive, they either rented a car or used an Uber to get around the island.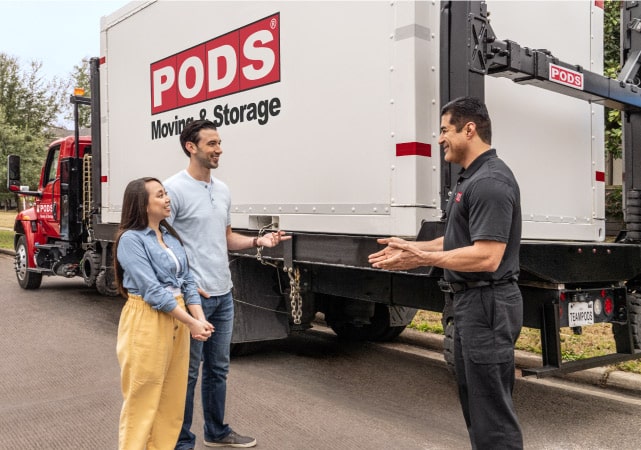 8. PODS can help with your move to Hawaii
PODS offers local and long-distance moving options, whether you're moving to Hawaii from the mainland or from one of the other Hawaiian islands. PODS offers two options for Hawaii moves: door-to-door and door-to-port.
Door-to-door: This is PODS' standard service, and it's available if you are moving between Oahu and the mainland or within Oahu. A container is delivered to your current address in Oahu or the U.S. mainland. Simply load it with your things and PODS will pick it up and deliver it to your next home. You can unload your container at your leisure (you're on island time, after all) and PODS will pick it up when you're done.
Door-to-port: This service is available if you are moving from Oahu or the mainland to Kauai, The Big Island, Molokai, or Lanai. The service is also available for moves to and from Maui (using the port in Kahului), and Hilo on the Big Island.
If your Hawaii dream turns out to be not what you had in mind, PODS is offering up to 30% off moves from Hilo at the moment. Visit PODS.com/Hilo for more information.
This service is also available from moves to and from Hilo, Kahului, and the mainland. You can load and unload your container at a facility close to the ports and PODS will ship directly from those ports.
For this service, PODS will deliver a container to you at your Oahu or mainland home, where you will load it up. Then, PODS will pick it up and deliver it to the port on Kauai, The Big Island, Molokai, or Lanai. From the port, you will pick up your things and get them to your new home.
Insider Tip: Need storage at any point during your Hawaii move? PODS can hang on to your container at a secure PODS Storage Center on Oahu until you're ready for it .
After all this, you may be wondering, Is it crazy to move to Hawaii? Of course not! People do it every day. However, it is a move that requires a bit more thought, thanks to its extra moving parts and expense. But that's why we're here to help — a move with PODS will have you saying aloha in no time!
---
Alex Keight is a writer who has lived — and moved — all over the country and the world. She is an expert at packing, whether it's for a long-distance move or short weekend trip. When she's not writing or on the move, Alex spends her time giving her cat booty pats, cooking up dishes in the kitchen, and buying way more books than she knows she'll ever actually get to reading.
Get a Quote
Choose the service you need
Comments
Leave a Comment
Your email address will not be published. Required fields are marked *