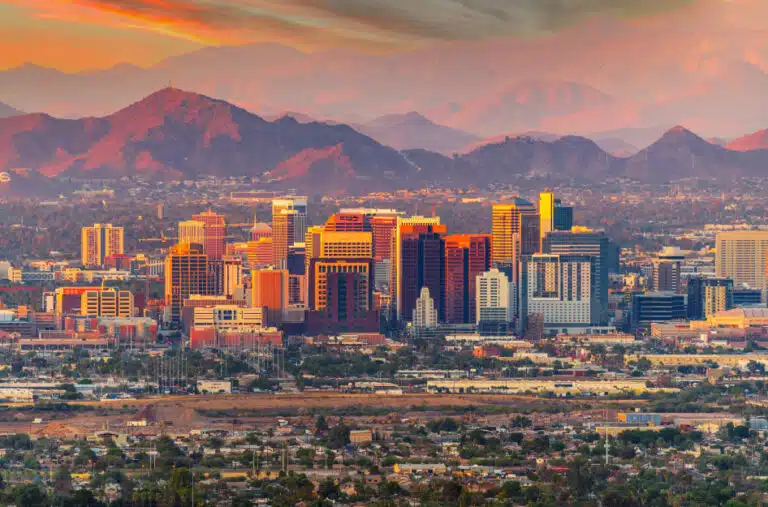 15 Things to Know About Living in Phoenix
Is the cost of living in Phoenix, Arizona, affordable? Is it a good place to live? Well, if you want to escape the high prices of California but still enjoy year-round sun, practically non-existent rain, and bountiful outdoor activities (hard sell, right?), Phoenix is the place for you.

Based on the most recent U.S. Census Bureau data, Phoenix grew by more than 13,000 residents between 2020 and 2021, putting it in the second place spot for the largest numeric-gaining city in the nation, falling just behind San Antonio, Texas.
Why is Phoenix so desirable? While this sprawling city may be stereotyped as a retirement paradise, it's actually so much more. Thanks to its warm weather, great job opportunities, growing population, and strong local economy, it's a popular spot for everyone — from young professionals to families to, yes, retirees.

Where are these newcomers living in Phoenix moving from? According to this article from AZ Big Media, most are coming from metro areas like Los Angeles, Chicago, and Seattle, as well as internationally from Asian countries.
If, like so many others, you're planning on moving to Phoenix — or simply want to learn more about what makes this sunny locale so special — we think there are 15 things you should know.
Before we dive into the details, though, take a virtual tour of Downtown Phoenix to get a sneak peek of what the city has to offer.
Phoenix at a Glance
Phoenix is located in the south-central portion of the state, about 120 miles north of the Mexican border. It's located between El Paso, Texas, and Los Angeles, California.
It's the only state capital with a population of more than one million residents, with over 1.6 million people.
It's the most populous state capital in the nation, the fifth most populous city in the U.S., and the most populous city in the state of Arizona.
The median age is 34.1 (lower than the national median of 38.9), and the median household income is $64,927, according to the U.S. Census Bureau.
1. The city has a hot nickname.
And we're being literal here. Phoenix is known as the "Valley of the Sun" because it sees more sunny days (around 300) than any other metropolitan city in the nation.
It rarely rains — accumulating an average of just eight inches per year — and, when it does rain, it happens only during a few large summer storms, called "monsoons." Phoenix is also sometimes referred to as the "Salt River Valley," or, to locals, typically just "the Valley."
2. Saying the weather in Phoenix is "warm" is an understatement.
If you can't stand the heat, get out of the desert. Phoenix weather is what draws many people to the area, but it can also be tough to get used to, especially during the summer months.
While the spring and winter seasons are lovely, with average highs in the 70s, it's not unusual for summer days to be more than 100°F. In fact, between May and September, there's an average of more than 100°F days, with temps in the 100–105°F range. The hottest temperature ever recorded was 122°F on June 26, 1990. Stock up on sunscreen and ditch the leather car seats. These summers are no joke.
Similarly, if you're looking for a white Christmas, this might not be the place for you. Snow is rare in Phoenix and accumulations of 0.1 inches or greater have been recorded fewer than ten times.
3. Haboobs are real — and Phoenix residents have to endure them.
No, we're not being silly or inappropriate. During the driest months of the year — usually between June and September — there can be dust storms called "haboobs."
Getting their name from the Arabic word for "blown," haboobs are giant walls of dust created from the high winds of a collapsing thunderstorm. They feature gusts of sand and dust and last around three hours. They can be large and dangerous, so be prepared if one's in the forecast.
4. There's a "Greater" Phoenix.
Geographically speaking, there's the city of Phoenix and Downtown Phoenix, then there are surrounding valleys. This is what makes up Greater Phoenix — the entire area measuring about the size of Delaware and comprising more than 20 cities and towns, including Scottsdale, Tempe, Mesa, and Glendale.
5. The cost of living in Phoenix is only slightly higher than the national average.
Compared to coastal metropolitan cities like San Francisco, San Diego, and New York City, the cost of living in Phoenix, Arizona, is much more affordable. According to RentCafe, the cost of living in Phoenix is two percent lower than the state average, but it is four percent higher than the national average (consider that San Francisco's cost of living, though, is 76 percent higher than the national average).
For those who live on a fixed income, like retirees, Phoenix is an ideal location because not only does it have a low cost of living, but property taxes are also lower than other large retirement destinations like Boca Raton or Orlando. There's also a notable tax savings for all Phoenix residents because of the city's hefty tourism income.
Q: How much money do you need to live comfortably in Phoenix?
A: For the metropolitan Phoenix area, MIT's Living Wage Calculator states that a family with two working parents and two children needs to make around $20 per hour (per adult) or a required annual income of more than $100,000 before taxes to have a living wage.
6. The Phoenix real estate market is relatively affordable, with a variety of housing options.
Phoenix's population growth has increased the demand for housing on both the purchase and rental sides. Zillow reports that the average home value has crossed the $415,000 mark, but it's still cheaper than a starter home in coastal California.
To add to the convenience, there's a variety of home styles in the area. While most are single-family residences, there are also condos and townhomes. The large retiree market means there is strong demand for one- and two-bedroom houses and condos, and those units are a fraction of the cost of a three-bedroom home.
If included amenities are your thing, check out the master-planned communities, which appear in much of the Southwest. These large-scale neighborhoods come with recreational and commercial features like golf courses, parks, swimming pools, playgrounds, and even restaurants and shopping centers.
7. Renters can find something in their price range, too.
According to data from RentCafe, these are the most affordable neighborhoods for rentals, with average rents right around $1,550 per month.
Estrella Village ($1,150 per month)
Alhambra ($1,300 per month)
Maryvale ($1,375 per month)
Other areas with lower-than-average rent prices include North Mountain Village, Deer Valley Village, and Paradise Valley Village.
On the higher end of the scale are the Downtown Phoenix, Desert View, and Amber Hills neighborhoods. There, average rent ranges from $1,800 to over $2,000 per month.
8. The best places to live include Downtown Scottsdale, Paradise Valley, and Arcadia.
What is the nicest area of Phoenix to live in? That answer depends on your preferences. Maybe you want to be in the heart of the city. Or perhaps you're craving a more suburban lifestyle. Our Phoenix Neighborhood Guide breaks down several options, but here are three standouts:
Downtown Scottsdale
Filled with luxury apartments, mixed-use buildings, corporate offices, and a thriving arts scene, this is a popular place for young professionals. Average home prices are around $783,000, according to Zillow, and average rent is around $2,050 per month, according to RentCafe.
Paradise Valley
Nicknamed the "Beverly Hills of Phoenix," this once-rural area now has million-dollar homes, golf courses, resorts, and spas. Sounds like paradise to us — and it should feel that way, too, with average home prices just above $3 million! There are some rental options, though, averaging slightly around $2,175 a month.
Arcadia
For those who like to balance work and play, Arcadia has not only picturesque, family-friendly neighborhoods but also vibrant dining and shopping options. While less than the average home price of Paradise Valley, Arcadia still has a steep average home price, which hovers around $860,000. Rent is a little more on par with the state average, though, coming in around $2,100 per month.
Other top places to live include:
Chandler
Glendale
North Tempe
Ahwatukee Foothills
Gilbert
Insider Tip: Snagged your perfect Phoenix home? Compare moving costs for rental trucks, full-service movers, and portable containers. To get a personalized moving quote on local moves, visit PODS.com, or call 877-350-7637 for long-distance moving.
9. When it comes to selecting a school, you'll need to do your research.
As you can imagine, in a city as large as Phoenix, there are several options for where your kids can go to school. Maricopa County has almost 1,000 schools in its districts, so consult a realtor or do some independent research to find the best option for your situation.
According to Niche, these are the top five districts in Maricopa County:
Chandler Unified School District No. 80
Scottsdale Unified School District
Gilbert Public Schools
Deer Valley Unified School District
Heritage Academy
If you're interested in a private education, high-rated schools include Phoenix Country Day School, Brophy College Preparatory High School, Rancho Solano Preparatory School, and Gary K. Herberger Young Scholars Academy.
And for higher education, Phoenix is home to Arizona State University, The University of Arizona College of Medicine, and Grand Canyon University.
10. Say goodbye to springing forward.
Can't stand setting your clocks ahead one hour for Daylight Saving Time? So do Arizonians. In fact, they disliked it so much that they did away with Daylight Saving Time entirely in 1968.
Why did they make this decision? According to this news article, it mostly has to do with the weather. Making the change to Daylight Saving Time means more sunlight — and more heat. Many Arizonians are against the switch to Daylight Saving Time because that means the sun would be out until around 9 p.m., making nighttime activities almost impossible.
Arizona is in Mountain Standard Time, and they stay in that zone all year long. So during Daylight Saving Time (March through November), Arizona has the same time as the Pacific Time Zone. Trust us, it's less confusing than it sounds.
11. Forget what you think you know about deserts.
Phoenix is located in the Sonoran Desert, a piece of land that covers approximately 100,000 square miles and includes most of the southern half of Arizona, Southeastern California, most of the Baja California peninsula, the Gulf of California, and a significant portion of Sonora, Mexico.
While you may think of a desert as a dry, beige, flat area of land with cacti and tumbleweeds, the Sonoran Desert offers a bit more — at least in the springtime. It gets more rainfall than other deserts, creating a beautiful green landscape and abundant patches of wildflowers. Of course, if you want to see a cactus, you're in the right place. The Sonoran has plenty of those, too. It is still a desert, after all.
12. You'll need a car to get around, but driving is a breeze.
While walking in Phoenix is a nice activity, it can't be your sole method of transportation. But thanks to a well-planned grid road system and High-Occupancy Vehicle (HOV) lanes that alleviate congestion, driving isn't a total headache. If you're looking for a more environmentally friendly option, try the affordable light rail transportation system or metro bus service.
If you want some exercise as you travel and you live in or near Downtown Phoenix, the Bicycle Boulevard is a 4.6-mile stretch of bike lane that cyclists use to safely commute throughout the area.
For longer commutes (say, to another state), two commercial airports are in the Phoenix area: Phoenix Sky Harbor Airport and Phoenix-Mesa Gateway Airport.
13. There's something "fore" all outdoor lovers.
Phoenix is a golfer's dream. With more than 200 courses and home to the Waste Management Phoenix Open, the largest annual PGA event, there's no shortage of ways to hit the links or watch the pros in action.
And for those who like to be closer to nature, Phoenix has more than 180 city parks and more than 33,000 acres of desert preserves. There are several hiking trails in the Phoenix Mountains Preserve, or you can kayak on Tempe Town Lake. To see wildlife in its natural habitat, check out the Desert Botanical Garden.
Q: What are the pros and cons of living in Phoenix, Arizona?
A: Phoenix is a stunningly beautiful place to live, filled with tons of outdoor activity spaces. There's also a somewhat affordable cost of living in Phoenix, if you're comparing it to other major metropolitan areas. Plus, if you loathe cold temps, you'll love that it rarely gets below 60 degrees. However, it's blazing hot in the summer, averaging over 100 degrees in June, July, and August. Also, when compared to other metro cities like New York or Chicago, Phoenix is much less walkable and doesn't have strong public transportation.
14. Sports fans have their bases covered.
No matter your favorite sport, Phoenix has you covered. It's home to the following franchises:
Arizona Coyotes (NHL)
Arizona Diamondbacks (MLB)
Phoenix Suns (NBA)
Arizona Cardinals (NFL)
Phoenix Mercury (WNBA)
Fun Fact: Only 13 other U.S. cities have the same professional sport representation.
Downtown's PHX Arena (formerly the Talking Stick Resort Arena) is home to the Mercury, the Indoor Football League's Arizona Rattlers, and the United Soccer League's Phoenix Rising FC.
15. There's never a dull moment in Phoenix.
All work and no play has no place in Phoenix. Sure, there are vast employment opportunities, thanks to a growing tech scene and tourism industry, but there's something to be said about balancing your professional pursuits with some much-deserved down time. And here are some great places to do it:
For family-friendly fun
For the thrill-seekers
For art and theater aficionados
For foodies
We could go on and on about what makes this city shine, but we think it's time to check it out for yourself. If you're planning a move to the Greater Phoenix Area, we can help. Whether you're relocating from a nearby city or across the nation, we've thought of it all, with moving and storage options that are customized for your situation.
Editor's note: For ease of reading, monthly rental prices were rounded to the nearest $25 and home values were rounded to the nearest $100.
---
LB Gabriel is a freelance writer and frequent PODS Blog contributor. When she's not on a deadline, you can find her on a tennis court or golf course.
Get a Quote
Choose the service you need
Comments
Leave a Comment
Your email address will not be published. Required fields are marked *