Phoenix is an incredible area to move to — known for its beautiful mountains, desert gardens, thriving economy, and so much more. If you're thinking about moving there, you're certainly not the only one. In fact, Phoenix is the 10th most-moved-to city in the United States, according to recent PODS moving data.
Ready to see how to make your dream a reality? Here's your ultimate guide to long-distance moving to Phoenix, Arizona.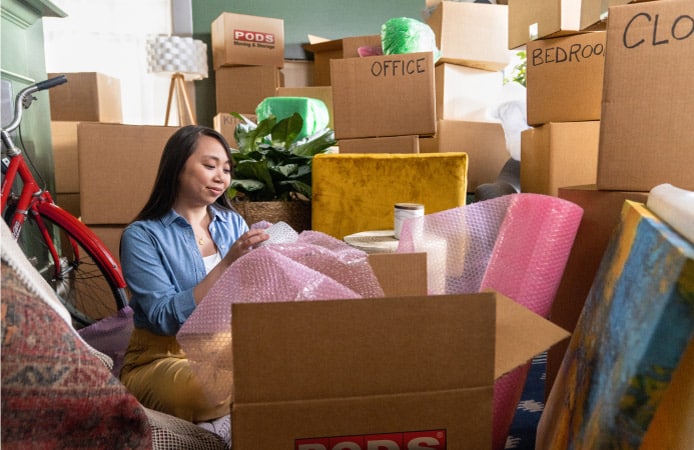 Essential Tips For Moving Long Distance to Phoenix
Moving a long distance can be a hassle, even intimidating in the worst case. Make sure to consider these essential tips and steps before embarking on your adventure to The Valley of the Sun.
Take the Time Out to Pack Up All of Your Belongings, Thoroughly
One of the most time-consuming things when it comes to moving is packing up all of your belongings. Take the time to properly place everything in boxes sorted by rooms. That includes wrapping up the fragile items and securely taping every box up to be put in a container or on a moving truck.
When it comes to loading your things into your container or on your truck, use every inch of space available to you and tie things down tightly. Your stuff is going a long way, and it will shift during transit. But with it properly loaded, you'll save your stuff — and your sanity — when you get where you're going.
Donate or Sell What You Don't Need
There's no sense in moving things you don't need across the country. Especially if it means costing you more in the long run, right? Donating to homeless shelters, women's shelters, and other charities can be the perfect solution for your extra stuff. You'll help give back to the community and help those in need, too. 
The key to deciding what stays and what goes? Be judicious. Our friend Marie Kondo can help here: Just ask yourself if each item sparks joy. If the answer is "no," into the donation or sell pile it goes.
Get Some Moving Help
While a local move might be pretty straightforward (at least on its face) — load and unload everything on the same day — a long-distance move to Phoenix is much more complex. You're operating on some tight deadlines with job start dates and home closings, and you don't know the roads as well as you do at home, let alone the interstates you need to take to get to Phoenix. Add in allllll the other complexities of moving on top of that, and you'll realize pretty quickly that a helping hand would be huge.
The first thing to consider is if you're willing to drive your stuff all the way across the country. Some people really love the open road and have no problem driving for hours, maybe even days, on end. But if you're anything like us, you'd rather spend that time in Phoenix getting to know the lay of land. If that sounds like you, consider moving with a PODS container or hiring a full-service, cross-country mover instead.
Moving long-distance to Phoenix with PODS gives you the flexibility and control you need to move on your own terms. You choose the dates, and storage is built-in to every move (just keep what needs storing in the container!) should you need more time loading or unloading. Plus, PODS does all the driving.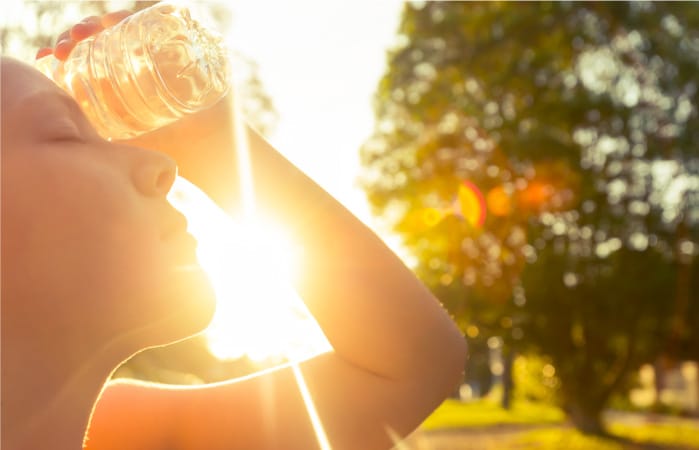 Be Prepared for Things to Get Hot
When you think of Arizona, the first thing that comes to mind is the desert, right? Although strikingly beautiful, the arid climate means that temperatures skyrocket during the day year-round. If you're moving long-distance to Phoenix, Arizona — especially if you're coming from a place with a cooler climate — you need to be ready to beat the heat. Keep lots of water handy and take regular breaks in the shade. This will help prevent you and your family from over-exerting yourselves, as well as keeping your tempers in check. Too much heat is a one-way ticket to an irritable, bicker-filled day.
Don't Forget to Do the Little Things, Too!
Obviously, there's a lot on your mind as you get ready to move to PHX. It's easy to let the little (but still important) things slip because of that.
So while you get ready for your move, be sure to:
Turn off your utilities (electricity, water, cable, internet) at your current home and turn them on at your next
Update your address with the USPSⓇ and set up mail forwarding
Cancel any local club memberships
Check all the nooks and crannies around your home for small valuables like jewelry, personal effects, and important documents like your social security card
Turn in your keys to either your home's new owner or your landlord/leasing office if you're renting
If you need a more comprehensive list, the PODS Blog has you covered.
Get to Know Your New Neighborhoods and Suburbs in Phoenix, Arizona
Have you pinned down exactly where you want to plant your roots in The Valley? Maybe you have a pretty good idea, but you'd still like to hear about nearby areas before signing on the dotted line? Regardless, before you make your long-distance move to Phoenix, you want to be as confident as possible that your new neighborhood is a good fit. The good news? Whether you're the artsy type, need a family-friendly atmosphere, or are looking to stay close to the action, Phoenix has a home for you.
One of the keys about Phoenix is that while the metro center proper has plenty of places to choose from, most of its 1.5 million+ population is spread across a vast array of suburbs. So when someone says they're from Phoenix, they may actually be from Glendale, Tempe, Mesa, or Scottsdale (cities in their own right!).
With all that said, here are our choice favorites for the top neighborhoods and suburbs in Phoenix, Arizona.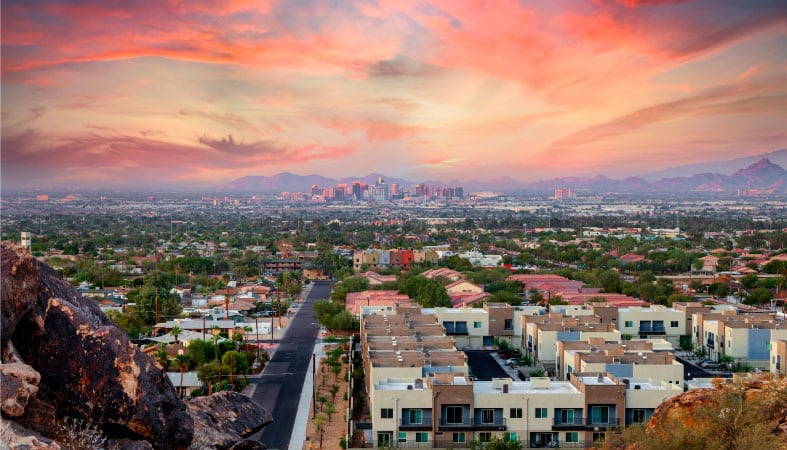 Phoenix Neighborhoods
North Central Phoenix
If you're looking for a place that holds some historic charm, you should consider North Central Phoenix for so many reasons. They have some of the best family-friendly neighborhoods in the area and some of the most highly regarded Catholic schools, if you're looking to move your family here. You can also check out the famous "Bridal Path" for recreation and exercise!
Paradise Valley
Do you want to live somewhere that is full of nature and beauty? Then you should definitely consider Paradise Valley! It has a little bit of everything when it comes to nature, since it's surrounded by the Mummy Mountains, Camelback Mountains, and the Piestewa Peak.
Verrado
Verrado is tucked inside the White Tank Mountains, and anyone who lives there has access to over 66 parks to venture around in, exercise in, and so much more. There are also a lot of retail and dining options, so there is a lot to do to keep you occupied!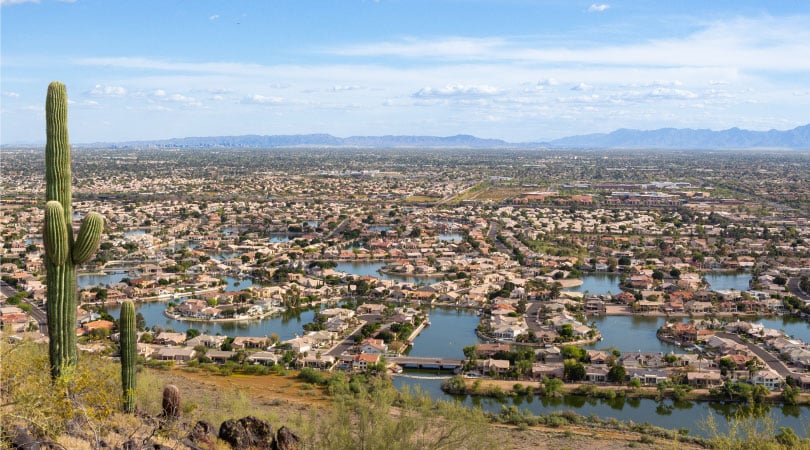 Phoenix Suburbs
Glendale
Arizona's fourth largest city is known for the state's best antiquing shopping districts, Cardinals, and so much more. They have two (soon to be one) major sports stadiums, a botanical garden, desert preserves, and some of the best shopping districts and restaurants the area can offer.
Tempe
Home to Arizona State University and the Sun Devils, Tempe has a distinct college-town vibe with plenty to keep you around after the tailgate is over. Tempe also has a buzzing downtown area, with dining and entertainment options aplenty. Grab a table at Perfect Pear Bistro for a seasonal twist on classic comfort foods, then walk a few blocks Northeast to the Low Key Piano Bar for drinks and hot dueling pianos. Once you're back home, the party doesn't stop. Give Insomnia Cookies a call and have dessert brought right to your door.
And a fun bonus in the coming years… The NHL's Arizona Coyotes are moving their home games from Glendale to Tempe with a gleaming 300,000-square-foot complex that will include dining, shopping, and, of course, a beautiful new hockey arena.
Mesa
If you need a spot where it's easy to get out in the bush, look no further. Mesa is surrounded by beautiful desert landscapes; if the mountains are calling (and you must go), Usery Mountain lies waiting. And if you need to beat the Southwest heat with a day by, or in, the water, Mesa has two spots for you: Saguaro Lake and Salt River. Whitewater rafting and crab legs as far as the eye can see!
Scottsdale
Live where others vacation. Scottsdale is the vacation destination for people the globe over who are looking to see the Grand Canyon, but the town itself is a wonderful place to call home. Golf, luxury resorts, spas, and galleries dot the landscape here, giving residents a year-round leisure hub.
And any mention of Scottsdale would be amiss if it didn't note the Apex Balloons. Daily hot-air balloon rides at sunrise and sunset above the city give residents a life that will leave them on cloud nine.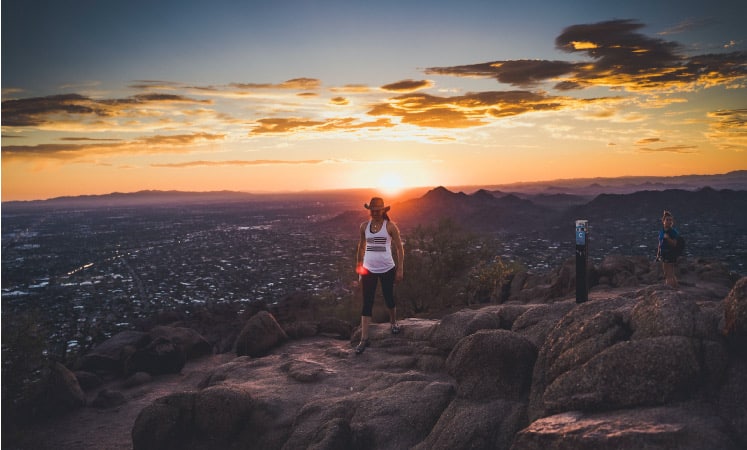 Remember Why You're Moving to Phoenix
When the going gets tough, the tough get going, right? So if you start to feel overwhelmed with the big move, remind yourself of these amazing attributes you'll be experiencing every day — very soon!
It's Known for Career Opportunities
Phoenix, Arizona, is a booming economic center. Entrepreneurship is very common here, and the city is known for its business innovation and startups with small businesses. If you're looking for a new career opportunity, this is the place to go!
If you're not looking for a complete professional reset, PHX has thriving aerospace, electronics, and semiconductor manufacturing industries, in addition to Fortune 500 companies like Magellan Health and Freeport-McMoRan. Business services, tourism, service, and back-office operations jobs thrive here, too.
Phoenix is Overflowing with Recreation
If you are an avid golfer, or even just want to go to a driving range for something fun to do on the weekends, you need to check out the golf courses in Phoenix. With so many incredible courses to check out, you will quickly develop a love for golf.
If hitting the back nine isn't your thing, you'll find there's an embarrassment of riches of other things to do in the area. Regional and recreational parks abound in Maricopa County, including beautiful Lake Pleasant, San Tan Mountain, and White Tank Mountain. And if you're looking to beat the heat, you need to check out the plentiful water parks in the city. Especially handy in the scorching summer!
After nightfall, Downtown Phoenix turns into a thumping entertainment hub. On the first Friday of every month, the Art Walk takes over downtown with offerings ranging from fine cuisine to music to the visual arts. And in between Art Walks, there's a thriving bar and club scene to turn any day of the week into a reason to celebrate.
You'll Never Spring Forward Again
No more losing an hour of sleep! Arizona ditched the Daylight Saving Time system in 1968 and hasn't looked back since. A huge benefit to those of us that can do without the surprise of finding out you're losing an hour the weekend before it happens.
Moving Long-Distance to Phoenix
Ready to take that next step in your long-distance move to Phoenix? Then it's time to trust an experienced partner like PODS to help you make it happen. Once you're ready to get the wheels rolling, give us a call for a free quote and a detailed plan to get you and your stuff on your way!
Get a Quote
Choose the service you need
Related Articles
16 Pros and Cons of Living in Sierra Vista, AZ: From Idyllic Mountain Views to a Tough Housing Market
Read more
Comments
Leave a Comment
Your email address will not be published. Required fields are marked *