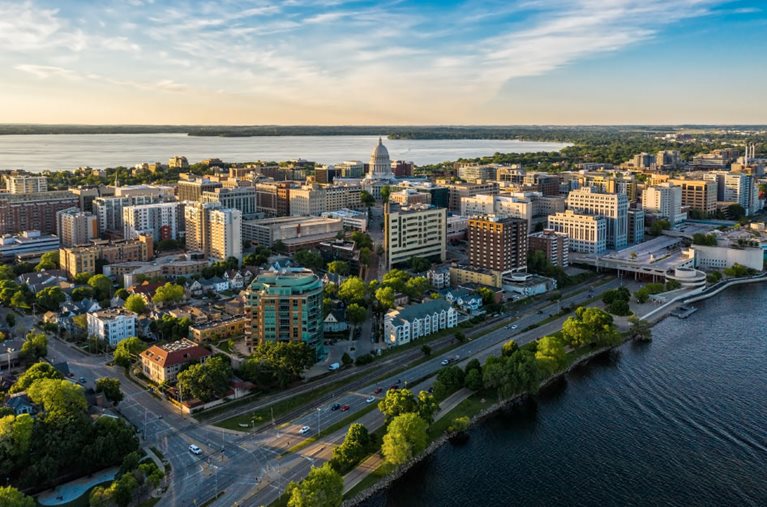 9 Things You Should Know About Living in Madison, Wisconsin
If you're looking for a smaller city with plenty of culture, a delectable dining scene, and easy outdoor access, living in Madison, Wisconsin, might be the perfect choice. Along with being a great place to settle down and start a family, it's the place to be if you're seeking a change in your career. It's one of the top cities for jobs, with an unemployment rate of just 2.8 percent. You'll also have easy access to larger cities like Milwaukee, Chicago, and Minneapolis.

There's more to moving than attractions and new jobs, though. Luckily, our guide is here to take you through all the basics about living in Madison.

Q: Why should I move to Madison, Wisconsin?
A: Madison provides easy access to the University of Wisconsin-Madison and is considered one of the best college towns in the U.S. as a result. Job opportunities are another large factor drawing so many people to make the move to Madison.
Q: Is Madison, Wisconsin, a good place to live?
A: Yes! Whether you're growing your family or are looking for a new job, there's something for everyone to enjoy in Madison.

Q: Is it cheaper to live in Madison or Milwaukee?
A: It's cheaper to live in Milwaukee than Madison, but the job opportunities in the Madison area typically make up for this
Living in Madison, Wisconsin, at a Glance:
Located in the center of Dane County, Madison is about 80 miles west of the city of Milwaukee and 150 miles northwest of Chicago.
Madison is roughly 80 square miles in size
Madison has a population of almost 273,000
The median age in Madison is 31.2 years old.
1. Cost of Living in Madison, WI
The good thing about living in Madison, Wisconsin, is that it offers a lot of big-city amenities at an affordable price. Compared to the nation's cost of living index of 100, Madison's comes in at 101.4. The state's average is even lower at 89.9. A livable salary before taxes for a family in Madison with two working adults and two children is around $114,800, while a single adult should make at least $36,400.
2. Madison Housing Market
The average home value in Madison is $377,000, while the average monthly rent for a one-bedroom apartment is $1,600. People can choose from a wide range of housing types that accommodate varying budgets, ranging from beachfront apartments to single-family houses in the suburbs.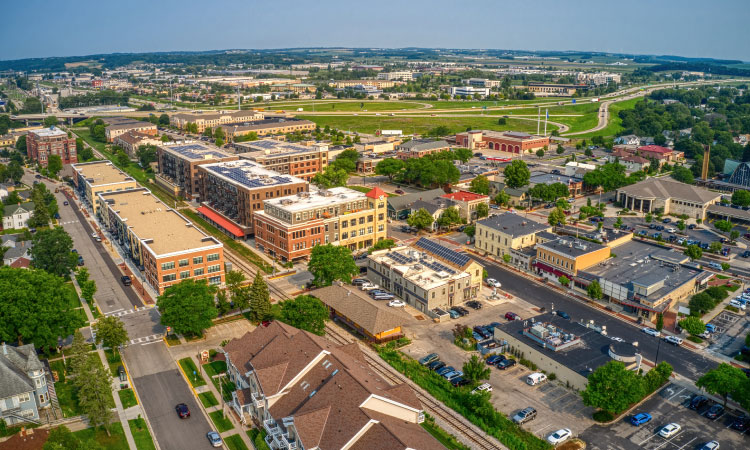 The Madison suburb of Middleton, WI
3. Best Places to Live in Madison, WI
Monona
The
suburb of Monona
is in Niche's top 10 list of "
The Best Suburbs to Live in the Madison Area
." It's known for its dining and entertainment scene, but residents also enjoy the nearby Lake Monona.
It's a great place for retirees due to the number of assisted living facilities, but residents can also participate in activities like hiking, biking, and kayaking on nearby Lake Monona.
Middleton
Middleton
is the #1 place to live on Niche's list for "
The Best Places to Live in the Madison Area
," and it's perfect for young professionals and families alike. With Lake Mendota nearby, it's easy for residents to get out on the water during the weekend. It's just as easy, however, to check out the neighborhood's many bars and restaurants throughout the week, as well.
Middleton has highly rated public schools, and most residents rent their homes, making it perfect for families that are just starting out.
Fitchburg
Fitchburg
is one of the
best neighborhoods in Madison, WI
. It's surrounded by nature but is still close to popular attractions, like the Henry Vilas Zoo, making it easy for families and young professionals to get out and enjoy their new home! Most residents rent their homes, meaning those moving for work won't have a hard time finding a new place to call home while they get to know the area.
4. Public Transportation in Madison
Madisonians are fond of walking or biking — especially those who reside near the city center. The City of Madison Metro Transit is centered around the University of Wisconsin-Madison campus, but there are routes that go beyond the region.
If you plan on living outside the city center, though, you'll likely need to rely on your car to get around.
5. Schools and Higher Education
The Madison Metropolitan School District is one of the state's top "B+" school districts. The area's suburbs, such as Monona, Waunakee, and Middletown, have some of the best "A+" schools. The district serves over 25,000 students, making it the second-biggest school system in Wisconsin.
The University of Wisconsin is one of the top public universities in the country, rated highly in various categories, including student life and academic excellence. Its main campus is in Madison, but its entire network encompasses 13 universities with 26 campuses and a statewide extension.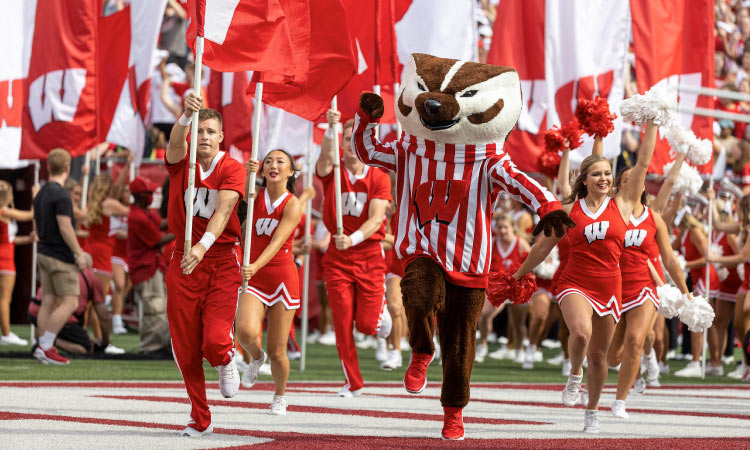 Wisconsin Badgers cheerleaders and mascot
(Source: Wisconsin Badgers via Facebook)
6. Sports Scene
College Sports
With the city's proximity to UW, taking part in college sports is always in season. One of the most popular teams in the city is the Badgers, and you can catch one of their football games at Camp Randall Stadium.

If football isn't your favorite, the university has teams for other sports, including basketball, hockey, volley, and even wrestling!

Green Bay Packers
If you're willing to venture outside of Madison, you can catch the Green Bay Packers at Lambeau Field. Not only is this team beloved all over the country, but they've won the most championships of any NFL team, taking home 13 victories in total.

Milwaukee Bucks
If basketball is your preferred sport, you can root for the Milwaukee Bucks! The team plays at Fiserv Forum and is the state's only NBA team. They've won three conference championships and managed to take the title just a few years ago in 2021.
7. Madison Weather/Climate
Madison winters can be harsh, with temperatures dropping to single digits pretty frequently. The city's summers are much more mild, with temperatures typically ranging from 63 to 82 degrees. If you're not a fan of hot summers and humid weather, Madison is a great place to consider.
8. The Madison Job Market
Madison's job market can be largely attributed to the University of Wisconsin-Madison. The university is one of the top employers in the city, with over 21,000 employees.
Other prominent employers in Madison include UW Health, insurance firms, and research establishments. Madison is regarded as one of the fastest-growing cities in Wisconsin, and it is home to numerous health, tech, and biotech startups.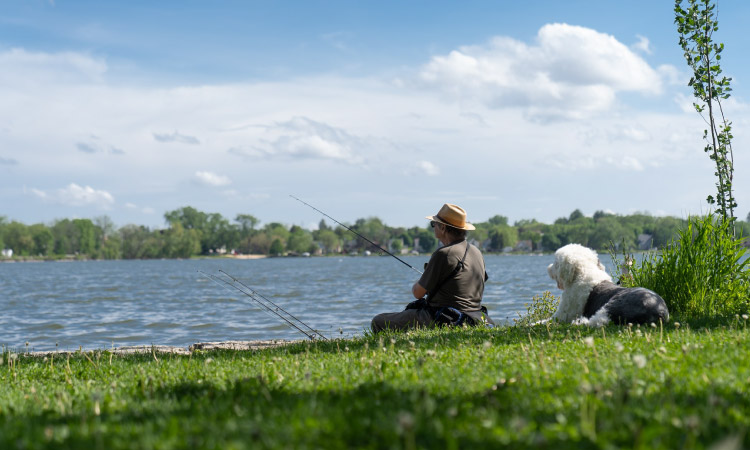 (Source: Destination Madison via Facebook)
9. Fun Things to Do in Madison, WI
Chow Down
The state of Wisconsin is known as "America's Dairyland." As a cheese lover's paradise, you'll find a wide variety of restaurants and markets that serve local artisan cheeses.

That's not all you can get in Madison, though. You can still find farm-to-table establishments good enough to satisfy any palette, like Ancora Cafe and Bakery or Banzo.

Access Nature
Whether it's kayaking in the summer or skiing in the winter, you can do it all in Madison. With an abundance of parks in the area, it's easy to get out during the week for an evening stroll or to explore the area on the weekends.
There are also over 1,000 miles of shoreline on the Great Lakes, as well as 15,000 documented lakes and 12,000 streams and rivers. Madison is known as "The Four Lake City" due to its proximity to Lakes Monona, Mendota, Waubesa, and Kegonsa. This close proximity makes it easy for residents to get out and go water skiing, white water rafting, and even canoeing.
Check Out Capitol Square
Locals love traversing Capitol Square in downtown. Whether you're on the hunt for a good beer after work or an art gallery to explore, you can do it all here. You can also catch live music during the summer months with the Wisconsin Chamber Orchestra's free event, Concerts on the Square.
Take a tour of the Wisconsin State Capitol and learn where local legislation is made. You can also visit the Dane County Farmers' Market, which features approximately 275 vendors.
Visit Henry Vilas Zoo
The Henry Vilas Zoo is a must-visit for kids and adults in Madison. It features a wide variety of different animals and draws visitors from all over each year. The zoo's arctic exhibit features polar bears and seals, but you can see other species like giraffes, African lions, and even red pandas. Children love visiting the petting zoo, and they can also take a ride on the zoo's train and carousel.
Explore the Arts Scene in Madison
One of the most popular art locations in the city is the Chazen Museum of Art, which has over 20,000 works of art in various mediums, including oil paintings, sculptures, drawings, prints, and photography. You'll be able to see the works of notable artists such as Salvador Dalí, René Magritte, and Andy Warhol.
The museum also has a large collection of ancient artifacts, which date back thousands of years. Exhibitions featuring international, local, and national artists are held each year. In addition, guided tours are available every week.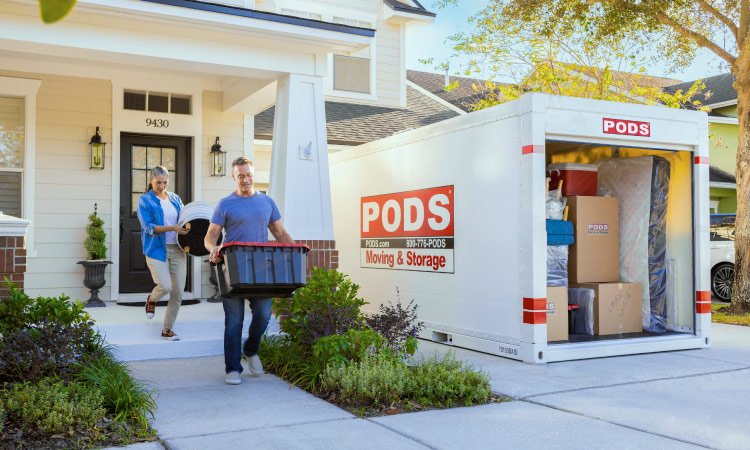 Plan Your Madison Move With PODS Today
Making the decision to move to Madison is the easy part — the trick is getting there. Luckily, you can simplify your move by using PODS portable moving containers. PODS will deliver a container to your driveway, where you can load it on your own schedule. Need help with the heavy lifting? PODs can even connect you with local packing and loading services. When you're ready, your container will be picked up and delivered right to your new Madison home, or you can keep it in a PODS Storage Center until you're ready for it.
Get a Quote
Choose the service you need
Comments
Leave a Comment
Your email address will not be published. Required fields are marked *