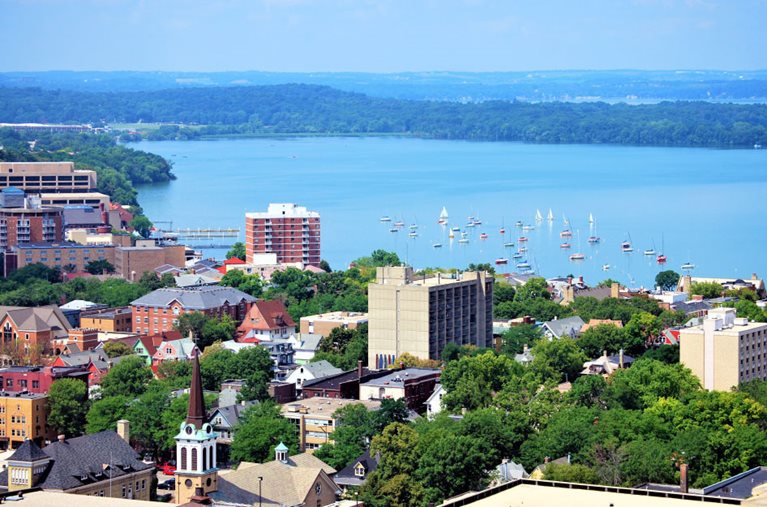 Moving to Madison, Wisconsin: That Hometown Feel With Big-City Perks
It's been named the nation's second-fittest city and one of the best college towns, among other accolades. So, needless to say, if you've been considering moving to Madison, Wisconsin, you're in for a treat.
Alongside its beautiful parks and the University of Wisconsin-Madison, the city has a great community and vibrant downtown filled with coffee shops, boutiques, and even farmers' markets to explore whenever you have the chance. Before you create your list of must-sees, though, you have to know how you're getting there. Our guide is here to help you get to know the city while laying out all the best moving options.
Madison at a Glance
Madison is located right in the center of Dane County, about 80 miles west of Milwaukee and 150 miles northwest of Chicago.
Madison has a population of almost 273,000.
The median age of Madison residents is a little over 31 years old.
If you're moving for college, the University of Wisconsin-Madison has around 50,000 students spread among its 13 schools and universities.
Moving to Madison, WI- FAQ
Q: Is it worth moving to Madison, WI?
A: With an affordable cost of living and plenty of great amenities, it's safe to say moving to Madison, Wisconsin, is definitely worth considering.

Q: What is it like to live in Madison, Wisconsin?
A: As one of the best places to live in Wisconsin, Madison offers plenty of fun outdoor recreation activities, along with top-tier restaurants and bars. Affordable housing and great school options also make it a popular place for many to consider.

Q: How much does it cost to live comfortably in Madison, WI?
A: The estimated monthly costs (before rent) in Madison for a family of four are around $4,000, while a single person can expect to pay closer to $1,100.
Lake Monona in Madison, WI
Pros and Cons of Moving to Madison, WI
With amenities for every walk of life and a vibrant community, Madison sure has a lot to offer its residents. However, it's also important to look at the not-so-fabulous aspects before moving to any new city. Here are a few pros and cons to consider.
PRO: It's the Perfect Place for Outdoor Enthusiasts
Madison is filled with abundant parks — an estimated 11 parks per 10,000 people! Local favorites include Tenney Park — most ideal for bird watching — along with James Madison Park, where you can see the iconic Gates of Heaven Synagogue.
CON: Winters Can Be Brutal
While Madison summers are described as being very cool and humid, the tune changes quite drastically by the time winter hits. The city goes through periods of the temperature frequently going below zero, along with an average of 42 inches of snow.
PRO: It Has a Highly Regarded Medical System
You won't have to travel far to get to one of the best hospitals in the entire country, which is the University of Wisconsin Hospital in Madison. The state's medical system is regularly ranked among the top in the country, as well.
CON: The Taxes Are High
Wisconsin ranks eighth for highest property tax rates in the country at 1.53 percent. Its sales tax isn't quite as drastic, though, sitting at 5%.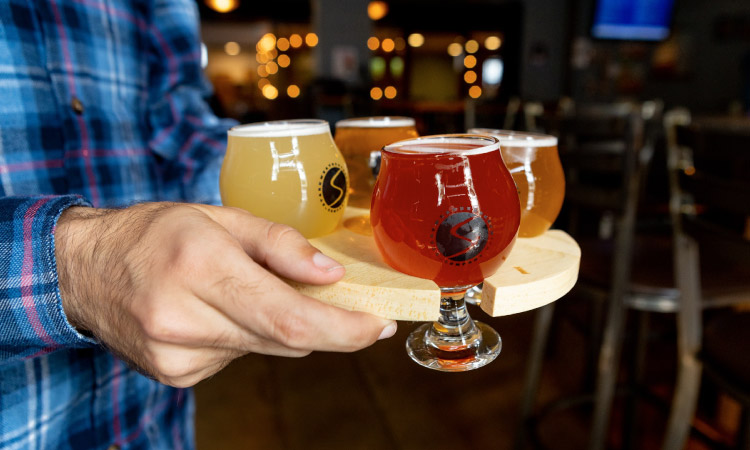 (Source: Destination Madison via Facebook)
Cost of Living in Madison, WI
Madison has an impressively low cost of living, considering everything it has to offer. There are a variety of housing options that can accommodate different budgets. Its transportation and food costs are also significantly lower than other cities, making it an ideal choice for people who are looking to lower their everyday expenses.
Compared to the U.S. cost of living index of 100, Madison is not much more expensive, coming in at 101.4. Madison's average home value is around $377,000, while the average monthly rent for a one-bedroom apartment is around $1,600.
Climate and Weather in Madison, WI
Winters in Madison can be pretty rough — especially if you're moving from a different climate. Heavy snowfall and temperatures ranging from 14 to 28 degrees Fahrenheit aren't uncommon. Summers are mild, though, with temperatures typically ranging from 63 to 82 degrees.
Getting Around Madison, WI
Most residents of Madison prefer to bike or walk whenever possible — especially those who live near the city center. Those who live further away typically rely on their cars.

Madison's public transportation system

is centered around the Capitol/UW-Madison Campus, but it also has separate bus routes that go beyond this area. There are plenty of buses and routes for residents, but they can definitely get congested during morning and afternoon rush hours.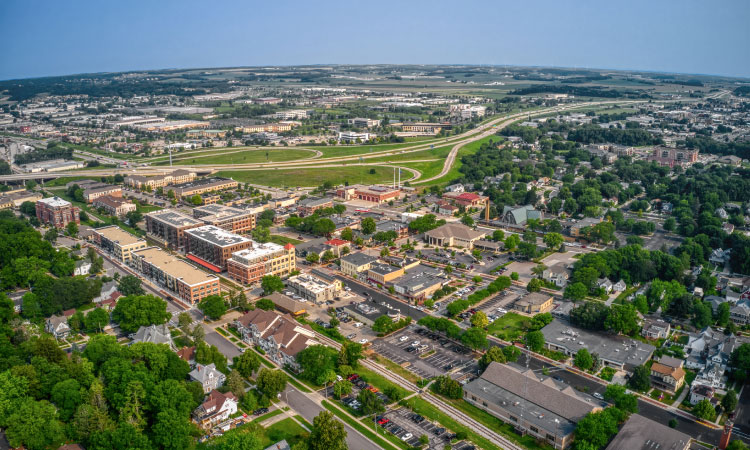 Middleton, WI
Three of the Best Madison Suburbs
Middleton, WI
Ranked #1 on Niche's list for "Best Places to Live in the Madison Area," Middleton is a great place to raise a family and more. Located in the heart of Wisconsin's south-central region, what started as a small farming community has grown into a flourishing business district full of restaurants, stores, and corporate offices. It's also home to Greenway Station, a 51-acre outdoor shopping center located mere minutes from Downtown Madison.
Monona, WI
The suburb of Monona has plenty of dining, shopping, and entertainment options. Residents of this area can enjoy the natural beauty of Wisconsin by participating in various outdoor activities on the nearby Lake Monona. It's also a great place to relocate for retirees, as there are several assisted living facilities in the area.
Fitchburg, WI
Ranked #6 on Niche's list for "Best Suburbs to Live in the Madison Area," Fitchburg is surrounded by open space and beautiful nature. It's also close to Henry Vilas Zoo and other local attractions, making it a fun place for young professionals to settle down.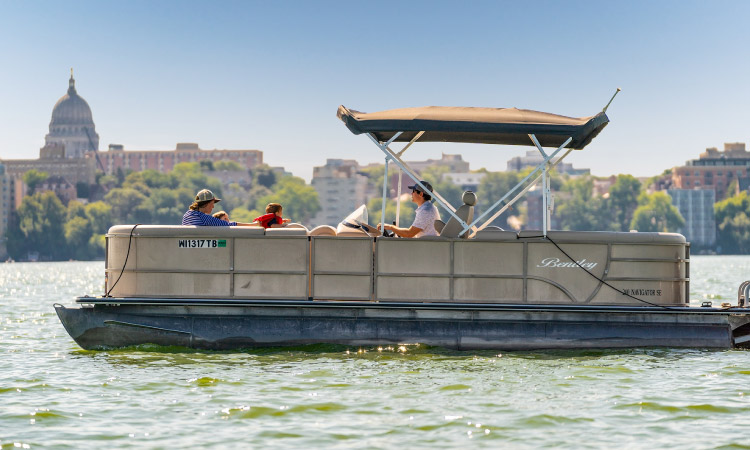 (Source: Destination Madison via Facebook)
Things To Do in Madison, WI
Madison is renowned for both its food and arts scenes. The city boasts world-class speakers, performers, and festivals. And locals love grabbing bites at places like Capital Brewing and Great Dane Pub & Brewing.
If you're in the mood for a concert, you're in luck. On any particular weekend, there are amazing live shows at the Orpheum Theater, from free outdoor concerts to nationally touring acts.
For greenery, you can look at the city's parks or its rivers. Whether it's Mendota, Monona, Waubesa, or Kegonsa, you'll be able to get out on the water and enjoy activities like swimming, sailing, canoeing, and paddleboarding.
Moving to Madison, WI
Before you move, it's important to figure out how you're getting there. For instance, if you're relocating from a different state, you might want to consider long-distance moving companies in Madison, WI. If you're moving locally, a rental truck might be enough. There are other ways to get creative with your move, though.
DIY With a Rental Truck
If you're prepared to give up some time in exchange for a lower price, taking the DIY approach can be cost-effective. Keep in mind, though, that this option requires a lot of work on your part. Not only do you have to pack, load, and unload everything yourself, but you also have to figure out how to get your car there.
Full-Service Movers
If you have the budget, opting for moving services in Madison, WI, might be a great option, but you'll need to check a few things off your list first. First, it's important to research. Find three to five moving companies you'd be willing to work with, and then get quotes from each of them. Remember that some moving companies in Madison, Wisconsin, will also include the cost of unloading and loading their boxes, as well as other charges in their estimates. Knowing all these small details ahead of time will help ensure that you're getting the best bang for your buck.
PODS Portable Moving Containers
Sometimes, you just need a customizable option for your move. That's where working with PODS comes in handy. Whether you're moving near or far, you
can easily find a portable storage container
to fit your needs. Pick from the three available sizes, and your container will be delivered to your doorstep, making it easy to pack up and load on your own time. Once you've finished, you can schedule a pickup and have it delivered to your new home or to a secure
PODS Storage Center
until you need it.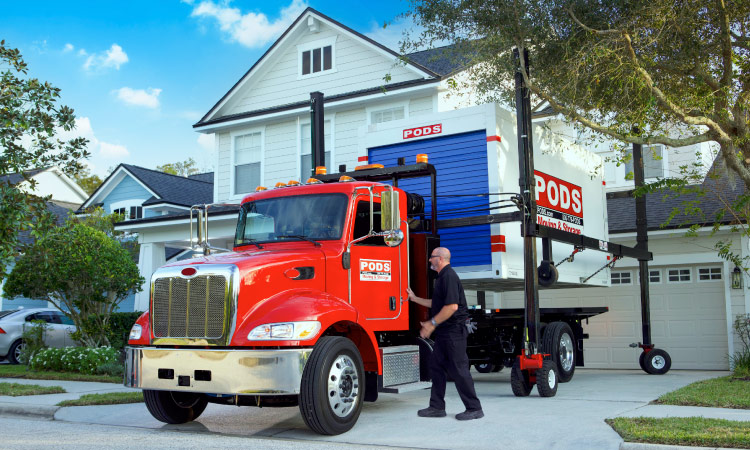 The Cost of Moving to Madison
There are a number of factors that go into the overall cost of moving to Madison, including how much you're moving, where you're moving from, and the moving services you choose. Below are popular moving routes with cost estimates* for different types of moving services.**
Moving Route: Chicago to Madison
Distance: 150 miles
PODS: $1,089-$1,497
Full-Service Movers: $1,556-$4,505
Rental Truck: $142-$217
Moving Route: Twin Cities to Madison
Distance: 270 miles
PODS: $1,344-$1,848
Full-Service Movers: $1,556-$4,505
Rental Truck: $328-$505
Moving Route: Los Angeles to Madison
Distance: 1,970 miles
PODS: $2,895-$3,981
Full-Service Movers: $3,013-$6,843
Rental Truck: $1,580-$2,282
Moving Route: Tampa to Madison
Distance: 1,325 miles
PODS: $2,506-$3,446
Full-Service Movers: $3,013-$6,843
Rental Truck: $1,107-$1,706
*Based on estimates from PODS and MoveBuddha for a 2-3 bedroom household (800-1,200 sf). Costs don't include insurance or taxes. Prices will vary based on specific locations, dates, size of household to be moved, and available discounts. For a detailed quote, call PODS at 877-350-7637.
**PODS estimates include transport and 1-month storage. Full-service movers estimates include transport and loading/unloading. Rental truck costs do not include fuel expenses.
PODS Will Help Get You to Madison With Ease
Make your move to Madison a flexible one with PODS
. Have a container delivered right to your driveway for
easy loading on your own schedule
. And once you're ready, PODS will pick it up and deliver it to your new Madison home. Need a little more time to get settled in? No problem! One month's storage is built into every PODS move.
Editor's note: For ease of reading, monthly rental prices were rounded to the nearest $25 and home values were rounded to the nearest $100.
Get a Quote
Choose the service you need
Comments
Leave a Comment
Your email address will not be published. Required fields are marked *