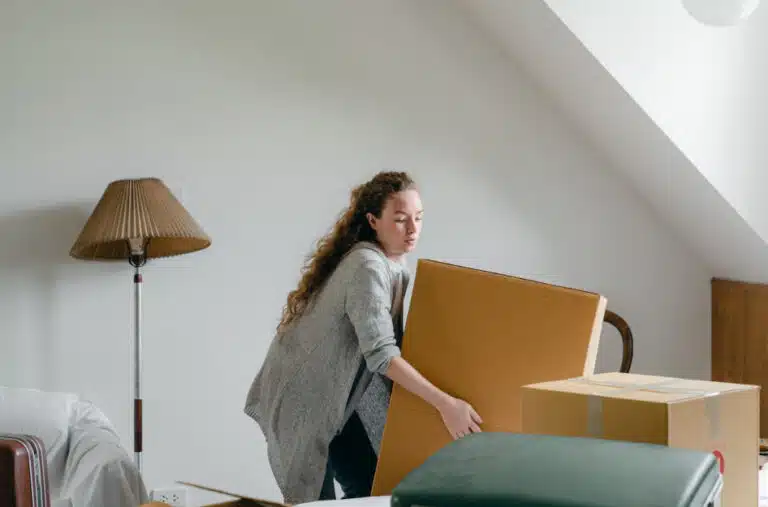 Moving Cross-Country Alone? This Step-By-Step Guide Has Got Your Back
Planning a solo move across the country and worried about going through the process alone? We get it; we've been there — and we survived (and so will you). Moving cross-country alone can be a great way to grow your independence, home your organizational skills, and challenge yourself.
Is moving cross-country stressful? Yes, we won't lie to you: Moving across the country can be stressful, even if you've done it before. And moving cross-country alone can be extra stressful, since you're the only one responsible for making sure it all goes as smoothly as possible before, during, and after your move.
Lucky for you, we've been around the block — and the country — many, many times and have created this easy-to-follow four-step guide to help keep you on track throughout your solo moving process. Feel free to bookmark this page for easy reference, and feel free to dig around our many other posts on the PODS Blog with tips for moving across the country alone.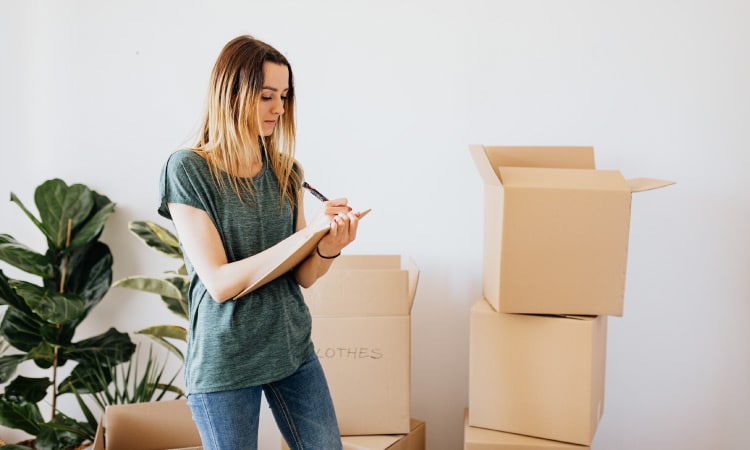 Four Steps For Moving Cross-Country Alone
Step 1: Moving Prep
The moving process doesn't start at packing! There are a handful of things you'll want to make sure you get done sooner rather than later. Use this handy 10-point checklist (in any order) as a guide to make sure you get a head start on the oft-forgotten elements of a move — since you're moving alone across the country, it's all up to you! I usually give myself a week or two before I begin packing and start tackling the list. 
Fill out an official change of address with the USPS.
Notify phone, internet, and utility companies of your service cancellation.
Set up utilities, internet, and any other must-have monthly service so that it is wired and ready when you arrive (or shortly thereafter).
Change your billing address on all relevant accounts like your credit cards and financial statements.
Register to vote in your new home city/state.
Research what you'll need in order to register your vehicle in your new state and if it needs to be done by a certain date. Keep all the necessary papers in a handy spot, so you're not fishing for them in boxes.
Assess your packing needs and get together the appropriate moving and packing supplies.
Plan your cross-country route, plan realistic stops, and book accommodations
Arrange any special permits or permissions you'll need during the moving process in your current and soon-to-be future home! This includes reserving elevators, obtaining parking permits, and getting the okay with your HOA or apartment building (many high-rise apartments have moving rules).
Schedule any move-out cleaning services.
Q: How much money should you have to move cross-country?
A: The short answer: more than you think you need. Moving across the country isn't cheap, and unexpected expenses tend to pop up along the way. You can easily expect to pay a minimum of a couple thousand dollars for a small, basic DIY move and upwards of $15,000-$20,000 or more for a full-service moving company. The cost of a cross-country move depends on a lot of factors, however, such as the exact mileage of your move, the size of your move, and the company you decide to go with (if you don't do it yourself).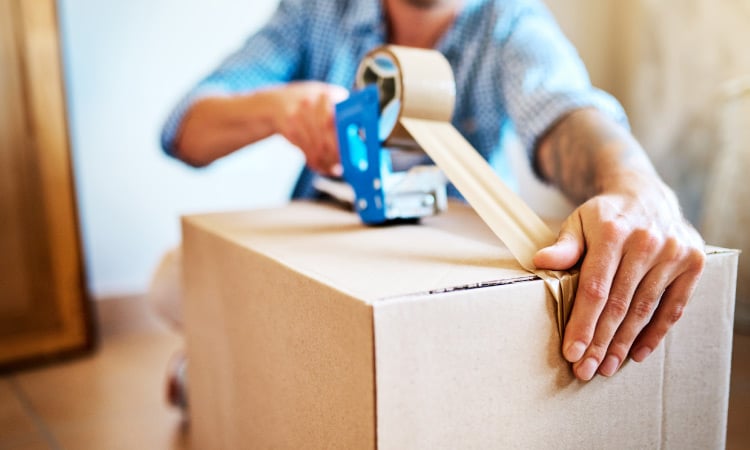 Step 2: Packing Up
There's no way around it: Being a one-person packing team isn't the ideal way to spend your free time. But sometimes, there's no avoiding it. Unless you hire packing help, you're on your own, kid. We've got loads of packing tips, but here are three quick packing hacks to help you speed up the process and stay on budget. 
Donate What You Don't Want to Move 
Less stuff to pack means less time packing — and less to bring with you across the country and less to unpack once you're there! Use this time to toss, donate, or sell items you aren't taking with you to your new home. And depending on how much you have, you might be able to sell enough to cover moving expenses or at least the cost of packing materials. Win-win.
Use Your Clothes to Wrap and Cushion Your Stuff
When you're footing the bill for a solo move across the country, every little bit counts. Take an eco- and wallet-friendly approach to packing by using your clothes and bedding to wrap fragile items and create cushioning inside your boxes. You'll not only save on packing materials, but you'll also be shaving down the packing time by tackling two birds with one box. 
Keep It Light
Fight the urge to overpack your boxes. Remember, you're the one who has to carry, lift, and load them. If you're the only one moving the boxes, don't buy any larger than the medium size. Larger boxes can be difficult to get a good grip on, and the dimensions can be awkward to carry by yourself. 
Pro Tip: While you're packing, don't forget to keep what you'll need for your trip across the country (like your clothes, any special documents or paperwork, or particularly fragile or expensive items) aside so you can take them with you.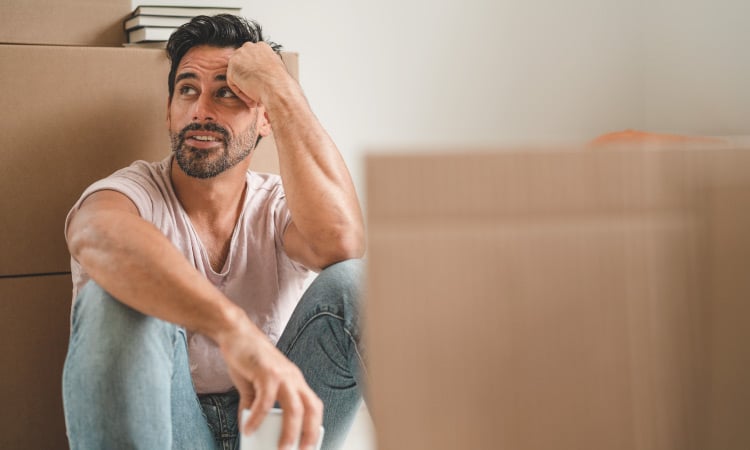 Step 3: Moving Day
Congratulations, you made it to moving day! Get some good sleep the night before, especially if you're getting behind the wheel. Even though everyone's experience will vary on moving day, we have one universal piece of advice for anyone making a solo move.
Pace yourself.
Regardless of whether you've hired moving help, you're going to need a lot of energy to get through the day. Don't rush, don't let anyone make you feel rushed, and be sure to take breaks to rest and hydrate. You've got a long road ahead of you (literally), and pushing yourself too hard on the first day isn't going to help the long-haul process — and can be downright dangerous, if you're driving across the country alone. (I like to plan for a short drive on my first day, so I can make sure I get enough sleep and be fresh for the next full day of driving.)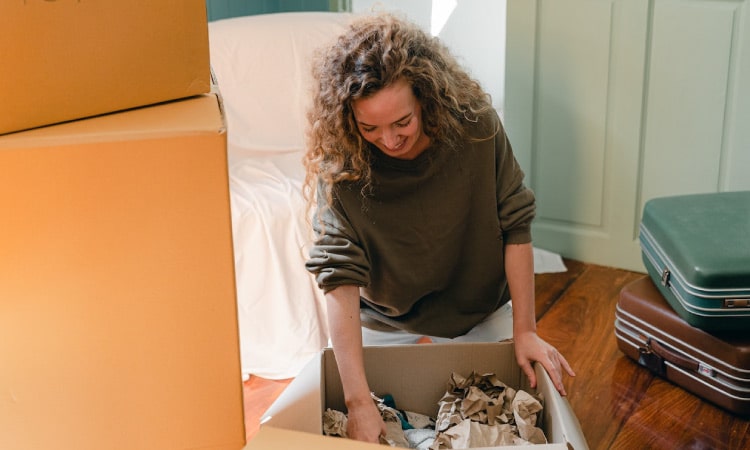 Step 4: Unpacking
It's time to unpack. You've reached the final homestretch. Again, assuming this is a one-person job (ahem, just you), you're going to want to take it slow. Grab yourself a boxcutter, make a trash pile and a recycling pile, and get to work. Unpacking alone is its own kind of joy because you and you alone get to decide what you want — and need — to unpack first.
Our biggest pieces of advice would be to not unpack more than you can put away, meaning don't just slice open and empty out your boxes, leaving your new place cluttered with your things, but don't wait too long to unpack everything, either.
Unpacking your kitchen, bathroom, and clothes are a good place to start, since you likely have drawers, cabinets, and closet space to fill. Being able to put things away and clear the clutter right off will keep your spirits high and the momentum going. It's important to feel like you're making progress, since you're both the cheerleader and the team.
You've made it this far — you've got this!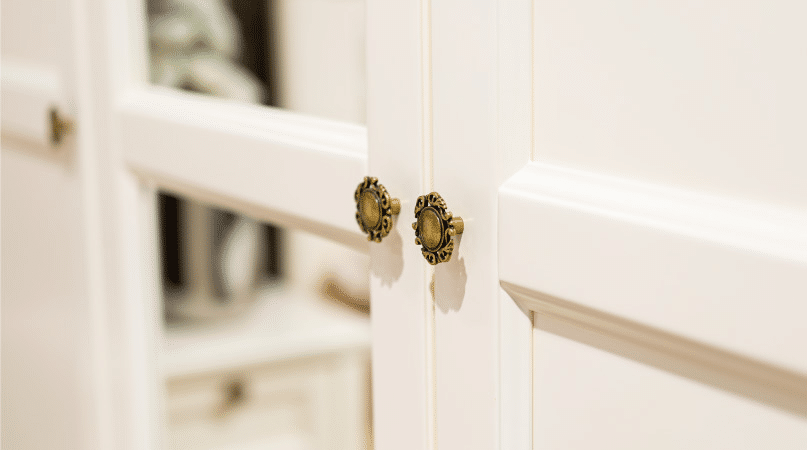 Options for Moving Cross-Country Alone
Is it possible to move by yourself? Of course! People make solo moves every day. But it doesn't have to be as hard as it sounds. And hiring help with moving isn't all-or-nothing. As a solo mover moving across the country alone, you've got several options to help lighten the load. Think about your budget for a cross-country move, physical ability, and any time restrictions as you consider the options — and rest easy knowing that no matter which route you take, PODS has your back with several ways to help make your move easier along the way.
DIY: Renting a Truck or Trailer
This option is often the cheapest, but it'll require more energy, attention, and time than other options, especially in a cross-country move. A DIY move leaves the packing, transport of your things, and the unpacking all up to you. You'll need to feel comfortable driving a moving truck or with a trailer for long distances (and possibly in big city streets). Before renting a trailer, make sure your car can safely tow a loaded trailer. If you rent a truck and already own a vehicle, don't forget to factor in the cost of transporting your car across the country into your moving budget.
Pro Tip: Hiring packing and loading help on either end is one way to alleviate some of the demands of a DIY move. Even if you don't use a PODS container for your move, we're happy to refer you to trusted packing and loading specialists in your area.
Hiring Full-Service Movers
Full-service movers offer a variety of service options ranging from packing up your entire house, loading, transporting your things, unloading, and even unpacking at your new place — or it can just involve loading, transporting, and unloading. Hiring a company to do most of the heavy lifting (literally and figuratively) can take a load off of your solo-mover shoulders, but be prepared to pay for the privilege.
Hiring full-service movers means you'll have more time to say good-bye to your current city, be freed-up to drive your own vehicle across the country to your new place, and can start settling in right away. The downsides are that you'll have to deal with rigid scheduling and high damage rates. It's also usually the most expensive option with costs that add up quickly, especially when cross-country mileage is calculated (think: small down payment).
Moving With PODS Portable Moving Containers
PODS moving and storage containers offer a flexible moving service that fits within a variety of moving budgets. By using PODS when doing a solo move, the driving is taken care of, freeing you up to drive your own car without the hassle of towing a trailer. Plus, PODS will bring your moving container to you and pick it back up when you're ready, allowing you to pack and unpack at your own pace. They can even provide secure moving container storage in the event you don't need your things right away. And three different container sizes mean you can find the right fit for your stuff, too.
Does your move involve a big city? We know moving in and out of big cities like Los Angeles, NYC, or Seattle can be more difficult to navigate than the average move. Thankfully, we offer PODS City Service in select big cities from coast to coast. PODS City Service is especially designed for moving in highly dense, urban areas with busy city streets.
---
Alex Keight is a writer who has lived — and moved — all over the country and the world. She is an expert at packing, whether it's for a long-distance move or a short weekend trip. When she's not writing or on the move, Alex spends her time giving her cat booty pats, cooking up dishes in the kitchen, and buying way more books than she knows she'll ever actually get to reading.
(Source for image featured at top: Ketut Subiyanto via Pexels)
Get a Quote
Choose the service you need
Comments
Leave a Comment
Your email address will not be published. Required fields are marked *