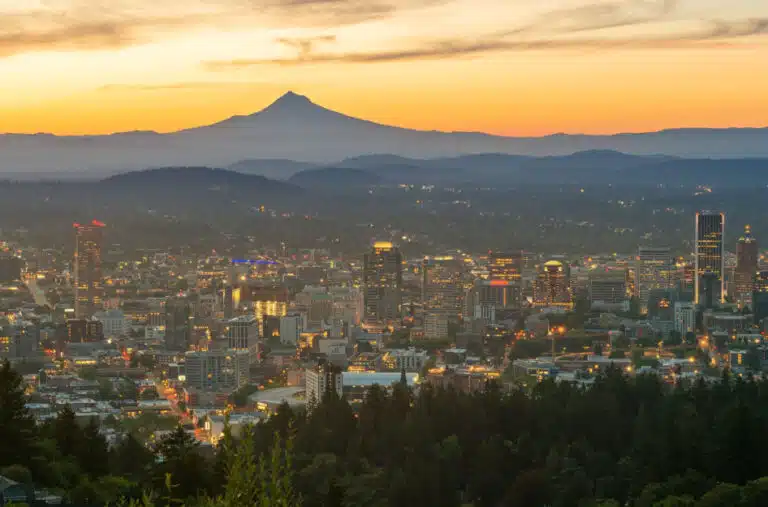 Moving to Portland, Oregon? Here's Everything You Need to Know First
Whether you love the quirky appeal of Portlandia, are a big outdoors enthusiast, or are looking to land a great job in one of the city's many sectors, there are a lot of reasons to consider moving to Portland, Oregon. This Pacific Northwest city is one of the most popular destinations for people looking for a fresh start, and it's easy to see why.
Portland is famous for its rugged natural beauty, not to mention its great location — you can be at the Pacific Ocean or in the mountains in around an hour. It's also home to people committed to living in an environmentally friendly way. In fact, the city is known as Biketown USA (and has a bike-share system under the same moniker) for a reason. There are over 350 miles of trails to explore, and commuters make daily use of the bike lanes throughout the city. Additionally, Portland has a great public transit system to help alleviate traffic that's developed as a result of the city becoming more popular. 
"Keep Portland Weird" is the city's slogan, and you'll find a whole host of people who embrace the eccentric. The arts and music scene is thriving in PDX — a major reason why creatives seek out this city and keep its cultural scene unconventional.
So if you're considering a move to Portland, you've probably come here to learn about why this is such a great city to live in. Before we delve deeper, though, here are some FAQs about PDX.
Moving to Portland, Oregon — FAQ
Q: Is Portland, Oregon, a good place to move to?
A: Yes, Portland, Oregon, is a great place to move. There are plenty of jobs, a high quality of life, and access to lots of natural areas.
Q: Is it expensive to move to Portland?
A: Your cost for moving to Portland, Oregon, will depend on the distance you're traveling and how much stuff you have. Move Buddha estimates the cost for hiring a mover in Portland to be anywhere between $468 and $4,278.
Q: How much money do you need to live in Portland?
A: In order to live comfortably in Portland, you'll need an estimated $74,086 after-tax salary.
Q: Is Portland or Seattle more affordable?
A: Portland is more affordable than Seattle, in both cost of living and housing prices.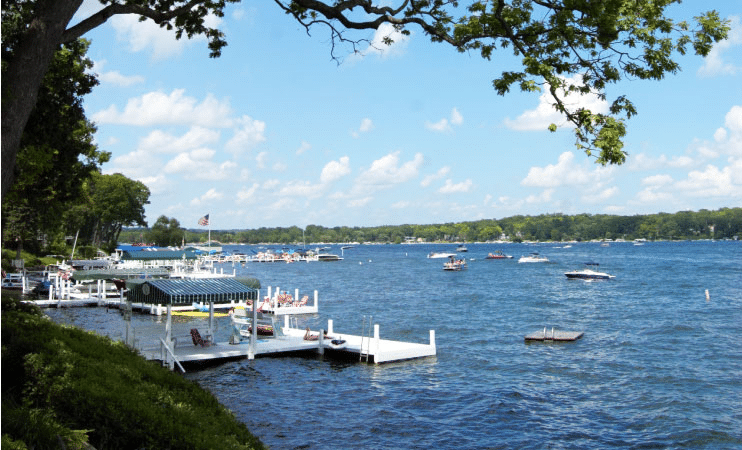 Perks of Moving to Portland
If moving to a city full of natural beauty, welcoming residents, and plenty of things to do sounds like it's for you, then Portland could be your next home. There are a few things you need to consider before you do, though.
Cost of Living in Portland
One of the most important things to research is whether or not you can afford the cost of living in your new city. In Portland, it's about 32 percent higher than the national average, however, the per capita income in the city is nearly 26 percent higher — which definitely helps. Still, when compared to nearby Seattle (where the cost of living is nearly 68 percent above the national average) you'll be spending much less overall.
On the plus side, Portland offers its residents a healthy and diverse job market. You can make your living in industries like tech, health, climate tech, and even outdoor apparel. Not to mention the variety of locally owned cafes, restaurants, breweries, wineries, and hotels that support the tourism industry, making it a hot spot for hospitality workers.
In general, you can expect to pay more for groceries, housing, and transportation. However, you don't have to worry about paying sales tax, as shopping for everything from vintage goods to everyday necessities is tax-free. That's a nice way to keep a little money in your pocket!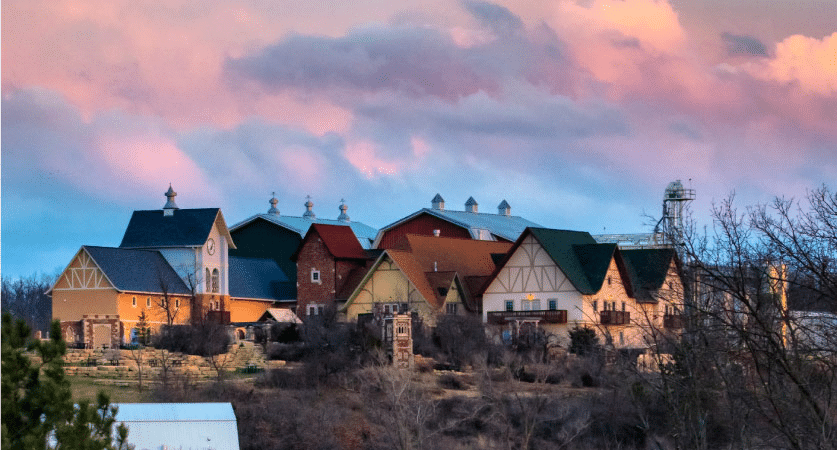 Should I Move to Portland? Pros and Cons of Living in the City
Pro: Lots to Do All Year
There is always something going on in Portland — no matter if you're a fan of music, art, outdoors, sports, festivals, craft beer, or fine dining. Portlanders have lots to choose from when it comes to after work or weekend excursions, so you'll never have to worry about being bored!
Con: Higher Cost of Living
While still not yet at the levels of San Francisco or Seattle, it is expensive to buy a house or rent in Portland when compared to other places in the U.S. 
Portland has a higher cost of living than a lot of other major cities. Though the average home value decreased by 4.4 percent over the last year, that number is still sitting at $539,179. Depending on where you move from, you can expect a good chunk of your paycheck to go toward housing.
Pro: Easy Outdoor Access
Many of the folks drawn to Portland like being outdoors. Whether that's hiking, biking, rafting, boating, camping, or anything in between, chances are you'll be able to find it in Portland. There are green spaces all over the city, as well as easy access to Tryon Creek State Natural Area and Mt. Hood National Forest. 
Con: Weather Can Be tricky
Because of its location, Portland sees a lot of cloudy skies and a decent amount of rainfall throughout the year. And while the weather is pretty mild overall, you can experience snow or ice storms in the winter capable of stalling the city for a few days. The summers are pleasant and don't have high humidity, but there is the ever-present threat of wildfires that can put a smoky damper on plans.
Pro: Thriving Cultural and Arts Scene
After outdoor activities, one of the best parts of moving to Portland is the well known arts and cultural scene. Whether you like classical music, avant-garde art, local crafts, or dance troupes, you can find your niche in Portland.
Con: Lack of Diversity
While the LGBTQ+ community has been thriving, and is an integral part of making Portland the great city that it is, almost 74 percent of Portland residents are white. Although it's improved over the years — and the city's diversity grade on Niche is an A — there is still a noticeable lack. 
Pro: Amazing Dining Scene
In addition to the arts scene, Portland is known for its food and beverage options — especially the local coffee and craft beer communities. There are eclectic restaurants in every neighborhood, along with friendly craft brewers who would love to share a pint with you.
Con: Homeless Population
Portland, like a lot of other large cities, has a homelessness crisis that hasn't shown signs of abating. The city has been working to alleviate this problem, but it will take a concerted effort by a variety of organizations working together.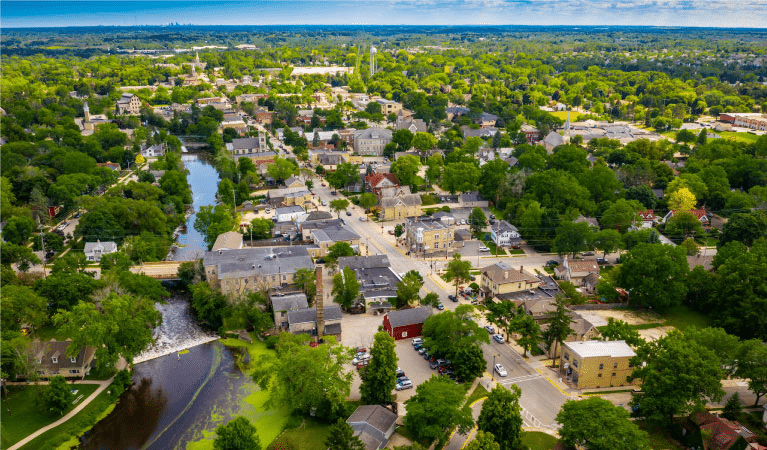 Pro: Healthy/Green Ways to Live
When you move to Portland, you have lots of opportunities to decrease your own carbon footprint. There are bike lanes and trails all over the city, and the public transportation is very well run. You'll even find companies on the cutting edge of climate tech looking for ways to make low waste living more accessible. 
That's not the only access to healthy living you'll find, though. Most Portlanders have a sport or outdoor activity they're passionate about, and you can find many groups and associations to meet other people who share similar interests. That's why there's always something active (and fun) to do on the weekends!
Con: Traffic
Because of its popularity, Portland has seen an increase in traffic. It's not quite at Los Angeles levels, but it's still a frustrating issue when you're trying to commute to and from work. Lots of Portlanders instead opt to bike or hop on public transportation.
Portland or Seattle — Which Is Best?
While both are great cities, we thought we'd call out a couple of differences between Portland and its northern neighbor, Seattle.

Q: Which city is more affordable?
A: Portland is a more affordable city, with a lower cost of living and less expensive housing.
Q: Who has a lower crime rate?
A: The crime rates for both cities are around the same, but Seattle's overall numbers are slightly higher than Portland's.
Q: Is one city friendlier than the other?
A: Although this is subjective, many people believe that Portland is a friendlier, more welcoming city than Seattle.
Q: What is the weather like?
A: These cities are in the same region of the U.S., and the weather in Portland and Seattle are similar.
Q: Which city has more green space?
A: Portland has a lot of green spaces, including parks, natural areas, and state and national forests within driving distance. Seattle does have lots to offer nearby when it comes to the great outdoors (Mt. Rainier, etc.), but not so much in the city itself.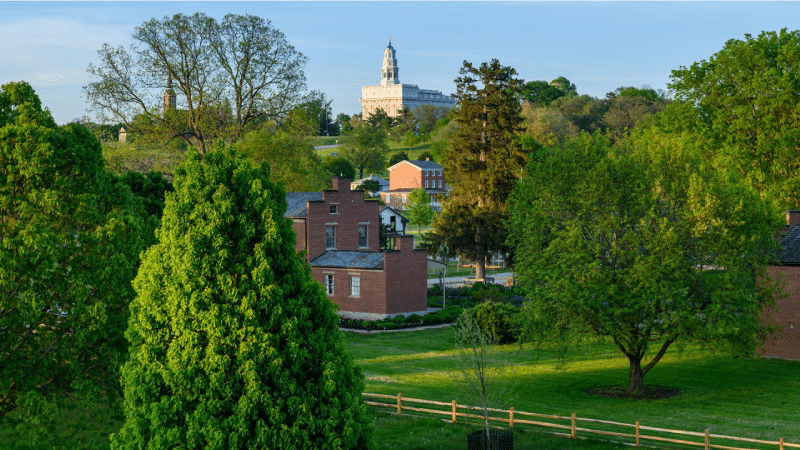 Moving From Seattle to Portland, Oregon?
If you're looking to move from the Emerald City to the City of Roses, you'll likely find many of the same characteristics that attracted you to Seattle — with a slightly lower price tag. According to NerdWallet, Portland's cost of living is 17 percent lower than in Seattle. As pointed out earlier, you'll probably see that difference in somewhat more affordable homes and apartments.
Here's a snapshot of moving costs, whether you're moving by rental truck, full-service mover, or moving container.
How Much Does It Cost to Move From Seattle to Portland, Oregon?
Just 175 miles apart, it takes a little under 3 hours to drive from Seattle to Portland. Relocating a moderately furnished 2- to 3-bedroom household from Seattle to Portland will cost anywhere from $142* for a two-day truck rental to $3,995* for a traditional mover. Moving a moderately furnished 2- to 3-bedroom household from Seattle to Portland with PODS containers will cost from $1,311* to $2,199*, including one month of built-in storage, either in your driveway or at a secure PODS Storage Center in either city.
Moving Cost Estimates* — Moving From Seattle to Portland
Household Size
PODS
(includes transport and 1-month storage) 
Full-Service Movers
(includes transport and loading/unloading)
Rental Truck
(plus fuel costs)
2-3 bedroom
(800-1,200 sf)
$1,311-$2,199
$1,837-$3,995
$142-$217
*Based on estimates from PODS and MoveBuddha, costs don't include insurance or taxes. Prices will vary based on specific locations, dates, amount to be moved, and available discounts. These estimates are based on the busy moving season of summer in 2023. For a detailed quote on local moves, visit PODS.com. For Seattle to Portland and other long-distance moves, call 877-350-7637.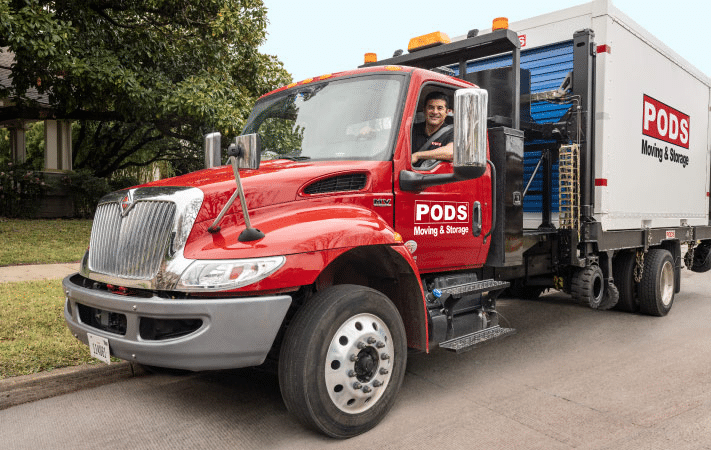 Portland Moving Options
No matter your reason for moving, you have options for getting your stuff from point A to point B.
PODS Portable Storage Containers
This is a great option if you want to move on a budget, because you only pay for what you need. Just decide on the size of the unit that's right for you, and then pack it up at your leisure. (Bonus: You can even get the PODS professionals to help you load!) Then the PODS team will come and pick it up and drive it to your new home in Portland, or store it if you need it.
DIY With a Rental Truck
You can also take the rental truck route for your move to Portland. While this might be less expensive upfront, it definitely takes more time to complete. You'll need to box up all your items, load them onto the truck (Pro tip: Enlist friends and family to help), drive the truck to your new home, and then unload everything.
With this option, you can save even more money by getting low cost or free boxes to use to pack up your stuff. Check out Facebook Marketplace for moving supplies, moving companies in your area, or even PODSBoxes.com.
Full Service Movers
You can also choose to go with full service movers. They'll ensure that all your items are carefully wrapped, loaded, and transported to your new Portland home — for a hefty fee. You might find that the extra expense is worth it, though. Make sure you spend time researching a few companies, and start looking at least three months in advance, since many moving companies are booked that far into the future.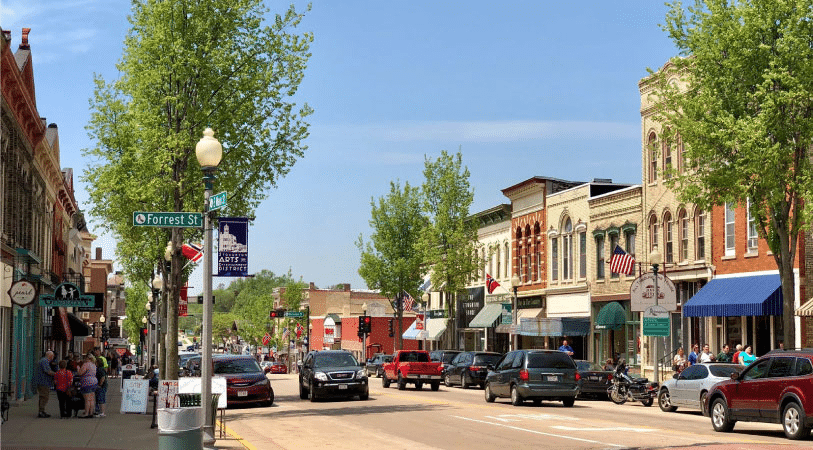 The Best Portland, Oregon, Neighborhoods (and Suburb)
Portland has many wonderful neighborhoods and suburbs, but these are a few of our absolute favorites.
1. St. Johns, OR
St. Johns is considered one of the best neighborhoods in the city of Portland, and once you're there, it's easy to see why. It's only about 20 minutes outside downtown by car, and has everything you could need, including grocery stores, boutiques, antique stores, cafes, restaurants, and parks. This area has a small town-feel to it, and the residents are a tight-knit community that looks out for one another. Whether you enjoy the local markets, biking the trails, or simply hanging out in one of the many coffee shops, you'll enjoy your time in St. Johns.
2. Laurelhurst, OR
This Portland neighborhood has everything you might need in walking or biking distance, and you'll always see people out and about and enjoying the many green spaces, like Laurelhurst Park. 
The homes are beautiful, there are great schools, and there are lots of tree-lined streets. Residents also take pride in making their community a welcoming place for all. Laurelhurst's central location in Portland means it's easy to get almost anywhere. Regardless of if you're looking to get out of the city for the weekend, catch some live music, or try out a new restaurant, chances are you can bike or take public transportation to do it. If you're looking for a friendly Portland community, you can't go wrong with Laurelhurst.
3. Milwaukie, OR
Though technically a suburb of Portland, Milwaukie is a great place to live if you're looking for affordable Portland housing with a short commute to the city center. Milwaukie is only seven miles outside of the city limits, but it still has all the fun and flavor you expect from Portland. With beautiful views of Mt. Hood and Mount St. Helens, you'll never have a problem getting outside of the city to enjoy these natural areas. Residents love the tree-lined streets, markets, coffee shops, breweries, and easy access to the Columbia and Willamette rivers for some fun on the water.
Let PODS Help With Your Move to Portland, Oregon
If you're going to make the move to Portland, Oregon, PODS can help! They'll deliver a portable moving container to your address, so you can fill it up on your schedule. Then, when you're ready, PODS will pick it up and take it to your new PDX home. Need more time? You can always take advantage of the free month of storage included with every move!
---
(Source for image featured at top: Adam Blank via Unsplash)
Editor's note: Monthly rental prices were rounded to the nearest $25 and home values were rounded to the nearest $100 for ease of reading.
Get a Quote
Choose the service you need
Comments
Leave a Comment
Your email address will not be published. Required fields are marked *