Portland, OR, has worn many personalities over the last couple of decades — some earned and some thrust upon the city by force of pop culture. The truth is, Portland is proud of its strong independent-maker culture, inclusive politics, and all-for-one community vibes. And the Rose City shines when it comes to its beer, cocktail, and restaurant scene, which has earned repeated national awards and nominations over the last 10 years.
Some downsides? The weather. Portland has five seasons: summer, fall, winter, spring, and rainy. Unfortunately, the rainy season is long and persistent, but those who can hack the gray skies and frequent rain will be rewarded with near-perfect summers filled with easy access to plentiful outdoor activities and lush parks, not to mention a kaleidoscope of burning fall colors.
The city is doing something right because according to our PODS 2023 moving data, Portland came in as one of the top five cities people are moving to in the United States.
If you're thinking of moving to Portland, OR — or just looking to find your new home in the Rose City, you can jumpstart your search with this guide to some of the best Portland neighborhoods. Whether you want walkability, a small community feel, access to city amenities, great public schools, or just don't want to break the bank, read on to find the best Portland neighborhood for you.
Portland at a Glance
Portland's fast growth, along with a shortage of homes on the market and the coronavirus pandemic led to skyrocketing home prices. In the last year-over-year (April 2022 to April 2023), we've finally started to see home values decrease (5.7%); however, like most other places in the U.S. right now, rental prices continue to rise. While the cost of living in Portland may be high for some, for those living in Seattle, moving from San Francisco, or leaving other parts of California, the lower cost of living may come as a pleasant surprise.
Here are a few quick stats and frequently asked questions about Portland:
Q: Which side of Portland is better?
A: Portland is divided into two sides by the Willamette River. Ask a person on either side which is better and they'll likely say theirs. The truth is, both sides of Portland have their pros and cons, and it just depends on what you're looking for. Once you find the right Portland for you, you'll know.
Q: What is the safest area in Portland Downtown?
A: Unfortunately, Downtown Portland has fallen into slight disgrace since the pandemic and political protests. The area is largely boarded up, and there is a high number of unhoused people living in encampments — many of which have drug problems, making Downtown Portland less safe than most other parts of the city, specifically at night. Although we can't necessarily recommend an area as being the safest, we can tell you to be sure to avoid Old City and Chinatown after dark.
Q: What is the coolest neighborhood in Portland?
A: Nob Hill is the coolest Portland neighborhood on the west side of the river, thanks to its many trendy boutique shops, great restaurants and bars, and walkability. On the east side of the river, SE Hawthorne is generally considered the coolest or hip part of town.
Best Portland Neighborhoods
Schools, parks, and a family-friendly vibe are essential factors for most home shoppers with children. Instead of looking only in the city proper, you may want to consider a suburb in the metro area. Neighborhoods with good schools in Portland also tend to be the most expensive. While checking out GreatSchools.org will help guide your search, here are two family-friendly neighborhoods that stand out.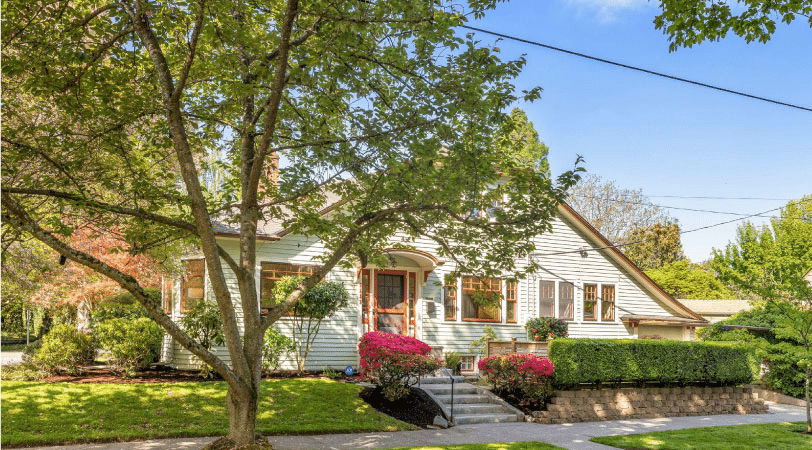 1. Laurelhurst
Average rent (one-bedroom): $1,750
Average home value: $848,000
Great for: Families with young kids, singles, modern apartments, older homes, walking
Portland's Laurelhurst neighborhood is named after the city's leafy Laurelhurst park, where residents spend time walking paved and unpaved paths under the tall trees, around a duck-filled pond, and giving their dogs some exercise in the off-leash area. This whole neighborhood is stunning, with color in fall and bright with blooms in spring, and it's full of people on foot in summer. Homes here are a mix between new, contemporary apartments with luxury amenities and gorgeous older homes of various styles.
This is a great neighborhood for people looking for a location where almost everything — restaurants, bars, grocery stores, coffee shops, and vintage stores — are within an easy walk. Drive a car? Parking can be tricky but not frustrating, and there are no street cleaning days. Families like the lively yet family-friendly social spots, top-notch schools, and quiet streets, while singles and young professionals revel in the excellent restaurants, variety of bars, and variety of activities available. Everyone here benefits from a relatively low crime rate and about average housing costs.
2. Goose Hollow
Average rent (one-bedroom): $1,775
Average home value: $385,900
Great for: Soccer fans, college students, vegans, schools, and outdoor enthusiasts
Goose Hollow rests in Portland's Southwest District and is among Portland's wealthier neighborhoods. Huge historic mansions of all styles line the steep and curvy streets (worth a stroll, even if you don't live here), alongside historic and modern apartment buildings. This classy neighborhood butts straight up against Washington Square Park, one of Portland's green gems (and the entrance to the Portland Rose Garden and Japanese Garden). Its proximity to the sports stadium makes it a haunt for the city's massive soccer fans, and its proximity to Portland State University only amps up the celebration on game days.
There's no shortage of restaurants or bars in Goose Hollow, but reliable parking can be a hair-pulling quest (unless you've got a city parking pass). There is also a low level of crime in the area, likely because the main thoroughfare of Burnside is down the steep streets — it's a calf-burner to reach this neighborhood. Niche gives public schools in Goose Hollow an overall A grade.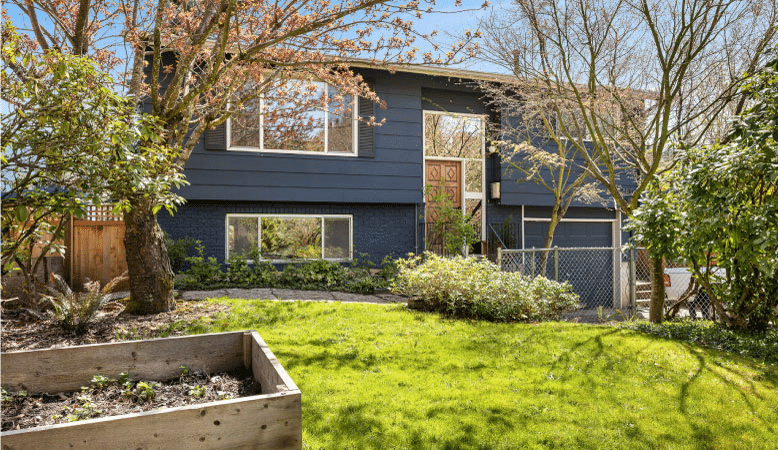 3. St. Johns
Average rent (one-bedroom): $1,800
Median home sale price: $410,000
Great for: Couples, older singles, people searching for community
In another life, the St. John's neighborhood was classified as a town all its own. Nowadays, it still gives off vibes of independence through its boutiques, eateries, and activities. Think vintage movie theaters, park picnics, and laid-back feels. St. John's neighborhood is located in North Portland, on the other side of a soaring Gothic-style steel and concrete suspension bridge, and it's only 17 minutes by car to downtown.
The area features a slow pace, access to nature, and a fun selection of gift, clothing, and antique shops. Unfortunately, St. Johns' public schools aren't among Portland's best, so if you've got small kids, you may want to consider private options.
4. Hawthorne District
Average rent (one-bedroom): $1,600
Median home sale price: $650,000
Great for: Students, young professionals, artists, foodies, walkability
The southeast's Hawthorne District is a hip and trendy neighborhood with Hawthorne Boulevard as its main artery. Cafes, food trucks, small eateries, bars, boutiques, and loads of vintage stores keep foot traffic along these 43 blocks heavy. Side streets are full of larger single-family homes, while contemporary apartments have popped up along Hawthorne. Some of Portland's best restaurants are in this neighborhood, which manages to seamlessly blend a historic and community feel with diversity and inclusiveness.
Rent here varies widely depending on the age, size, and location of the building. The Hawthorne Theater hosts national and local music acts, and the Bagdad Theater is a historic cinema that shows modern films. Residents here are typically young and single or families that have lived here for years.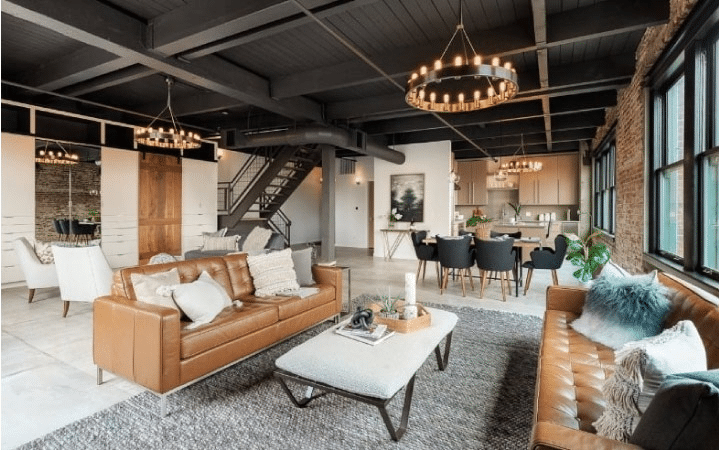 5. The Pearl District
Average rent (one-bedroom): $2,075
Average home value: $535,500
Great for: Young professionals, students, singles, walkability
While Downtown Portland may need a minute to recover from its growing crime and homelessness problems, The downtown-adjacent Pearl District is a great compromise for those looking for a mix of trendy and walkable with contemporary apartments, lofts, and condos. Bars, restaurants, and boutiques are housed in revamped warehouses, giving the neighborhood an industrial-chic vibe. You'll also have easy access to Portland's public transit system via the bus, MAX light rail, and even the Amtrak station.
Everything is at your fingertips in the Pearl District, including shopping, restaurants, art galleries, cafes, and bars. Parking is hard to find, but that's okay because, if you live here, you don't need a car. This is a popular neighborhood for PSU students and OHSU workers, and, though the public schools are highly rated, the crime level could be better, so families should keep that in mind.
6. Hillside
Average rent (one-bedroom): $1,750
Average home value: $1,009,700
Great for: Retirees, families with kids, professionals, and being secluded without isolation
Hillside is — you may have guessed — located on the hillside of Washington Park. Geographically located next to the Goose Hollow neighborhood, Hillside is ranked second (behind Goose Hollow) as the best neighborhood in Oregon and Portland by Niche. Commute time, schools, diversity, safety, and all but one other category received an A or B grade by the site. The one thing that didn't? Cost of living, which received a C- (ouch).
Beautifully designed homes in Hillside are tucked away off the side of the road, and views tend to be lush and green. Traffic is minimal, though slick roads from snow and Portland's infamous rain can cause backups. However, if you live here, you'll be a stone's throw from Portland's best parks and even have access to trails.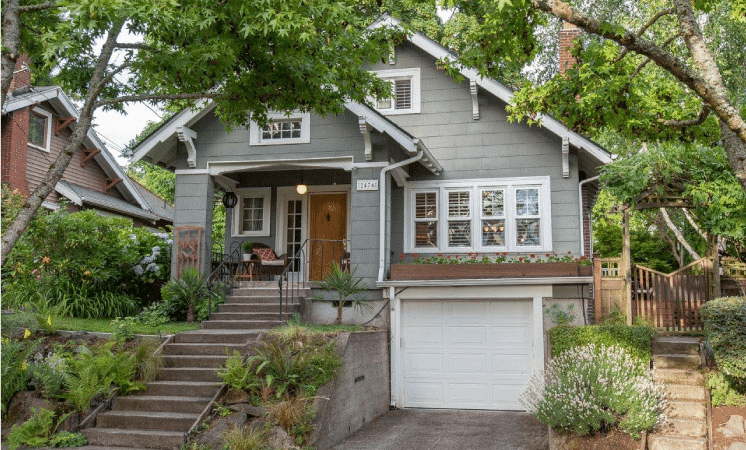 7. Hollywood
Average rent (one-bedroom): $1,750
Average home value: $510,100
Great for: Students, singles, families on a budget
Hollywood is one of Portland's historic districts, and, by the looks of it, not much has changed here in decades. The area is going through a bit of gentrification now, attracting younger residents on a budget. That said, rent here is going up and is on par with very fleshed-out neighborhoods like Hawthorne and Laurelhurst.
Victorian homes, landmark buildings, and wide sidewalks thread through the neighborhood, which has a mix of long-standing mom-and-pop businesses and newer places, too. Contemporary standbys like Target and Trader Joe's can be found, along with old favorites like the Hollywood Theater (playing new films), Antique Alley, and Chin's Kitchen (Portland's oldest Chinese restaurant). For some, Hollywood may feel a little rough around the edges compared to other neighborhoods, while others like the less-polished, more historic feel.
8. Northwest District (Nob Hill)
Average rent (one-bedroom): $2,025
Average home value: $598,800
Great for: Young professionals, professionals, walkability, city-like vibes
Located in the Northwest District, Nob Hill feels downright cosmopolitan compared to the city's quieter, residential neighborhoods. Nob Hill is part of the Alphabet District, where you'll notice the named streets are named in alphabetical order, making them easier to navigate (it's also said this area of Portland inspired many character names for The Simpsons). The main action takes place along NW 23rd and NW 21st Avenues.
Upscale eateries, boutiques, top-end brands, brew pubs and bars, and specialty stores share this bustling grid neighborhood. There are beautiful mansions, historic apartment buildings, and practically non-existent free parking. Streets are busy with traffic and pedestrians on the move, giving this neighborhood an air of big-city bustle.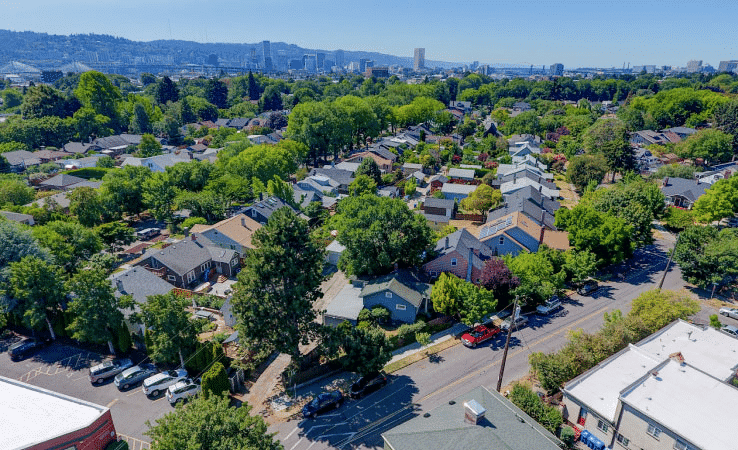 9. Ladd's Addition
Average rent (one-bedroom): $1,725
Median home sale price: $1,045,000
Great for: Families, idyllic scenery, quiet residential vibes, large historic homes
It's easy to spot Ladd's Addition on any city map. This neighborhood, wedged between Buckman and Hosford-Abernethy, looks like an "X" marks the spot. Streets here have a diagonal layout (instead of a grid), and there are jokes about how easy it is to get lost on the tree-lined streets. The neighborhood itself is almost entirely residential, so you'll have to venture out to the nearby restaurants, shops, and grocery stores.
Homes here are historic and pricey (double the city average), and there are very few apartment buildings along these historic streets. Ladd's Addition is Portland's first planned neighborhood development and one of the oldest in the United States, too. Tall, lichen-covered elm trees, wild landscaped lawns, and extremely low (original) curbs give this southeast Portland neighborhood an '80s movie feel. Beautiful public rose gardens, roundabouts, and a combination of mid-century homes and luxurious mansions line the streets of this iconic Portland neighborhood.
10. Alberta Arts District
Average rent (one-bedroom): $1,500
Median home sale price: $535,000
Great for: Artists, young families, walkability, Black history
Portland has a hefty history as one of the most redlined cities in the country. Up until the 1990s, the Alberta neighborhood was home to Portland's Black community. These days, the neighborhood has become more diverse and gentrified, but there are street markers along Alberta Street where you can learn about the neighborhood's history through several important points.
This artsy and funky neighborhood is home to colorful street art, galleries, restaurants with various cuisines, small bookstores and coffee shops, and a quirky monthly street fair called "Last Thursday," with live music, food trucks, and unique artwork. Rent here is lower than average, while houses run midline. Portland is a well-connected city, but places like Alberta are a little less connected, making this neighborhood a little more affordable.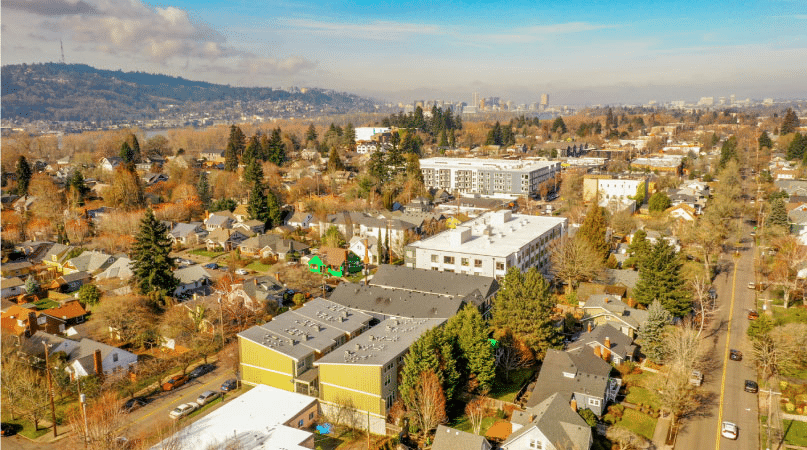 11. Sellwood - Moreland
Average rent (one-bedroom): $1,575
Median home sale price: $687,500
Great for: Families, professionals, retirees, suburb feel, excellent river views
Located just south of the city and a bike ride away from downtown (biking is big here), the Sellwood-Moreland neighborhood is full of character and has an old-meets-new vibe. This neighborhood sits on the edge of the Willamette River, giving beautiful views of the river skyline and bridges. Sellwood is part of Portland but has a smaller town/suburb feel, making it a great pick for anyone looking to be outside the city, yet just a stone's throw away when there's something they need to go in for. Sellwood itself is walkable and has a decent selection of restaurants, bars, and food carts. You'll also get access to some great green spaces, like Oaks Bottom Wildlife Refuge, Sellwood Park, and Sellwood Community Garden.
"This SE Portland neighborhood is full of charm and very unique," said Homsley. "Sellwood is very walkable with a variety of food options that range from cafes and brewpubs to food carts. Sellwood is home to some great green spaces such as Oaks Bottom Wildlife Refuge, Sellwood Park, and Sellwood Community Garden. Sellwood is a nice mix of both old and new."
12. Mississippi
Average rent (one-bedroom): $1,950
Median home sale price: $452,500
Great for: Local makers, food carts, diversity, students, young professionals
Mississippi is a neighborhood born out of the growth along its eponymous street in North Portland. Located on the east side of the river, this eclectic neighborhood is the city's hub for hipsters. This quaint area went from low income and rough to popular starting in the late 90s, and it's now one of the most trendy areas in the entire city. Mississippi Records, an independent record store here, is known for hosting great local and touring bands. In fact, most of the businesses in the Mississippi area are homegrown independent businesses, giving this neighborhood a noticeable feeling of originality and community.
This well-connected neighborhood skews young and is ideal for students, young professionals, and younger families. Between April 2022 and 2023, housing prices dropped drastically (34%), so it's a great time to find exceptional affordability for a historic starter home or rental.
Making Your Move to Portland, OR
While you're looking for your new place, it's never too soon to start planning your move, whether you're moving locally or from across the country. PODS can help each step of the way. They'll deliver and pick up your container, so you can focus on loading it up at your own pace. And once you're ready, they'll deliver it to your new home in Portland (or store it in a secure PODS Storage Center as long as you need). And did we mention they'll happily refer you to vetted vendors in your area, if you need help with packing and loading or unloading along the way? With PODS, you're covered.
---
Alex Keight is a writer who has lived — and moved — all over the country and the world. She is an expert at packing, whether it's for a long-distance move or a short weekend trip. Alex currently lives in Portland, OR.
Editor's note: For ease of reading, monthly rental prices were rounded to the nearest $25 and home values were rounded to the nearest $100.
Get a Quote
Choose the service you need
Comments
Leave a Comment
Your email address will not be published. Required fields are marked *