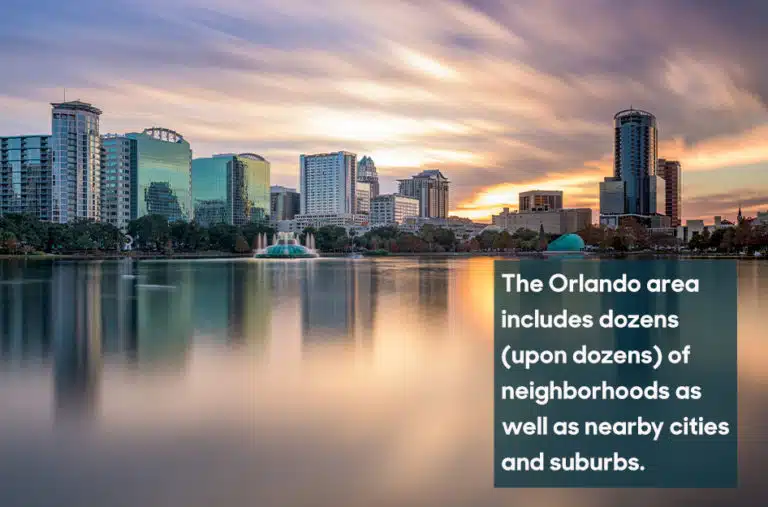 Your Guide to Some of the Best Orlando Neighborhoods
If you've been thinking about moving to Orlando, you'll be happy to know that "The City Beautiful" is not a city that's only suitable for tourists and retirees — contrary to what many may think. It actually has much more to offer!
For starters, Orlando is a great place for people of all ages. Sure, the weather in the state is a favorite of snowbirds and golden-agers, but the booming job market in the city offers great opportunities for young professionals in many fields, as well (not just those connected to tourism!). And the quality education available in the area makes it attractive to families with both younger kids and teens getting ready for college.
So whether you're coming for the weather, the real estate, the jobs, the food, the art scene, the famous theme parks and entertainment opportunities — because, let's be honest, even locals love them — or any of its other perks, the city will surely surpass your expectations.
But you're not here to be sold on the city (It's not a hard sell anyway, right?). Instead, you're here to find out about specific neighborhoods in the Orlando area. You have questions about the best Orlando neighborhoods, and we have answers. Let's get started with the basics:
What is the safest area in Orlando, FL?
Eagles Nest, Wedgewood Groves, and Lake Nona Estates have been rated the safest neighborhoods to live in Orlando.
What is the nicest area in Orlando?
Popular with young professionals, Park Lake/Highland is considered one of the best Orlando neighborhoods (if not the best). With above-average schools, beautiful parks, great nightlife, and lots of restaurants, coffee shops, and bars, this is a choice spot for singles and families alike. What else can you expect? Cute brick-paved streets and an overall urban feel.
What are the different areas in Orlando?
The Orlando area includes dozens (upon dozens) of neighborhoods as well as nearby cities and suburbs. Some of the better known areas include the Central Business District, Lake Eola Heights, College Park, Sanford, and Williamsburg.
Best Orlando Neighborhoods
And now, here are some of our favorite places to consider when planning your move to Orlando (whether you're moving within Florida or coming from elsewhere):
Sanford
Median sold home price: $305,000
Average monthly rent: $1,465
Overall Niche grade: A-
Good for: Families, young professionals, schools, real estate investing
Home to many young professionals and families alike, Sanford is a suburb of Orlando with a population of about 61,000 people. It offers a dense suburban feel and has been crowned one of the most diverse suburbs in the whole state of Florida.
With above-average schools (some of the best in the state), this lakeside town is great for families, so if you have children (or plan to have them in the future), Sanford may be the place for you.
The real estate in the area is very attractive, as well, and offers a great return on investment. In fact, half of the population owns their homes.
Williamsburg
Median sold home price: $343,000
Average monthly rent: $1,858
Overall Niche grade: A-
Good for: Families, schools, homeowners, small-town lifestyle
If you prefer a more suburban vibe, Williamsburg — with just 7,908 residents — may be the place for you. This suburb offers plenty of convenience, with restaurants and stores for your everyday needs. Oh, and did we mention it's home to some of the state's top public schools?
If you're looking to buy real estate, you'll feel especially at home because 81% of the residents in this area are homeowners. The traffic can get difficult at times, but that's mostly because of the proximity to Sea World, Universal Studios, and Disney parks, which is also kind of a perk at the same time, we imagine.
Central Business District
Median sold home price: $244,000
Average monthly rent: $2,037
Overall Niche grade: A+
Good for: Families, diversity, nightlife, walkability
The Central Business District is perfect for those who love city life and being right in the middle of everything! In addition to great schools (are you noticing a trend here?), this area is bursting with restaurants, shops, spas, and virtually everything else you could think of!
Another advantage includes a high walkability score. In fact, accessibility is one of the top advantages of the area, since you'll rarely need a car for your day-to-day life, be it for fun activities or quick errands.
As for housing, this area is more of a renter space with only 19% of its residents owning their home.
Baldwin Park
Median sold home price: $572,500
Average monthly rent: $2,097
Overall Niche grade: A+
Good for: Families, schools, restaurants, parks
This area offers an urban-suburban look and feel with plenty of options to enjoy nature in parks and around the neighborhood's three lakes. And with a wide variety of coffee shops and restaurants, you won't have to go far to satisfy those taste buds. The area is rich in both economic activity and ethnic variety of its residents, as well, and most of its population is highly educated.
It's also a very easy commute downtown if you happen to work there, as many locals do.
Overall, the community is warm and welcoming, and it's a safe and beautiful area with access to lakefront views all over. It's not the most affordable, but it's certainly worth it for the charm and convenience.
Lake Eola Heights
Median sold home price: $440,000
Average monthly rent: $1,539
Overall Niche grade: A
Good for: Families, history, young professionals, bars, restaurants, nightlife
This area is also an urban-suburban mix. It's walkable and pet-friendly, and there are convenient stores and restaurants nearby, as well as great schools for families with children.
The Lake Eola Heights area is also rich in history and architectural diversity. The buildings in this neighborhood feature styles ranging from Mediterranean Revival to Art Deco, so there's a little of everything for all tastes.
And if that wasn't enough, there are lots of food and shopping options, so even the most discerning tastes won't get bored.
Parramore
Median sold home price: $137,500
Average monthly rent: $1,160
Overall Niche grade: B-
Good for: Sporting events, street art, affordable housing, performing arts, families, schools, nightlife, diversity
This west-central area offers great soul food options and affordable housing (in which most residents rent). It also has a thriving street art scene with an urban-feel neighborhood.
Parramore, along with City District, hosts most of Orlando's professional and collegiate sporting events — a big plus if you're a sports fan. The Amway Center, Exploria Stadium, the Camping World Stadium, the Dr. Phillips Center for the Performing Arts, and Beacham Theatre, among others, are all located around this area.
College Park
Median sold home price: $428,300
Average monthly rent: $2,305
Overall Niche grade: A+
Good for: Fun events, spas, specialized shopping, families, nightlife, schools
Fun fact: This area gets its name from the numerous streets that are named after colleges, but there aren't actually any colleges in the immediate area!
It's a great area if you like fun cultural events, such as April's Dancing on the Drive — which features truck vendors and, you guessed it, a giant dance floor — November's JazzFest, which is self-explanatory, and December's Holiday on the Drive, which turns the whole area into a festive winter wonderland.
This is a great choice for families that like being in the middle of everything and for young professionals, as well, since it's just north of downtown with easy access to offices and work in that area. College Park has a dense-suburban feel, and most of its residents (72%) own their homes.
Lake Nona Region
Median sold home price: $515,000
Average monthly rent: $1,980
Overall Niche grade: A+
Good for: Families, schools, golf, gated communities
Lake Nona is a trendy planned community that includes multiple lakes and waterways and several tree-lined gated communities with new family homes (including cute bungalows!).
Home to the Lake Nona Golf & Country Club, this area is a great choice for golfers and country club lovers. The picturesque community also offers great food spots, such as the Chroma Modern Bar + Kitchen, the Canvas Restaurant & Market, and Bosphorous Turkish Cuisine, just to name a few.
Also, as Lake Nona is more of a region than a neighborhood, it is commonly divided up into the following areas:
Lake Nona Central
Lake Nona Estates
Lake Nona South
Northlake Park at Lake Nona
Moving to Orlando
Once you've decided on your perfect Orlando neighborhood, it's time to start prepping for your move. PODS offers flexible moving solutions, whether you're moving locally or across the country, and we can help you find local packing and loading assistance if you need some extra muscle.
If you're buying or selling in the city, make sure to read our Orlando realtor secrets on buying and selling your home, so you can be better prepared. And if you're new in town, check out our guide to everything you need to know about living in Orlando.
Not sure about Orlando just yet? No worries! The PODS blog has you covered with our lists for the best places to live in Florida as well as the best places to retire, if you still need to do some more research before taking the plunge!
---
Ivonne Spinoza is a freelance writer and a frequent contributor to the PODS blog. Her work has appeared in Matador Network, PBS' Independent Lens, and The Chicago Tribune, among others. When she's not snuggling her cats, she's either Kondo-ing someone's life or fighting jet lag at some airport.
Sources:
Get a Quote
Choose the service you need
Comments
Leave a Comment
Your email address will not be published. Required fields are marked *