Take advantage of our limited time offer. Enter promo code HOLIDAY25 to save up to 25%.
See offer details
.
PODS Named No. 1 Moving Service on America's Best Customer Service 2019 Ranking  @Model.Title.HeadingType>
-- Moving and storage leader acknowledged for outstanding customer service --
CLEARWATER, Fla. (November 26, 2018)
–
PODS Enterprises, LLC
announced today it has been recognized by
Newsweek
as the top moving company for customer service in the 2019 America's Best Customer Service ranking. As PODS continues to expand and improve its sales and service capabilities, the ranking reflects the company's steadfast commitment to upholding the highest levels of customer service.
The ranking has been identified in an
independent survey
of more than 20,000 U.S. customers and evaluated based on the likelihood a customer would recommend the service or brand and a five evaluation criteria, which considers: quality of communication, technical competence, range of services, customer focus, and accessibility. Based on this methodology, PODS earned the highest score within the moving services category as America's Best Customer Service 2019.
"PODS is honored to be recognized as the top-rated customer service provider in the moving services category, which reflects our organization's commitment to providing a superior customer experience, coupled with simple, smart, and flexible moving and storage solutions," said David Redmond, PODS' SVP of Residential Sales and Marketing. "This honor is a testament to the tremendous work of our associates, who are truly passionate about crafting custom-tailored solutions to meet the unique needs of each customer. We recognize that moving can be stressful, which is why the customer experience is the guiding force across our entire business."
In support of providing the best customer care, PODS has significantly expanded its sales and service operations in the last year with the opening of a West Coast sales and service center in Reno, Nev. and the growth of its Clearwater, Fla. sales and service center. This has allowed the company to better support customers across the country and continue to deliver on its service commitment.
To see the full ranking of America's Best Customer Service 2019,
visit Newsweek online
.
About PODS Enterprises, LLC
PODS offers moving and storage the way you need it done, with unlimited time, space, and control. When PODS pioneered
portable storage
in 1998, they introduced the world to a brand new, flexible way to move and store. Now an industry leader, PODS currently provides residential and
commercial services
in 47 U.S. states, Canada, Australia, and the UK. To date, the PODS network has completed more than
900,000 long-distance moves
, has nearly 4 million deliveries, and has over 200,000 PODS containers in service. To learn more, visit
www.PODS.com
.

Contact:
Trent Brock
PODS Enterprises, LLC
pressrequest@pods.com
Let's Get Started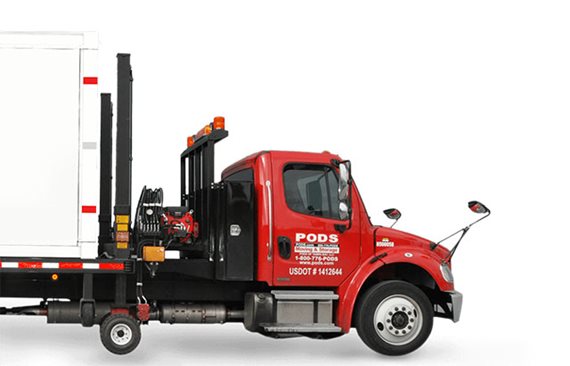 Choose the service you need