Take advantage of our limited time offer. Enter promo code HOLIDAY25 to save up to 25%.
See offer details
.
PODS® REACHES NEW MILESTONE, CELEBRATING 20TH ANNIVERSARY@Model.Title.HeadingType>
-- Anniversary marks the moving and storage leader's 20th year in operation --

CLEARWATER, Fla. (November 28, 2018)
–
PODS Enterprises, LLC
announced today it has commemorated a new milestone for the company, marking 20 years of service in the moving and storage business. PODS was established in 1998 by Pete Warhurst who sought to bring storage directly to the customer. Designing and building the first portable container prototypes, Warhurst disrupted the moving and storage industry with his revolutionary idea.
Now in its 20th year of business, PODS serves 47 states and four countries, and has completed almost four million deliveries to date. The company continues to uphold the entrepreneurial spirit of its founder through PODS' culture of innovation and can-do attitude. This coupled with the unwavering focus, dedication, and hard work of PODS' associates has resulted in successful growth and implementation of new ideas, with one of the best examples being PODZILLA®, PODS' innovative level container-lifting machine.
"For the past 20 years, PODS has been on an amazing trajectory which is a result of the hard work and steadfast commitment of our entire company," said John Koch, President and CEO of PODS. "I am honored to lead a team who consistently finds new ways to bring value to our customers and the industry more broadly. This is yet another exciting and pivotal moment for our company as we continue to experience strong growth. I look forward to many more achievements in the years to come."
Recent milestones for the company include the opening of a West Coast sales and service center in Reno, Nev. and the expansion of its original East Coast facility in Clearwater, Fla. in the last year. The company has also substantially grown its fleet, recently celebrating 1,000 manufactured PODZILLA machines and the addition of PODS' revolutionary Generation 6 storage containers.
With this anniversary, PODS is celebrating its 20th year operating in the Tampa Bay area, where it is an active contributor to the local community. PODS' commitment is demonstrated through its support of a number of organizations and events in the area like the Marine Toys for Tots Program and the American Heart Association's Tampa Bay Heart Walk, among others.
To learn more about PODS' moving and storage solutions or to find a storage location near you,
visit PODS online
.
About PODS Enterprises, LLC
PODS offers moving and storage the way you need it done, with unlimited time, space, and control. When PODS pioneered
portable storage
in 1998, they introduced the world to a brand new, flexible way to move and store. Now an industry leader, PODS currently provides residential and
commercial services
in 47 U.S. states, Canada, Australia, and the UK. To date, the PODS network has completed more than 900,000 long-distance moves, has nearly 4 million deliveries, and has over 200,000 PODS containers in service. To learn more, visit
www.PODS.com
.
Contact:
Trent Brock
PODS Enterprises, LLC
pressrequest@pods.com
Let's Get Started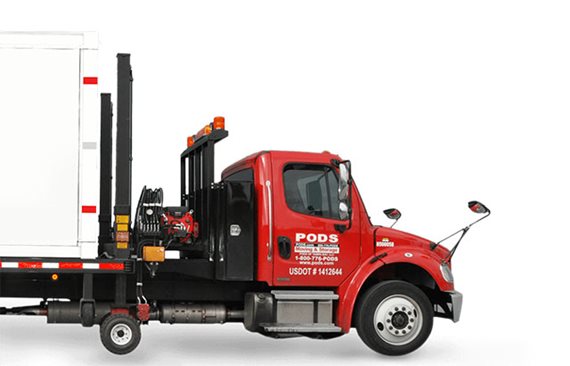 Choose the service you need