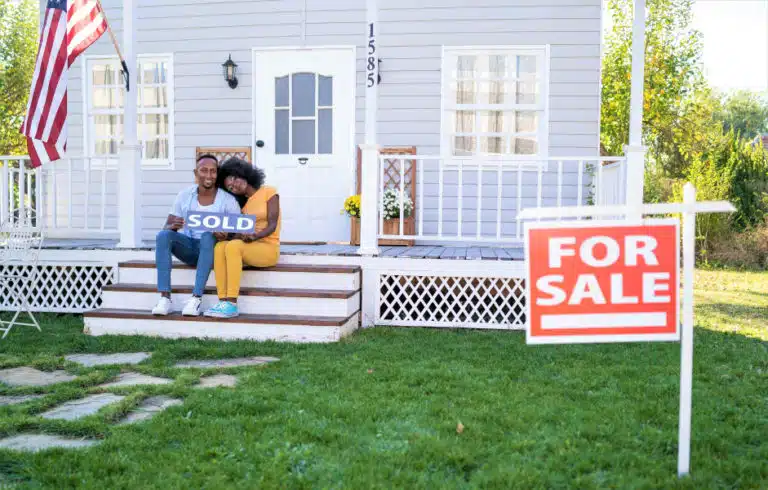 Here's your guide to making the most of multiple offers on a house
It's a moment of victory: You've officially received multiple offers on your house, and your real estate agent is giving you a high five for the effort. But while getting to such a moment may seem like reaching the summit, it's really just the start of what can be an enjoyable journey, if you know how to navigate it. Getting the best final result means first knowing how to handle multiple offers on a house. And that can only be done by taking your time, walking through each offer with a fine-tooth comb, and determining what aspects are important and necessary to make your move run as smoothly as possible.
When you're in the enviable position of having multiple offers on a house, you may be tempted to just look at that one, all-important number — how much the buyer wants to pay you for the home — and jump at it. Accepting an offer on a house isn't about that one number, though. It's about considering the best price as only one of the top considerations. You also have to keep mortgage qualifications, contingency needs, related costs, whether the timing works for you, and whether the buyer wants any special inspections that may add costs or derail the whole deal in mind.
Before you start to panic, take a deep breath. Sure, it sounds like a lot… and it is. But when you get multiple offers on a house, it truly is an incredible position to be in. It's just a process that deserves respect, says Neyshika Tellis, a real estate agent with Florida-based Charles Rutenberg Realty.
How do sellers determine which offer to accept?
To determine which offer to accept, Tellis says, "Don't just focus on the price. Yes, that's the goal, but that's not the only number you should be looking at." For example, determine if there are contingencies at play, such as the buyer needing to sell a home first. If that's the case, should the buyer's sale fall through, so will yours.
Likewise, determine how the buyer is planning to pay for the home. Is the buyer bringing a cash offer to the table? If not, you'll want to know if the buyer is pre-approved. And to do that, you'll need lender confirmation that the buyer's good to go and ready to pay for it.
"Are the closing dates to your liking? Do they align with your dates? Are there buyers who will waive contingencies or inspections? Those are the things that you look at," Tellis adds.
What is the difference between pre-approved and pre-qualified?
Tellis says a mortgage pre-approval means the potential buyer has already worked with a lender and that a loan officer has examined his or her finances (income, debt, assets, and credit history). The lender then determines how much money that buyer can borrow and issues a letter that shows how much they can borrow to purchase a house. Pre-qualification — just an initial assessment versus an in-depth assessment of the buyer's financial situation — is not as high a standard among people in real estate.
"If you are the buyer's agent, one of the first things you should do with someone, especially a first-time home buyer, is put them in touch with a lender and get them pre-approved," Tellis says. "Pre-qualified is just okay. Pre-approval has more weight. That tells you, as a seller, that you have a serious buyer who has the ability to pay."
In fact, Tellis often advises her sellers to note in the listing they are only accepting offers with pre-approvals. This is especially important in situations where cash offers and/or multiple offers on a house are expected.
As a seller's agent, Tellis then verifies any offer that notes a pre-approval. "That's where you do your due diligence," Tellis says. "You have to confirm that the pre-approval letter is not bogus or on fake letterhead. Once it has been verified, you're good to go!"
From there, the lender should send updates to the seller's and buyer's agents throughout the loan process. "You want to be in the loop every stage of the process. Everyone should be in the loop. If you don't hear from the lender, that's a red flag," Tellis says. "Your agent should be your advocate. He or she should have your back on this."
How do I choose between two home offers?
Tellis says she has had clients who have accepted offers that were lower than others in terms of final dollar amounts, but the buyer offered something they wanted, like a flexible time to close. That's especially key if you need more than 45 days because you are building a new home, for example.
A real estate agent can help you create a document or spreadsheet to really go through offers detail by detail, which is important when you're choosing between multiple house offers. Tellis says she is happy to work with her sellers to study everything that goes into that all-important evaluation. Just like every home on HGTV's "House Hunters" has its pros and cons, every home offer will have its positives and negatives. As the seller, you need to have strict ideas of what you want as the lowest offer or what kind of contingencies are okay in your book.
If the buyer is unwilling to work with you, then it may be time to say "farewell" in a professional way and move onto that next offer to see what its details may reveal. Tellis says she always lets every buyer who makes an offer know if his or her offer was accepted as a way to make sure everyone walks away feeling like they were heard, respected, and the offer was valued, even if it wasn't "The One."
Can you accept a different offer on a house?
Tellis acknowledges there are situations where you may have accepted an offer but then another buyer may step up with something that looks better to you. Accepting an offer on a house is exciting for sure, but it can come with regret. This is a slippery moment for a seller, she said, because laws vary from state to state in terms of whether you can shift to another offer once you go under contract with a specific buyer.
"In general, until the contract is signed by both parties, you can go back and forth and negotiate different offers," Tellis says. "You can try to get your best offer for your seller. But once both parties have signed the sales agreement, they are locked into the deal. That is why it is important that, if you think you could get more for your property, you should wait before you sign the contract.
In extremely hot sellers' markets, "Agents can add verbiage to a contract that says the seller is accepting contingent offers (in other words, higher offers) and gives buyers a chance to match or beat that offer," Tellis says. "If that buyer is truly vested in your property, they may be willing to come up in price and match the better offer."
Having multiple offers and a willingness to work with all parties serves everyone in the home-selling process, Tellis believes. Whether you are staying close to home or moving far away, you want the process to be smooth and relatively quick.
"I always accept backup offers because a lot can happen between the [bargaining] table and the actual closing. A buyer may lose his or her job or have a major life event that derails them," Tellis said. "If you have taken your house off of the market without backup offers, you'll be back to square one."
How do you decide what to offer when selling a house?
As the seller, you can offer patience, lots of communication, and a willingness to consider every offer that is sent your way. A lowball offer may not get much of a look, and an offer where the buyer may have to sell his or her house first may not win the day. But you, as the seller, should have an open mind to all offers that are made, Tellis says. That way, you can get to that finish line of a signed contract where both parties are excited about the outcome. The buyer is happy because they got a great home, and you get to move onto greener pastures, wherever they might be.
Selling your house can be complicated, but now that you've figured out which offer you're going to accept, the hard part's over! Next up? Moving to your new home, whether it is your first, second, fourth, or forever home. Check out the PODS blog for everything from pro packing tips to moving with kids. 
Also, as you may have noticed, all the little details of selling your home (offers, escrow, inspections, signings, closing dates) tend to make it a little hard to predict when everything else needs to happen. That's where a flexible solution like portable moving and storage containers come in. You can pack and load at your own pace and, since PODS has storage built into the service, you can store the containers while you're wrapping up all the loose ends. Once you're ready to move to your new home, PODS will deliver your containers right to your new driveway.
Special thanks to Neyshika Tellis — Tampa Bay, Florida real estate agent with Charles Rutenberg Realty — for providing her professional insight for this article!
---

Karen Dybis is a freelance journalist and a frequent contributor to the PODS blog. Her work has appeared in Time magazine, U.S. News & World Report, The Detroit News, and more.
Get a Quote
Choose the service you need
Comments
Leave a Comment
Your email address will not be published. Required fields are marked *