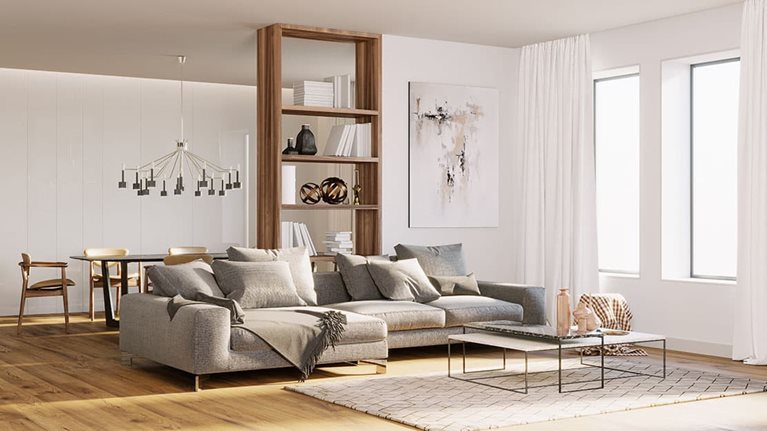 8 Simple home staging tips that every seller needs to know
No matter how hot the real estate market is, every seller gets a little nervous before officially listing their home. If you want your property to garner a lot of interest, there's one piece of advice everyone can agree on: It helps to stage your home.
You may be thinking to yourself, "I have great taste! My home is immaculately decorated." We get it. You love your beautiful home. But just because it's stylish doesn't mean it's staged.
We know you're proud of your framed travel prints and valuable figurines, but buyers care less about curated collections and more about seeing clean, strategically furnished rooms where they can gain inspiration and envision their future. That's the art of home staging.
According to the National Association of Realtors:
31% of buyers increased their offer by 1% to 5% because the home was staged
77% of buyers felt more able to see themselves moving into a staged home
40% were more willing to visit a staged online listing
Staging is beneficial for homes of all sizes and price ranges because it affects not just the in-person showings but the photographs. With the increase in virtual open houses and listings, the vast majority of people want to browse online pictures before scheduling a visit, especially with COVID-19 concerns. Some Realtors even insist that a house be staged unless the property is a teardown.
If you're interested in tips for selling your home – potentially more quickly and for a higher price – take a look at these eight home staging ideas.
1. Remove the clutter
The number one rule of home staging, decluttering involves clearing unnecessary furniture and items to make your home appear more spacious and functional. The goal is for every room to look like it has a purpose.
Don't be overwhelmed at the thought of clearing out and organizing every inch of your home. It helps to start small and have a simple declutter plan. Don't stuff things in closets or cabinets either – those will be viewed by potential buyers, too.
Wondering where to store these home items? Rent a portable container that can be delivered to your property, and then stored at a secure storage center. This is a great way to hang onto your things while getting your home in selling mode. You can keep the container for as long as you'd like – for those of you who want to take your time. Then when you're ready, it can be delivered to your new home, whether that's just across town or in another state. Staging and moving in one simple step!
2. Become Mr. (or Ms.) Clean
Cleaning is an important part of the home staging process. A messy home makes a poor first impression. Even in a seller's market, you'll likely have at least a few home showings, so you won't want to complete a full deep cleaning every time the Realtor calls.
Do a major cleaning when you first list the house, and then periodically as needed. To keep things well maintained, here are four easy things to do daily while your house in on the market:
Mop and vacuum the floors
Wipe down surfaces
Clean the toilets
Make the beds
It doesn't hurt to have a fresh clean scent in your home either. Try a softly scented candle or diffuser, but nothing too overpowering.
3. Get your priorities straight
While it'd be ideal to stage every room in your home, that may not be possible due to time or other constraints. If that's the case, focus on these four rooms:
Living room: Show potential buyers that their families will be cozy – but not cramped – in the space.
Master bedroom: Make the bed look warm, inviting and nicely decorated (don't go crazy with the throw pillows). Put a book or vase beside a lamp on the nightstand.
Kitchen: Have clear countertops with few appliances. A fresh bowl of fruit or open cookbook is a nice touch.
Dining room: Make sure your table and seating are the right size for the room to avoid it looking cramped. Add some simple place settings for panache.

4. Give your rooms some space
There are some cheap and simple ways to make small rooms look bigger instantly – or at least pretty quickly.
Hang long drapes on windows
Put a thin standing lamp or tall plant in an empty corner
Pull furniture away from the walls in living areas
Use lamps to add light to dark areas
Mirrors are also a great way for creating the illusion of space. If you're looking for strategic places to hang them, try over fireplaces, sofas, or consoles, or across from windows.
5. Don't make it personal
Buyers want to see potential in a house – they're looking for a place they can turn into their home. That's tough to do if they're looking at a bunch of personal items from the current owner. Help spark their imagination by removing your family photos and mementos. Don't forget to put away those toothbrushes and grooming items, too.
Get our print-ready home staging checklist. This handy resource will help you whip your home into shape -- inside and out!
6. Be neutral
Give your home a quick makeover by painting the rooms light, neutral colors. If you're tight on time, opt for touch-ups only – like the trim, built-in shelving, or other small accents.
Neutral colors aren't for paint only. A few white towels hanging in the bathroom, cream-colored bed linens, and other light home accessories go a long way.
7. Put away the electronics
While a few TVs are fine, you don't want to show a house crammed with too many electronics. To create a clean aesthetic, remove extra TVs, gaming consoles, laptops, charging stations, electronic personal assistants, and other home gadgets that may clutter your space. These items can be distracting for potential buyers.
8. Turn to the professionals
You may be a good organizer or decorator, but mastering home staging is a tough skill to acquire. To make sure the job is done right, consider hiring a professional home staging company. These designers know what it takes to sell a home and can accentuate your home's best features. Some will even photograph your home for you. If trying to stage your home yourself is looking less Pottery Barn and more actual barn, there's no shame in hiring help.
Depending on the size of your home, home staging services typically cost from $523 to $2,000, with the national average at $1,260, according to HomeAdvisor.
We understand that staging a home is no simple task, but the benefits usually far outweigh the time, effort, and expense. What about you? Let us know if you have any special home staging secrets by sharing in a comment.
(Source for photo featured at top: DECO Home Staging via Facebook)
---
LB Gabriel is a freelance writer and frequent PODS blog contributor. When she's not on a deadline, you can find her on a tennis court or golf course.
Get a Quote
Choose the service you need
Comments
Leave a Comment
Your email address will not be published. Required fields are marked *