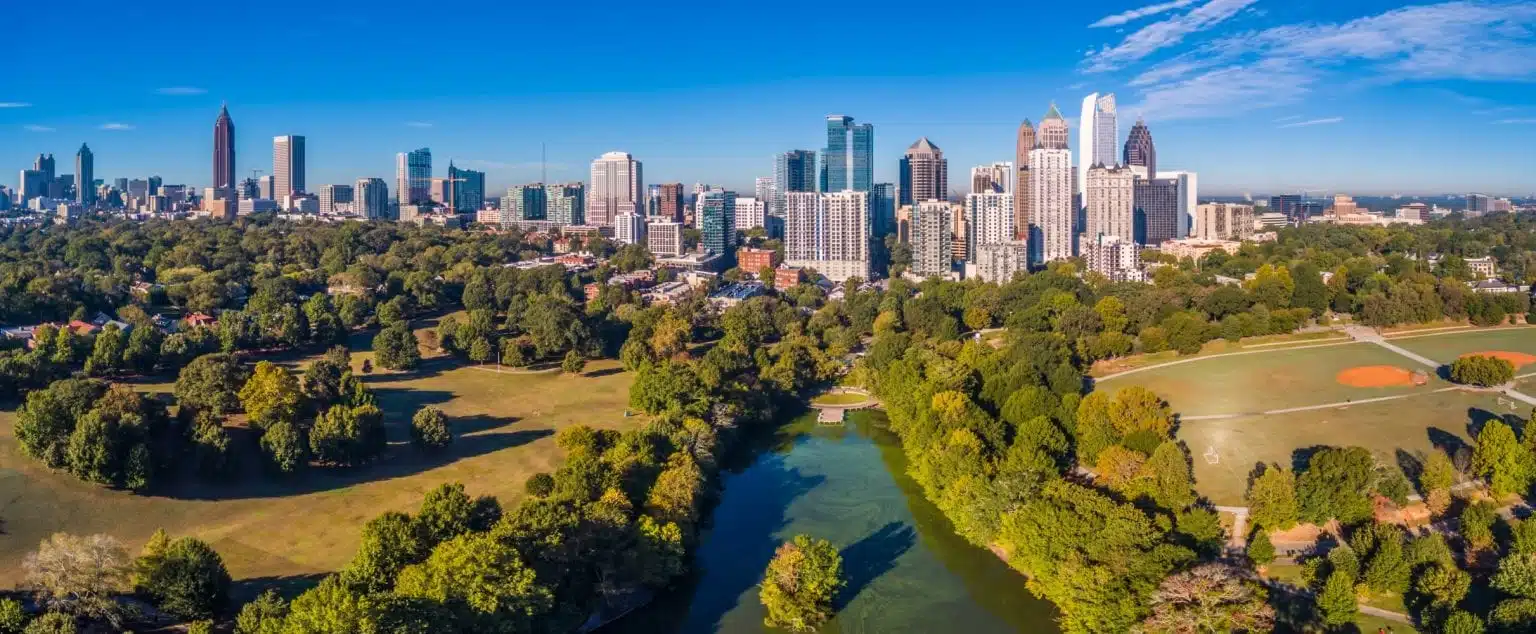 8 Intown Atlanta Neighborhoods You'll Want to Check Out
Atlanta is busy. It's got four major professional sports teams, more than a dozen Fortune 500 companies, an innovative arts scene, and unbeatable restaurants. In the middle of all this buzz it can be tough to figure out where you fit in.
Don't worry. We've got the deets on eight of the hottest Atlanta neighborhoods that are close to all the action and well inside the perimeter. This guide will help you find the perfect place to land when you're moving in Atlanta, whether you're coming from across town or across the country.
What's it like Living in Atlanta?
Before we jump into the details of the 8 best Atlanta neighborhoods, let's zoom out. Here's what you need to know about cost of living, schools, and transportation before you move to the ATL.
Cost of living in Atlanta
Atlanta plays a huge role in American culture. The movies, books, music, and art that come from the city rival that of major cities like New York and San Francisco. But when it comes to cost of living, Atlanta is a lot cheaper than those places.
Housing costs in Atlanta are 6% below the national average. Meanwhile, utility prices are 15% below the national average.1 Here's a closer look at some of the numbers.
Cost of living in Atlanta: Housing and Income Stats 
| | |
| --- | --- |
| 1-bedroom apartment average rent | $1,466 |
| 2-bedroom apartment average rent | $1,911 |
| Typical home value | $305,000 |
| Median salary | $65,345 |
Atlanta's affordability also brings tons of opportunity -- for jobs and all types of business.
Atlanta traffic and transportation
The cost of living in ATL is awesome. The Atlanta weather is pretty good, too (unless you like the cold). But let's be honest, Atlanta traffic is bad. Like, really bad.
Thankfully, the city has a good bus and rail system. You can catch the MARTA (Metropolitan Atlanta Rapid Transit Authority) to most parts of the city. And if you're close to downtown (like many of the neighborhoods listed here), your daily commute won't be more than half an hour, even with traffic.
Public schools in Atlanta
If you're moving with kids, then you've got a stake in the quality of the public schools in Atlanta. So, how are they? In short, it could be worse. But it could also be better.
The Georgia Governor's Office of Student Achievement states that Atlanta's public schools perform higher than 55% of districts in the state.2 But that's not necessarily saying much, given that Georgia's schools are ranked 34th in the nation.3
Certain schools within the Atlanta district perform better than others. So you'll want to check the rankings of the specific elementary, middle, or high schools that service the Atlanta neighborhood you're moving into. There are also several alternatives to explore, including 25 tuition-free charter and "partner" schools, as well as many high quality private schools.
Map of Atlanta Neighborhoods
Finding the best Atlanta neighborhoods for you
Enough about Atlanta in general. Let's zoom in on the map of Atlanta neighborhoods so you can find the one that's best for you. Here's everything you need to know about the city's eight best neighborhoods. We'll review them in order, from the cheapest to the priciest (based on the typical home value).
Atlanta Neighborhoods by the Numbers
Neighborhood
Population
Typical home value
Average rent
Commute to downtown
Buckhead Village
78,676
(in all of Buckhead District)
$275,023
$1,755
12-18 minutes
West End
21,513
$310,265
$991
5-15 minutes
Old Fourth Ward
10,505
$325,770
$1,740
5-10 minutes
Midtown
14,261
$328,341
$1,930
5-15 minutes
Underwood Hills
54,152
$354,482
$1,607
10-20 minutes
East Atlanta
33,172
$370,214
$1,247
10-15 minutes
Summerhill
2,025
$374,099
$1,438
5-10 minutes
Morningside-
Lenox Park
11,379
$829,529
$1,586
10-20 minutes
Buckhead Village
Typical Home Value: $275,023
Average Rent: $1,755
Commuting: 12-18 minute rush hour drive to downtown Atlanta. 1+ hour commute on public transit.
In 1838, a man named Henry Irby bought 202 1/2 acres of land for $650. That land is now called the Buckhead District of Atlanta and, unfortunately, you'll need a lot more than $650 to even rent an apartment there.
Buckhead is basically the entire northern section of Atlanta, encompassing smaller neighborhoods like Peachtree Hills and Historic Brookhaven. At the center of the district is a neighborhood called Buckhead Village, which we're highlighting here.
If you're moving to Atlanta and want to live in an area with an upscale metropolitan vibe, then Buckhead Village is about as good as it gets. The neighborhood puts you within strolling distance of chic Atlanta restaurants, hip bars, beautiful arts venues, and the huge Lenox Square mall.
To balance out all that city chic, there are plenty of other things to do in Buckhead. Visit nearby Frankie Allen Park, which sports a baseball diamond, tennis courts, and a playground for the tots. Or take a short drive to the sprawling Chastain Park, where you can see a play at the outdoor amphitheater.
We should mention that the $275,023 average home price tag we've listed here might be a bit misleading. That is the average single-family home price in Buckhead Village, but many of the listings are condos, townhomes, or other smaller accommodations.
If you're looking for a standalone home in Buckhead Village — with the green lawn, picket fence, and the whole nine yards — then you'll be paying a lot more.
West End
Typical Home Value: $310,265
Average Rent: $991
Commuting: 5-15 minute rush hour drive to downtown. Close to the Red MARTA line and many bus lines.
Atlanta's West End is one of the most interesting, vivacious, and historic parts of the city. Just a few short years ago the neighborhood was in the depths of the national mortgage crisis and some might have said it's one of the Atlanta neighborhoods to avoid. But the area's in the midst of a powerful rejuvenation.
The West End will charm you with its beautiful, 100-year-old homes on tree lined streets, its proximity to the BeltLine Westside Trail, and its booming commercial district. The prices aren't bad, either, especially if you're interested in doing some remodeling.
But the West End's real draw for many people will be cultural. It's the heart (or at least a main artery) of Atlanta's Afrocentric and Muslim communities.
The West End is home to The Hammonds House Museum, which showcases art from the African diaspora. The area inspires legions of painters, musicians, and -- great news for you foodies out there -- chefs. You can grab a tasty (and healthy) bite at Soul Vegetarian South or some gorgeous imported fabric from the African Djeli.
New projects, like the proposed redevelopment of the West End Mall, exemplify a neighborhood in constant renewal. If you're excited about being part of a tight-knit and diverse community, then be sure you cross over to the westside.
Old Fourth Ward
Typical Home Value: $325,770
Average Rent: $1,740
Commuting: 5-10 minute rush hour drive to downtown. Very walkable and great access to tons of public transit.
So you want to be close to everything -- downtown businesses, great parks, walking paths, nightlife, and transportation -- in a walkable area full of history and culture. Look no further than the Old Fourth Ward.
The Old Fourth Ward is, well, old. It's one of the oldest sections of the city, much of the architecture dating back to just after the Civil War. Since its construction the Old Fourth Ward has seen its share of history. It was the childhood home of Dr. Martin Luther King, Jr. and now contains the MLK, Jr. National Historic Park.
Now the neighborhood is moving quickly (some might say too quickly) into the future with new housing and small businesses popping up all around. These modern developments include many cozy condos or townhomes that are ideal for couples moving in together.
One of the best features of living in Old Fourth Ward is the proximity to beautiful walking trails, including the BeltLine Eastside Trail and Freedom Parkway. These paths, alongside the Historic Fourth Ward Park, make the area perfect for pedestrians who like to spend as much time outside as inside.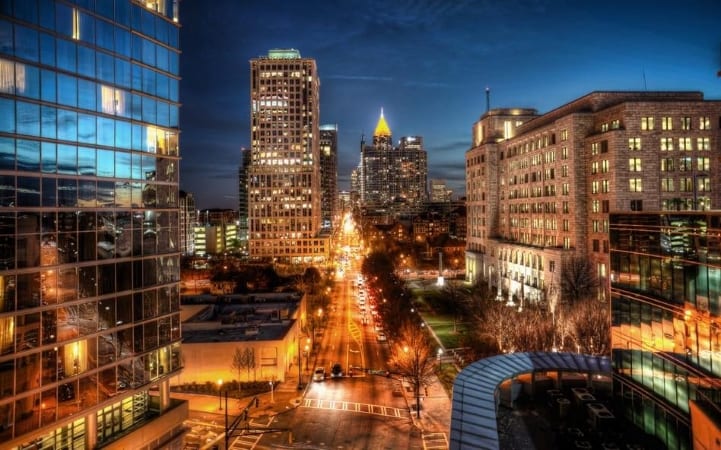 Midtown
Typical Home Value: $328,341
Average Rent: $1,930
Commuting: 5-15 minutes to downtown Atlanta during rush hour. Close to the Red MARTA line and bus lines for easy public transportation.
Living in Midtown Atlanta is kind of like living in Manhattan — but cheaper, warmer, and, of course, friendlier. There are world class museums, a sprawling park, plenty of tall buildings, and the hustle of busy people.
There are more cultural institutions packed in Midtown Atlanta than almost anywhere else in the country. These include the famous Fox Theatre, the Woodruff Arts Center, the High Museum of Art, and the Museum of Design Atlanta.
But even if you aren't a connoisseur of high art, you can enjoy the diverse array of restaurants, bars, and shopping that call Midtown home. And you're just a quick drive, ride, or walk away from other great neighborhoods, like Buckhead.
Perhaps the best treasure in Midtown is Piedmont Park, which is like a forest oasis in the middle of the urban landscape. You can get joyfully lost in the park and stumble upon any number of fun activities and educational opportunities while you're there.
Housing in Midtown can get pretty expensive, but if you get lucky you can find a two-bedroom home in the $350,000 to $450,000 range. For those who have more to spend, the options for luxury housing are nearly endless.
Underwood Hills
Typical Home Value: $354,482
Average Rent: $1,607
Commuting: 10-20 minute rush hour drive to downtown. 1+ hour ride on public transit to downtown.
In the 1960s a big highway called I-75 cut through Atlanta and separated Underwood Hills from downtown and most of the hip city neighborhoods. But this island of beautiful homes and apartment buildings carried on. Now it's one of the best Atlanta neighborhoods for families.
Realtors often refer to Underwood Hills as the "Upper Westside" of Atlanta, implying an almost snooty, upper-class feel. But it's actually a much more humble, community-oriented neighborhood that still keeps you close to downtown.
The Underwood Hills Park and Crestwood Memorial Park offer plenty of green space to residents while upcoming projects (one called The Works) promise to stimulate the nightlife and bring more retail to the area.
Those looking for a midsized bungalow with enough space for a home office can score in Underwood for under $500,000. Meanwhile, first-time home buyers can get a restored condo for less than $200,000.
East Atlanta
Typical Home Value: $370,214
Average Rent: $1,247
Commuting: 10-15 minute rush hour drive to downtown. 30-40 minutes using public transit.
If you're moving in Atlanta and you want street art on your brick walls and tattoo sleeves on your arms, then head East. This artistic neighborhood is home to a vibrant music scene, hipster coffee shops, and a bunch of divy bars (for better or worse).
The bohemian vibe of East Atlanta blends with a more upscale shopping and dining scene. This fusion of raw authenticity and gentrified commerce should make those coming from L.A. or Brooklyn feel right at home.
The average home price of $370,000 reflects the area's mixture of housing, from luxury townhomes to straightforward craftsman-style homes. Apartment dwellers will be pleased to find plenty of spots under Atlanta's average rental cost.
Even if you aren't into Gucci Mane and alleycat bicycle races, East Atlanta's affordability, proximity to downtown, and trendy vibes make it a great place to live.
Summerhill
Typical Home Value: $374,099
Average Rent: $1,438
Commuting: 5-10 minute rush hour commute to downtown Atlanta, depending on the traffic. Plenty of public transit options.
Most of Atlanta's urban neighborhoods have entered an era of rapid revitalization (gentrification, some might say). And perhaps no neighborhood is changing faster than Summerhill.
Sandwiched between the Atlanta Zoo and Center Parc Credit Union Stadium, Summerhill has a lot to offer residents of all kinds, from families to students. In fact, Georgia State University is one of the biggest developers in the neighborhood and is developing a brand new convocation center in the neighborhood that will house conferences and basketball games.
Overall, the community has lively, walkable streets that wind between office buildings, retail shops, and famous Atlanta restaurants. Some notable food joints in the area include Wood's Chapel BBQ and Junior's Pizza.
Much of Summerhill's housing stock is made up of single-family bungalows, beautiful two-story craftsmans, modern townhomes, and medium-sized apartment buildings. You can still find plenty of homes under $500,000, but prices are rising, so get in while you can.
Morningside-Lenox Park
Typical Home Value: $829,529
Average Rent: $1,586
Commuting: 10-20 minute rush hour drive to downtown. Limited public transit options.
At the edge of Atlanta's urban buzz you'll find quieter streets flanked by a canopy of mature trees. Neighbors know each other here and work together to make the community better. Quaint cottages and mom-and-pop shops give off a small-town feel, even though you're just a few miles from downtown.
If this sounds like the dream, then check out Morningside-Lenox Park.
The Morningside-Lenox Park neighborhood sits on the northern flank of the city, just east of Piedmont Park. The park is an amazing resource, but it's hardly the only green space in the area. Also within the neighborhood boundaries are the Daniel Johnson Nature Preserve, the Morningside Nature preserve, and Lenox-Wildwood Park.
Living in Morningside-Lenox Park gives you access to over 200 locally owned businesses. So you won't ever have to leave your oasis. But if you want to, it's just a couple minutes' drive (or bike ride) to other great neighborhoods in Atlanta.
Of course, this is the last neighborhood on our list, which means it's the priciest. Homes in Morningside-Lenox Park regularly go for $1 million and up. But, if you're willing to do a bit of downsizing, you can still find smaller, well-kept homes in the $500s.
Choosing the Best Atlanta neighborhoods for you
Choosing a new home for you and your family is a huge decision. We hope that this guide to the best Atlanta neighborhoods helps make your move easier. We're sure you'll love "the City in the Forest," no matter which part you end up calling home.
Sources:
---
Easton Smith works as a freelance writer and researcher, reviewing technology trends and the moving industry.
Get a Quote
Choose the service you need
Related Articles
Luxury Atlanta Apartments: 7 Midtown, Downtown, and Buckhead High-Rise Apartments That Will Dazzle You
Read more
Comments
Leave a Comment
Your email address will not be published. Required fields are marked *