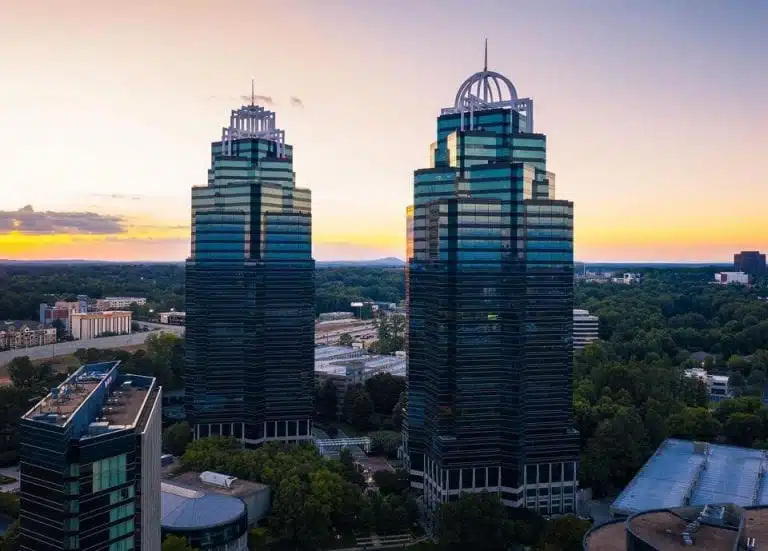 Living in Sandy Springs, GA: Everything You Need to Know
There are few places that can claim to have all of the following: ample green space, great educational institutions, a booming economy, stellar nightlife, and gorgeous housing stock. But Sandy Springs, GA really does tick off all those boxes.
Of course, it's not as affordable as other parts of Georgia. But if you're thinking of moving to Atlanta or the surrounding area you should check out Sandy Springs, even if you don't have a million dollars to spend, as there are plenty of less expensive homes and rental options.
We'll go over everything you need to know in this guide, including the schools, cost of living, and where to find the best homes for sale in Sandy Springs, GA.
What's it like to live in Sandy Springs, GA?
Sandy Springs is, in the words of the Compass real estate group, "a well-appointed and self-sustaining community with something for everyone." While the city officially incorporated in 2005, the community was united by a shared vision long before that.
Sandy Springs is a hub of business and is home to the corporate headquarters of many larger companies, including UPS, Cox Communications, and Mercedes-Benz USA. That means plenty of great jobs and a lively downtown community. This strong business backbone has also influenced Sandy Springs' unique private-public partnership in city government.
Speaking of business, the city has a lot of local stores that can help you scratch your shopping itch. Realtor Becky Morris says, "From boutique shopping and antiquing to shopping centers galore, Sandy Springs has shopping, shopping, shopping and more shopping!"
Sandy Springs' strong economy is definitely an incentive for new residents, but it's far from the only reason to make the move. Many will be drawn by the sheer beauty of the area.
Parks and outdoor activities
The relatively small city of Sandy Springs boasts over a dozen premium parks, including three that are run by the National Park Service.
Some of the most impressive green spaces in the city include the Abernathy Greenway, which stretches along Abernathy Road, offering beautiful spots to walk, bike, or sit. This is also the site of innovative playable art structures for the kids.
Another highlight is Heritage park in the center of downtown. This is where the city's namesake springs flow, and the park hosts many cultural and educational events organized by the Heritage Sandy Springs nonprofit.
Schools in Sandy Springs
Public schools in Sandy Springs are operated by the Fulton County School System. Many of these schools, from the elementary to the high school level, receive an A or A- grade from Niche.com.1
There are also at least 10 private schools in the city, such as the Atlanta Jewish Academy, the Brandon Hall School, and Holy Innocents' Episcopal School.
Cost of Living in Sandy Springs
Sandy Springs is known for being posh, or "bougie," as the kids say. And it's true that the city has a high percentage of wealthy residents who live in beautiful homes. But the actual statistics reveal that the city is a bit more humble than its reputation would suggest.
Cost of living in Sandy Springs
| | |
| --- | --- |
| Average rent | $1,533 |
| Median sale price for homes | $513,299 |
| Median household income | $74,093 |
When compared to neighboring Atlanta, Sandy Springs is a bit pricier. The median home value is about $200,000 higher. But the median salary is less than $10,000 higher, and the average rent is nearly the same.
In short, those who want affluence can easily find it in Sandy Springs. But those who make less than a six-figure salary can still live comfortably. It's certainly more affordable than many other major metro areas like New York City and San Francisco.
Commuting and transportation in Sandy Springs
If you live near the city's recently renovated downtown area, called City Springs, you can get everything you need — from groceries to entertainment — on foot. And avid users of public transit can piece together transportation using buses and the MARTA train system, which connect to downtown Atlanta.
But for most Sandy Springs residents a car is a necessity.
The city is intersected by two major highways: Georgia 400 and I-285. These thoroughfares will get you in and out of the city limits in minutes. The traffic on the roads is not nearly as congested as other Atlanta areas. Speaking of which, you'll probably be curious to know how far Atlanta is ...
How far is Sandy Springs from Atlanta?
The short answer is: 20-30 minutes. But it really depends on which part of Sandy Springs you live in, and which part of Atlanta you're going to.
For example, if you live in South Springs (an area that's inside the "perimeter" of I-285), and you're heading to a neighborhood like Buckhead, your drive might take just 10-15 minutes.
But if you're trying to drive from the Dunwoody Panhandle on the north side of Sandy Springs to East Atlanta, your commute will probably clock in at about 30-40 minutes, depending on the time of day.
Overall, commuting from Sandy Springs to downtown Atlanta is not much different than commuting from any number of neighborhoods that are within the Atlanta city limits. It may even be quicker if you live near the freeway.
Is Sandy Springs inside the perimeter?
The famed "perimeter" of Atlanta is just a boundary made by Interstate 285, which forms a ring around the downtown area. A decent southern chunk of Sandy Springs lies within the perimeter (Also known as ITP—"in the perimeter"), and is therefore connected to Atlanta proper. The rest is outside of it (OTP—"outside the perimeter").
Buckhead Realtors, an Atlanta-based realtor company, actually considers the ITP section of Sandy Springs to be part of Buckhead, a northern Atlanta neighborhood. They included it because this part of Sandy Springs shares "many of the amenities, location benefits, beauty and affluence that make up the Buckhead lifestyle."
But, in all honesty, the dividing line between ITP and OTP is rather arbitrary. There are plenty of areas outside of the perimeter that feel like living in downtown Atlanta, and there are quiet alcoves within the perimeter that feel like the suburbs.
Best Sandy Springs Neighborhoods
Unlike older, larger cities, Sandy Springs doesn't have well-defined neighborhoods. Most of the neighborhood names you'll hear — like Brookside Walk and Aberdeen Forest — are made up by real estate agents.
On the other hand, there are still some ways to delineate areas of Sandy Springs more broadly. There's a decently defined downtown area, a southern portion of the city that's inside the perimeter (ITP), a northern side that's outside the perimeter (OTP), and a "panhandle" section that veers off to the northwest.
So, which of these areas is right for you? That largely depends on what kind of home you want to live in after moving to the Atlanta area. So let's talk housing.
Where are the best homes for sale in Sandy Springs, GA?
There are all kinds of homes for sale in Sandy Springs, from new luxury townhomes to sprawling gated communities full of mansions.
Luxury townhomes: If you go to downtown Sandy Springs, near the City Springs developments, you'll find some of the most beautiful luxury townhomes in all the South. These three- to four-story homes tend to come with gorgeous wood floors, brand new appliances and amenities, and plenty of other perks, like pool/gym access.
Mid-century classics: If you head to the southwestern section of Sandy Springs (both the ITP and OTP sections), near the Perimeter Center area, you'll start to see some older housing stock. Ranch-style homes, bungalows, and American Craftsmans can be found for around half a million dollars. These older homes are ideal for those who want to do some home remodeling.
But, beware: if you're looking for a more humble, classic-style home like one of these, you'll want to move quickly. Many of these homes sit on beautiful lots and are being bought up just to be torn down for modern development.
Condos: Sandy Springs has plenty of condos. Some are in older, renovated buildings, but most of them are new luxury developments. A lot of these condos are found in the downtown area (the southside of ITP Sandy Springs).
New mansions: So, most of the housing we've talked about is in the downtown and southern sections of Sandy Springs. If you go pretty much anywhere else in the city, you'll be looking at large, beautiful brick mansions on sweeping, elegant properties. These homes often come equipped with luxury amenities, from home gyms to swimming pools.
Most of the luxury homes for sale in Sandy Springs, GA cost at least $750,000, and prices can easily reach into the $1-$3 million price range. If you've got the cash, then you'll be in home heaven.
In short: if you're moving to Atlanta but want to live outside of the urban buzz, then Sandy Springs has a home for you.
Where will I find apartments in Sandy Springs, GA?
Sandy Springs isn't only for homeowners. There are dozens of great apartment complexes for renters. Most of these are found along the two major north-south corridors, the Georgia 400 and the Georgia 9.
If you're willing to downsize a bit, you can easily find an elegant one-bedroom apartment for under $2,000 a month. If you've got a bit more to spend, there's no shortage of luxury apartment stock.
Average Sandy Springs, GA apartment rent: $1,533
Apartments in Sandy Springs, GA can offer an ideal alternative to the pricey and often cramped rental properties in downtown Atlanta.
Moving and Storage in Sandy Springs, GA
If you're looking for a place to buy or rent in Sandy Springs, you'll also eventually have to figure out how you're going to move all of your stuff into your new digs. There are several ways to go about it, so let's talk about how these different options work for those moving to Atlanta and Sandy Springs.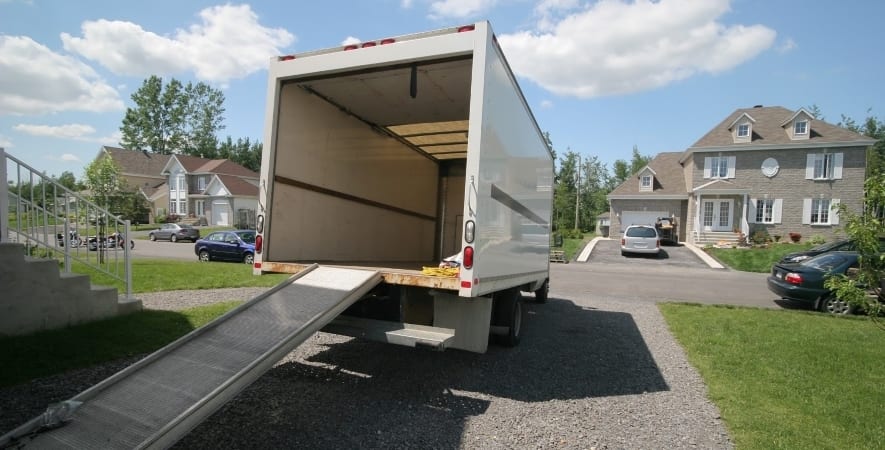 Rental Trucks
With a little cash and DIY spirit, you can move your stuff with a rental truck. U-Haul, Enterprise, and other companies will rent you a box truck for as little as a hundred bucks a day (after fees). Of course, you'll have to call in a few favors from your burly buds. Plus, someone will have to navigate that big machine down fast highways and narrow streets.
Professional Sandy Springs Moving Service
Anyone moving into these Sandy Springs mansions probably has the cash to spring for a professional full-service moving service. Full-service companies will do all the work for you, from packing your boxes, loading your furniture, driving the moving truck, and moving you in.
Unfortunately, expensive doesn't always mean better, as turning over everything to someone else means less control and the potential for more damage, as this busy Atlanta mompreneur explains.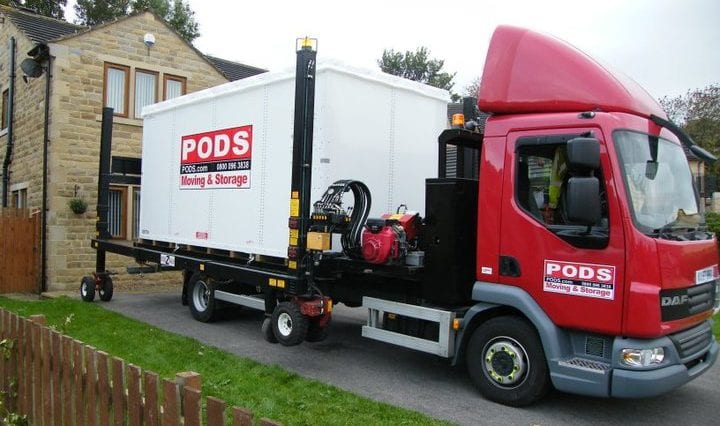 Portable Container Moving and Storage Service
Portable containers can be a more affordable middle-ground solution for your move. These allow you flexibility, control, and affordability, especially when you work with an established company like PODS, which pioneered using portable containers for moving and storage. Here's how it works:
Your container is delivered to you.
You can take your time loading (you rent your container by the month).
PODS picks it up and takes it to a secure PODS Storage Center or your new place.
When you're done unloading, PODS picks up your container.
The process is easier than moving with a rental truck and costs significantly less than using a full-service mover. You also have the option of hiring hourly moving professionals to handle all the packing and loading while you supervise, which gives you a full-service experience with more control.
Sandy Springs Storage Units
Moving timelines can get a bit messy. The closing date on your new place doesn't always line up with your move-out date at your old place. You may have weeks or months of remodeling projects you want to do before you move in. And there are always at least a couple of unanticipated issues that come up.
Luckily, you can throw your stuff into storage while you work all this out. The easiest and most flexible storage option is usually a portable storage container that's delivered right to your driveway.
Making the most of Sandy Springs, GA
We hope this guide has helped you plan a successful move so you can start getting settled in your new home with no major hiccups. Even if you've still got some boxes to unpack, be sure to take some time out to start exploring your new surroundings. See you on the Abernathy Greenway soon!
Sources:
Niche.com, "2021 Best Public Schools in Sandy Springs"
All Median Home Value numbers are from Zillow. All average rent numbers are from RENTCafé. Median Salary information is from Data USA.
---
Easton Smith works as a freelance writer and researcher, reviewing technology trends and the moving industry.
Get a Quote
Choose the service you need
Related Articles
Luxury Atlanta Apartments: 7 Midtown, Downtown, and Buckhead High-Rise Apartments That Will Dazzle You
Read more
Comments
Leave a Comment
Your email address will not be published. Required fields are marked *