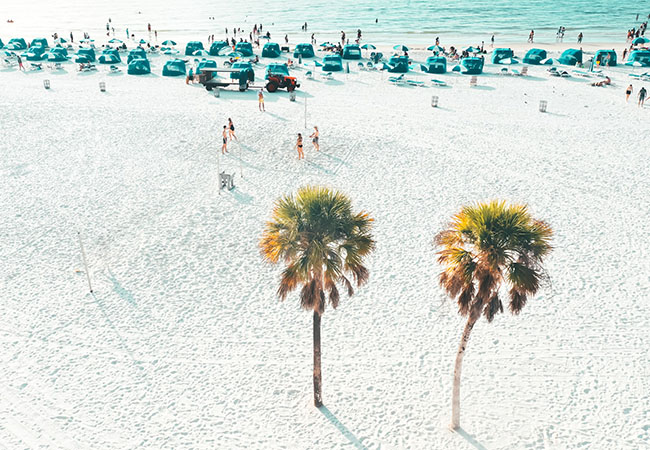 Moving to Clearwater? Best neighborhoods for finding homes, beaches & things to do
If you've ever Googled "beautiful beaches" or read a Florida vacation guide, you likely already know about Clearwater. Its gleaming three-mile stretch of powdery sugar-white sand has been a tourists' playground for decades, earning accolades like "America's Best Beach," one of the "Top 10 Beaches in the World," and "No. 1 Beach in America."
If you're considering a move to Clearwater, what you might not know is there's a lot more to the area than beaches. To learn more about what it's like to actually buy a home in Clearwater instead of just vacationing here, take a look at our guide to the neighborhoods that make up this quintessentially Florida city, and what it's like to live here.
Where is Clearwater, Florida?
Located about halfway down Florida's West Coast facing the Gulf of Mexico, Clearwater is part of the Tampa Bay region's tri-city combo that also includes Tampa and St. Petersburg. Situated across Old Tampa Bay about 30 minutes from downtown Tampa, Clearwater is in the northern half of Pinellas County, which is the second-smallest county in the state of Florida at just 280 square miles. But with 35 miles of beaches and 588 total miles of waterfront in the county, nobody's complaining about size.
Just across Clearwater's Courtney Campbell Scenic Highway and Trail -- a 10-mile hibiscus- and mangrove-lined strip of causeway, parks, and beaches -- Tampa International Airport serves more than 22 million passengers in a typical year. Many Clearwater residents end up commuting across the causeway to Tampa, to the Westshore and downtown Tampa business districts, which are connected by the newly widened I-275.
Major employment centers on the Pinellas side of Tampa Bay include the centrally located Gateway area and downtown St. Petersburg to the south, but both areas can still be tough commutes from Clearwater. While public transportation exists, it's very hard to get around Clearwater without a car.
What's it like living in Clearwater?
Clearwater's year-round population of 116,000 lives in a variety of neighborhoods that satisfy plenty of lifestyles and price points. A vibrant and growing arts district downtown welcomes locals and visitors to concerts, galleries, and festivals like the annual Clearwater Jazz Festival and the Christmas Boat Parade.
From November through the spring, Florida's West Coast feels like paradise, with daytime temps in the 70s and evenings perfect for sweaters and s'mores around a beachfront fire pit. While Northerners are plowing through snow drifts and navigating icy roads, Clearwater folks are hitting the beaches, hiking and biking through gorgeous tree-shaded parks, and generally reveling in the warmth and beauty of the region.
Of course, Floridians know that when summer hits, there's a price to pay for all those idyllic months. From May to October, the average daily high temperature climbs beyond 86 degrees. But locals will tell you it's not the heat, it's the humidity that will have you investing in the best AC systems that money can buy.
Pro Tip: When looking at Clearwater homes, make sure you ask about the power bills, as well as the age and efficiency of the AC system!
Looking for homes for sale in Clearwater? Top areas to try
Along with the entire Tampa Bay area, Clearwater is booming. Job growth in the coming decade is forecast to be more than 41%, compared to the national average of 34%. Home appreciation over the past five years has risen by a robust 64%, almost twice the U.S. average of 36% over the same time period.
And just like in Tampa, growing pains are to be expected. Ongoing road construction has tried to keep city streets flowing apace with the influx of people and cars. Still, the average commute clocks in at 24.2 minutes, and for workers who cross the bay to Tampa, longer times are the norm.
Commuting and traffic are a couple of the critical things to think about when you're searching for a home in the Clearwater area. Many moving here dream of living on the water, or at least close. While many retirees dream of golfing every day, families are concerned about getting close to good schools (more on that later). As you make your list of preferences for your ideal Clearwater neighborhood-to-be, here are some popular areas to consider.
Clearwater Beach
A jewel on Florida's West Coast, Clearwater Beach boasts some of the most coveted real estate in the area. Hotels and condos are plentiful. But tucked away from the tourists and spring breakers are neighborhoods of single-family homes, many in resort-style communities.

On the north end of Clearwater Beach, Mandalay is one such subdivision. Waterfront homes run the gamut from traditional to super-contemporary, and price points are commensurate, from the mid $400s all the way to the multi-millions. There is literally no land left on which to build, so it's not uncommon to see an older home replaced by a sparkling new estate. From Mandalay it's just a quick bike ride or walk to the Clearwater Beach downtown shopping and dining area and, a little farther, Pier 60. A mecca for both tourists and locals for decades, the pier features a bar and grill, playground, fishing opportunities, and a nightly sunset festival.
Just before the bridge to Clearwater Beach, the Island Estates community juts out into the harbor on fingers of land. A luxury community with mostly waterfront homes along with a smattering of townhomes and condominiums, it's a self-contained oasis with shopping, restaurants, and other amenities. Prices range from $200K to more than $3 million.

Sand Key is only a five-minute drive from the busiest part of Clearwater Beach, but it feels like a world away. The quiet barrier island beach is a nesting site for sea turtles and home to lots of other wildlife, making it a destination for respectful nature lovers. High-end high-rise condominiums are the main residential attraction, with luxurious single-family estates dotting the waterfront a bit farther south in Belleair. Sand Key Park's playground, picnic area, and jet ski rentals are popular with local families and visitors.
Close to downtown
For those who prefer to be near enough to downtown to take advantage of its amenities but just far enough away to enjoy a quieter lifestyle, Clearwater offers options. In the Presidential Neighborhood, as the name suggests, each street is named for a former POTUS: Madison, Jefferson, Lincoln, and more. This is a family-friendly enclave known for going all out for Halloween -- and you can actually find kids playing outside in the streets after school. Homes range from the $200,000s to $500,000. Also family-friendly but a bit more upscale, Harbor Oaks is just south of downtown, along the Intracoastal Waterway. The neighborhood is a mix of restored historic homes and contemporary luxury estates, most with resort-style pools and landscaping, priced from the mid-$500,000s up to $5 million for waterfront beauties. And in Historic Glenwood, established in the 1920s, older homes are tucked away in lots of lush greenery. Prices average about $350,000 for a modest three-bedroom, two-bath home. Area shopping and conveniences are plentiful, but add extra travel time during downtown festivals and, of course, spring weeks when the beaches are extra-bustling.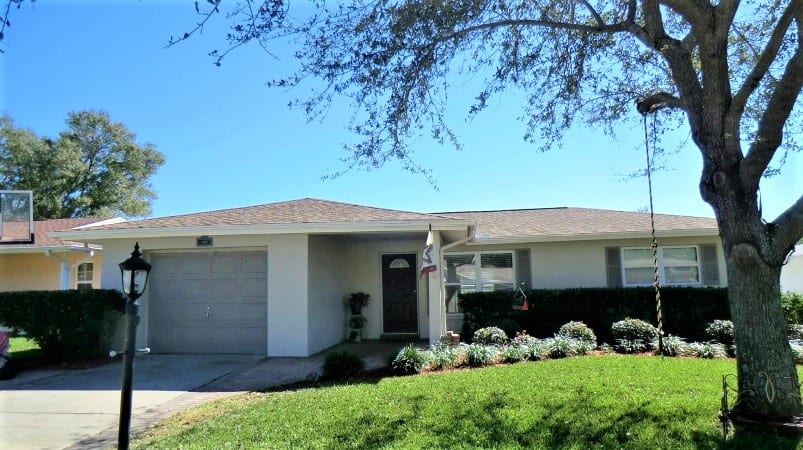 Greenbriar
A modest community that's been a Clearwater-area mainstay since the 1960s, Greenbriar features homes up to 2,000 square feet that mostly max out in the mid-$200,000s. Located off the beaten tourist path, the area is quiet and peaceful, but still within easy reach of local beaches, including beautiful Honeymoon Island State Park. A community pool and country club plus the Top of the World Golf Course add to the appeal of Greenbriar for families and retirees.
Countryside
Like many of Clearwater's suburban-style communities, Countryside is an established neighborhood that's home to young families and retirees drawn to a modest resort-style lifestyle. Situated around Countryside Country Club, the area is within a short hop to Westfield Shopping Center, an indoor mall boasting an ice skating rink, movie theaters, and popular restaurants like P.F. Chang's and Cheesecake Factory. Homes, townhomes, and condominiums in the area include a range of amenities and price points from the mid-$200,000s to $400,000s. Traffic along US 19 outside the neighborhood proper can be brutal, particularly during heavy beach-going months, but ongoing improvement efforts to ease the congestion are making commute times less cumbersome.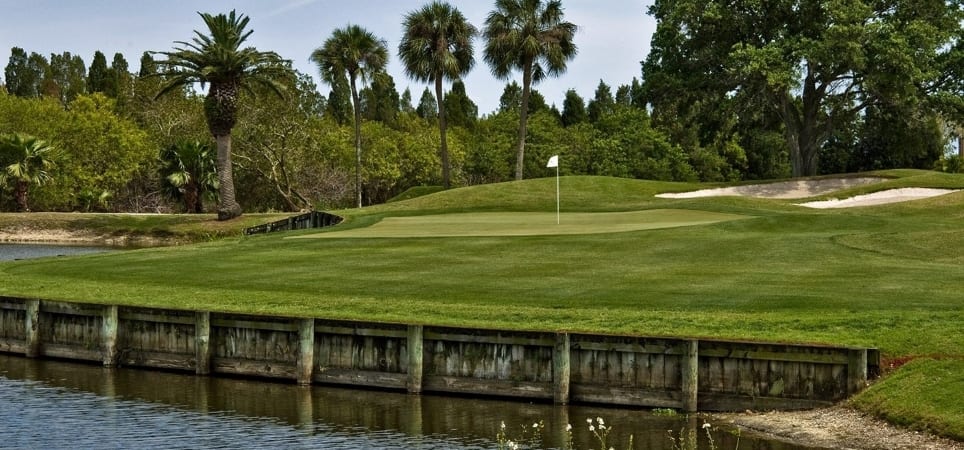 Feather Sound
Located just off I-275 between Tampa and St. Petersburg, Feather Sound is a massive planned community that's home to several distinct neighborhoods. The interstate is a world away once you enter, leaving behind the hubbub of nearby restaurants, supermarkets, and other businesses. The Feather Sound Country Club is the community's center, with golf and all the usual amenities plus social happenings year round, and the Earl R. Maize Recreation Area offers a playground and gazebo for the families of Feather Sound. The neighborhoods are all bike- and walker-friendly, with homes, townhomes, and condominiums at price points from the $300s to $800s for golf course estate homes.
Dunedin
With a charming small-town feel and a distinctly lively, artsy vibe, Dunedin is one of the oldest and most popular communities on Florida's West Coast, with about 40,000 residents. The downtown area bustles with eclectic shops, galleries, restaurants, and bars. Arts and music festivals draw thousands every year to this community just north of Clearwater. Consistently honored as Florida's best, Honeymoon Island and Caladesi Island state parks are offshore jewels enjoyed by residents and tourists alike. Dunedin living runs the gamut from condos to historic estates and waterfront homes, and prices mostly range from the high $200s to $300s.
Safety Harbor
Another hidden gem in the Tampa Bay area, Safety Harbor is home to 17,000 residents who enjoy the perks of an inviting, walkable downtown that's convenient to the business centers of Tampa, Clearwater, and St. Petersburg. The town is home to the legendary Espiritu Santo Springs, discovered by Spanish explorer Hernando de Soto on his search for the Fountain of Youth. Situated near the historic Safety Harbor Resort and Spa, the shops and restaurants of Safety Harbor are just a stone's throw to the bay waterfront, where sunrises dazzle early risers year round.
Dozens of greenspace options include Philippe Park, once a citrus plantation and now home to picnic pavilions, a boat ramp, and a beautiful walking trail shaded by majestic live oaks. Safety Harbor neighborhoods include homes to fit every style and budget, from cozy downtown bungalows in the $200s to magnificent multimillion-dollar estates along the open bay on Phillippe Parkway.
What about Clearwater schools?
The two dozen K-12 public schools in Clearwater are part of Pinellas County Schools, the eighth-largest district in Florida and 28th out of 16,000 nationwide. PSC features more than 75 magnet programs, including STEM, performing and visual arts, journalism, international studies, and more. Six of the magnet schools recently were honored by Magnet Schools of America with Merit Awards for exemplary programs: three Schools of Distinction and three Schools of Excellence.
Upwards of 101,000 students are enrolled in Pinellas County Schools, and the district is serving them well. Among recent awards, PCS was ranked first in Florida and seventh in the nation by the Brookings Institution for offering the best school choice for parents. The district was also named one of the Great Districts for Great Teachers by the National Council for Teacher Quality -- among the first eight districts in the U.S. selected for the recognition.
Top things to do in Clearwater
If you're considering making Clearwater your next home base, you won't be disappointed by the wide diversity of things to do and places to go. Here's just a quick sampling:
Clearwater Outdoors
Boating. Biking. Hiking. Paddle-boarding. Parasailing. Recreational possibilities are endless. Beyond the beaches, the Fred Marquis Pinellas Trail stretches from St. Petersburg to Tarpon Springs, open to bikers, walkers, skaters, and runners with miles of protected paths. If you're more of a sightseer than a doer, boat tours are available for every taste -- from the raucous Captain Memo's Pirate Cruise to family-friendly dolphin encounters and fishing charters with experienced captains.
At Coachman Park, downtown's waterfront greenspace, events include the Clearwater Jazz Holiday, the Clearwater Hispanic Heritage Festival, Relay for Life, and the Martin Luther King Jr. Celebration. The Clearwater Marine Aquarium focuses on the rescue, rehabilitation, and release of sea life, with hands-on opportunities including kayak tours, animal care experiences, and up-close-and-personal interaction with dolphins, otters, and turtles.
Arts and Culture
A burgeoning gallery scene downtown and in the Cleveland Street District overlooking the Clearwater Harbor and Marina draws visitors to view fine arts, contemporary exhibitions, and more.
Ruth Eckerd Hall is the grande dame of Clearwater theater, hosting more than 200 events in its world-class 2,100-seat auditorium in a typical year. On the agenda: The Florida Orchestra, touring Broadway shows, lectures, dance performances, and concerts.
The Nancy and David Bilheimer Capitol Theatre, a gorgeous hall built in 1921, offers a more intimate experience in the heart of downtown Clearwater, with seating for just 750. Upcoming concerts at the richly restored historic site include the likes of Judy Collins, Leo Kottke, Todd Rundgren, and Rosanne Cash.
Sports
Across the bay in Tampa, the Buccaneers, and Lightning dominate the pro sports scene. Not only is hockey enormously popular in Tampa Bay, the Lightning won the Stanley Cup in 2020! Al Lang Stadium, which overlooks the downtown St. Petersburg waterfront, is a gorgeous place to watch the Tampa Bay Rowdies play soccer. Nearby, baseball fans will enjoy the comfort of air-conditioned Tropicana Field in St. Petersburg, where the Tampa Bay Rays play.
Pro Tip: If you're moving from New York or Boston, it's a lot easier to get a ticket to see your Yankees and Red Sox play at Tropicana. Just don't cheer for the visiting team too loudly -- Rays fans may take offense.
Clearwater baseball fans also have the pleasure of spring training games. The Philadelphia Phillies play at Clearwater's Spectrum Field and the Toronto Blue Jays spend spring at the brand-new TD Ballpark in Dunedin, 15 minutes from Clearwater.
Planning your move to Clearwater
While you're looking for a home, it's a good time to start thinking about how you'll make your move. Want a quick idea of what moving will cost? Check out our Florida Moving Guide, which includes ballpark moving cost estimates between the Tampa Bay area and New York City, so you can compare full-service movers, moving containers, and truck rentals.
If you're considering Clearwater for a retirement home, get these tips about relocating for retirement.
Whatever brings you to Tampa Bay, we hope this guide helped you explore the possibilities. Happy house hunting!
(Source for image featured at top: City of Clearwater Government via Facebook)
---
Shannon Jacobs is a Tampa-based freelance writer and frequent contributor to the PODS blog. She has lived in Atlanta, the Berkshires, and Nashville, but always returns to the warmth of Florida's Gulf Coast.
Get a Quote
Choose the service you need
Comments
Leave a Comment
Your email address will not be published. Required fields are marked *