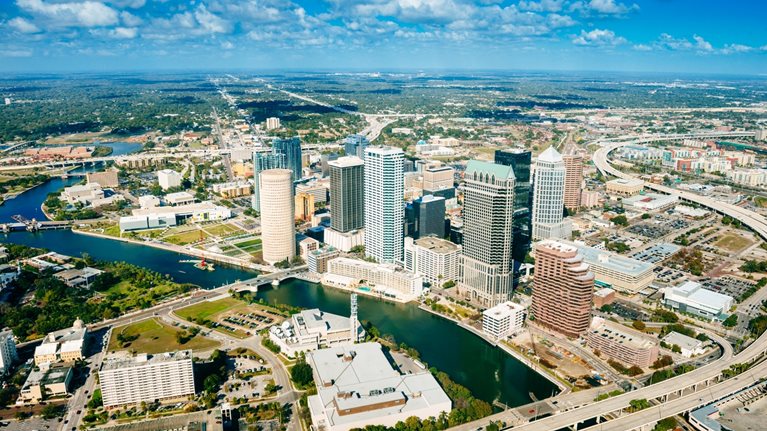 A Local's Guide to Living in Tampa: 14 Things You Need To Know Before Moving Here
Thinking about moving to Tampa? As a lifelong resident of the area who's lived on both sides of Tampa Bay, I don't blame you. This area has so much to offer beyond the fabulous weather that it's hard not to gush about living in Tampa.
But trust me, there are both great and not-so-great things about this city on Florida's West Coast, a place where so many people come to vacation and then dream of making it their home some day. And I think you deserve to get all the details before you decide to join the steady stream of newcomers seeking sunshine and sandy beaches.
Sit back, grab a refreshing tropical drink, and read on to get a local's idea of what living in Tampa is really like — from the practical facts to the fun stuff.

Planning a move to Tampa? Start by getting a quote from PODS.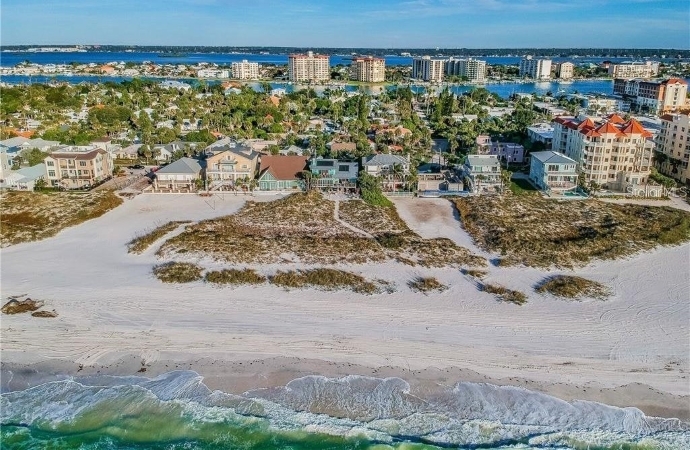 (Source: Clearwater Beach Florida via Facebook)
1. Looking for the best places to live in Tampa? They might be across the bay.
It makes some locals crazy (especially my husband), but "Tampa" has become shorthand for referring to the entire Tampa Bay metro area. It's understandable, considering that even the Tampa Bay Rays actually play baseball in St. Petersburg — a city 30 to 40 minutes across the bay from Tampa.
Much like the San Francisco Bay area, the Tampa Bay region has distinct communities on both sides of its bay. About 3.2 million people live in the Tampa Bay Metro region, which encompasses four counties: Hillsborough, Pinellas, Pasco, and Hernando.
Here's a quick primer to help you get oriented:
Hillsborough County (population: 1.5 million)
Home to Tampa and Tampa International Airport (TPA), Hillsborough has a total area of 1,266 square miles — making it bigger than the state of Rhode Island. Besides Tampa, Hillsborough includes the smaller cities of Temple Terrace and Plant City, plus several sprawling unincorporated areas like Brandon, Carrollwood, Westchase, New Tampa, and others. Favorite Tampa neighborhoods include:
Carrollwood: Filled with shady mature oaks, this early Tampa suburb with comfortable homes built mostly in the '60s and '70s is about a 30-minute drive northwest of downtown.
Westchase: A massive master-planned community started in the '90s, neighborhoods in Westchase are known for their neotraditional style, family-friendly sidewalks, and other amenities.
Brandon: Once a region of cow pastures and orange groves, Brandon neighborhoods offer families affordable — but getting pricier — Florida living just east of Tampa.
Pinellas County (population 972,000)
This is where all those gorgeous Tampa Bay beaches are located, along with St. Petersburg, Clearwater, and about two dozen smaller cities. The St. Pete-Clearwater International Airport is also here — sometimes a convenient travel alternative to busy TPA. (For a deeper dive into these quintessential Florida communities, see Best St. Petersburg Neighborhoods and Living in Clearwater, Florida.) Here, we'll spotlight these favorites:
St. Petersburg: Living in St. Pete (locals' shorthand) means a vibrant downtown chock full of restaurants, retail, and shops — from thrift stores to elegant boutiques — just minutes from the Gulf beaches.
Gulfport: This little town celebrates Old Florida charm and all that's indie with an eclectic mix of bungalows and waterfront condos — all just 15 minutes west of downtown St. Pete and east of St. Pete Beach.
Clearwater: From waterfront palaces on Clearwater Beach to modest but solid concrete block homes in Greenbriar, this city of about 116,000 connects to Tampa via the Courtney Campbell Scenic Highway and Trail, a 10-mile stretch of bridges and park land.
Dunedin: With its thriving, highly walkable downtown area and beaches on Honeymoon and Caladesi Islands, this small city of close to 36,000 is in high demand by both families and retirees.
Pasco County (population: 591,000)
People of all ages are heading for the lower prices in Pasco. And while sprawling subdivisions used to be the hallmark of this once-farming-focused county just north of Tampa, new communities like Mirada, home to the world's largest manmade lagoon, are sparking interest and attracting fresh residents. Generally speaking, areas including Wesley Chapel and Land O' Lakes attract younger families, while New Port Richey and Dade City tend to appeal to retirees.
Wesley Chapel: Planned communities abound in this 'burb, anchored by the enormous Seven Oaks. With the brand-new Avalon Park, Wesley Chapel will finally get a "downtown" city center of shops, restaurants, and green spaces.
Zephyrhills: Just over 20,000 people call this quaint city home, with a charming downtown historic district and annual festivals that draw visitors from all over.
Hernando County (population: 201,000)
Farther north, developments in Spring Hill and Brooksville are picking up steam as some of the most affordable locations in Tampa Bay. It's a mixed bag, though: Former pristine farmland is now being taken over by construction, and traffic is getting worse. But for Tampa commuters, the price is still right. And where else can you watch live mermaids frolic in freshwater springs?
Brooksville: The Hernando County seat, once known as Melendez, was settled in the mid-1800s. Today, about 9,500 people live here, many of whom make the drive an hour south to Tampa every day. The historic downtown area is growing, with new dining and shopping options sharing space with charming mainstays from the old days.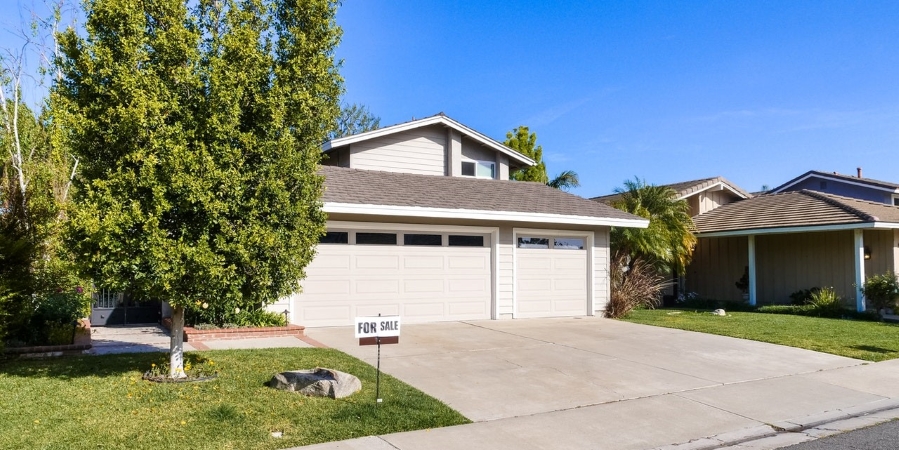 (Source: Kindel Media via Pexels)
2. Housing prices are increasing the cost of living in Tampa, Florida.
If you're moving to Tampa to save money, you may be disappointed. Most online cost of living calculators and studies that crow about Tampa's affordability are simply out of date. Be sure to do your own research before you get your heart set on warmer weather.
The average rent for a Tampa apartment was about $1,925 in July 2023, which is higher than the national average of $1,700. Experts recently told the Tampa Bay Times that newcomers moving to Tampa Bay from more expensive cities are driving up costs here. Talk about irony.
If you're buying a home here, you may still save a bundle compared to bigger city markets like New York City, San Francisco, and D.C. The average home value in Tampa is $393,100, down 1.1 percent from a year ago, according to Zillow. In Hillsborough County overall, the average value is $386,800 — a bit higher than the U.S. as a whole, which sits at $349,800. Over in Pinellas County (St. Petersburg-Clearwater), the average home value is $396,900, but don't expect those prices to get you very close to the beach.
To find a more affordable home, many people are going to Pasco or Hernando counties to the north, which are farther from the employment centers in Tampa-St. Petersburg-Clearwater. Here's a quick snapshot:
Tampa:
$393,100
Hillsborough:
$386,800
Pinellas:
$396,900
Pasco:
$346,600
Hernando:
$354,000
United States:
$349,800
Source: Zillow typical home value data as of July 2023
What else should you know about the cost of living in Tampa, Florida? It's a mixed bag. Food prices at the grocery store and restaurants trend lower than the national average, and there's no state income tax (yay!). On the flip side, the overall cost of living in Tampa is 1.3% higher than the national average. Homeowners and car insurance rates are high, property taxes are no bargain, and don't even think about trying to get by without a car (more on this later).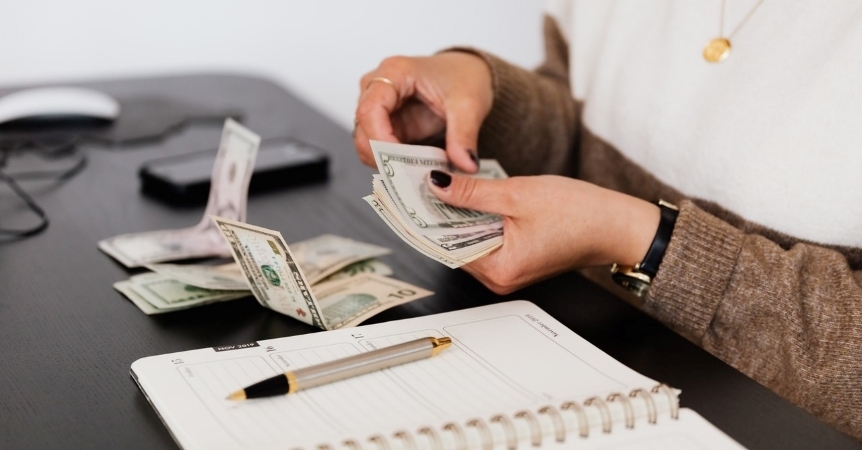 (Source: Karolina Grabowska via Pexels)
3. Incomes in Tampa are lagging behind the rest of the U.S.
If you're not moving to Tampa Bay to retire, then you probably need to consider the job market and what you can expect to make. Unfortunately, local incomes aren't even close to keeping up. Tampa Bay's average hourly wage of $27.64 (in May 2022) was 7 percent below the national average of $29.76, according to the U.S. Bureau of Labor Statistics.
There's good news on the jobs front, though: The Florida Dept. of Commerce reported in February 2023 that the Tampa Bay region created more private-sector jobs than any other metro area in the U.S. during the previous year.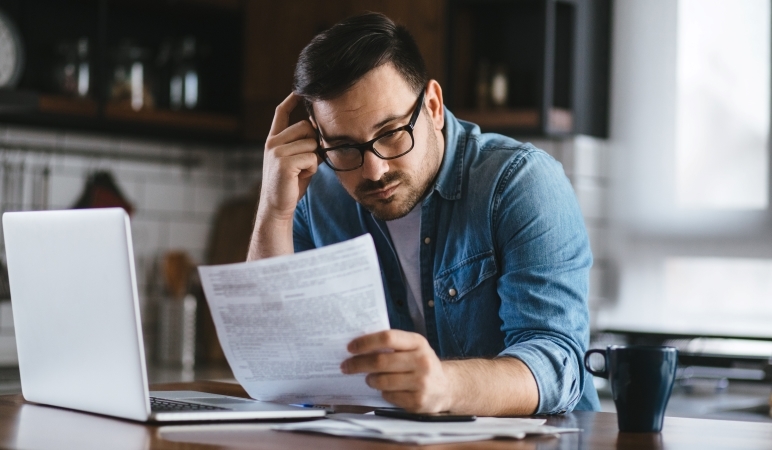 4. New Florida homeowners pay more than their fair share in property taxes.
If you're buying a home in Florida for the first time, you'll likely pay a lot more in property taxes than your neighbors who've owned their homes for a while. That's because Florida's "Save Our Homes Cap" rewards longer-term homeowners by limiting annual increases in the taxable value of their homes.
For example, our new neighbors who moved here recently from New York City have to pay nearly twice as much in property taxes as we do, even though the market value for our Tampa home is much higher. I'm not kidding. We pay about $2,000 in taxes for a 2,000-square-foot home compared to their bill of just under $4,000, and our home is about twice as large. Sadly, this tax bill disparity happens whether you're a long-time Floridian buying your first home or if you just moved to the state. I know, it hardly seems fair!
Local's Tip: If the home is your primary residence, be sure to file for the Homestead Exemption, or you'll pay even more. The good news is you do get to keep most of your "Save Our Homes" benefits if you sell one Florida home and buy another in the state — as long as you make the purchase within two years after selling. The main lesson is to double check what your property taxes will be when you're buying a home, as they may be much more than what the sellers have been paying.

Q: Is it better to live in Orlando or Tampa?
A: That depends on your preferences. Although pockets of each of these two popular Florida cities share a few similarities — Orlando's Winter Haven, for instance, architecturally and culturally resembles Tampa's Hyde Park — they're distinctive in their own ways. The first and most obvious difference? Theme parks. Walt Disney World dominates Central Florida, and all of its offshoots and competitors have made the region Vacation Central for the entire world. Sure, Tampa has Busch Gardens. But who can compete with Mickey? Still, there's a lot more to the city than just theme parks. The PODS blog has the inside scoop on living in Orlando.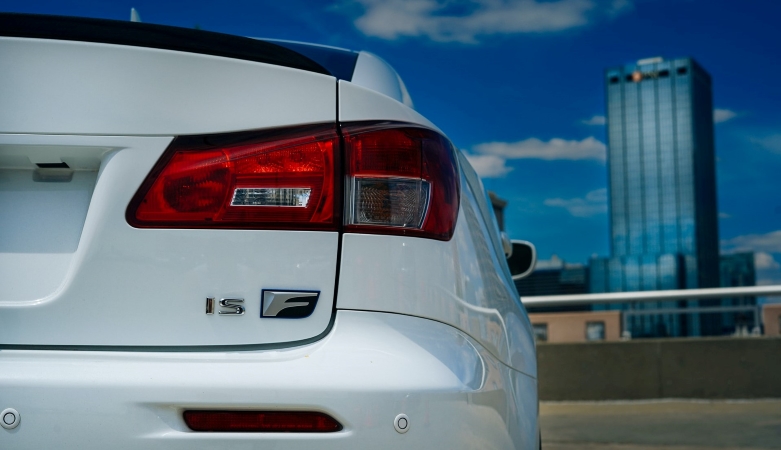 (Source: Alex Haney via Unsplash)
5. Homeowners and car insurance are more expensive in Tampa than in most other cities.
Higher insurance premiums are another expense you should factor into your budget if you're thinking about moving to Tampa.
First, let's talk car insurance. Even if you have a super-clean driving record, chances are, you'll pay more for car insurance in Tampa than most other places. At $2,947 for the average annual full coverage premium, Florida ranks among the most expensive states for full auto insurance coverage, according to MarketWatch. Within Florida, rates in Tampa and other major cities are considerably higher than in smaller towns because of higher accident and theft rates.
Now for homeowners insurance. Florida's average home insurance rate is $2,385 per year, which is about 31 percent more than the national average of $1,820, according to NerdWallet. In addition, you'll want to check on whether flood insurance will be required or recommended on the home you're considering, as that can add hundreds or thousands more. While Miami and South Florida have the distinction of the highest rates, Tampa weighs in at $2,235 because of risks related to high winds and floods from hurricanes and tropical storms, as well as damage from sinkholes.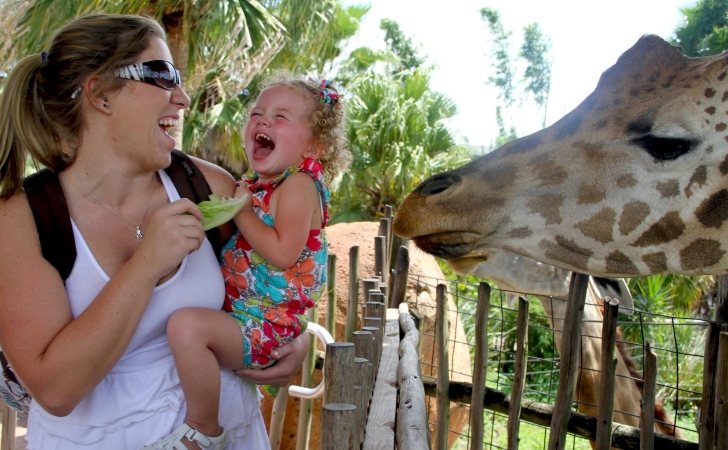 ZooTampa at Lowry Park

(Source: Visit Tampa Bay via Facebook)
6. Tampa residents tend to be younger than their neighbors around the region.
One of the major differences between the two sides of Tampa Bay has traditionally been age. Early on, Tampa developed as a place for working families, while the beaches around St. Petersburg-Clearwater in Pinellas attracted more than its share of retirees. The Pinellas side has grown younger over the years with an economy that's diversified beyond tourism, but the age discrepancy is still reflected in the U.S. Census numbers. With a median age so close to the national median of 38, Hillsborough County is often selected as a test county by marketers.
Median ages in the Tampa Bay region:
Hillsborough: 37.2
Pinellas: 48.1
Pasco: 44.5
Hernando: 48.8
(Source: U.S. Census Bureau, 2020)

Q: Is Tampa, Florida, a good place to live?
A: With close to nine months of beautiful weather, a promising jobs market, a rich cultural history, award-winning beaches a seashell's throw away, and a top-rated international airport at the ready when you need to get out of town, yes, Tampa is definitely a good place to live.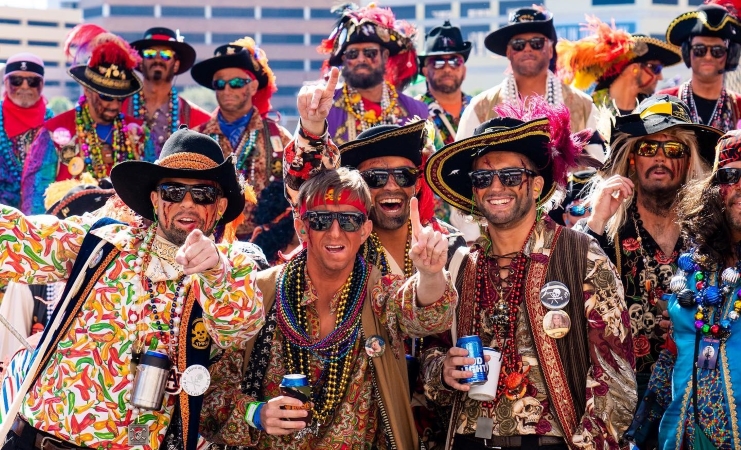 Gasparilla Pirate Fest
(Source: Gasparilla via Facebook)
7. Tampa hosts America's third-largest parade and booze party.
New Orleans has nothing on us. While they spread Mardi Gras out over two weeks, we cram our biggest party into one day in January during the Gasparilla Pirate Fest. More than 300,000 spectators crowd together every year to snag beads and watch this swashbuckling parade wind its way along Bayshore Boulevard and through downtown Tampa.
Named for Jose Gaspar, a totally mythical pirate known as "the last of the buccaneers," Gasparilla has been attracting partygoers since a newspaper columnist and city booster conspired to create the celebration in 1904 as a way to promote living in Tampa, Florida.
Local's Tip: If you've got kiddos, I recommend the Children's Gasparilla Parade, which takes place the week prior and features all the same exciting pirate floats but with smaller crowds and no booze allowed.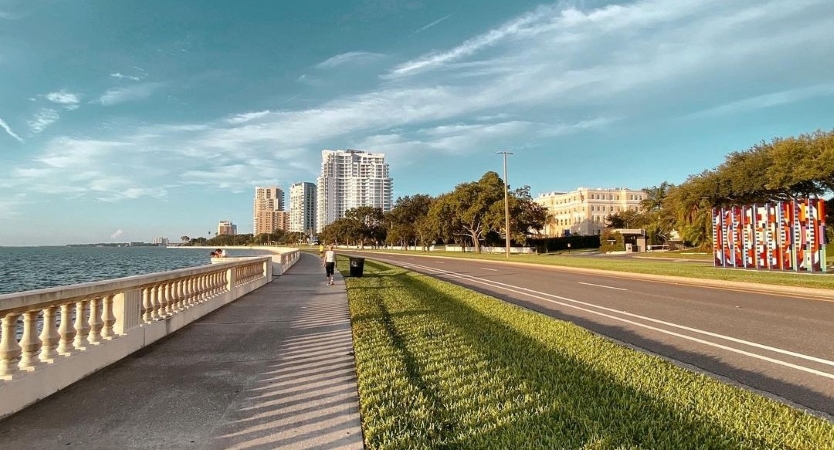 Bayshore Boulevard in Tampa, FL
(Source: @corina.lessa.silva via Instagram)
8. Bayshore Boulevard is the longest continuous sidewalk in the U.S.
Besides being the staging ground for the Gasparilla parades, Tampa's Bayshore Boulevard is 4.5 miles of gorgeous scenic views, with Tampa Bay on one side and majestic mansions on the other. Besides frollicking dolphins, you'll see a regular stream of walkers, runners, bikers, and parents pushing strollers along this winding path.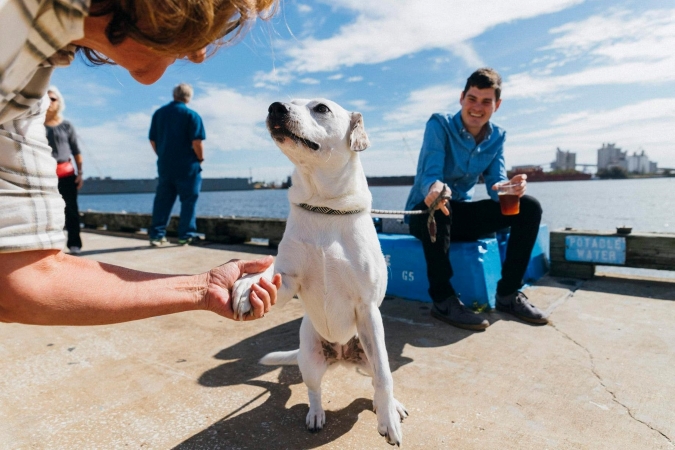 (Source: Visit Tampa Bay via Facebook)
9. Personalities in Tampa Bay can be as warm as the weather.
Do you find strangers at the grocery store smiling at you for no apparent reason? Or maybe you're caught off guard when that woman at the park tries to strike up a conversation. If you're from another region of the country, you might be wondering what's up or even feel a little uncomfortable. Don't worry, you haven't stepped into Night Vale country, the home of the sci-fi comedy podcast. People in Tampa Bay just tend to be friendly. I chalk it up to a combination of the sunny weather and influence of southern hospitality. Just enjoy and roll with it. Though it may push you a bit out of your comfort zone, you don't want locals to think you're rude.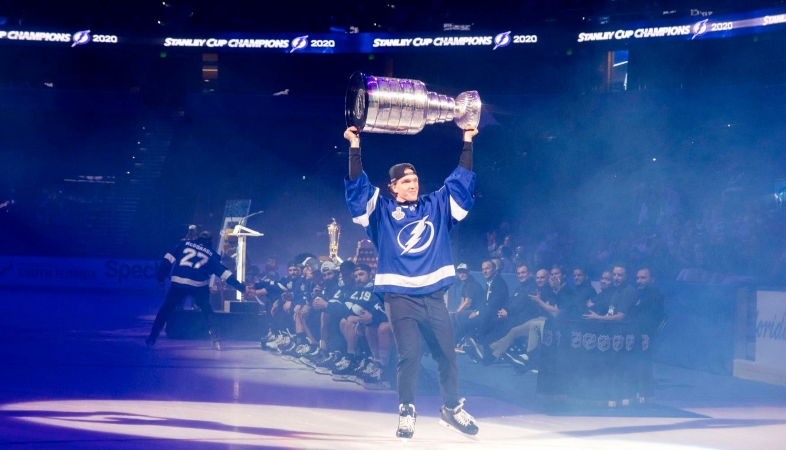 (Source: Visit Tampa Bay via Facebook)
10. When it comes to sports, Tampa is the city of champions.
After decades of humiliation (aside from a brief run in the early 2000s, with the Buccaneers and Lightning winning championships within a year of each other), Tampa sports fans were finally rewarded in 2020 with multiple titles. Nowadays, superstar quarterback Tom Brady is retired — but the Bolts are still humming along and the Tampa Bay Rays continue to play Moneyball better than just about every team in Major League Baseball and make regular playoff appearances.
Local's Tip: Many Tampa fans take it personally when so many people who move here still cheer for the visiting team (especially the Yankees), even when they've lived here for decades. As the song says, "root, root, root for the HOME team."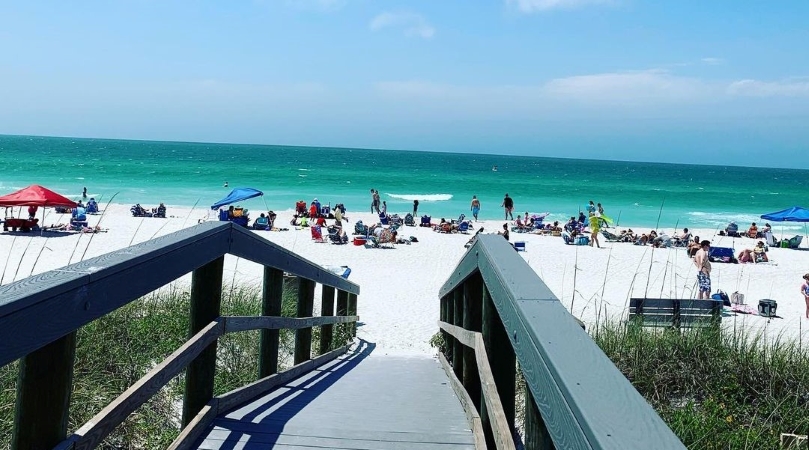 Pass-A-Grille Beach
(Source: @jagnev33 via Instagram)
11. The beaches in Tampa Bay are among the best in Florida — and the world.
The beaches alone make living in the Tampa Bay area worthwhile. This is not hyperbole or a local's bias. Over the years, our beaches have been rated among the best by plenty of objective sources like Dr. Beach, TripAdvisor, and U.S. News for their sugary white sand, breathtaking sunsets, and the crystal-clear waters of the Gulf of Mexico.
Local's Tip: Since Clearwater Beach is the most popular, it's also the most crowded, complete with weekend traffic jams. Unless your main goal is to see and be seen, I recommend trying the beaches less traveled. Here are three personal favorites:
Caladesi Island State Park: Since this is totally undeveloped and you have to take a short ferry, this is one of the region's most natural, unspoiled beaches. You get to Caladesi via Dunedin, on the north end of Pinellas.
Fort De Soto Park: The beaches in this Pinellas County park are natural and condo-free, but there are more facilities — like picnic shelters, bathrooms, and showers. On the south end of Pinellas, Fort De Soto is easy to get to via I-275 South through St. Petersburg.
Pass-A-Grille Beach: At the southern tip of St. Pete Beach in south Pinellas, this beach is special because there are no buildings on the beach side. There are a lot of dunes and sea oats, too, and you can walk to the Don CeSar Hotel, the luxurious "pink palace" built in the roaring 1920s — a haunt of luminaries like F. Scott Fitzgerald and Clarence Darrow.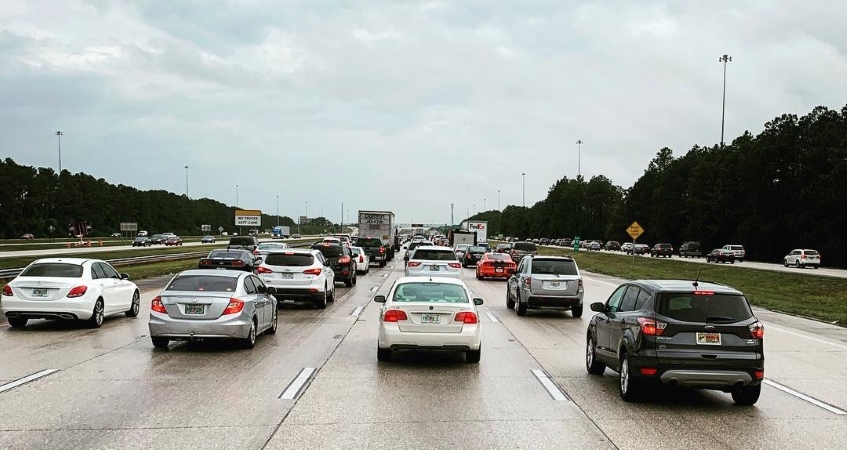 (Source: @victor.rubino via Instagram)
12. Tampa Bay ranks low in transit availability and high in pedestrian fatalities.
You'll need your own wheels to get around, and if you choose to walk or bike, you need to be careful.
Being so car-centric comes with a high price. The area ranks as the fourth-most deadly region for pedestrians, according to a study by Smart Growth America, with 3.5 fatalities per 100,000 people every year on average.
Statistics show that those getting around Tampa Bay by bicycle are also at high risk compared to other parts of the country. While local governments and organizations work to improve transit as well as pedestrian and cyclist safety, you can help protect yourself and your family members by following these safety tips from USA Cycling.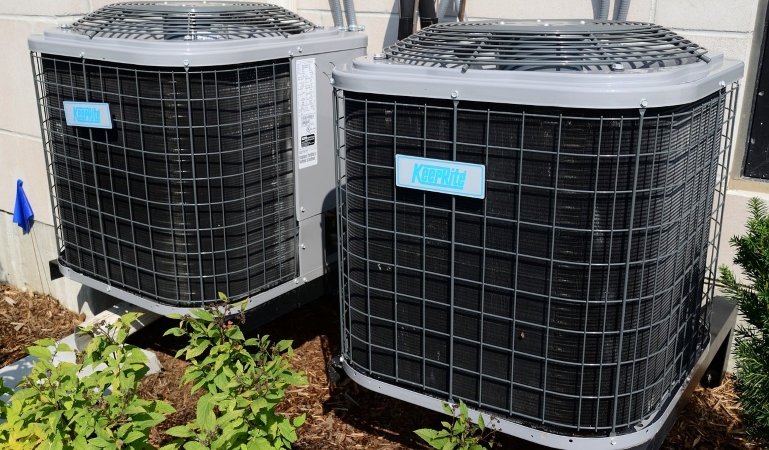 (Source: ElasticComputeFarm via Pixabay)
13. Having air conditioning that works is a necessity.
From May through October, you don't want to get stuck in a car or house without decent AC. If you've only visited Tampa in the winter, spring, or fall, you might want to spend some time here in June, July, or August before deciding this is the place for you.
Although our temperatures seldom go higher than the 90s, it's the humidity that gets to you (say hello to heat indexes in the 100s). Unfortunately, the steamy, hot weather seems to start earlier and last longer every year. Retired snowbirds have the right idea — they escape to cooler climates for the summer. These days, if you're fortunate enough to work remotely, you may be able to live that life at a younger age (this has been my own personal dream for years). But if you can't get away, your best strategy is to have your AC checked in April, so you can head off any problems before they become an emergency.
All set on moving to Tampa? Find out how moving containers can make relocating easier, especially when plans change. Get a personalized quote at PODS online for local moves, or get expert advice on long-distance moves at 855-706-4758.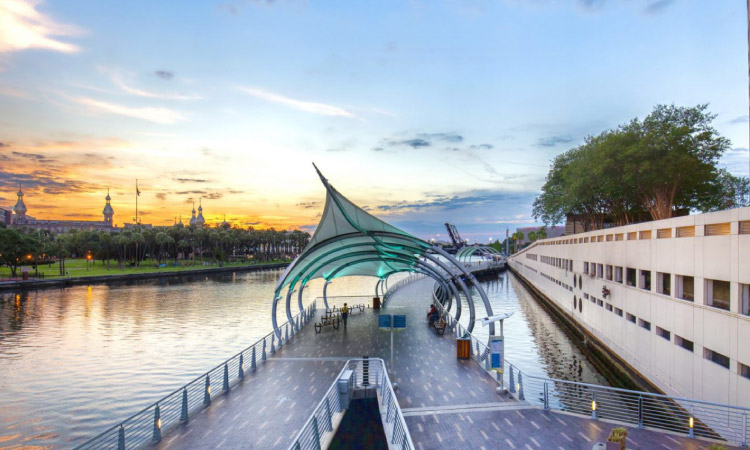 Tampa Riverwalk
(Source: Tampa Riverwalk via Facebook)
14. There are so many things to do while living in Tampa Bay, you'll wish you were retired.
Whether you're new or a longtime resident, you can always find something fun and interesting to do in Tampa Bay. Besides the beaches, outdoor activities abound. You might be surprised to find some of the most lush Florida wilderness in Hillsborough County right outside Tampa. Downtown St. Petersburg is brimming with first-class museums, and foodies of all types can easily eat their way around the entire Tampa Bay Area without ever getting bored.
Local's Tip: The picture-perfect days in winter and spring are so packed with entertaining events that it's not unusual to get frustrated by the necessity of having to choose. Stay tuned into what's happening by visiting the Tampa Bay Times' frequently updated Things To Do page or signing up for their free weekly Top 5 Things To Do newsletter. If you're an avid concert-goer or foodie, you can also check out Creative Loafing Tampa Bay's Things to Do or Food and Drink Events pages. (Both these publications are long-time local favorites, and keeping up with them can mean you never miss anything happening around town.)
For now, here are just a few ideas to get you started:
Stroll, bike, eat, and party on the 2.4-mile Tampa Riverwalk along the Hillsborough River in downtown Tampa. On the way, you can visit parks or museums, or stop at Armature Works and Sparkman's Wharf on either end, where you'll find eclectic food and cocktail options.
Witness a historic attraction come back to life at the The St. Pete Pier. A fitting crown for downtown St. Pete's many jewels, the Pier features a linear park, restaurants, the Tampa Bay Watch Discovery Center — and, of course, stunning bay views.
Experience wild Florida at Hillsborough River State Park, where you can hike 7 miles of trails, fish, or launch a canoe or kayak for a closeup view of alligators and stunning birds like ibis, great blue heron, and even roseate spoonbill.
Watch manatees roll around underwater at Zoo Tampa, where you'll also find elephants, penguins, orangutans, and other species from Florida and around the world.
Let Flamenco dancers romance you while dining at the historic Columbia Restaurant in Ybor City.
I could go on, but I've already gone way beyond what you have time to read. Thanks for being interested in our hometown. I hope this local sampler has given you some helpful advice about your next move. Happy trails!
Editor's note: For ease of reading, monthly rental prices were rounded to the nearest $25 and home values were rounded to the nearest $100.
Liz Taylor is a freelance writer based in Tampa who enjoys getting out and exploring all that Tampa Bay has to offer.
Get a Quote
Choose the service you need
Comments
Leave a Comment
Your email address will not be published. Required fields are marked *