Moving to Tampa: Guide to the Best Tampa Neighborhoods
Talk about overwhelm! The Tampa Bay area's neighborhoods are some of the most coveted — not just in Florida but throughout the country. So to find the best Tampa neighborhoods, you'll need our guide to help you narrow down which features you like best. Don't worry; too many great choices is a problem you're lucky to have.
What's on your Tampa Must-Have Checklist? Amazing beaches? Check. Professional sports, dining, and shopping within walking distance? Check. Gorgeous sunshine and lush palm trees on every corner? Check, check. And the list goes on. There's something for everyone living in Tampa, especially if you like the heat.
Tampa's Explosive Real Estate Market and Population
Newcomers are flocking to the best neighborhoods of Tampa with dreams of buying or renting their piece of Florida paradise. Tampa home prices average $391,300, as of November 2023, up 0.4 percent from a year ago. And if you're lucky enough to find an apartment to rent, you can expect to pay $1,925 per month, on average, for a one-bedroom. The city's influx of people significantly affects everyday real estate transactions, though, thanks to the uneven housing supply and demand.

Tampa began a massive growth surge during the pandemic, expanding at a rate of 2.58 percent in 2020, a whopping 23.23 percent over the past decade. The pace has slowed a bit to 1.09 percent from 2022 to 2023, with 2,977,000 people now calling the metro area home.

With the new population comes new energy in civic life, arts and culture, and economic opportunity — but growing pains are to be expected, as well. Traffic, for example, and the development of once-pristine natural lands.
What Is the Best Area in Tampa To Live?
This is a tricky question because it depends on why you're thinking about moving to Tampa. If you're looking for affordability, consider a suburb like Brandon. If you're interested in nightlife and lots of things to do, check out Downtown Tampa. Want a family-friendly neighborhood? Parents love Palma Ceia for its community feel.
Where Should You Live in Tampa?
As you're exploring the best parts of Tampa, searching for a place to call home, consider the kind of community you find desirable. Is walkability important? Do you like eclectic architecture, or are you drawn to HOA-type tidiness? Want to see the stars from your backyard? Prefer a fixer-upper? And, of course, what's your budget?

These are a few of Tampa's best neighborhoods and suburbs.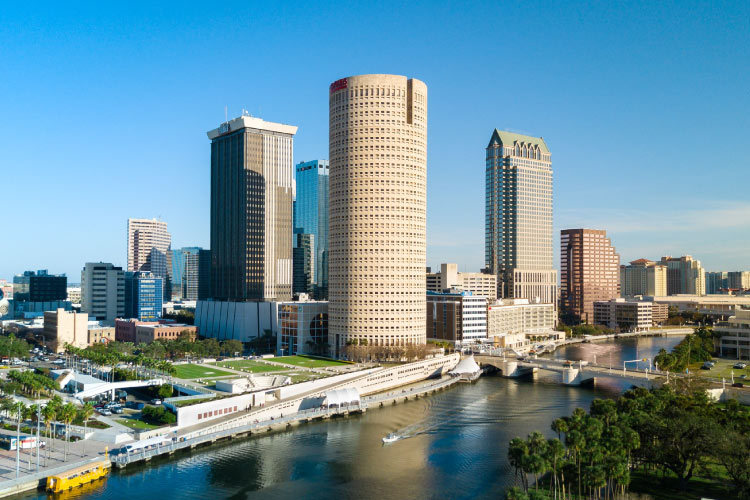 Downtown Tampa
(Source: Tampa's Downtown via Facebook)
1. Downtown Tampa
Tampa Riverwalk
. Curtis Hixon Waterfront Park occupies the heart of the city, with a grand green space that hosts festivals, concerts, and family-oriented recreation, all overlooking the river. Locals consistently rave that today's downtown is one of the best places to live in Tampa, Florida.
Anchored by Skypoint and Element — the first downtown residential towers constructed after the Great Recession — downtown condos and apartments are now flourishing in what's become one of the best neighborhoods in Tampa for young professionals. Families and empty nesters are plentiful, too — all part of a vibrant community that's blossomed in recent years.
Q: What is the posh area of Tampa?
A: Redevelopment and reinvention have changed the face — and foundations — of Tampa so many times over the decades, it's hard to keep up with what's posh and what's not! But today's most-upscale is likely the downtown area, where several super-pricey condos and hotels now tower over the once-empty-but-now-thriving streets.
2. Tampa Channel District
Just east of downtown, the Channel District, also known as Channelside, has undergone a similar rebirth, from a gritty warehouse zone serving the Port of Tampa to a hip, densely populated neighborhood of converted lofts, luxury apartments, and high-rise condos. Sparkman Wharf, perched along Garrison Channel, is a go-to dining and cocktail hub, with local fave restaurants in kiosks serving takeaway that can be enjoyed in the open greenspace or at plentiful picnic-style tables.

In between downtown and the Channel District, Harbour Island reigns as the grand dame of downtown neighborhoods. For decades, imposing mansions have lined the waterfront around the island, with upscale residences and townhouses filling in the midsection. Also home to a handful of hotels, restaurants, and shops, the island is consistently rated one of the best Tampa neighborhoods. And an added bonus, it's within easy walking distance of Amalie Arena, the 20,500-seat home of the Tampa Bay Lightning and hundreds of concerts and events a year.
Q: What is the wealthiest area in Tampa Bay?
A: Home values are a good barometer of wealth, and in Tampa, you'll find off-the-chart homes in plenty of neighborhoods. Culbreath Isles consistently ranks as the most expensive, with an average home value of more than $3.1 million. The neighborhood is one of many overlooking Tampa Bay, with the sweeping views and sunsets so many of Florida's residents are seeking when they choose the Sunshine State as home.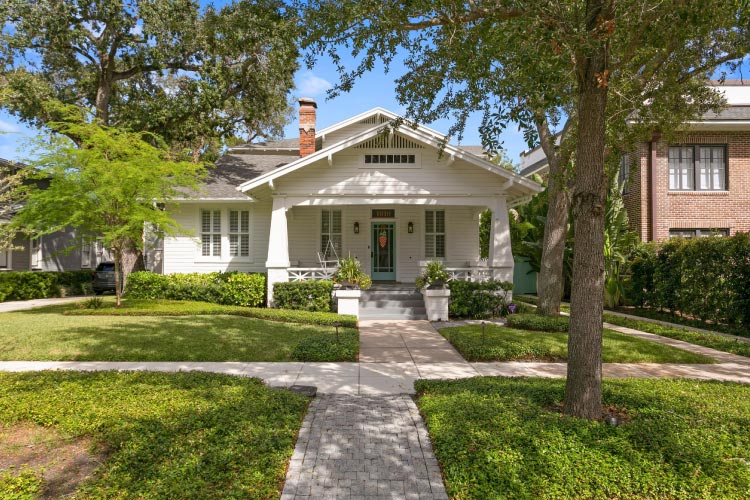 Historic Hyde Park
(Source: Keller Williams South Tampa via Facebook)
3. Historic Hyde Park
Average rent (one-bedroom): $2,575
Average home value: $1.1M
Commute to downtown: 10 minutes — but can be considerably longer if there's a hockey game, a concert, or a convention downtown.
The centerpiece of Historic Hyde Park is Bayshore Boulevard Greenway, which curves gently along Hillsborough Bay for 6 miles from the Ballast Point Pier to downtown Tampa. Its balustrade, wide sidewalk, and sliver of waterfront greenspace are notable as the world's longest linear park. And behind the stately mansions and condo highrises that line the boulevard, upscale homes are tucked under moss-draped live oaks in one of the most affluent neighborhoods in the region.

About a half mile from the bay is Hyde Park Village, a mix of boutiques and restaurants, where seasonal farmers markets and art fairs set up shop on weekends. Just a bit south, the entertainment district known as SoHo (South Howard Avenue) attracts a younger weekend crowd, and with it, traffic and alcohol-fueled noise. Neighborhood schools are consistently highly rated, crime is low, and the median household income is $156,725.
4. Port Tampa
An established neighborhood that's getting plenty of redevelopment attention, the Port Tampa community lies at the western edge of the Interbay Peninsula, once the end of the line for the Henry B. Plant Railroad. Home values have gone up about 1.2 percent in the past year — leveled off from explosive growth three years ago — but it's a still-viable option for young families and is gaining a reputation as one of the best neighborhoods in Tampa.


The area is an eclectic mix of older ranch-style homes, Florida-style bungalows, and, increasingly, new construction. You'll find terrific recreation options, including Picnic Island Park. And commuters have easy access to downtown and St. Petersburg via the Leroy Selmon Crosstown Expressway. If loud noise is an issue for you, though, look elsewhere: MacDill Air Force Base is right around the corner.
MacDill Air Force Base
Although Tampa is not considered a traditional military town, MacDill Air Force Base is a significant presence in the region, thanks to heavy-hitting units like the Air Mobility Command, United States Central Command, and the Special Operations Command. Of course, you also have to factor in the far-reaching economic impact of the Department of Defense in the area. MacDill significantly affects the local and state economies as well as the real estate and job markets.

The base occupies premium real estate on the Southwestern tip of the Interbay Peninsula and is home to more than 12,000 active-duty servicemembers and 7,000 civilians. This is in addition to a strong military retiree community who think Tampa is a rather good place to settle down. WalletHub agrees; it ranks Tampa No. 1 on its ranking of Best Places to Retire for 2023.
Davis Islands
(Source: Jennifer Zales, Tampa Bay Luxury Real Estate via Facebook)
5. Davis Islands
These two man-made islands, dredged from the bay back in the 1920s, hold just under 3,000 homes, many situated on the waterfront, and have long been one of the best neighborhoods in Tampa for families. Locals are proud to have zero traffic lights. Cyclists and runners take advantage of the miles of paved path that lead to the Marjorie Park Yacht Basin, with lots of green space for picnics and frisbee games and the popular dog park and beach where locals take their furry friends for playtime. And the village "downtown" features folksy, mid-century-modern-esque shops and restaurants — but island living in one of Tampa's best neighborhoods is pricey.
6. Palma Ceia
Quaint and bustling at the same time, Palma Ceia is considered one of the nicest neighborhoods of Tampa because it has so much to offer. Residents love amenities like the abundance of green space, boutique shopping, and high-performing public schools.

It's easy to see why you'll find a pleasant mix of young professionals and families who call Palma Ceia home. It's also one of the best neighborhoods in Tampa for retirees, with a thriving dining scene, art galleries, lots of walking paths, and the posh Palma Ceia Golf & Country Club. The neighborhood has a charming vibe and is characterized by bricked streets similar to those in Ybor City. It's also a half-mile stroll to iconic Bayshore Boulevard.
Q: What is the safest neighborhood in Tampa?
A: If you scour Tampa crime and safety stats, you'll see that, according to Money Inc, Palma Ceia ranks as one of the safest neighborhoods in Tampa.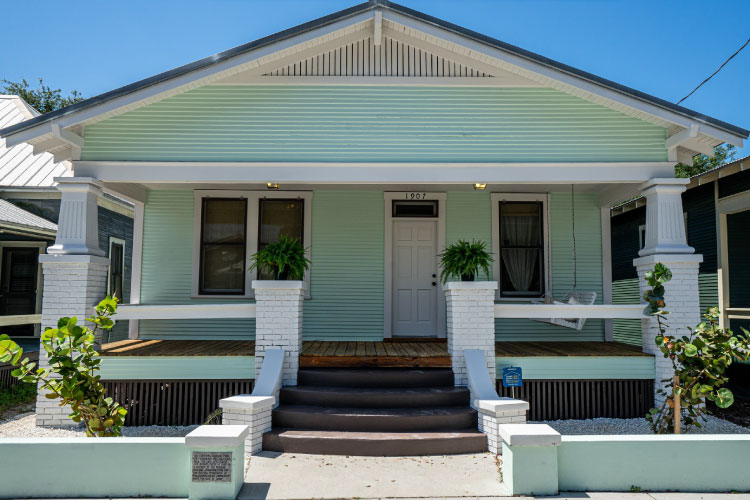 Ybor City
(Source: I Bike Home Sales Real Estate via Facebook)
7. Ybor City
Average rent (one-bedroom): $2,675
Average home value: $289,200
Commute to downtown: 10 minutes
The historic district has gone through several transformations since cigar maker Vincente Martinez-Ybor founded the city in the 1880s. Once a thriving village populated by Cuban, Spanish, and Italian immigrants who worked in the cigar factories, Ybor suffered economic decline after automation took over their livelihoods. In the 1970s and '80s, the mostly abandoned district became popular with young artists and musicians looking for cheap rent, and the first renaissance began with clubs, art galleries, restaurants, and vintage stores lining Seventh Avenue, the main thoroughfare.

By the 1990s, developers realized Ybor's potential and built a bustling New Orleans-style entertainment district of bars and nightclubs — and subsequent higher rents pushed out the earlier generation of artists. Today, yet another reinvention is underway with a new influx of creative types setting up shop in the historic Kress Building and elsewhere in the district — proving that no matter the decade, Ybor City always returns to life as one of the best areas in Tampa.

Today, on the quieter blocks removed from Seventh Avenue, many of the shotgun-style houses where cigar factory workers once lived have been renovated, and several apartment complexes are popular with young professionals and students. It's a true party atmosphere around Seventh Avenue, but just a bit east of the entertainment district, residents struggle with poverty and crime.
8. Tampa Heights
Average rent (one-bedroom): $2,525
Average home value: $423,900
Commute to downtown: 5 minutes
Tampa Heights features a mix of family-friendly enclaves and newer development around Armature Works, once a warehouse for Tampa Electric Company streetcars and now home to an upscale food court, event and co-working space, and specialty boutiques. The neighborhood's home values continue to climb as urban pioneers discover the neighborhood's beautiful Victorian fixer-uppers near downtown — many in need of some TLC.

Like a lot of Tampa neighborhoods, Tampa Heights has undergone significant rejuvenation in the past decade. Today, the area, and its neighbor Seminole Heights, are thriving with art galleries, home renovations, new construction, and major developments, including the mixed-use Armature Works and luxury apartment community The Pearl. The resurgence began with restaurants about a decade ago — and the dining scene has only burgeoned since then with dozens of innovative spots like Ulele, Rooster & the Till, Nebraska Mini-Mart, and more.
Q: What is the hippest neighborhood in Tampa?
A: For the young-and-trendy looking for the "it" 'hood, there's no singular locale — there are too many nuances to nail down one as the hippest. But topping the list are most definitely Channel District, Seminole Heights, Tampa Heights, and Ybor City.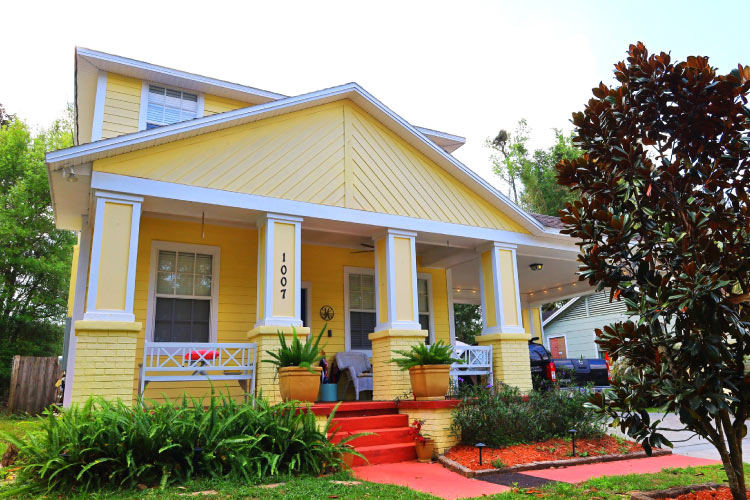 Seminole Heights
(Source: Old Seminole Heights Neighborhood Association via Facebook)
9. Seminole Heights
In Seminole Heights, stately older bungalows line Central Avenue, once a thriving thoroughfare of Black businesses. Craftsman-style homes are the norm throughout the quieter side streets, now a mix of young professionals and families, and several loft-style apartment buildings have sprung up in recent years to serve the young professionals drawn to the still-artsy essence of the neighborhood.
Q: What is the trendiest neighborhood in Tampa?
A: Thanks to the massive changes the area has undergone over the decades, the answer to this question has shifted — multiple times. From the late '70s through the early '90s, Ybor City was unquestionably the hippest place to be for a certain demographic: artists, writers, and musicians looking for cheap rent and room to create. Not long after that, the intown neighborhoods of Seminole Heights and, more recently, Tampa Heights became go-tos for trend-seekers who renovated the area's old-school bungalows. And today, the Channel District has taken the mantle — but only for trendy types with lots of money. The long-ago charm of the district's gritty warehouse vibe has been replaced by luxury apartments and condos, lush hotels, and upscale dining and entertainment.
10. New Tampa
As its name implies, New Tampa was established relatively recently, in 1988, when a development boom began in the Tampa Bay area. Situated just north of the University of South Florida, New Tampa is a 24-square-mile collection of planned communities with varying price points and amenities.

Traffic can be a problem in this region, particularly for downtown workers facing the daily commute, and dining and retail offerings are dominated by chains. But for families in search of resort-style living in Tampa with biking and walking trails, golf courses, tennis, and soccer fields, New Tampa is a good fit.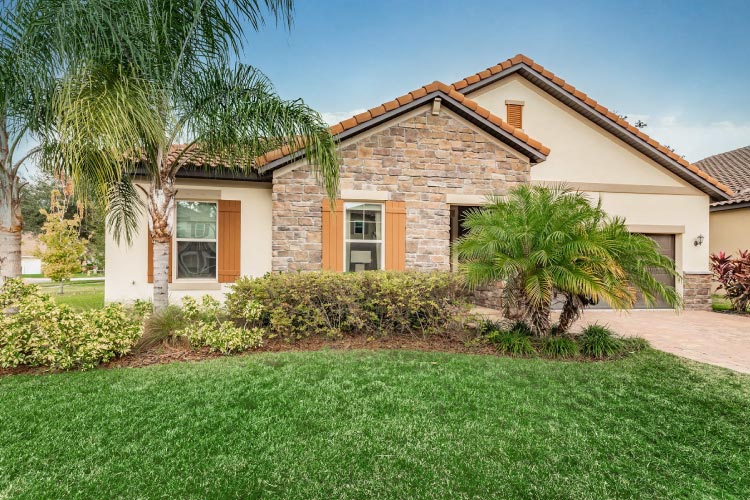 Carrollwood, Florida
(Source: Smith & Associates Real Estate via Facebook)
11. Carrollwood, FL
A few blocks east of the traffic-clogged section of Dale Mabry Highway that cuts through Carrollwood, you'll find one of Tampa's original suburbs. Homes built in the '60s and '70s line tree-shaded streets that wind around lakes and orange groves, peacefully secluded from the hubbub of sprawl just minutes away. On the west side of Dale Mabry, Carrollwood Village features later-era homes, apartments, and condo complexes. Planned communities are the norm in this area, such as Carrollwood Oaks, Huntington of Carrollwood, and Whispering Oaks. If you're in the market for a multi-million-dollar waterfront estate, check out the stunners around White Trout Lake.
12. Brandon, FL, and Riverview, FL
Only 11 miles east of Downtown Tampa, Brandon has grown into a popular bedroom community in recent decades, with affordable homes and relatively easy access to downtown.

Plenty of suburban conveniences include the Westfield Brandon, a mall with more than 140 stores and two dozen restaurants, plus the popular TopGolf and TGH IcePlex, the official training facility for the Tampa Bay Lightning — and a great place for ice skating lessons or a birthday party.

If you're seeking a more upscale community, The Sanctuary in Brandon features luxury homes from the high $700,000s to more than $1 million. But if you're looking for a rural atmosphere, Riverview, just south of Brandon, is a good bet. Situated around the Alafia River, the area is home to the Bell Creek Nature Preserve, a 600-acre park with picnic areas and miles of walking trails, and the Alafia Scrub Nature Preserve, a 60-acre park with beautiful views of the river.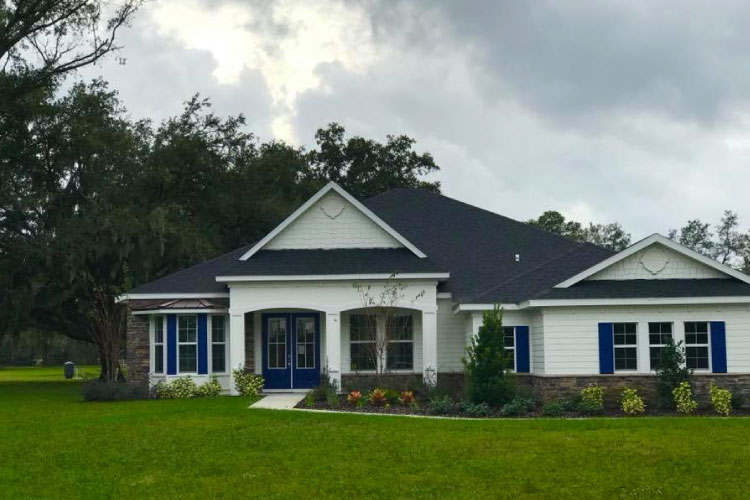 Plant City, Florida
(Source: Lizz Harmon, Realtor via Facebook)
13. Plant City, FL
Average rent (one-bedroom): $1,375
Average home value: $341,300
Commute to downtown: 45 minutes or more
Known as the Winter Strawberry Capital of the World, Plant City is about 30 miles from Downtown Tampa — and supplies 75 percent of mid-winter strawberries around the U.S. from its 10,000 acres of local farmland. Every winter, visitors come from all over for the Strawberry Festival, a weeks-long fair with rides, entertainment (in 2024, look for acts including ZZ Top and the Black Eyed Peas), and, of course, lots of strawberries.

Plant City is a bit of a hike for commuters, but if you're looking for a small-town vibe (with just under 40,000 residents), you may think it's worth the drive. The Downtown Historic Residential District, designated in 1988, has 185 historic buildings, including the Bing Rooming House Museum, a National African-American Landmark.

Housing runs the gamut in Plant City, from modest Florida-style homes in subdivisions and older, established neighborhoods to lovely farms and estates a bit farther from the city center.
14. Westchase, FL
Living in Westchase means living in a super-sized planned community that comprises almost 30 "villages" and subsets, plus an upscale country club and golf course. The central shopping, restaurant, and entertainment district, West Park Village, is designed in the style of Hyde Park Village, mixing fine dining with casual local watering holes and exclusive boutiques.

Miles of walking and biking trails wind through the neighborhoods of Westchase, which include homes, apartments, and condos at multiple price points, from modest to executive and luxury, making it one of the best areas of Tampa. Nearly 25,000 residents call the suburb home, and though families are the largest demographic, younger professionals are also drawn to the area for its active lifestyle and easy access to Tampa International Airport and downtown.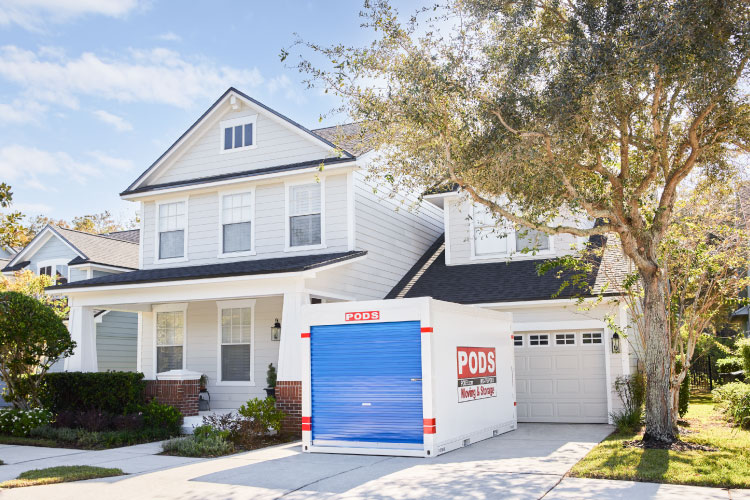 Moving to Tampa
Moving to Tampa isn't a hard sell for many wannabe Floridians, but figuring out exactly how to move there takes some thought. First, decide which moving option sounds best for your relocation.
Full-Service Movers
A full-service moving company could be the answer to your moving prayers. So if just the thought of packing boxes sends you scurrying under the bed covers, consider calling in the pros. They'll handle all the details, from wrapping and packing to unloading and rebuilding bookcases in your new Tampa home.

But keep in mind that stress-free moving comes at a high cost. Full-service moving is the most expensive relocation option. And you'll need to do plenty of due diligence before you make your selection. Seek multiple referrals to review and insist on a solid contract that describes your fees and services in detail.
DIY Rental Truck
Sometimes a move calls for a road trip in a rental truck — especially if you want to stick to a budget or want to control the moving details, like your stuff's condition upon arrival. Choose a rental truck if you prefer to pack and load boxes yourself and don't mind logging miles. A DIY trip can be budget-friendly, but don't forget the costs like gas, insurance (read your contract top to bottom), hotels, and food.
PODS Portable Moving Containers
Rarely does a move go off without a few schedule changes, so adding a flexible moving option, like PODS, is a smart decision. First, you can pack at your own pace, loading up a parked container (three sizes to choose from) in your driveway. Later, you'll schedule a convenient time to have it driven to Tampa or have it stored in a secure PODS Storage Center for delivery when you need it. You get to customize all the details of your belongings' safe journey.

Want to learn more about life in the Sunshine State? The PODS Blog is filled with helpful tips for moving to the best cities in Florida, from Sarasota to the Space Coast and everywhere in between.

Shannon Jacobs is a Tampa-based freelance writer and frequent contributor to the PODS Blog. She has lived in Atlanta, the Berkshires, and Nashville, but always returns to the warmth of Florida's Gulf Coast.

Editor's note: For ease of reading, monthly rental prices were rounded to the nearest $25 and home values were rounded to the nearest $100.
Get a Quote
Choose the service you need
Comments
Leave a Comment
Your email address will not be published. Required fields are marked *