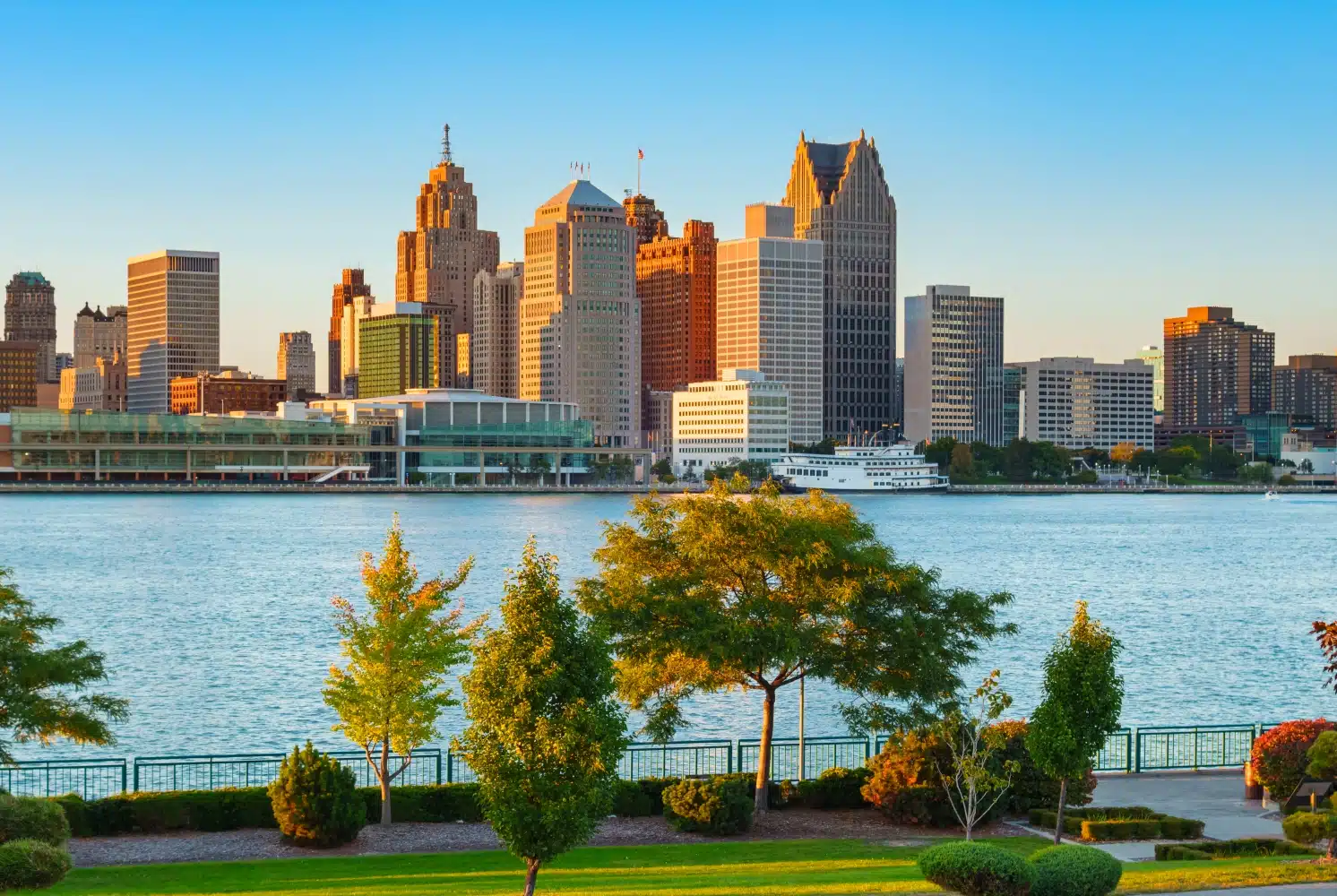 Find Out What Makes These 8 Detroit Neighborhoods So Livable
At 143 square miles, Detroit is one of the largest cities in the United States, yet for many, it's the biggest small town they've ever lived in as an adult. The Motor City is a city of neighborhoods. Residential areas where people get to know one another, where block clubs thrive, and where quality of life means a great street party with barbecue, music, and neighbors bumping elbows as greetings.
If you're thinking about moving to Detroit, you'll be happy to know that neighborhood life is extremely important to Detroiters. In fact, highlighting what neighborhood you live in gives you certain street cred in Detroit.
Many neighborhoods here date back as far as the 1850s with thriving immigrant communities, longtime retailers, and century-old housing stock. Now, that might seem impressive for most cities. But Detroit was founded on July 24, 1701, so having more than 300 years of history can make any other city feel jealous. Neighborhoods such as Corktown have beloved historical societies that keep track of houses, who owned which home, and how much the neighborhoods have changed with the passing of time.
Any neighborhood guide of Detroit has to start with the basics. Detroiters are fiercely proud of their city and each neighborhood, so take the time to learn where each neighborhood starts and ends. If you misidentify a neighborhood, you will be called out on it and corrected, so don't be easily offended – you're just learning the ropes. You'll also want to find out who your neighbors are so you can learn about the best area coffee shops, stores, and grocers (yes, Detroit has plenty of grocery stores despite longtime myths).
Finally, if you move into any of these neighborhoods, take the time to bring a little baking love onto your block. A properly delivered pound cake will open more doors to you than you might expect, literally and figuratively. When you get a pound cake or another sweet treat in return, then you know that your neighborhood has welcomed you with open arms and an open heart – and Detroiters have some of the biggest hearts in the Midwest, if not in the whole nation. Want to know more about this special place? See 11 things to know about living in Detroit.
Here, we're going to focus on some of our favorite Detroit neighborhoods and one city-within-a-city -- all with great rental and home buying opportunities, lots of places to see and be seen, and strong community ties that will keep the area growing long into the future. These neighborhoods also offer safety because of density, neighborhood watch programs, and a focus on communication between residents and Detroit police, all of whom are deeply invested in the city.
Downtown Detroit
If you've lived in Metro Detroit for the past 15 years, you know that downtown Detroit has transformed from a sleepy business and retail center into a lively, architecturally stunning city center with new residential developments. There are apartments, condos, lofts, and studios in a variety of buildings, both new and vintage. If you want to have access to all of the city's food and entertainment, there's no better place to live than downtown with bars, restaurants, and event spaces on nearly every block.
Many of the city's finest parks, such as Campus Martius, Cadillac, and Spirit Plaza, also have been activated with retail, games, and food-focused events. There are many major cultural institutions such as the Detroit Institute of Arts, the Detroit Public Library, and the Detroit Historical Museum within walking distance of high-end art galleries, event spaces, and universities such as Wayne State. You also can look at adjacent neighborhoods such as Greektown, Lafayette Park, and Elwood Park for additional living spaces that are walkable and have access to great downtown amenities such as the riverfront, RiverWalk, and lots of businesses. The typical home value for a downtown abode is $452,655, according to May 2021 Zillow reports.
Corktown
With housing that dates back to 1850, Corktown is considered the oldest neighborhood in Detroit. The housing stock varies from classic Victorians to deluxe duplexes to brand-new condominiums so you can find something at an array of price points. The single-family homes in the area also are full of charm and character with small backyards that are ideal for gardening.
The neighborhood has a great view of one of the most exciting developments in Detroit, Michigan Central Station – a century-old train station that Ford Motor Co. is transforming into its second campus that focuses on innovation and autonomous vehicles. That means investing in Corktown as a renter or buyer is a smart move now and well into the years to come. Home values are jumping here with the Zillow Home Value Index putting the typical home value in Corktown at $312,171 as of May 2021, up 24.2% over the past year. Its adjacent neighborhoods of Core City and Hubbard Richard are also tied together by invested residents who work hard to better the neighborhood and keep track of its history through an active historical society, as well as proud homeowners who maintain gardens front and back. There are a lot of nearby restaurants within walking distance, with some of the city's best eateries just a short car trip away. This area also has many parks within the neighborhoods, and some such as North Corktown Commons are getting new interest and investment to make them more usable and interesting to all ages.
Grandmont Rosedale
People are starting to discover just how beautiful and exciting the Grandmont Rosedale area of northwest Detroit is, so locals may want to keep their hidden secret quiet for just a bit longer. But the word is out that these neighborhoods are full of well-kept historical homes, fresh renovations, and spacious apartments. There are five areas of Grandmont Rosedale, so you'll have to work a bit harder here to get to know them all:
Grandmont
Grandmont 1
Rosedale Park
Minock Park
North Rosedale Park
Yet they all come together to act as one community, especially with the development and investment help of its active and successful Grandmont Rosedale Development Corporation. Homes here range from quaint cottages to larger colonials with traditional exteriors, as well as larger Tudors with imposing style. This is a great time to invest as well, as Zillow has the typical home value as of May 2021 at $131,807 in Grandmont No. 1. Grandmont Rosedale has about 800 homes total, and considers itself the "Home of Good Neighbors," with an active Grandmont Community Association so you can get to know the neighbors even quicker if you move here.
Midtown
This area just outside of downtown perhaps has seen the biggest growth of new housing and renovations as well as business growth in all of Detroit over the past five to 10 years. It is anchored by some of Detroit's greatest institutions – known as Eds and Meds – because of its neighbors, Wayne State University, the Detroit Institute of Arts, and nearby hospitals. It also is within walking distance of entertainment venues such as Comerica Park, where the Detroit Tigers play, and Little Caesars Arena, where major bands and other entertainers play.
The homes here range from well-preserved Victorians, which are both duplexes and single homes, condos that are freshly built for all ages and income levels, as well as larger apartment-style developments. Home values are rising quickly as Zillow has the typical value at around $383,102 as of May 2021, up 7.5% over the past year.
What makes Midtown a great place to live is its connection to its adjacent neighborhoods, including Cass Corridor and Woodbridge, where shopping and restaurants thrive. You'll never run out of places to shop and eat, including local favorites such as the Bottom Line Coffee House, Bronx Bar, Cass Café, upscale Grey Ghost, Third Man Records, City Bird, and so many more. The new cultural district that connects the major art museums and libraries also will be within this neighborhood, which means much more investment for the area in the years to come.
Rivertown
With the Detroit River as your view, residents who choose this waterfront neighborhood as their home are never bored. Freighters, boats, kayaks, and more cruise by on a regular basis, and the river itself is always changing. Rivertown is a mixed residential area with mostly condos and apartments that all take advantage of that glorious river as the backyard. There are classic homes as well along the way, but developments including Harbortown with a mix of residential and retail are among the most popular places to live here.
As of May 2021, typical single-family homes here were valued at an impressive $280,000 according to Zillow research. There are also apartments and condos to consider, such as the New Orleans Landing apartments or the historic Alden condominium complex.
Rivertown also benefits from having many greenways, parks and outdoor spaces that add to the natural beauty. For example, there is the new Joseph Campau Greenway that will run from Vernor to the Riverwalk. The Riverwalk likely will be known as one of Detroit's greatest achievements as it connects the downtown to Belle Isle and to many neighborhoods such as Rivertown over the next five years with parks, fishing areas, beaches, splash pads, and many more spaces to come.
The Villages
Imagine tree-lined streets, urban parks and access to the Detroit River. That's what you get along with funky retail areas and classic architecture in the six unique neighborhoods that make up The Villages. According to The Villages CDC community organization, there are about 18,000 residents who call The Villages home. This area includes homes and businesses from Mt. Elliott Avenue to the west, St. Jean Street to the east, Mack Avenue to the north, and down to the riverfront. The six main neighborhoods are:
East Village
Gold Coast
Indian Village
Islandview
Joseph Berry Subdivision
North Village
West Village
According to Zillow, homes in areas such as Islandview are typically valued at $139,646 as of May 2021. There are huge homes here from major-league Detroit building superstars such as Albert Kahn, alongside apartments and over-retail studios. Some of the retailers such as celebrated bakery Sister Pie and fitness studio Live Cycle Delight are what draw visitors here, but residents know they have everything they need and then some with the longtime shops that have called The Villages home for decades.
Jefferson-Chalmers
Any neighborhood officially named a "National Treasure" sounds like a prime spot to live. When the National Trust for Historic Preservation declared in 2016 that Jefferson-Chalmers was its newest neighborhood to be designated a National Treasure, it made the area eligible to get local and national help with its revitalization and development. Today, Jefferson-Chalmers is a place that's great to hang out in, but it will continue to develop as investment and opportunity comes to this waterfront neighborhood. There is great history here, from the East Jefferson retail and restaurant corridor with its lovely architecture, to the river canals, to the stable single-family homes that line the streets to the riverfront.
The neighborhood is known for its interest in community development and business investment. There's even a yacht club, a major fishing-focused park and a soon-to-be-revitalized dance hall known as the Vanity Ballroom within Jefferson-Chalmers, so there's a lot to look forward to if you choose to live here. The typical home value is $115,350 as of May 2021, according to Zillow, and it is rising. Its local development agency, Jefferson East calls the neighborhood "homeland," so you know that there is a huge amount of love and interest in seeing this area grow and become more resilient over time.
Hamtramck
Call it a city within a city – that is exactly how Hamtramck developed and how it continues to exist within Detroit proper. The old-world city that blends immigrant traditions from the past and present has grown from a small berg of about 500 in the early 1900s to a Polish enclave mid-century to a mosaic of ethnicities today. It became a city within Detroit in 1922 to avoid being annexed into the greater land mass of Motown, and you can tell that its independent spirit lives on. As a result, Hamtramck is largely surrounded by Detroit itself except the small amount of land it holds with Highland Park, the other city within Detroit. (It's complicated, but you'll get used to it quickly when you live here for a time).
The homes and duplexes in Hamtramck are tightly built together, and the community feels the same way. After all, you have to like one another when you have an estimated 21,800 people living within about two square miles. What makes Hamtramck great is its local flavor – think Polish and Middle Eastern wrapped together like a sandwich – and its unique local treasures, like the famous Hamtramck Disneyland, one man's tribute to his love for American that he created along the alleyway next to his house. The home values, which Zillow lists as typically $135,084 as of May 2021, are definitely climbing. Hamtramck is definitely one of those "you have to see it to believe it" kind of cities, but it's a neighborhood as well as a municipality to all that call it home.
Planning your move to Detroit
If you're thinking about moving, we suggest starting the process as early as possible. Yeah, we get it. Reading about neighborhoods and home shopping is a lot easier and more fun than clearing out clutter or getting moving quotes. But you'll thank yourself if you take our advice and start getting organized sooner rather than later. For inspiration, check out this week-by-week moving checklist.
When you start figuring out how you want to move all your stuff, consider looking into a flexible solution like moving and storage containers. With PODS, you can move at your pace, change dates if you need to, and store your container inside a secure facility if you've got some time between homes. That can be especially helpful if you're moving long distance. But whether you're making a local move or moving cross-country, it's easy to get a quick moving quote either online at PODS.com (local moving and storage only) or by calling 855-706-4758. Whatever moving service you choose, we hope you have a smooth move!
---
Karen Dybis is a Metro Detroit-based freelance journalist who has written four local history books, including "Secret Detroit: A Guide to the Weird, Wonderful, and Obscure." Her work has appeared in Time magazine, U.S. News and World Report, The Detroit News, and more.
Get a Quote
Choose the service you need
Comments
Leave a Comment
Your email address will not be published. Required fields are marked *