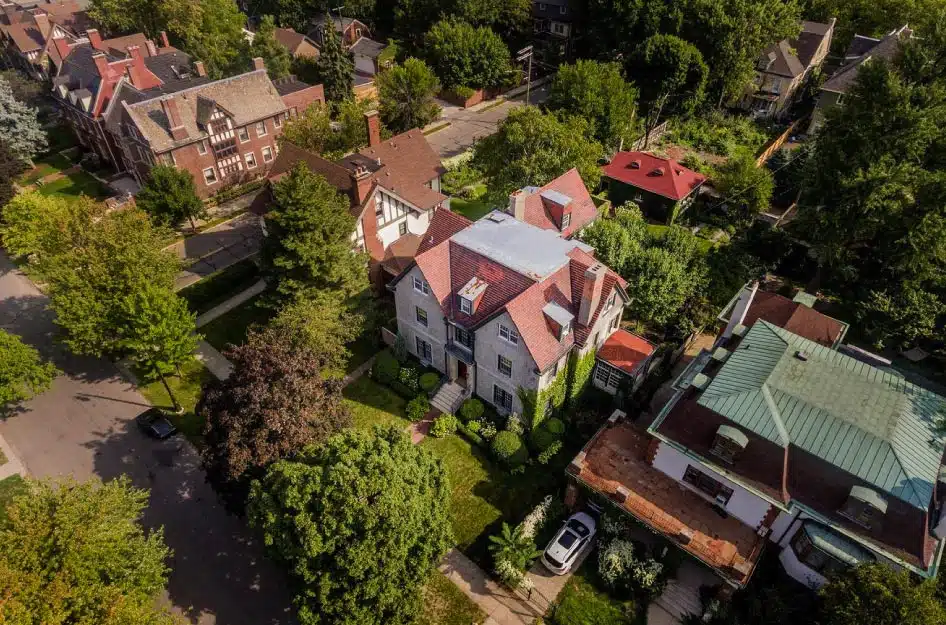 Motown Moves: Here are 7 Safe Detroit Neighborhoods to Check Out
There's no doubt about it: Detroit has earned its reputation as a comeback story. Gone are the days when the city's name was used as a punchline to a joke about forgotten Rust Belt cities. Now that's only part of this city's more than 300-year story. In fact, Detroit's recovery from its sharp population downturn in the late 1950s and through the 1960s has been remarkable — so much that significant travel websites such as Lonely Planet and major magazines, including Time and Travel + Leisure, have named Detroit as a top spot for tourism, business investment, and dining in recent years.
Having housing available in safe Detroit neighborhoods has also been an important part of the city's overall revitalization over the past two decades. In fact, safety has been a major focus for Detroit's government and police department (as well as Wayne County, in general). Detroit has long had a reputation for crime, especially among its residents. However, with Detroit Mayor Mike Duggan's focus on improving the city's education system, getting residents back to college, and boosting the economy, there has been substantial declines in the Detroit crime rates.
As a result, investment in its housing — both in terms of single-family residential and multi-unit apartment complexes in safe Detroit neighborhoods — has been substantial during this renaissance period. Part of that comes as mega investors from individuals such as Rocket Mortgage's Dan Gilbert invest heavily in Detroit's commercial and industrial real estate. But part of it also comes from people moving into the revitalized downtown city center and neighborhoods, eager for the charm, character, and community that Detroit has come to represent, both within the Midwest and beyond.
Previous population declines and crime statistics aside, the city has tons of great qualities that make Detroit a wonderful place to live. Its cultural institutions, the recent burst of new retail — including stores such as Gucci, Madewell, and Shinola, among others — as well as its impressive list of business headquarters have drawn people from Baby Boomers — who are looking for the stately homes of Palmer Park and the excitement of the University District — to Gen Z — who are interested in tech-friendly neighborhoods like Corktown.
Ready to find your perfect place in Comeback City? Here are seven of the safest neighborhoods in Detroit that consistently rate well on local and national charts for safety and investment potential — as well as quality-of-life items, such as walkability, access to parks, and the attractiveness of the housing stock.
1. Indian Village
Indian village is a residential neighborhood on the eastside of Detroit, located about three miles north of downtown. Its main streets are Seminole, Iroquois, and Burns, all of which have large, stately homes on them that are considered some of the most beautiful in the city. The neighborhood also is known for its historic charm; it was named to the National Register of Historic Places in 1972. Its homes come in a variety of styles, including Georgian, Arts and Crafts, and Tudor Revival. Apartments in the area are either inside homes or massive carriage houses featuring high-end finishes such as carved wood and Pewabic tiles.
2. Palmer Park
Palmer Park is one of the most beautiful in terms of parks and its higher-end homes in the city. A key part of this neighborhood is the Palmer Park Apartment Buildings Historic District, which the Detroit Historical Society says contains "some of the finest and most varied examples of apartment building design in Michigan" by noted architects like Albert Kahn and William Kapp. These five- and six-story apartment buildings are stunning in terms of style, which ranges from Egyptian to Spanish Colonial to Moorish. You'll love exploring Palmer Park itself with its old log cabin as well as its winding sidewalks for the best dog walks. Its residents are among the most organized with regular events and great activities through the People for Palmer Park.
3. Sherwood Forest
Sherwood Forest is a classic Detroit neighborhood with some of the finest single-family homes in the city. It neighbors Palmer Park, so there are large green spaces and highly walkable areas nearby. It contains about 435 houses, many of which were built in Detroit's heyday of the 1920s and 1930s. Its homes follow the English Tutor and Georgian Colonial styles, and its strong homeowners association keeps up the safety and standards of the area. This upscale area also features some apartments in homes, making Sherwood Forest accessible for singles and young families.
4. Boston Edison
Boston Edison is a well-established historical neighborhood, known for its sizable houses and walkable feel. The historical district has 36 blocks and more than 900 homes, making it one of the largest residential historic districts in Wayne County. It is known for its wide boulevards and large grassy areas. It's also the former home to major Detroit personalities such as Henry Ford, Ty Cobb, Joe Louis, and Berry Gordy, Jr. Its proximity to downtown Detroit and other major shopping districts makes it an ideal location for families looking for a home that maintains its value as well as apartment dwellers who want beauty as well as location.
5. Corktown
Corktown may be considered Detroit's oldest existing neighborhood, but its adjacency to Ford Motor Co.'s up-and-coming tech campus — which includes the beloved Michigan Central Station building and Roosevelt Park — make it one of the most exciting redevelopments in the city. The single-family homes, row houses, and apartments are now in high demand as tech workers surge into the area, taking home prices higher than ever before. Its Victorian townhouses are also great for buyers or renters looking for historic touches and walkability into Detroit's adjacent downtown. Plus, some of the city's favorite restaurants, including burger haven the Bronx, pizza joints such as Grandma Bob's, as well as the famous Slows BarBq are located here, so there's always good eats.
6. University District
University District in recent years has become where all of the local celebrities such as television news anchors and the like have moved as they downsized from the suburbs or sought out more of an exciting place to live. The neighborhood dates back to 1929 and is known for its educational institutions, including the University of Detroit Mercy. Its homes are grandiose and architectural, featuring marble, stained glass, and elaborate stone décor. The neighborhood is also great for renters because it has access to a golf course, tennis courts, a community garden, and the Northwest Activities Center.
7. Milwaukee Junction/North End
Milwaukee Junction and North End are neighbors in the best sense in that the two are business and residential districts that are tied together for both their mutual history and sizable recent redevelopment. For example, North End is known as the birthplace of techno music and Milwaukee Junction is known as the home of the Model T automobile plant, since Henry Ford's Piquette Avenue Plant, now a museum, was based there. The district is home to art galleries, museums, restaurants, and a growing number of young renters and homeowners, drawn to its style and cultural organizations. There are some awesome bars and restaurants here, as well, including Kiesling Detroit and Bucharest Grill.
FAQs about moving to Detroit
Making the leap to Motor City
Yes, Detroit crime rates are high, considering the population level. If you're going to live in the city, you need to select Detroit neighborhoods that have people who invest time in their block club, who are organizing events or safety-orientated neighborhood watches, and who take care of their homes so values can grow. Detroit's crime rates are higher than most of the Midwest and tend to come in high nationwide because of the city's size — Detroit used to have two million residents at its peak and, as of 2021, its population was a little more than 630,000. But the city is welcoming to investment and strong in its personality, and its residents care deeply about not only its reputation but its livability. So an investment in a home or in renting a place to get to know Detroit is worth it if you're the right person or family.
The key to moving to Detroit is to understand two things: You will be welcomed here if you come in with the right attitude and a willingness to contribute. Those who are here just to benefit from a rising real-estate market will not enjoy everything Detroit has to offer in terms of its warm people, its hard-working spirit, and its many opportunities with art, music, and theater. The second thing to remember is that this is a city in the midst of rebuilding, and everything isn't perfect — yet. There is a lot of work left to do to make Detroit its best. But being part of that rebuilding, exploring all that Detroit has to offer in terms of culture and community, as well as bringing your sweat equity into Detroit's renaissance is what makes living here so great. If you have an open mind and lots of love to give a city, then Detroit just might be for you. Want to dive deeper? Find out more about specific Detroit neighborhoods on the PODS Blog.
---
Karen Dybis is a freelance journalist and a frequent contributor to the PODS Blog. Her work has appeared in Time magazine, U.S. News & World Report, The Detroit News, and more.
(Source for image of Detroit's Indian Village neighborhood, featured at top: City Living Detroit via Facebook)
Get a Quote
Choose the service you need
Comments
Leave a Comment
Your email address will not be published. Required fields are marked *