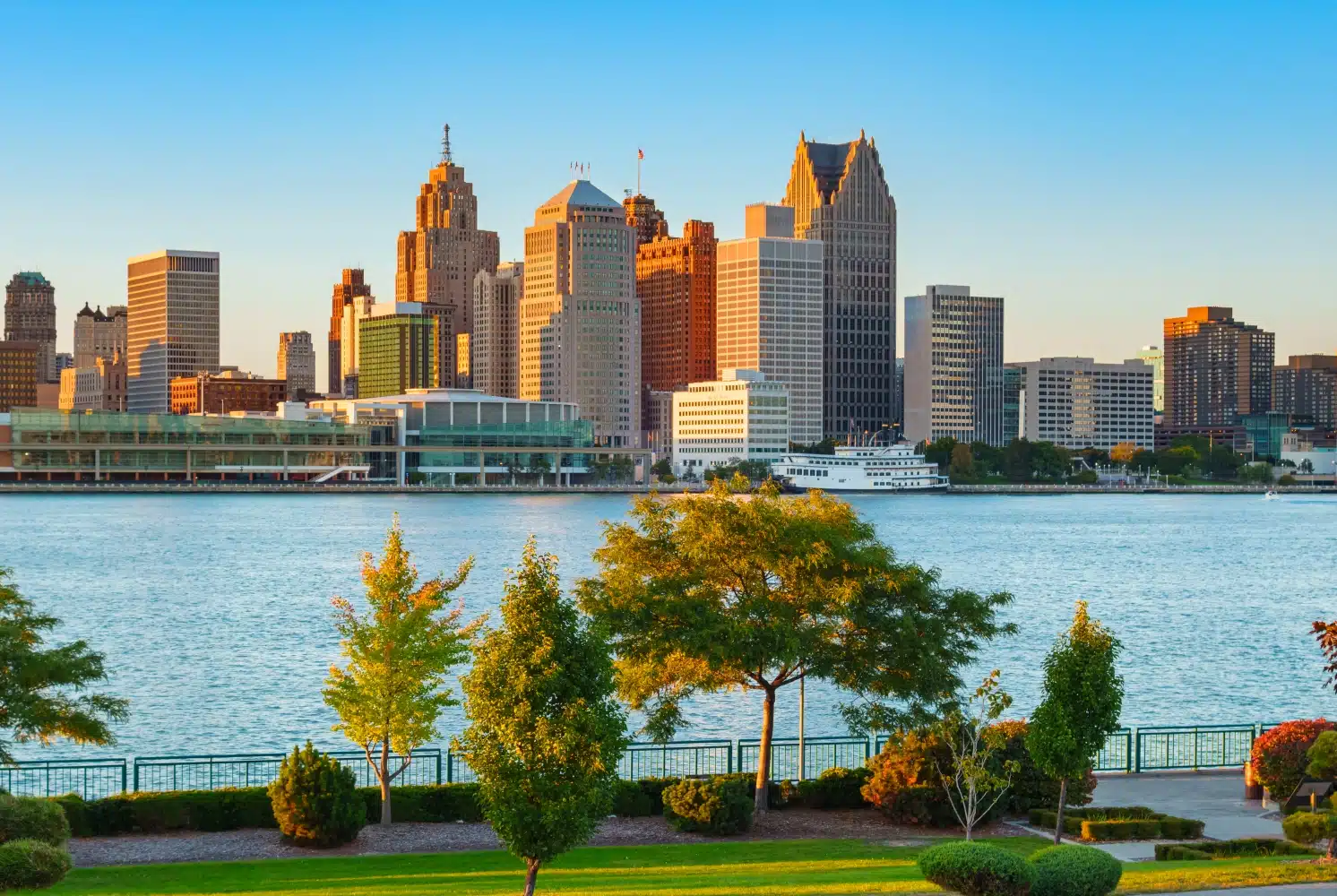 Moving to Motor City? Here Are 11 Things To Know About Living In Detroit
Whether you're moving to Detroit for work, or other reasons are bringing you to the Motor City, there are a few things you need to know about this often misunderstood city before you take the plunge of living in Detroit. As anyone in Detroit can tell you, this is a unique place — and it's not for everyone. Bright sparks of invention and lingering shadows of disappointment paint the history of this iconic metropolis, and both have left their mark on the city.
That said, folks not from Detroit often give it an undeserved bad rep (though any gripes about the roads, schools, and public transit are fair game), but you'll be hard-pressed to find a major city with such heart and close-knit community spirit.
Is Detroit a good place to live for you — should you make the move? Read on for the top 11 things we think you need to know about Detroit Rock City before you
decide to call it home
.
Planning a move to Detroit? Start by getting a quote from PODS.
Detroit at a Glance:
Detroit is located just below the thumb on the mitt of Michigan, about 280 miles east of Chicago — and right across the Detroit River from Canada. The river connects Lake Erie and Lake St. Clair.
Detroit still ranks as Michigan's largest city by size and population, according to the U.S. Census, even though its population has been in decline for over a decade. As of 2022, the U.S. Census reported 620,376 residents (down 13% from 2010).
Detroit is a proud, predominantly Black city. In fact, it has the highest number of Black residents of any city in the U.S., with over 77% of the population identifying as African American or Black.
1. The cost of living in Detroit is lower than the national average — but it's rising.
How much do you need to make to live in Detroit? Much less than in most U.S. cities. Niche listed Detroit within the top 25 U.S. cities with the lowest cost of living for 2023. However, it's important to note that while the cost of living in Detroit is below the national average, it still has a high poverty rate. Plus, the cost of living and housing, while still below the national average, is increasing year after year.
At $34,762, the 2021 median annual household income for the Detroit area is about half as much as the median annual income in the rest of the state and less than half of the median annual income for the entire country. The 2021 national median was reported as $70,784.
The median listing price of homes in Detroit is $85,000 (August 2023), one-fifth the U.S. median listing price of $435,000! Home prices are rising faster here than they are across the country, though, at 6.4% year-over-year as opposed to 0.7% nationally.
As of July 2023, RentCafe reports that the average rent in Detroit comes in at $1,212 per month, which is more than the previous year but still lower than the 2023 national average of $2,052. The average apartment size in Detroit? City-sized at just under 800 square feet.
Q: What is the quality of life in Detroit?
A: Housing prices and the cost of living in Detroit are lower than what you'll find elsewhere in the state and country. Unfortunately, so is the median income. Your quality of life in Detroit will depend on your household income, where you live, and what kind of urban environment you're looking for.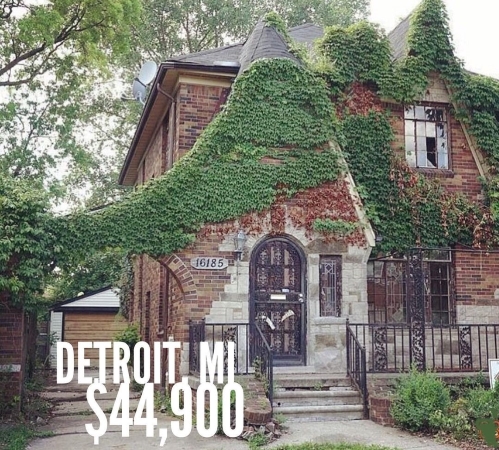 (Source: @cheapoldhouses via Instagram)
2. There are tons of gorgeous, abandoned fixer-upper homes here.
As Detroit flourished between the turn of the last century through the mid-century, houses sprung up like daisies. Unfortunately, by the first decade of the new millennium, a large number of Detroit's original homes were abandoned — first due to the "white flight" during the civil rights era and again during the 2008 housing and economic crash.
About a decade or so ago, Detroit leaders made headlines when the government began selling homes for as little as $1— or even giving them away — in order to help repopulate the city. While these next-to-nothing deals are pretty rare now, there are still plenty of "fixer-upper" homes on the market, selling way below market value. Yes, the market is getting more competitive, but it's still a great opportunity for first-time home buyers who want to invest in a market that is significantly increasing each year.

Q: Why are Detroit houses so cheap?
A: Simply put, the housing prices in Detroit are such bargains because there's a lack of demand. At its peak in 1950, Detroit was the fifth-largest city in the United States with a population of 1.85 million. As of 2021, the U.S. Census recorded 620,376 residents — now with an overabundance of (often abandoned) houses. In order to revitalize the city and its population, Detroit homes are priced to sell.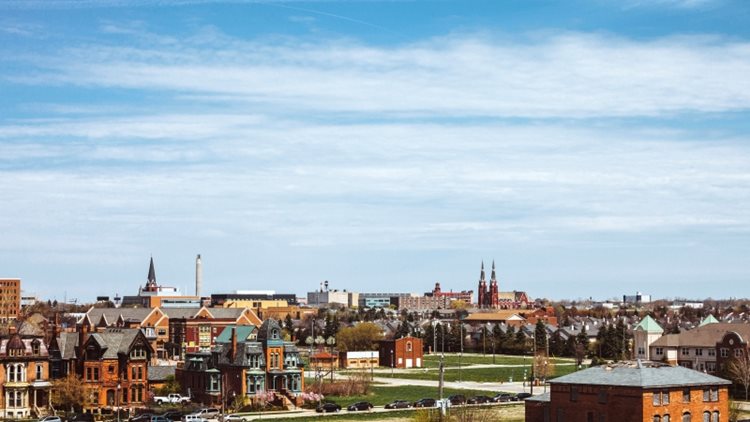 The Brush Park neighborhood in Midtown Detroit
3. Three of the top places to live in Detroit are Sherwood Forest, Jefferson-Chalmers, and Midtown.
If you were hoping to be able to brag about living in "South Detroit," we're sorry to disappoint, but it doesn't actually exist. The famous opening lyrics to Journey's "Don't Stop Believin'" have been misleading you this whole time. However, the city is full of real-life spots that are guaranteed to be better than any fake South Detroit could ever be. Here are some of our favorite neighborhoods in Detroit.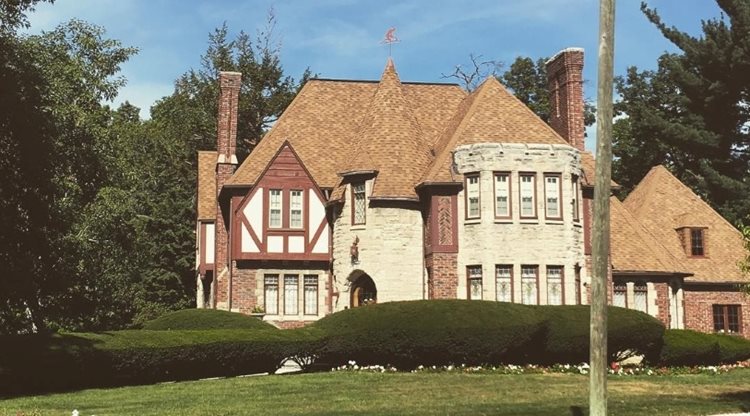 Sherwood Forest
(Source: @lucasliska via Instagram)
Sherwood Forest
No, this is not the famed forest you know from Robinhood — but it is named after it! According to Niche, Sherwood Forest is the #1 spot to buy a house in Detroit. This historic district is split into two subdivisions — Sherwood Forest Manor and Sherwood Forest — and is full of gorgeous homes from the 1920s and 1930s. Here, you'll find close access to parks, quiet streets, and a 20-minute-or-less commute into Downtown.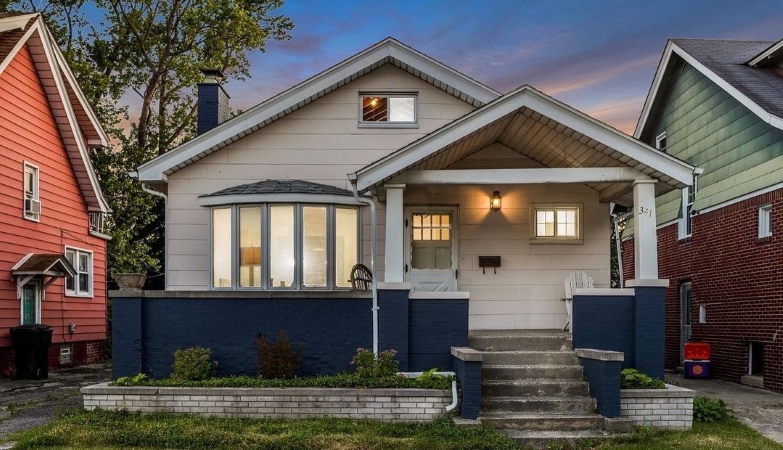 Jefferson-Chalmers neighborhood
(Source: @amyrocksrealestate via Instagram)
Jefferson-Chalmers
Interested in waterfront living in Motor City, or maybe you just want easy access to outdoor activities? Jefferson-Chalmers is an eastern Detroit neighborhood that rests right on the edge of the Detroit River. In addition to 100-year-old brick roads, ranch homes, and mansions, it also has charming canal communities and immediate access to Alfred Brush Ford Park, a cozy waterfront space and favorite local spot for casting lines and catching fish.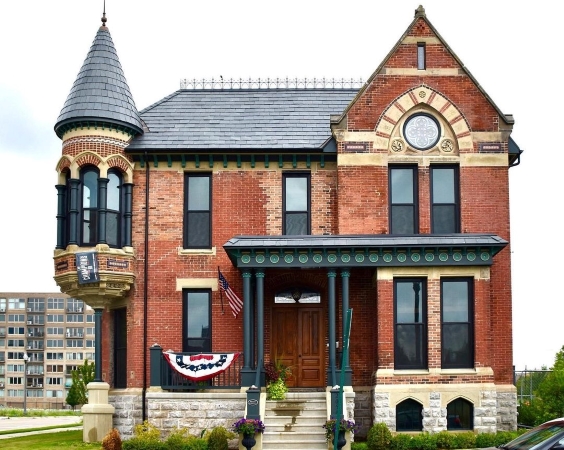 Brush Park neighborhood in Midtown
(Source: @detroit_sampler via Instagram)
Midtown
Packed into a lively 3 square miles and just a 6-minute car ride (or 15-minute bus ride) north of Downtown, the Midtown neighborhood offers residents a little taste of nearly everything. With housing options from high-rise apartments to historic homes and spilling with shops, eats, and culture, it's easy to see why this is such a trendy and popular Detroit neighborhood.
Other Neighborhoods Worth Looking Into:
University District
West Village
North Rosedale Park
Gold Coast
Q: Is Detroit safe?
A: Real talk: Crime rates in Detroit are above the national average in all categories. The city consistently ranks as one of the most dangerous cities in the U.S., but it doesn't mean it's unsafe to live here. After all, over half a million people proudly call Detroit home. Like with all major cities, it's important to flex your street smarts, be vigilant, and get schooled on the safest and most dangerous areas of the city.
(Source: Detroit Action via Facebook)
4. People in Detroit go big on community and initiative.
This city does not skimp when it comes to community. There are no strangers in Detroit, so don't expect to move here and be invisible, like you might be able to do in some other big cities. Detroit residents are not passive; expect to be involved.
People here know their neighbors, they say hi to passersby on the street, and they take initiative to help make their communities better. A lot of this solidarity comes from Detroit's history and the historic lack of municipal support — if residents wanted something done, they had to do it themselves. That's a bond that's hard to break — and, more often than not, even harder to find in a big city.
Q: Is Detroit a good place to live in?
A: It depends who you ask. If you're looking for a big city with a community vibe where you can get involved, know your neighbors, exercise street smarts, and be part of the city's revitalization, Detroit might just be the place for you.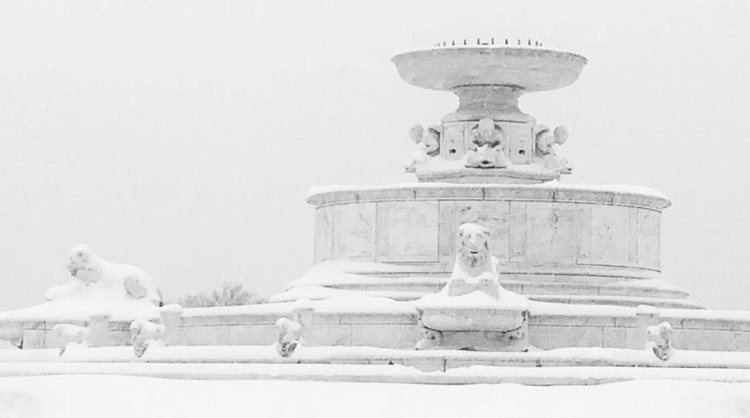 James Scott Memorial Fountain in Belle Isle Park
(Source: @puredetroit313 via Instagram)
5. Get ready to spend one-third of the year (or more) in winter.
Detroit's coldest winter temperature on record (since 1959, anyway) is a staggering minus 21 degrees Fahrenheit in 1984. But don't worry; while it does get very chilly here, that was more of an outlier. Okay, now that you know the extreme, the average winter temps land somewhere between 20 to 35 degrees, with some dips below zero.
The catch? Detroit's icy winters typically last up to four months, November through February, but can be as long as six months — starting in late October and powering through April. However, those who can tough it out (or even learn to love it!) will be rewarded with stunning spring and summer days with temps in the mid-60s to mid-80s.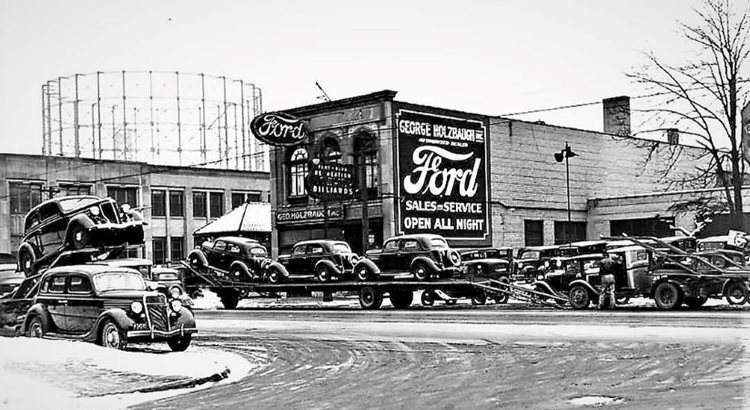 6. Do your homework on Detroit's history
Do yourself a favor and read up on Detroit's history before you get here. This city has been through a lot — good, bad, and ugly — starting with its rise to popularity and fame as a bustling city for several industries, including publishing and automobiles, through the turmoil of the civil rights movement, and up to its current "renaissance." This city wears its heart and history on its sleeve and is still affected by its past; it's part of why the community here is so strong.
Q: What is the vibe of Detroit?
A: Like with any big city, the vibe of Detroit varies. It's a combination of close-knit community, independent hustle, creativity, and ingenuity. It's a city with a work hard, play hard mentality — and everyone's invited.
(Source: The James and Grace Lee Boggs School via Facebook)
7. Schools are not the city's strong point.
As of September 2023, Niche ranks Detroit with an overall above-average modest C+ grade, up from its 2020 rating of C-. The below-average quality of schools here is no secret, and many blame it on the city's failure to do their due diligence. Public schools here are funded by headcount, which only further widens the gap between wealthy residents who can afford to send their children to private schools and residents who struggle financially and have no other option besides public schools. That said, there are still public schools that have magnet programs available, though they are few and far between until you hit high school.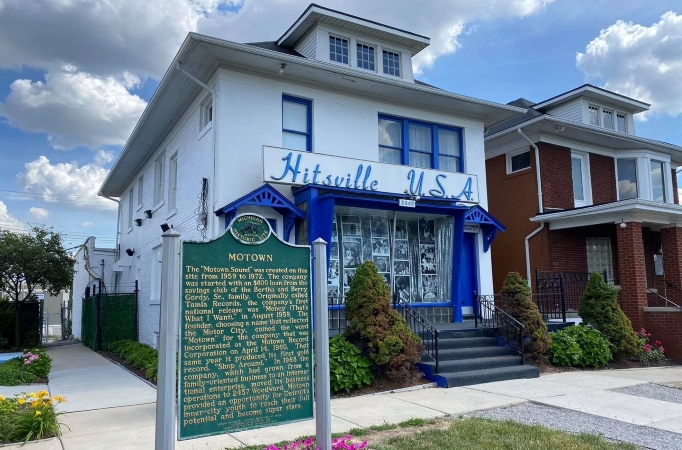 Motown Museum
(Source: Motown Museum via Facebook)
8. Music and art are part of the city's lifeblood.
Detroit might have earned its nickname as the Motor City, but music still drives blood through this talented city — providing its other nickname, Detroit Rock City. Detroit's most famous claim to musical fame is as the indelible home of Motown, and the city's musical muscle is still strong. Aretha Franklin, The Temptations, Eminem, Madonna, Lizzo, The White Stripes, Aaliyah, and Sufjan Stevens — and so many more — were all born and/or raised in Detroit! Unlike the automobile industry, Detroit is still manufacturing top-notch talent, and almost every big artist stops here on tour, so be sure to check out a live show from time to time.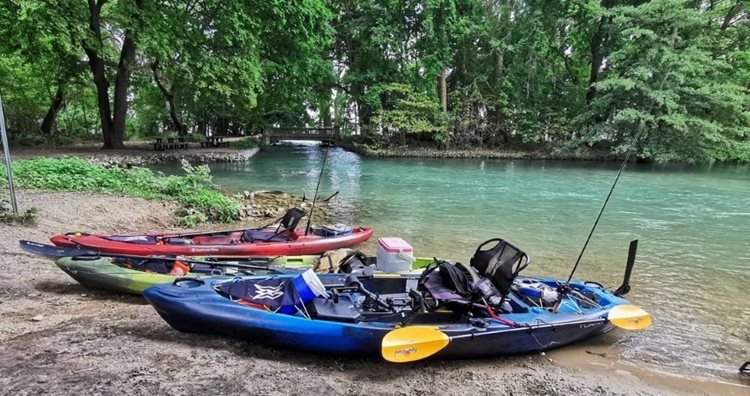 Peche Island near Detroit
(Source: @maxximus91 via Instagram)
9. You can go island hopping here.
Detroit may not seem like the first place that comes to mind when it comes to island life, but this concrete jungle actually has surprising access to a number of nearby river islands. Topping the list is Belle Isle, the largest island park in the U.S. (see more in our "Things To Do" section). Other notable island outings: visiting the Gibraltar Bay Alpaca Farm in Grosse Ile Township, kayaking through the Humbug Island marshland, or catching Harsens Island's bird migrations on the fly.
(Source: QLINE Detroit via Facebook)
10. The weak public transit options are a work in progress.
A drawback to getting its start as such a car-driven city meant Detroit's public transit system didn't get the love it deserved, though it's slowly been gearing up over recent years. Still, these days, the moniker is more apropos of the fact you need a car to get around. Even still, a big pain point is the poor quality of the streets — don't say we didn't warn you.
As far as going car-less? It's possible, though not very convenient. But they're working on it. The city's bus system is pretty robust, though it doesn't have the best record of reliability. Plus, in 2017, the long-awaited QLine light rail began giving rides on its 6.6-mile loop track from Downtown through Midtown to New Center.
(Speaking of trains, we're starting to wonder if Journey actually ever visited Detroit. Not only is there no South Detroit, there's also no midnight train . . . to anywhere.)
Set on moving to Detroit? Compare moving costs for rental trucks, full-service movers, and portable containers. To get a personalized quote for local moves, visit PODS online, or call 855-706-4758 for your quote and expert advice on moving cross-country.
11. When it comes to things to do in Detroit, start with these staples.
Since Detroit is so spread out, newcomers can feel a little bit like they don't know where to start when it comes to exploring their new city. Here are some staples to get you started and give you an idea of what the city has to offer.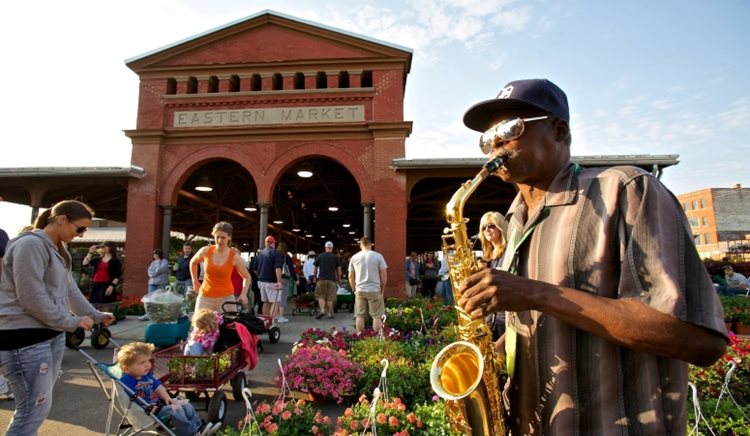 Eastern Market in Detroit
(Source: Eastern Market Partnership via Facebook)
Visit Eastern Market
More than just a market for grocery shopping, Eastern Market is a destination where you'll find fresh produce, meats, live music, and a fun vibe.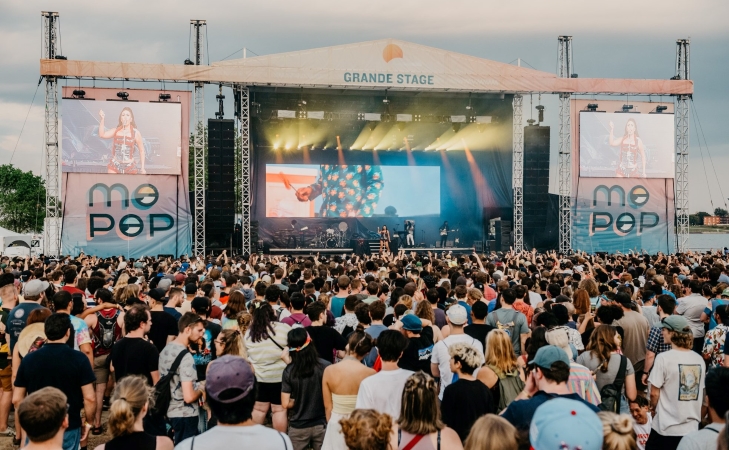 Mo Pop Festival
(Source: Mo Pop Festival via Facebook)
Jam Out at a Music Festival
Detroit Rock City rocks out with music festivals buzzing through the air year round. Some of the faves? Detroit Jazz Festival, Mo Pop Festival, and the Movement Electronic Music Festival.
Spend an Afternoon on Belle Isle
We promise you'll fall in love with this urban oasis where you'll find a beautiful historic conservatory, good trails, and picturesque picnic spots.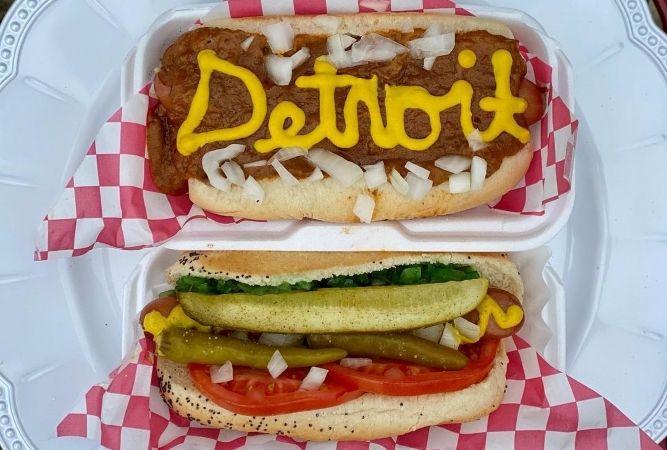 (Source: @mattandmos via Instagram)
Devour a Late-Night Coney Dog
Detroit pizza is a real thing (deep dish, cut into a square, super delicious), but there's another fan favorite here — especially after late nights out when the only thing on your mind is an all-beef frank topped with chili sauce, white onions, and tangy mustard.
Get Rowdy On Opening Day
Celebrating the Detroit Tigers' opening day at Comerica Park is practically a collective city event, but they're not the only sports team in town. Detroit goes wild for their football team (Lions), hockey team (Red Wings), and basketball team (Pistons). Hey, you've got to get through winter somehow, right?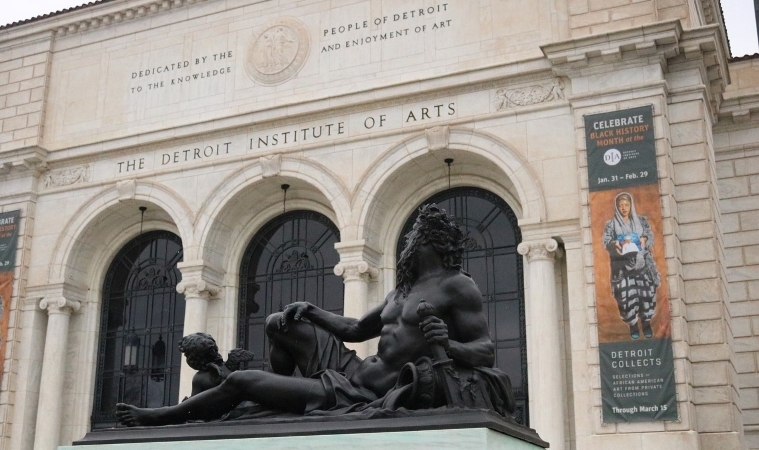 The Detroit Institute of Arts
(Source: Whockman via Pixabay)
Take Advantage of Free Admission to the Detroit Institute of Arts
Take advantage of your new residency by cashing in on the free admission perk to over 100 galleries at the DIA in Midtown. The collection here is one of the largest and best in the country — and you get to experience it for free.
Hop On Two Wheels and Slow Your Roll
In warm weather months, swap four rubber tires for two and join the Slow Roll, a group bike ride that pushes the pedals every Monday.
Take an Architecture Tour
Detroit's big boom in the '20s and '30s means the city is absolutely crawling with gorgeous Art Deco architecture. Take a tour of the city to soak it all in (and learn a little history to boot!).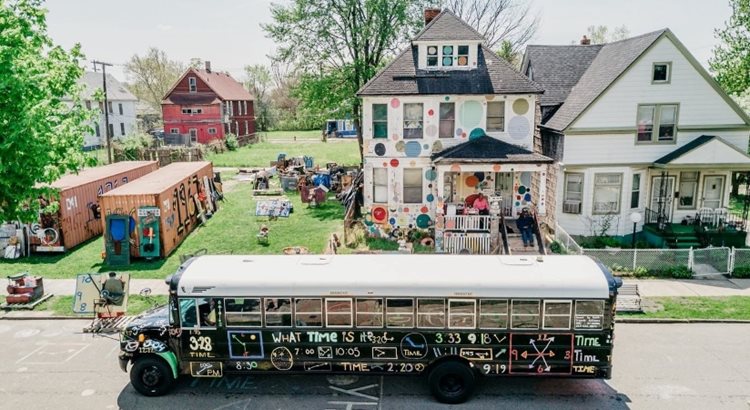 The Heidelberg Project in Detroit
(Source: The Heidelberg Project via Facebook)
Check Out the Heidelberg Project

This
outdoor art project
brings life, color, expression, and art to Detroit's McDougall-Hunt neighborhood. It's a can't-miss!
Interested in living in Detroit?
PODS is ready and here to help you with everything, with ideas on how to store stuff while moving to Detroit and tips for packing for a long-distance move.

Alex Keight is a frequent contributor to the PODS Blog who has moved 20+ times because she loves to experience new places.
Get a Quote
Choose the service you need
Comments
Leave a Comment
Your email address will not be published. Required fields are marked *