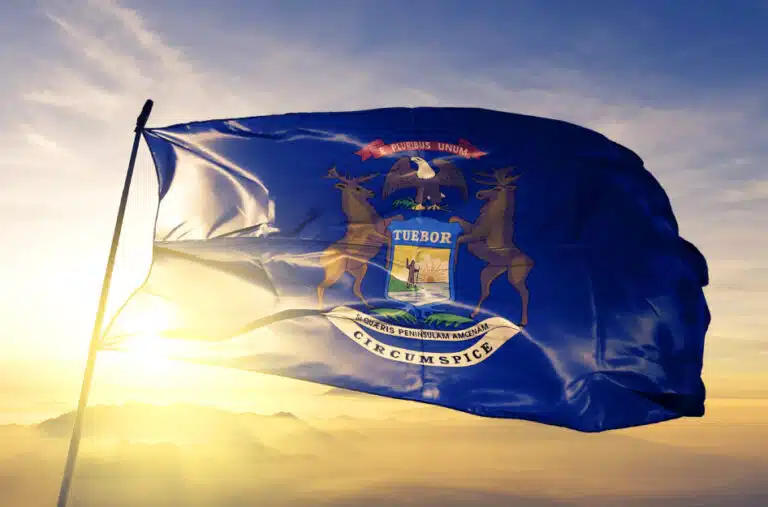 Get a Fresh Start in One of The Best Small Towns in Michigan
Both tourists and residents love Michigan's natural beauty. Commonly referred to as the "Great Lake State," there are fun lakeside attractions to take part in year-round along the four great lakes that border the state. Other natural attractions include the Eben Ice Caves and Canyon Falls and Gorge. Along with being home to some stunning natural attractions and great outdoor recreational activities, there are a number of other living perks that make Michigan an excellent place to plant your roots.
But do you have to move to one of the larger cities to enjoy all that Michigan has to offer? Absolutely not. In fact, you may be surprised at just how quickly you can fall in love with Michigan's smaller, close-knit communities. To get you started, here are 12 of the best small towns in Michigan to check out.
Small Towns in Michigan - FAQ
Q: What is the artsy town in Michigan?
A: Saugatuck is a vibrant and artistic Michigan community full of art galleries and endless creativity.
Q: What is the richest small town in Michigan?
A: Northville is considered one of the wealthiest small towns in Michigan, with the local real estate market being among the most expensive in the state. 
Q: What are the cute waterfront towns in Michigan?
A: Ludington and South Haven are among some of the cutest Michigan lake towns.
Big Cities vs. Small Towns in Michigan
Even though Michigan is known for having perks like more affordable housing, you will find that lots of the bigger cities like Detroit have a higher cost of living — 8% higher than the state average, to be exact. 
The good news about living in Michigan is that you're never too far from a big city in many of its small towns, which often tend to get overlooked. Even though larger Michigan cities have a lot to offer, you can reap the benefits of living in a small Michigan town instead. Some of those benefits include:
A lower cost of living in many small towns
More space to spread outside
Quaint lakefront coastal communities
Intimate trendy and artsy towns
Peace and tranquility away from the busy cities
Best Small Towns in Michigan
Whether you're just starting out, have kids, or are getting ready to retire, there's a small town in Michigan perfect for you. And while the U.S. Census designates a small town as one with a population under 5,000, we've decided to expand that to include towns with a population of up to or around 15,000. We'll be sure to clarify if any town on this list has more than 15,000.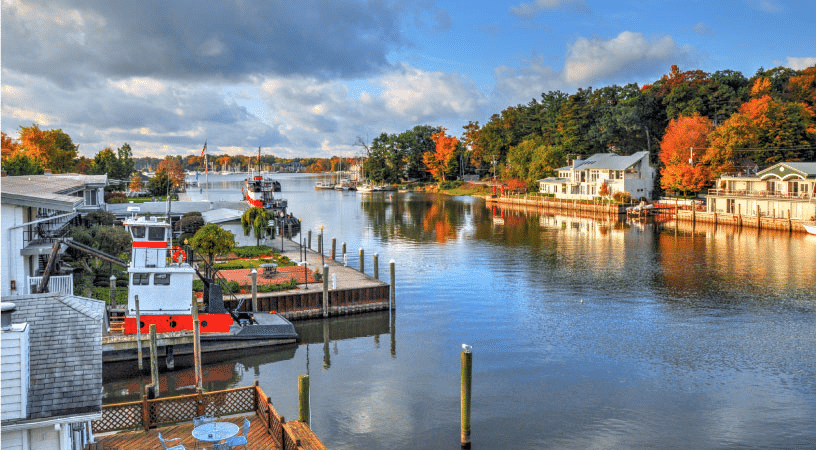 1. Saugatuck, MI
Average rent: N/A
Average home value: $536,400
Situated along the Kalamazoo River and Lake Michigan, Saugatuck is a charming place that features historic homes, a harbor, and a vibrant arts community. Due to its many art galleries, stores, and beaches, it's also a popular tourist area.
Saugatuck residents are proud of the amount of things that town has to offer. One of its many attractions is the Saugatuck Dunes State Park — one of the best parks in Michigan.
The town has also long been known for its creative and artistic community. Numerous art galleries can be found along Butler Street, and the Saugatuck Center for the Arts is a great place to check out performances.
2. Milford, MI
The small town of Milford, Michigan, is known for its unique environment along the Huron River. There are plenty of great homes for sale in the town of Milford, ranging from apartments to townhomes to small estates. From festivals to parades, there are plenty of events and activities to keep you entertained. Residents from other areas even come to enjoy the town's close-knit atmosphere.
3. Clawson, MI
The small town of Clawson is only 2.2 square miles, making it an ideal place for people who enjoy a tight-knit community. It's also known as "Tree City," named for the tree-lined streets throughout each neighborhood. Popular events that take place in the area include a farmer's market and a fall festival.
The residents of this community are committed to a healthy and active lifestyle, where they frequently enjoy using bicycles as their form of transportation. It is also convenient to live in Clawson if you work in the nearby city of Detroit, which is only a half hour away.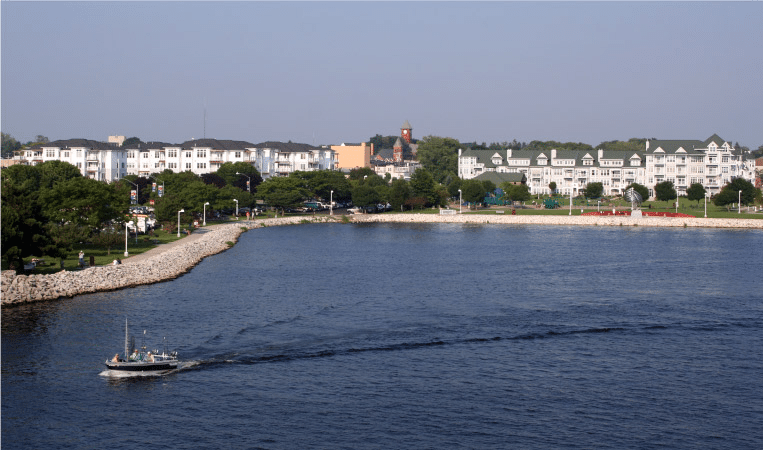 4. Ludington, MI
Average rent (one-bedroom): $950
Average home value: $234,700
Despite its small size, the trendy town of Ludington is known for its vibrant downtown and various attractions. Its residents enjoy the many activities that are part of living in Michigan lake towns.
In addition to the area's beautiful Lake Michigan shoreline, residents can also enjoy the town's numerous biking and hiking trails. Its downtown district also hosts many festivals and events throughout the year.
Ludington's proximity to larger cities like Grand Rapids makes it an ideal place to call home for commuters looking for a fun yet peaceful small-town feel.
5. Northville, MI
The small town of Northville has been ranked the #1 best place to raise a family in Wayne County. The town has a variety of great schools and parks, along with a quaint downtown area that draws many families. Overall, it's a well-loved town with a welcoming community, making it perfect for anyone looking to move here.
In Northville, you can enjoy a variety of activities during the summer season. Some of these include the farmers market and many concerts downtown.
6. Petoskey, MI
The stunning historic architecture of Petoskey and its waterfront location are what draws in many residents. It is home to a lighthouse and lots of stores, and there are a variety of other fun activities to do while living here.
There are also several top-tier breweries and wineries to explore in Petoskey, making it a great alternative to the country's more expensive wine areas. Popular spots locals love include Maple Moon Sugarbush and Winery, along with Petoskey Farms Vineyard & Winery.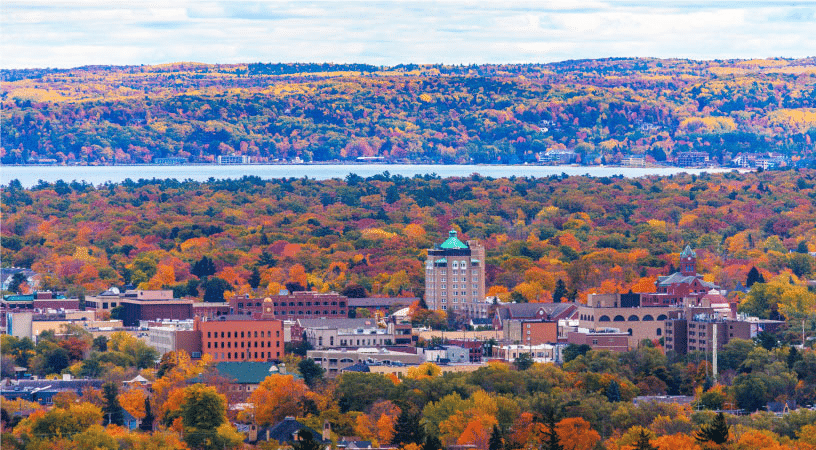 7. Traverse City, MI
Located in Michigan's Grand Traverse Bay, the town of Traverse City is known for its charm and impressive economic development.
As far as things to do go, the town has several parks that allow people to experience nature in various ways. One of these includes Clinch Park, which is a great place to bird watch and go horseback riding. There is also an abundance of shops and restaurants in the area.
8. South Haven, MI
Average rent (one-bedroom): $700
Average home value: $301,000 
South Haven is a beautiful place for anyone to live. Its beaches, small-town feel, and variety of outdoor activities mean there's always something fun to do. There are also plenty of trails and parks to explore, such as the Van Buren State Park.
South Haven's downtown district is full of restaurants and shopping establishments. This Michigan lake town also hosts various events throughout the year, like the annual National Blueberry Festival and fireworks display.
9. Chelsea, MI
Located in southeast Michigan, the small town of Chelsea is known for its vibrant historic downtown area full of numerous restaurants and shops. It also has a variety of parks and recreation areas, making it easy to explore and stay active.
Chelsea also boasts easy access to Eastern Michigan University and the University of Michigan. Nearby community colleges are also available, which allow students to take advantage of training programs and degree certificates at more affordable rates.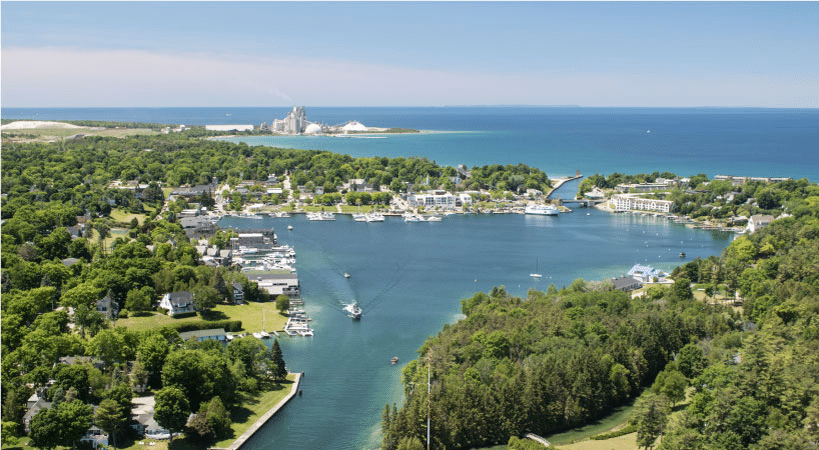 10. Charlevoix, MI
Average rent: N/A
Average home value: $347,900 
The small town of Charlevoix is situated on Lake Michigan's shores and is known for its flourishing arts community and unique surroundings.
The town's two sections, residential and downtown, are both bustling year-round. Downtown is full of unique shops and galleries that showcase the work of local artisans.
The residents of Charlevoix enjoy a wide range of recreational activities, including fishing, sailing, and golfing at many of the local courses.
11. Pleasant Ridge, MI
Pleasant Ridge is a close-knit community that is full of friendly people. Its residents enjoy living in a secure and tree-lined area with quiet neighborhoods, perfect for retirees. There are also various open spaces and parks for recreation enjoyed by folks of all ages.
There are a variety of highly ranked schools for children in Pleasant Ridge, and the town also has cultural attractions, such as art galleries and museums, that offer exhibits all year round. Shopping is another fun activity to do, with plenty of stores like boutique farms and antique shops in the area.
12. Plymouth, MI
With a low crime rate, top-rated public schools, and a welcoming community, Plymouth is considered one of the best places for families to live in Michigan.
Despite its size, there are plenty of things to do in Plymouth. It has plenty of parks and golf courses, and it hosts several events, like Art in the Park and Taste of Plymouth. There's also plenty to do throughout the year in Kellogg Park.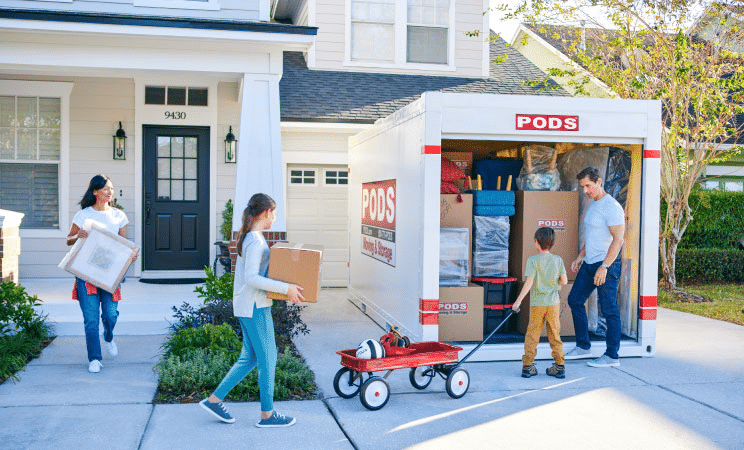 Plan Your Michigan Move With PODS
Once you've found your dream home in a small Michigan town, let PODS assist you with a portable moving and storage container to get your belongings there. You can pack and load the container at your own pace, and it will be picked up and taken to your new residence once you are ready. One month of storage is included with every move, too, so you can easily unload on your own schedule.
---
Editor's note: For ease of reading, monthly rental prices were rounded to the nearest $25 and home values were rounded to the nearest $100.
Get a Quote
Choose the service you need
Comments
Leave a Comment
Your email address will not be published. Required fields are marked *