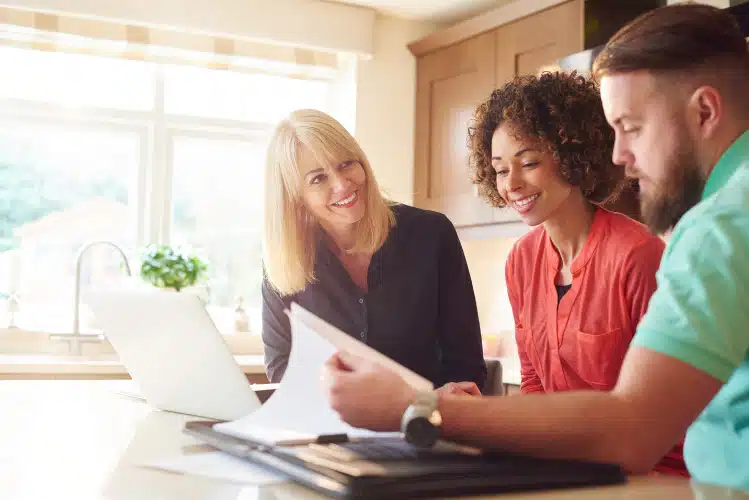 Counter Offers: Need-to-Know Info to Sell Like a Pro
Selling your house is one of the most exciting yet challenging events you'll face as a homeowner — especially in today's market. You have a price in mind that you want to get, perhaps because you want to buy a bigger home or set up a nice cash cushion. But what do you do if (or when) you get an offer that doesn't quite align with what you expected?
Enter the counter offer.
Investopedia defines a counter offer as "a response given to an initial offer." Sounds easy enough, right? You received an offer from a potential buyer, and now you want to revise that offer and see if it's still acceptable to the buyer. For example, when someone offers $200,000 on a house you have priced at $250,000, you come back with a counter offer of $225,000. The buyer accepts the new offer, and everyone lives happily ever after.
Except it doesn't always happen like that.
House offers can be complicated, and the negotiation process can be long and drawn out. Want to un-complicate the process? Know the ins and outs of counter offers going in. Let's break it down.
First, consider what you're bringing to the negotiation table
For some, the counter offer is enjoyable; for others, it is fraught and marked with frustration. A good balance to those two sides is to think of the counter offer as a starting point. It is the first conversation you have with a potential buyer, and you both have something you're trying to achieve. Buyers — especially first-time buyers — want to feel like they're getting a bargain. You, as the seller, want to know that your home's value is recognized and you're being rewarded for your investment.
It may seem like you're on opposite sides, and, in some ways, you are. But coming to the counter offer with a spirit of negotiation is a smart way to think about the home-selling process. You want the buyer to come to the table with the right price, meeting your expectations in terms of contingencies, the amount of closing costs, and timing to close the overall deal. If you come to that negotiation with some honey rather than vinegar (to borrow from an old adage), chances are you will come out of the deal with most of what you want and a completed contract — which is the end goal anyway, right?
Then, consider all the details
The counter offer starts simply enough: The buyer's real estate agent will come to yours with what they feel is a competitive offer on your home. They likely have taken many things into consideration, such as the age of the home, whether it needs any repairs, and how they feel about the price you've initially set. The buyer may also want to add or modify contingencies in the deal, such as additional inspections. If you're in a buyer's market — a time when the buyer has more leverage over the market because there are plenty of houses for sale — you may find someone asking for you, as the seller, to cover their expenses, like closing costs. All in all, there will be a lot of little changes that may be easier to agree to at the beginning of this negotiation dance outside of the price.
Remember to keep an open mind
It's important to remember that a counter offer isn't a rejection of you or your home. Given that a house is an individual's or a family's largest investment, there is good reason for a potential buyer to come back with a different price than the one you have listed on the home. Both parties have to come to an agreement to get to that all-important moment when you sign the contract, and a back-and-forth discussion about the price of the home or other items is fairly typical — especially in a buyer's market. More on that later. Negotiations likely will take a few days but, in rare cases, the conversation can go on for weeks as both sides think about their next moves toward a final price.
"Sometimes, when you are negotiating an offer, you have to take the personal aspects out. You have to be flexible, be willing to treat each other with consideration, and seek to come up with a win-win situation," said Neyshika Tellis, a real estate agent with Florida-based Charles Rutenberg Realty.
Prepare for pricing proposals
In a buyer's market, the buyer may come in with a lower-than-expected offer on your home, sometimes between 10% and 25% below where you've priced it with your real estate agent, Tellis says. Don't panic — this is only a starting point for your back-and-forth negotiations. How do you respond to a counter offer on a house? Your real estate agent will help you come back with a counter proposal for the price that you are more comfortable with. Buyers in a seller's market — one where there may not be enough homes on the market for the number of buyers who are actively looking for a home — have to come in pretty close on price to what you have listed the home for initially. In a hot seller's market, the buyer's offer will likely come in over your asking price, have reduced contingencies, or offer additional cash over any appraised value.
Did you know? Most offers have a timeframe built into them, and you only have as little as 24 hours or as much as a few days to consider each counter offer. You don't want these offers to expire with your response. Need help? Your real estate agent can advise you on whether an offer is fair for many reasons, including your personal needs for a longer closing time or to get a price that helps you buy another property. Why such short timeframes? You want to ensure your home isn't on the market for too long, making it unattractive to buyers overall.
Don't stop until it's right
If you don't like the first offer from a buyer, you can counter it. If the buyer comes back with another offer that still doesn't quite work, you can counter that offer, too. The process can go on and on until one of you — the buyer or the seller — accepts an offer. Here are some questions you may be wondering about:
Q: Does a seller have to respond to a counter offer on a house? 
A: Yes, each offer — no matter what number you're on — must be either accepted, rejected, or countered. 
Q: How do you respond to a counter offer on a house? 
A: Just like you do with an original offer. You can either accept it, reject it, or counter back with another proposal. 
Q: Is it normal to counter a counter offer on a house? 
A: Sure, especially if you are close to making a deal.
Q: Can you reject a counter offer on a house? 
A: If your counter offers aren't getting the traction you want or if the buyer's offers just aren't meeting your ideal price, you can reject an offer. You need to formally tell the buyer through your agent and his or her agent why you are declining their offer, though. You may not have to put this in writing; a verbal conversation between the two agents is likely enough to close the negotiations on both sides. Sometimes, an email is enough to end the counter-offer conversations and both parties move on to other offers or other homes. 
Be proud of your accepted offer
Have a counter offer that's reached a satisfactory price and removed any contingencies you weren't comfortable with? It's time to accept! Give your real estate agent the go-ahead to call the other agent or see them in person to share the happy news. Now that you and the buyer are both happy with the final sales agreement, you can officially get excited about moving and start the packing process.
Get ready to move
Selling your home can happen fast in today's market. When that perfect offer presents itself, you'll want to be ready. Knowing what to expect during the counter offer period of selling will only help the process move smoother.
And speaking of moving smoothly, another way to get the process going is to take advantage of the flexibility offered with PODS moving and storage containers. Consider loading things you don't need on a daily basis but will need after the move into portable storage containers to make room for home staging. Your loaded containers can be moved from your driveway to a secure PODS Storage Center facility until you're ready to have them delivered to your new home. And from there, they'll be delivered straight to your new driveway, where you can unload them at your own pace.
Selling a house can be pretty involved, but moving to your new place is easy with PODS.
For more tips on buying, selling, and the entire moving process itself, take a look at the dedicated moving section of the PODS blog.
Special thanks to Neyshika Tellis — Tampa Bay, Florida real estate agent with Charles Rutenberg Realty — for providing her professional insight for this article!
---

Karen Dybis is a freelance journalist and a frequent contributor to the PODS blog. Her work has appeared in Time magazine, U.S. News & World Report, The Detroit News, and more.
Get a Quote
Choose the service you need
Comments
Leave a Comment
Your email address will not be published. Required fields are marked *