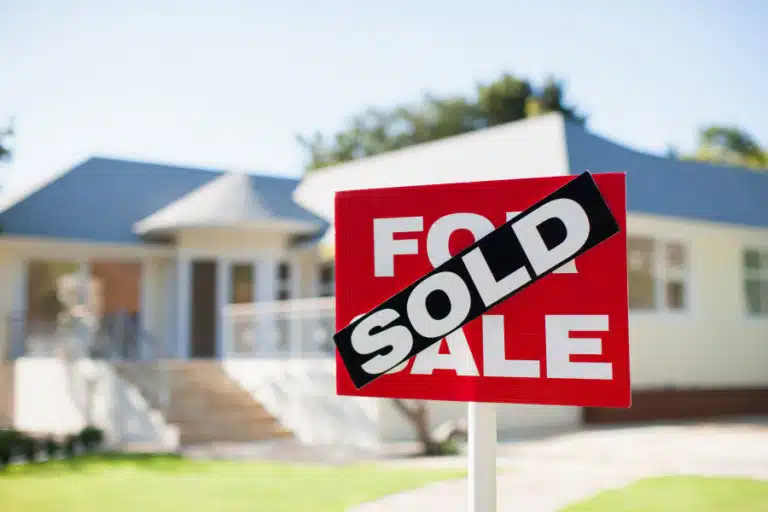 Ready, prep, go: Get the most out of selling your home with these tips
Your home is likely your biggest investment, and, in turn, your biggest asset. That's why, when you're thinking about selling your home, you want to get the best return you can, right? Fortunately, with the help of a real estate expert, some time doing minor improvements, and some advertising magic in a hot home market, you can go from wondering, "How hard will it be for me to go about selling my house?" to actually putting that "sold" sign up in your yard.
If you're thinking about making a home sale, the first thing you might wonder about is timing — what is the right time to put your house on the market?
The truth?
There's a buyer out there for nearly every home that hits the market, so there's no time like the present. For those thinking, "It looks like selling my house is a good idea right now," they're exactly right. It's been a seller's market throughout 2021, meaning people who are listing houses are likely having to sort through multiple offers. In fact, Zillow recently reported that the U.S. housing market is historically hot with record home-price appreciation and limited inventory.
However, Zillow also has some other data points that every seller should keep in mind. For instance, the real estate company's research found the typical buyer submitted only two offers in 2021 before one was accepted. What does that mean for you? When you're selling your house, you want your home to really stand out. You want a potential buyer to want to make an offer right away.
Another important point from Zillow is that many buyers — especially first-time home buyers — are carefully looking at every nook and cranny of your home when they tour it. According to Zillow's most recent research, only about 1 in 10 U.S. buyers waived an inspection. Moreover, nearly all buyers saw a house in person before making an offer.
Real estate agents such as Neyshika Tellis, an agent with Florida-based Charles Rutenberg Realty, say that sellers who want house offers should be open to feedback at every stage of the home-selling process — from the opening offer negotiation to the final closing meeting. When selling your house, that means listening to your agent, talking to other real estate agents who tour the home, and accepting feedback from surveys from buyers — who tend to be the most honest of the three.
"You should always ask for feedback," Tellis says. "When we get showing requests, we listen to feedback. When we show homes, we listen to feedback. When we post a listing, we ask other agents for feedback. And we take that constructive criticism and adjust. You should always look at what people are telling you: Is your price too high? What are people saying about your house? Adjust. Adapt. Fix what needs to be done, so you can keep the sale moving and get to the closing table." You'll be glad you thought about which home offer to accept as a result.
How do I get the most out of my house?
That starts with some of the basics. You need to first find a good real estate agent or someone you trust to walk your house with you. What are its best characteristics? What are its worst qualities? What do you need to do to improve those bad spots for a home sale, and how can you highlight the most sellable areas? What places need repair — and these should be only the essential areas that need help, not every single thing that has made you cringe while living in the house. A huge reno isn't going to necessarily please a new buyer, who will want to do some things, like paint and wallpaper, to their own taste. Yes, you might think, "Selling my house is challenging," but your real estate agent will help you all along the way, especially in today's fast-paced home market.
What makes a house harder to sell?
Tellis says that the classic tip of clearing off countertops and putting away family photos still holds true. "If you have a lot of personal stuff in the home, remove some of it," she says. "Take some advice from someone who has seen a lot of homes: A buyer needs to visualize themselves in your home. Everyone could remove some stuff from their homes." Tellis also believes that staging is huge when you are selling your home. She recommends that the seller work hard to remove their everyday items from rooms, which will make bedrooms or bathrooms look larger. Another big thing that makes a house hard to sell is a messy or dirty home. Clean the major areas and then go for some of the items that a buyer may notice once they've been through the house once or twice. That might mean cleaning areas you might overlook, like the baseboards.
"Let the buyer see themselves in the house. Make it look great," Tellis says. "They should be able to visualize their furniture in this house. Once they get emotionally attached, they will want to go ahead and put that offer in."
Pro Tip: For most, moving day comes after closing day. However, if you want to be really clever about it, you can start the moving process early — while you're decluttering and cleaning, for example — with the help of PODS portable moving and storage containers. We'll drop off the container in your driveway, you can load up anything you don't immediately need, and then PODS will pick it up and store it in one of our secure storage facilities for as long as you want. This makes showing your home so much easier. And when it's finally time to move, you're already halfway done! When you're ready for everything to be delivered, PODS can drop it all off at your next home.
What makes your house sell better?
Inside, great neutral paint is the top thing to think about, according to Tellis. She says brightly colored walls also need to be neutralized with a gray or beige color. "No dark walls. Go with that gray-beige everyone has been using in recent years." Tellis also recommends doing some minor updating, like putting fresh window treatments up if you need them or painting the chips on cabinets and baseboards. Then, add new light bulbs. This will make the whole house feel lighter and brighter, she says. The goal is to not just get one offer but to be in a position to navigate many offers on your home.
Another important thing a seller can do is make small but important outdoor updates, Tellis says. "These days, you don't have to do much. Most of them are DIY items, like replacing exterior lighting, sprucing up landscaping, and changing the garage door." She also recommends putting some fresh paint on the front door and brand-new plants on the porch. "Fix loose flagstones, repair the driveway, caulk the cracks," Tellis adds. "You want it to look good for the inspection and the inspector — otherwise, it is their job to point out every little thing. The less they have on their report, the better the buyers will feel."
Likewise, when you go to list the house, take the best quality pictures you can or that your agent can afford to hire if you bring in a professional. "Let us do it right," Tellis says. "Let us show your home in the best light possible, including when we show up for a showing. We'll turn on all your lights and open all window blinds. It really makes your home look open."
What is a good profit when selling a house?
This is a judgment call and will differ for each seller. Evaluating a home offer requires a lot of discussion and thought. You may consider using a home sale calculator to give you some ballpark figures. You can put in how much you paid for the home, the market increases, and how much you have left on your mortgage to find out the final total. Remember, however, that you need to factor in costs like your real estate agent's fees.
Sure, you want to get the house sold with a profit of some kind in an ideal setting. But you may also want to move quickly, so getting a reasonable offer with a short moving window may be more important. Talk to your real estate agent about your goals and be honest, Tellis says. You both will walk away from the sale feeling pleased if you have had these discussions up front.
Special thanks to Neyshika Tellis — Tampa Bay, Florida, real estate agent with Charles Rutenberg Realty — for providing her professional insight for this article!
---

Karen Dybis is a freelance journalist and a frequent contributor to the PODS blog. Her work has appeared in Time magazine, U.S. News & World Report, The Detroit News, and more.
Get a Quote
Choose the service you need
Comments
Leave a Comment
Your email address will not be published. Required fields are marked *