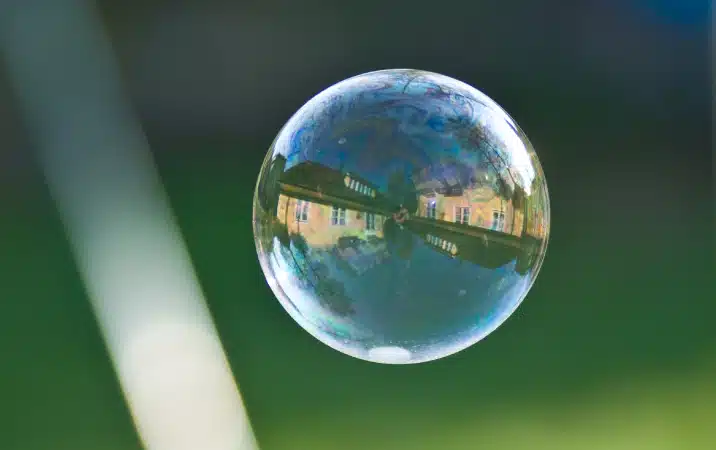 Are We in a Housing Bubble That's Going to Pop Soon?
Looking to buy a house? It's hard to ignore the wild growth the national housing market has seen over the last 18 months. Turns out the pandemic was great for real estate, as lockdowns forced a lot of people to reconsider their living situations. With more people than ever working from home, learning from home, and, well, just spending more time than ever at home, the pandemic was a catalyst for many people to finally upgrade to a larger space, relocate to a new city, or take the plunge to become first-time homebuyers.
Talk to any real estate agent, and they are likely to tell you that houses have been flying off the market. In fact, it's been hard for a lot of markets to keep enough inventory to meet demand. The result? A highly competitive market, bidding wars, a seller's dream come true — and a housing bubble that just keeps growing and growing and growing.
Eventually, however, this historic housing market bubble has to pop, right? But when? And should you buy a house now or wait until after the bubble bursts?
If you're in the market for a new home, don't even start looking until you read this recap of the current housing market. We'll cover all the things you need to know, including how the current housing bubble was created, when it might pop, and — most importantly — when it's the best time for you to buy a house.
What is a housing bubble?
The U.S. is currently in one of our biggest housing bubbles in recent history. The term "housing bubble" is used to describe the housing market when it has been inflated to the point of bursting due to a combination of factors, like low supply coupled with high demand, low interest rates, and climbing bidding wars.
What is a bidding war? When two or more buyers begin offering higher and higher bids to the seller in order to "win" the sale, they enter what is called a bidding war. Bidding wars usually end up with a buyer paying more than the appraisal value of the house.
However, what goes up must come down (or pop!). Housing bubbles pop when supply begins to outweigh demand, the economy tumbles, and interest rates rise — all fairly unpredictable variables. Once the bubble pops, housing prices correct back to their baseline.
Is it a buyer's or seller's market in 2021?
The root of whether the housing market becomes a buyer's or a seller's market comes down to the concept of supply and demand. If there are more houses on the market than there is demand to buy them, it becomes a buyer's market. If there are more buyers than available houses, it becomes a seller's market. As with any product, scarcity often drives price.
In a buyer's market, the buyer has the advantage. The lack of competition gives a buyer more time to decide between prospective homes, stronger negotiating power, and the possibility to score a deal under the seller's asking price. The longer a house stays on the market, the more desperate a seller may become.
In a seller's market, the seller has the upper hand. Low inventory (meaning very few houses on the market) creates more competition between buyers. It often creates a first-come, first-served game where buyers are forced to act fast, arriving ready to put down an offer, sometimes before they've even seen the property.
Buyers often lose out as sellers rarely have to negotiate on price, and often receive several offers above asking price, which can lead to a bidding war. Make no mistake, a bidding war is always most beneficial to the seller.
We are currently in the midst of an extreme seller's market. It's not uncommon to hear of houses being bought before they are even officially listed on the market. Plus, over 50 percent of sellers have reportedly sold their homes for over the asking prices. In some cases, the gain has been astronomical, with sellers raking in upwards of six figures more than asking for their homes.
What are housing market forecasts for 2022?
Minimal inventory, unprecedented demand, and near record-low mortgage rates have helped set the stage for our current housing bubble. Many people — buyers and sellers alike — are starting to wonder how much bigger the bubble can get before it bursts.
Home prices have, no doubt, been increasing from 2020 to 2021. According to an insights report by CoreLogic, for example, compared to the previous year, home prices for August 2021 increased 18 percent, and they were up 1.3 percent from July 2021.
Keep in mind that rising prices can translate into higher down payments, though, even if interest rates remain low, as predicted.
A panel of Forbes real estate experts made a handful of housing market predictions they expect to see through 2022. The list included a slight cooling of the market, increase in demand and availability for rental and sublease units, and less urgency for residential buyers to make purchases.
The panel also predicts that home values will actually appreciate over the next year while at the same time less people will be able to afford to become homebuyers.
That said, we wouldn't be doing our due diligence if we didn't mention that the housing market can be unpredictable. These are predictions, not guarantees. The truth is that the housing bubble can pop at any time — without warning — leaving you in a lurch with a house that you can't sell for as much as you paid for it.
The best time to buy a house: to wait or not to wait?
Ideally, the best time to buy a house is during a buyer's market. It offers the most selection and best deals. However, shopping for a new home during a neutral market, when it's neither a buyer's or seller's market, is also acceptable — just don't expect as many wild deals.
The worst time to buy a house is during a seller's market since you'll likely end up paying an inflated price, and, depending on how the market goes, you may actually lose money if you decide to sell it later on.
That brings us to the elephant in the room.
Is 2021 a bad time to buy a house?
The answer is tricky.
Prices for homes are sky-high right now, making it the ultimate seller's market. If you're able to hold off on purchasing property for another year or two or three, do it — wait for the market to come back down. However, if you know you need to move or want to purchase property, say to do a quick flip or as a short-term investment, you may want to consider buying during the current seller's market.
So, will it be cheaper to buy a house in 2022?
Good question. We hate to say it, but probably not.
While home prices are soaring now, they're only predicted to keep getting higher in 2022, though not by as much. According to the CoreLogic report, the price is only expected to increase 2.2 percent from August 2021 through August 2022. So, while it may not be cheaper per se, they aren't expecting the same steep 18 percent hike in housing prices that occurred between 2020 and 2021.
As we've discussed, the right time to sell a house is usually not the right time to buy, but that doesn't mean you shouldn't take advantage of a seller's market. It may make sense to purchase a home during a seller's market and flip it as a quick investment. Or if you've been on the fence about selling your own home, selling now can provide a golden opportunity to cash in on a bidding war.
Whatever you decide, PODS has got you covered. Our portable storage containers are standing by to help you with everything from on-site quick flips to extra storage needs if you decide to rent between permanent homes. No rush, no worries, we've got your back by giving you the time and flexibility to help keep the odds forever in your favor.
---
Based in Los Angeles, Katherine Alex Beaven is a freelance writer and frequent contributor to the PODS blog. She has moved 20+ times because she loves to experience new places.
Get a Quote
Choose the service you need
Comments
Leave a Comment
Your email address will not be published. Required fields are marked *